Hear from fans who decorate R2-D2 trees, leave blue milk for Santa, and more!
For myself and many of you, Star Wars is part of life. You start your morning with a lightsaber toothbrush, scribble your to-do list in a Darth Vader notebook, and see your R2-D2 action figure on your desk or in your home. Like the Force, your fandom is all around you -- even during the holidays. Giving Star Wars presents and watching the movies are obvious way fans incorporate the saga into their holiday traditions, but many take it to the another level.
The most popular responses about Star Wars traditions included: marathoning the films, turning action figures into tree ornaments, hanging up stockings that look like Chewbacca or other characters, making Star Wars-themed paper snowflakes, getting the LEGO Star Wars Advent Calendar every year, and using Star Wars figures in nativity sets. I've started posing some of my action figures with miniature trees, wreaths, and presents to make my own holiday cards. These are all perfect places to start, and you can build on them from year to year.
Instead of decorating your tree with themed ornaments, why not make your tree look like a character from the Star Wars universe? Jen Aprahamian has taken a tiny white tree and applied regular bows, ribbon, and an ornament to make an adorable R2-D2 tree. Yes, it is the (fake) pine you're looking for.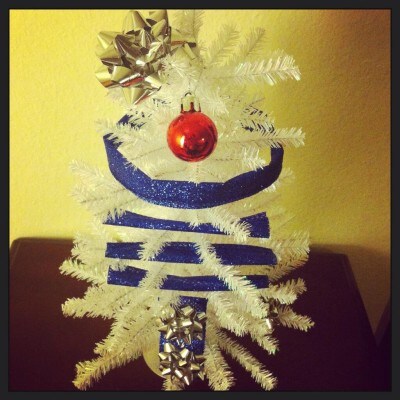 AC LaChance fell so in love with the Holiday Special as a kid that her parents added Life Day to their usual Christmas celebrations. She would make a new Star Wars ornament for the tree every year, and her mom made blue milk for her to leave for Santa. She's continued the tradition as an adult and wears her Yoda Santa hat proudly.
Santa hats are a constant this time of year. Jenn Fujikawa puts a red and fluffy hat on her three-foot Darth Vader statue to make him feel festive and less like Force-choking holiday guests. She makes Star Wars cookies to leave out for Santa and wraps presents in appropriately themed wrapping paper. Though she hangs some of her favorite Hallmark decorations from the tree, Jenn also makes green tea Santa Yoda cookies and turns them into colorful ornaments.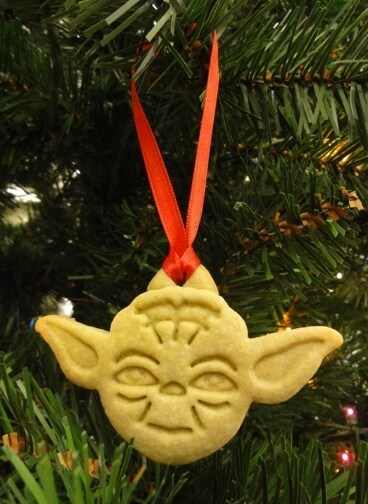 But the combination of Star Wars and Christmas can go deeper than the surface joy of trimming the tree and making treats, too. For Darren Hayes, it's both. "It wouldn't be Christmas without a bit of nostalgia and for me Star Wars is synonymous with waking up on Christmas morning and finding something Star Wars related under the tree." Besides watching the original trilogy, his family might have a competition on his vintage Star Wars Atari arcade machine.
It also symbolizes hope for him; the movies are more than just fun -- the saga has significant meaning. His mother sacrificed and saved hard-earned cash to give him the experience of what it was like to have toys from a thing he loved so much. The act gave him wonderful memories and perspective: "Star Wars was a safe and reassuring fairy tale that reminded me to be true to myself and that dreams really could come true. My upbringing was often difficult -- but my mother's love for me and her understanding of the significance of the world of the Force, lightsabers and speeder bikes -- meant she almost went broke trying to give me a small experience of what it was like to have some of those toys and to escape our sometimes sad family life.
"My mother's sacrifices, her hard work and the precious moments remembering sitting on her lap at the drive-in movie theater watching The Empire Strikes Back are the embodiment of what the holidays are all about for me really."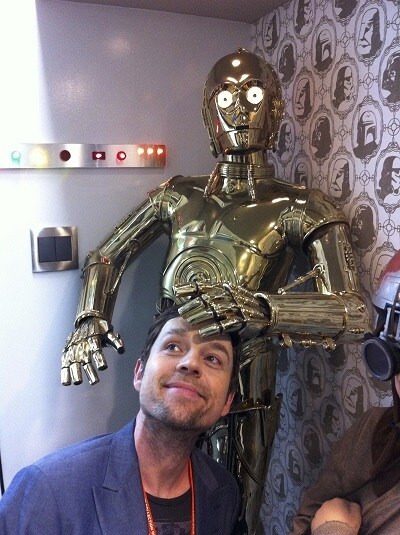 Darren created a video a few years ago titled "Happy Christmas" that shares a piece of that hope and joy with everyone.
Whether you make reindeer antlers for your AT-AT this holiday season or not, I hope you enjoy your time with friends and family. Merry Sithmas and Happy Hothidays!
Amy Ratcliffe is addicted to Star Wars, coffee, and writing. You can follow her on Twitter at @amy_geek and keep up with all things geeky at her blog.