The Lucasfilm veteran on shepherding the visual effects of Solo from start to finish.
There's not much in Erin Dusseault's office to let you know what she does, or of her importance to Industrial Light & Magic, Lucasfilm's visual effects (VFX) house. This is partially because Lucasfilm's San Francisco headquarters is in the middle of a company-wide deep clean, of which no employee is immune, and most of Dusseault's tchotchkes are packed up. But it seems more to stem from her clear-headed, "This is what I do" outlook, a trait earned through years of working her way up the ranks. As I turn to leave following our interview, though, I see something. A big, framed photo of a Corellia set from Solo: A Star Wars Story, propped up unceremoniously on a filing cabinet. "Erin -- Many thanks for the wonderful work," reads a silver-penned scribble on the image. "All the best, Ron Howard." If a personal thank you from the director of the latest Star Wars film doesn't tell you something about someone's role in making Star Wars, nothing will.
But, to be clear, here's what she does, and here's the reason for that thank you: Dusseault is a VFX senior producer at ILM and performed that duty on Solo. It's a big job. In general, she and the VFX supervisor break down the script and determine what the effects shots will be. She figures out how much work is in the production, budgets it, schedules it, manages the global ILM crew doing it and, when needed, finds third party companies with which to join forces. She works with the VFX supervisor and director to make sure they're getting what they need. And she makes sure that everything is finished on time and on budget. For Solo, that meant collaborating with Rob Bredow (VFX supervisor on the film), Ron Howard, and teams of people all over the world.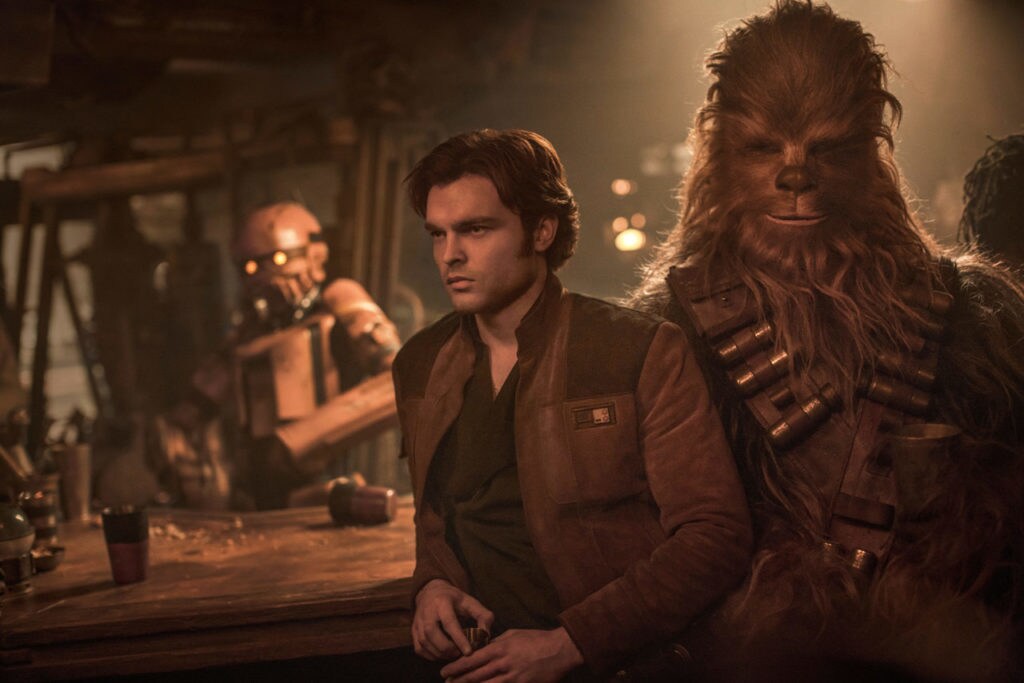 "It was amazing. It was a lot of fun," Dusseault says. "We had a great crew. Rob was fantastic to work with, and he is a great supervisor. Ron was incredibly collaborative." The director, a longtime member of the Lucasfilm family (he starred in George Lucas's American Graffiti (1973) and directed the cult-classic Willow (1988)), came onboard late in production, with Dusseault and the crew having completed much work on the film, and things went beyond smoothly under his leadership. "Ron is a filmmaker's filmmaker -- he's genuinely interested in his team's opinions and often implements their suggestions," Dusseault says. "There was already a team in place, and he didn't really disrupt that team. He brought his vision to the team, which I thought was a really great way to handle it. Because you get the benefit of everybody that had already been working and knew what they were trying to do, and he let their expertise drive some of that while providing guidance wherever he felt is was necessary." Howard's enthusiasm for Solo, and his approach to directing, made working on the film a joy for Dusseault.
"Ron is an inspiring filmmaker," she says. "He has a vision, knows what he wants, and has this amazing ability to get what he needs out of people because he's so even-keeled -- people tend to want to do their best work for him."
Solo is filled with action and visual effects-heavy setpieces: the opening chase, the train heist, the Kessel Run, to name but a few. They're sequences that are grounded in elements that are core to Star Wars -- speed, starships, creatures -- but with new spins. "I think for the Kessel Run, there's a little bit of a base. You know he has to get from point A to point B in less than 12 parsecs. So what do you do between that to make that cool?" When it came to Solo, assistance in making it cool came from a surprising source: Lawrence and Jonathan Kasdan, the father-son duo who wrote the film. "The Kasdans were a big part of post[production]," Dusseault says. "Jon was in almost every review. It was really cool to have them there. They would see what we'd done on the screen, because we're creating it -- see our artwork or a shot or something like that -- and it was so valuable for them to be like, 'Oh, that's exactly what I was picturing when I was writing that,' or 'No, that's not exactly it. Tweak that, tweak this.' It was very interesting.... And to have them so involved was great, because you don't usually have the writer, or writers, in there most of the time when it gets to our end of the process."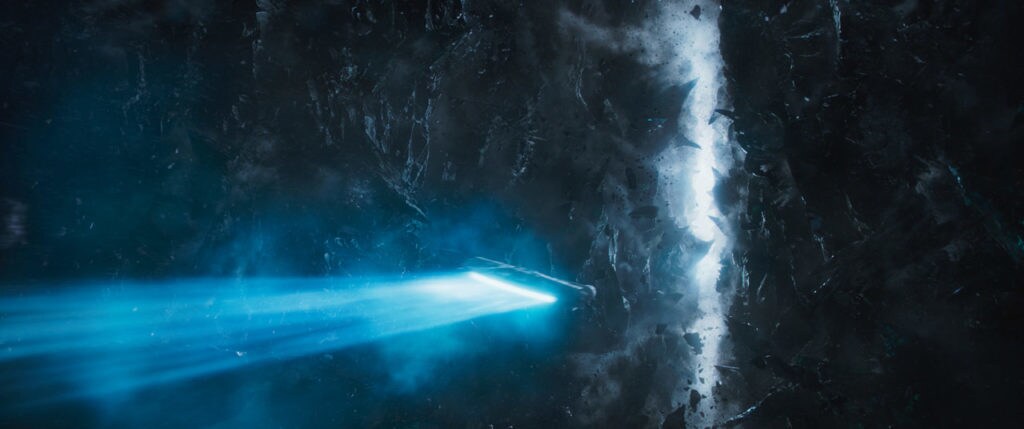 Dusseault has been at this a long time.  She's worked on many "shows," as they're called in the industry, but she still has "wow" moments behind the scenes. "If you don't have the VFX work, you don't have a movie. So sometimes it definitely turns into, 'Ugh, we're seeing this shot again. We've gotta move it on.' But then also there are moments where I'm sitting there, because we hold dailies where we're looking at the shots in the theater, and you're like, 'Wow, that is a beautiful shot of the Millennium Falcon and that is going to be amazing.' I always have those moments, especially on this film, where I'm thinking, 'That is really cool.'" Dusseault cites the Kessel Run and its monster, the four-armed Rio, Lando's droid L3-37, and the coaxium explosion as effects work that she's particularly proud of in the film, and delighted her as she saw each develop. Getting them all done, however, was something of its own Kessel Run.
"There's pieces everywhere," she says. "The speeder chase was technically challenging because of the rig that they had, so integrating the set work with the backgrounds that we created was really challenging. The train sequence was really hard, too, because they shot everything with the actors walking on these train rigs on set, and then we had to put in the background and then, much of the time, replace the train, too, because they just had a piece of it that would move. The Kessel Run itself was really difficult because it's all CG, there's an immense amount of effects work in that sequence, it's a lot of shot design and stuff that isn't rooted in anything that's real. It's all made up and you're trying to find out what looks and tells the story the best. But we split those across our four facilities, so that everyone had a chunk of the hardest work and we were all marching toward the finish line."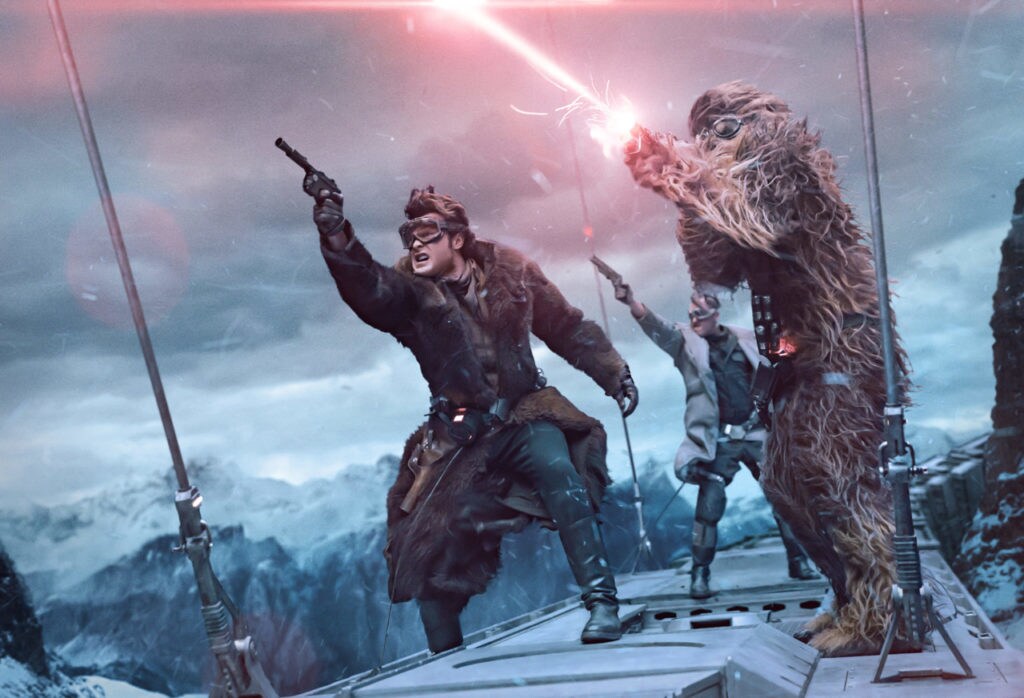 Here's what a typical day was like for Dusseault. There was an 8 a.m. video meeting every day with the London effects team for which Dusseault was present -- an especially impressive feat, considering she was pregnant at the time, and also had a two-year-old daughter to get ready and drop off at the daycare on Lucasfilm's campus -- in which they'd look at shots and make sure production was on target. Then she'd hop into another meeting at 9 and review dailies, which could last up to two hours. Then there'd be more meetings about sequences or asset development ("if the Falcon needs damage or something like that"), a review with Howard in the afternoon, another meeting about targets for the rest of the day, and finally, a late check-in with the Singapore effects team. "When you're in full-swing production, it's a long day," Dusseault says plainly.
Dusseault's path to ILM was not close to as planned out as the effects work she now manages. She grew up in Indiana and went to Indiana University, where she majored in Journalism; being a journalist was her plan, but that would change after a chance encounter. Following a move to San Francisco in 2000, she worked for an independent journalist who had a surfing buddy that was employed at ILM. Dusseault met said surfing buddy, and they got to talking. "ILM" came up. At the time, Dusseault had no idea what ILM actually was. It was explained that ILM was George Lucas's visual effects company that worked on Star Wars -- and the proverbial lightbulb was turned on. "I was like, 'Oh! That's a thing that exists?? People do this work?' I had no idea," she says. A Star Wars and Indiana Jones fan, Dusseault was ready to alter her career path. She got in touch with an ILM recruiter, and a year later was called back for a production assistant position on XXX: State of the Union. "Ice Cube!" Dusseault exclaims. That was her introduction to visual effects, and though she wanted to work on Star Wars: Episode III, which was in production at the time, she couldn't. Regardless, Dusseault was committed. "It was great, and production made sense to me," she says. Her first movie as VFX producer was 2013's Pacific Rim, and come October, she'll be at Lucasfilm for 14 years. Plus, she finally got to work on Star Wars.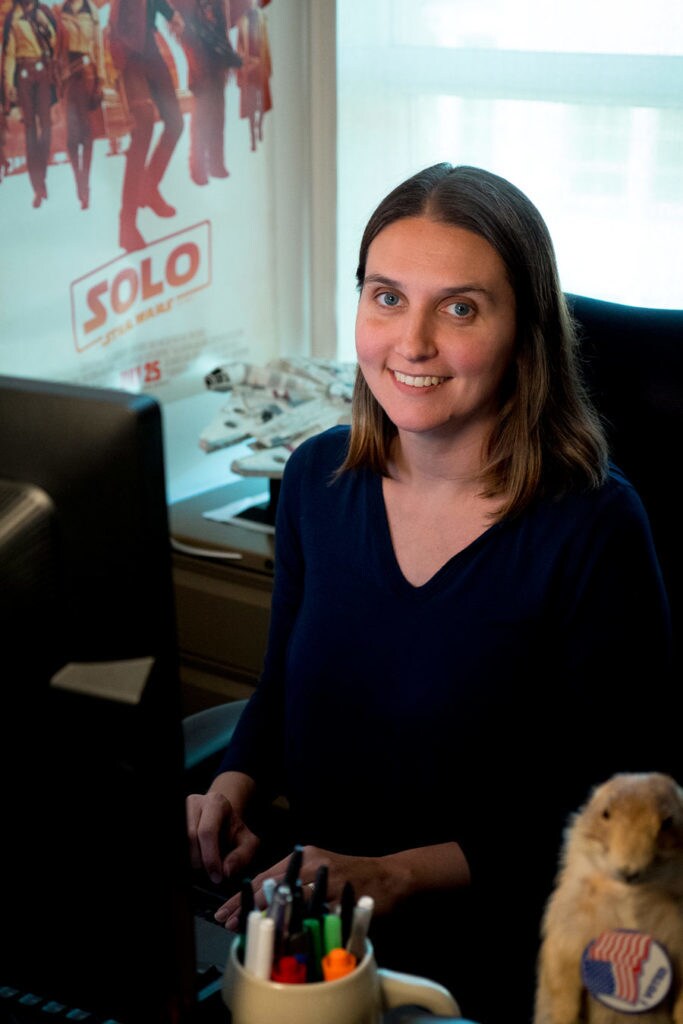 "Like most here at ILM, I'm a fan, so I was really excited to be a part of it," she says of Solo. "At the end of the day, it's all about working with people that are amazing. I did Rogue [One] and then I was lucky enough to do Solo because the timing worked out. It's just incredible to work with people who are so talented and at the same time, excited about what they do."
She's got a personal thank you from Ron Howard to prove it.
Solo: A Star Wars Story is available on Digital and Movies Anywhere, and arrives on 4K Ultra HD, Blu-ray, DVD, and On-Demand on September 25.
Photos by Chris Hawkinson.
Dan Brooks is Lucasfilm's senior content strategist of online, the editor of StarWars.com, and a writer. He loves Star Wars, ELO, and the New York Rangers, Jets, and Yankees. Follow him on Twitter @dan_brooks where he rants about all these things.