The legendary Star Wars art director speaks to StarWars.com about designing the galaxy's baddest bounty hunter and the very first set of Mandalorian armor.
On May 21, 1980, Star Wars: The Empire Strikes Back made its theatrical debut. To celebrate the classic film's landmark 40th anniversary, StarWars.com presents "Empire at 40," a special series of interviews, editorial features, and listicles.
The battle-worn, plated armor. The mysterious bits of weaponry and gear -- including a jetpack, complete with a rocket (of course). That helmet, with a menacing T-visor and cracking crater, surely the result of a standoff some years ago. From the second he appeared in Star Wars: The Empire Strikes Back, Boba Fett was basically the coolest guy you'd ever seen. And at the time, he was standing next to a bunch of bounty hunters and Darth Vader.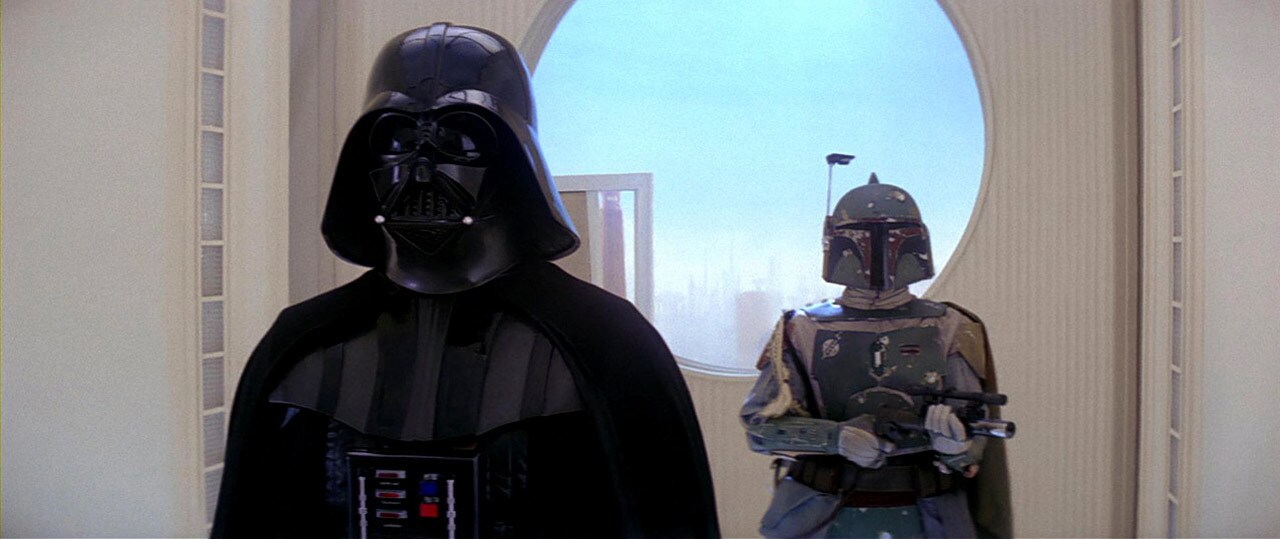 The fact that the looks backed up his don't-mess-with-me personality ("What if he doesn't survive? He's worth a lot to me." No one else could talk to Darth Vader that way.) and untouchable ability only made the bounty hunter more impressive. So, it's no surprise that over the last 40 years, he's gone on to become one of the most popular Star Wars characters, in addition to the visual inspiration for the titular character of The Mandalorian. 
But as it turns out, the now-iconic look created for Boba Fett was actually made for someone, or something, else entirely.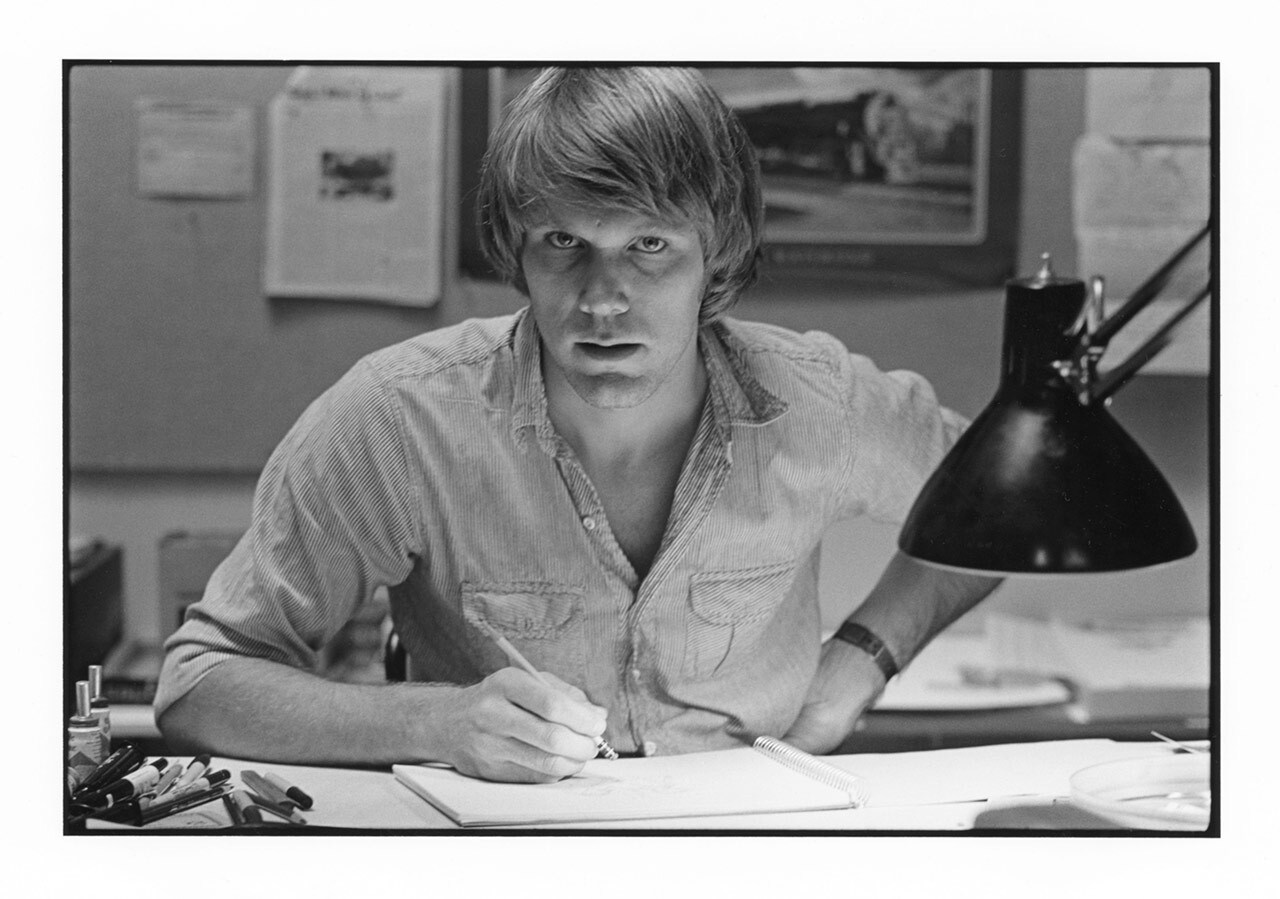 "George [Lucas] wanted a new trooper," Joe Johnston, visual effects art director on Empire and legendary filmmaker in his own right, tells StarWars.com. "The original idea behind Boba Fett was that he was going to be an army of super troopers. There was going to be 40,000 of these guys." After prototype armor was built from designs by Johnston and concept artist Ralph McQuarrie, however, producer Gary Kurtz quickly realized that they couldn't afford to make that many versions of the costume. Thus, the super trooper concept was cast aside. But Lucas found another opportunity to utilize the design.
"The outfit came back from the UK [production office] and George said, 'Instead of an army of super troopers, this is going to be a bounty hunter,'" Johnston says. "'He's sort of a bad guy but he's not on the Empire's side and he's not on the rebels' side. He's like a free agent, and he goes around the galaxy arresting people and bringing them back to justice or bringing them back to Jabba the Hutt or whoever. He's a mercenary. He'll do anything for money, and his outfit, the way he looks, should reflect that.'" And Boba Fett was truly born.
Origin story
In designing Boba Fett and everything else they cooked up for Empire, Johnston and McQuarrie continued a collaboration that began with Star Wars. They worked together closely, though their skills were quite different -- and to Johnston's mind, that turned out to be a good thing.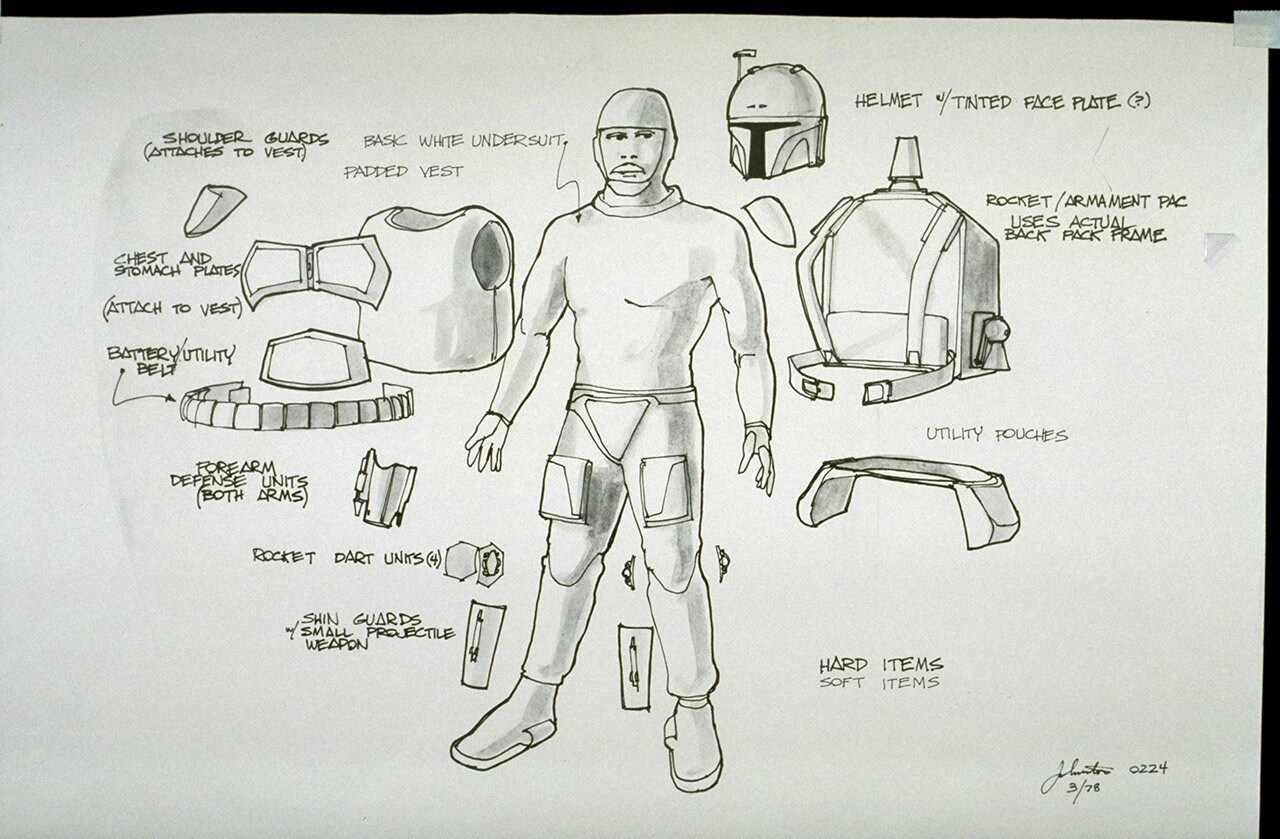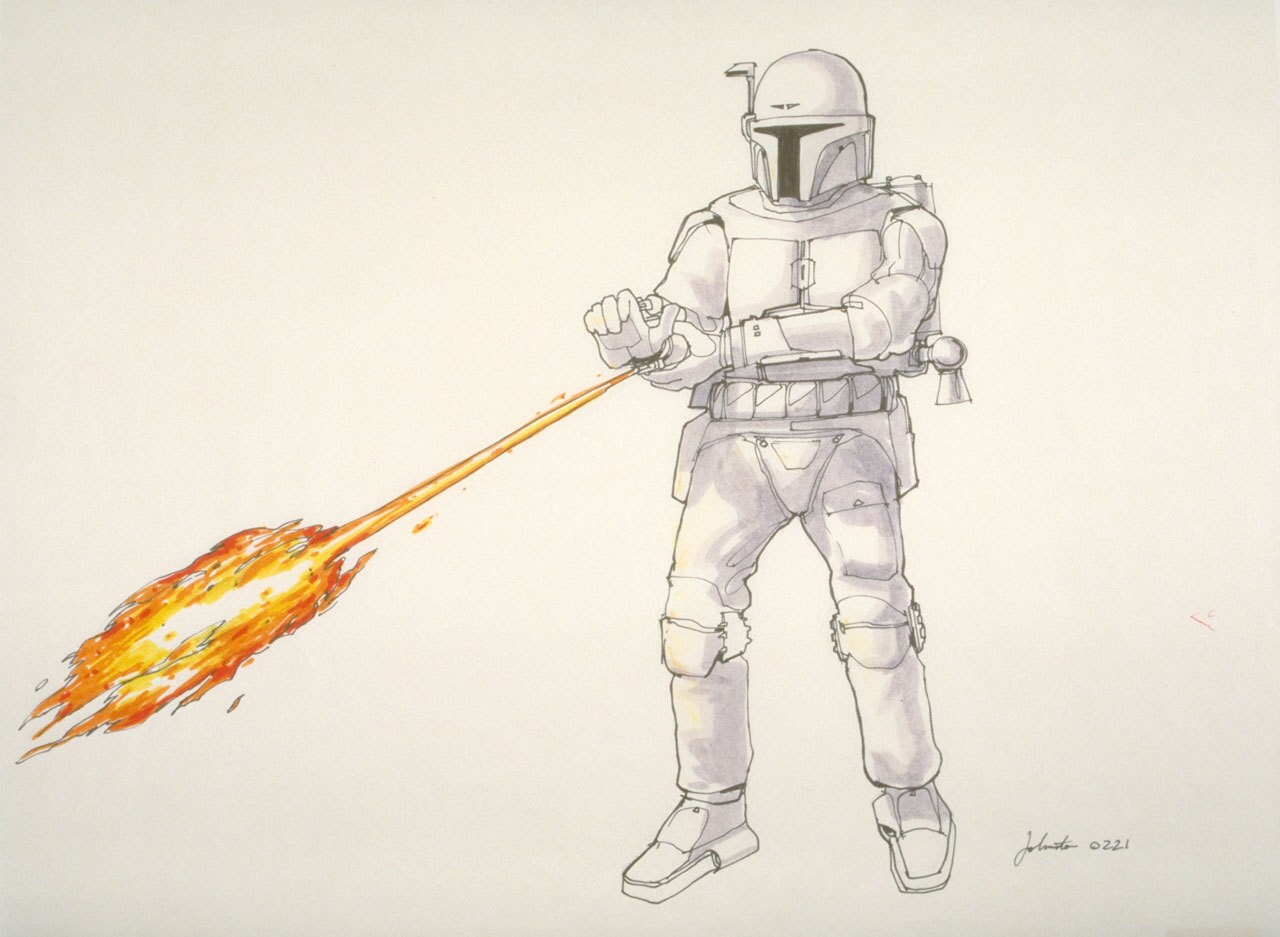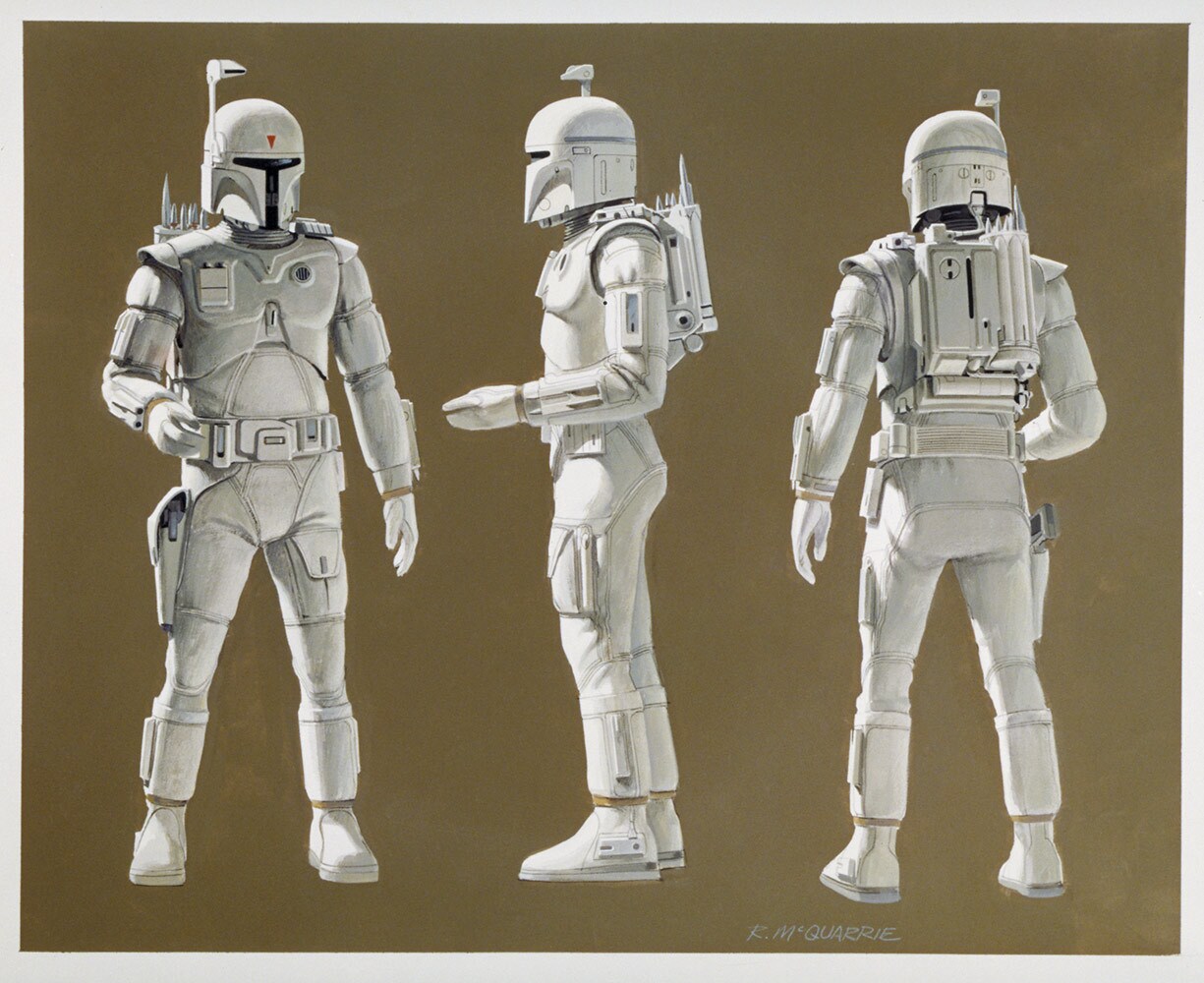 "Ralph and I designed the outfit in the same way that we designed everything else, which was that we'd trade designs back and forth," Johnston says. "Ralph and I worked really well together because I was a better designer than I was an illustrator, and Ralph was a better illustrator than he was a designer. He was still a great designer, and I could sort of render things -- I could sort of describe the shape in an illustration. But I was like a sketch artist and he was like the finished renderer.
"So, in the process of trading things back and forth, the design would change more with me, and then he would illustrate it [like] how it was going to look. It was a great way to work."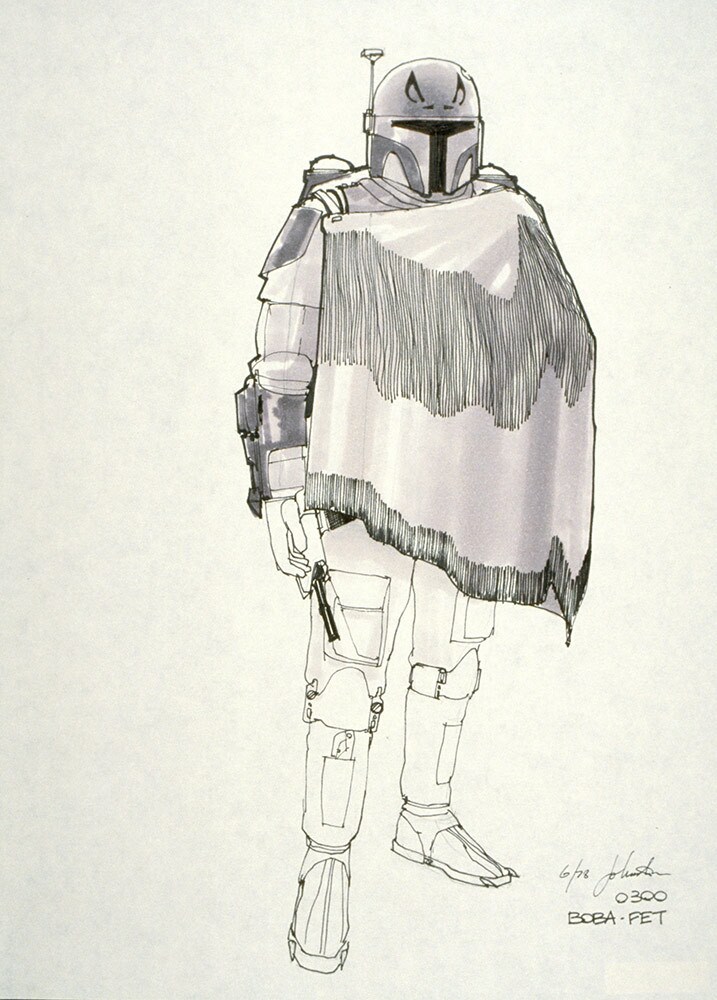 But with Lucas's directive that the design and armor now be used for the film's main bounty hunter, it fell to Johnston to finalize the look of the actual costume. Once the prototype suit came back from production in the UK, Lucas and Johnston felt that its final detailing and colors should match that of his character. "So, the original suit came back and it was all white," Johnston says. "Everything about it was white. The jumpsuit underneath was white, all the panels and the helmet were white, with accents of aluminum. [Lucas] said, 'It's not going to be this. Take it and paint it up.'" Lucas wanted the armor to look like it had been in many battles, repaired, and repainted. It should appear "dented and scratched up" and somewhat hodgepodge, as if Fett had acquired pieces from different places and put it together himself.
"At that point I took it over to the [Industrial Light & Magic] facility on Kerner [Boulevard], and I laid everything out on the floor." Johnston says. "I went down to the hobby shop in San Anselmo and I bought this brand of paint called Floquil. It was mostly used for model railroading. I bought just dozens of jars of this stuff, as many colors as I wanted. I put them in air brushes and I start painting this thing."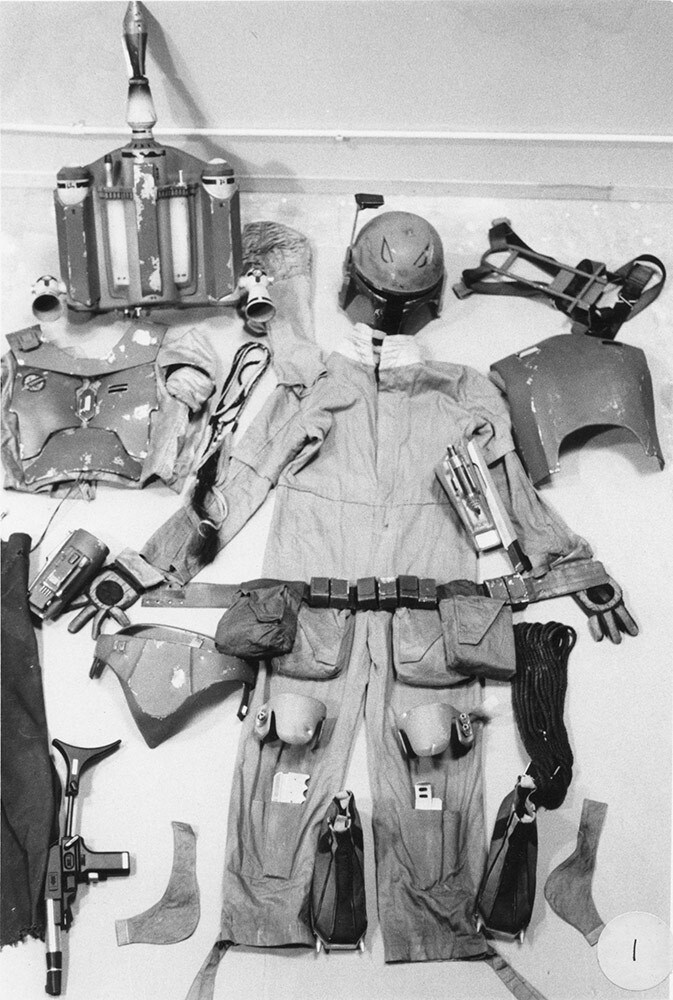 Though Johnston only had one suit to work with, he would just paint over a panel of armor until he found a color he liked. And maybe most importantly, he figured out a way to make the armor look battle-worn without actually damaging it. To make certain plates appear dented, Johnston would paint the entire area silver, cover it with frisket, and then paint the final color over that. "When you pull the frisket off," Johnston explains, "you would see this silver paint coming through. It would look like there was a dent and the metal underneath was revealed." The technique was used on both the body armor and helmet, and finally, Johnston dyed the jumpsuit a blue-grey. He presented his work to Lucas, who liked it, but Johnston wasn't done.
He continued tinkering and adding modifications, including a lot of aging and a lot of "metal" damage. Johnston even added talismans to decorate the suit, and took some inspiration from classic Westerns. "At one point we had a poncho on him like the Clint Eastwood character in For a Few Dollars More. That ended up getting in the way and being cumbersome, so we eliminated that." Finally, the armor was more or less done. But would it be functional for a bounty hunter of Fett's caliber?
The Fett test
While there is a now-famous video tryout of the prototype armor (which can be seen above), there was actually another armor test, in which Bruce Nicholson (optical photography supervisor) suited up as Fett in the painted costume. Johnston didn't know what Fett would have to physically do in the movie, but he wanted to make sure he could handle action befitting a bounty hunter. "I just wanted to see him move around in it," Johnston says. "We took pictures of it. We didn't take any video, unfortunately. I said, 'Just move around.' I wanted to make sure that it looked like you could move comfortably. A bounty hunter or gunslinger from the Old West needs to look comfortable in his outfit, for sure. 'Just move around. I want to see if he can run in it.'" And he could run around -- if he opted to leave a specific piece of equipment home.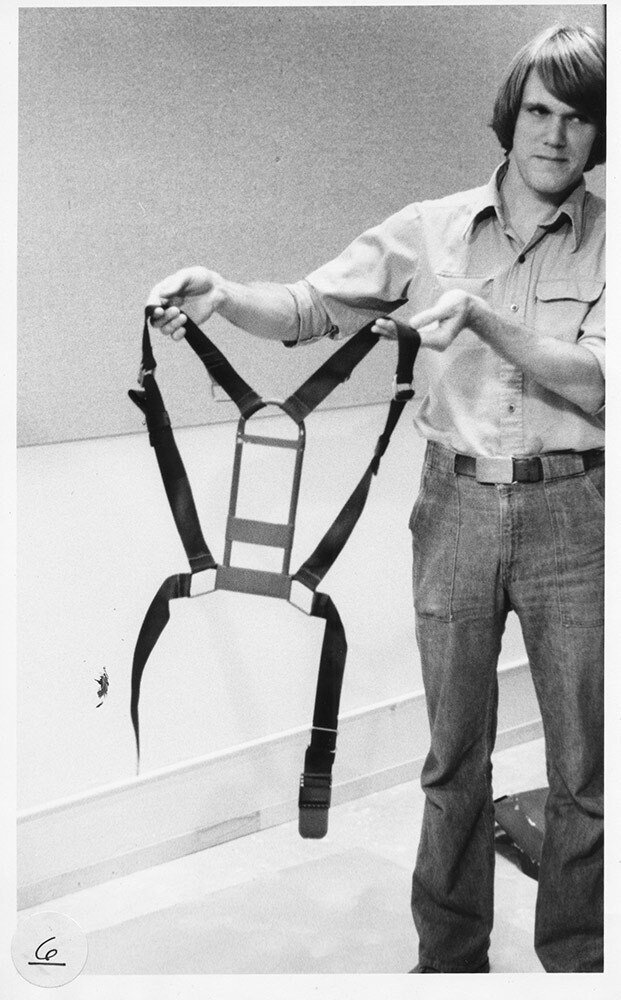 "The rocket was a pain in the ass, you know," Johnston says. "When you tried to run with it, it would bounce up and down. It would affect the way you moved." Thankfully, Fett never actually runs in Empire. "He's too cool to run," Johnston says. "He doesn't have to run." Four additional suits were made for filming, but Johnston says that if you lined them all up, he could spot his original. 
For the record, Johnston has no memory of the term "Mandalorian" -- the canonical armor-type that would define Boba's suit -- being used during production or of its origins. Though he has an idea. "I'm sure the term came from George," he says. "All that stuff does. Or at least he approves of it, but most of it he comes up with."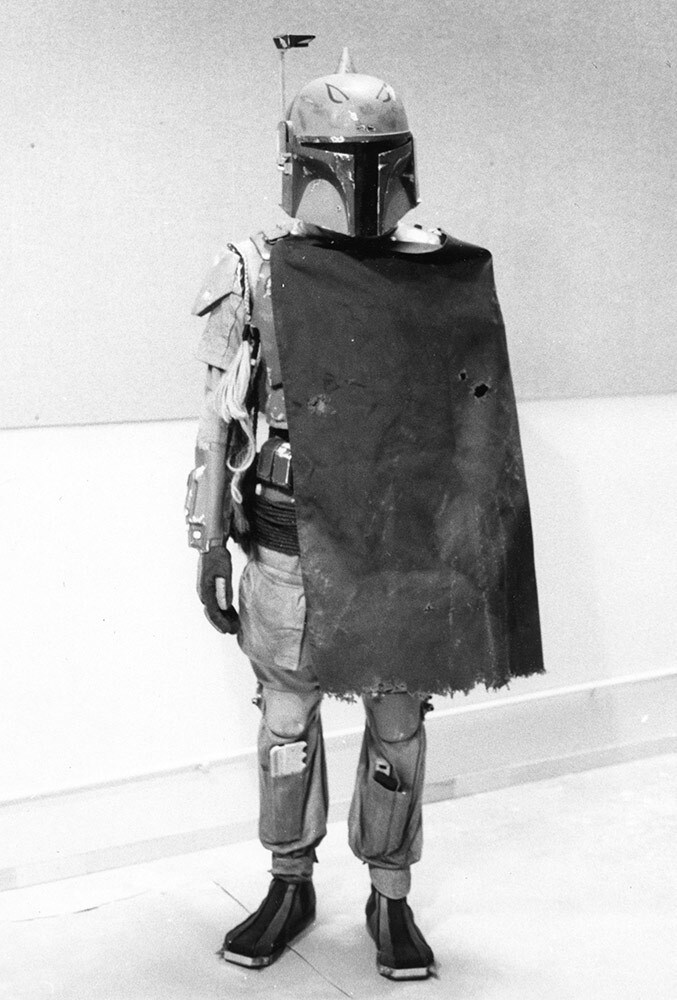 Once the armor was complete and finalized, did Johnston know that the design worked? That he had created something that would impress audiences? "It looked like a cool thing to me," he admits. "I thought it was pretty cool." But a single element stands out to Johnston both in terms of the success of the design and the character. "One thing I thought was very important about Boba Fett was that the helmet was his face. I never felt that you should ever see his face," Johnston says. "I think his helmet is his face, basically."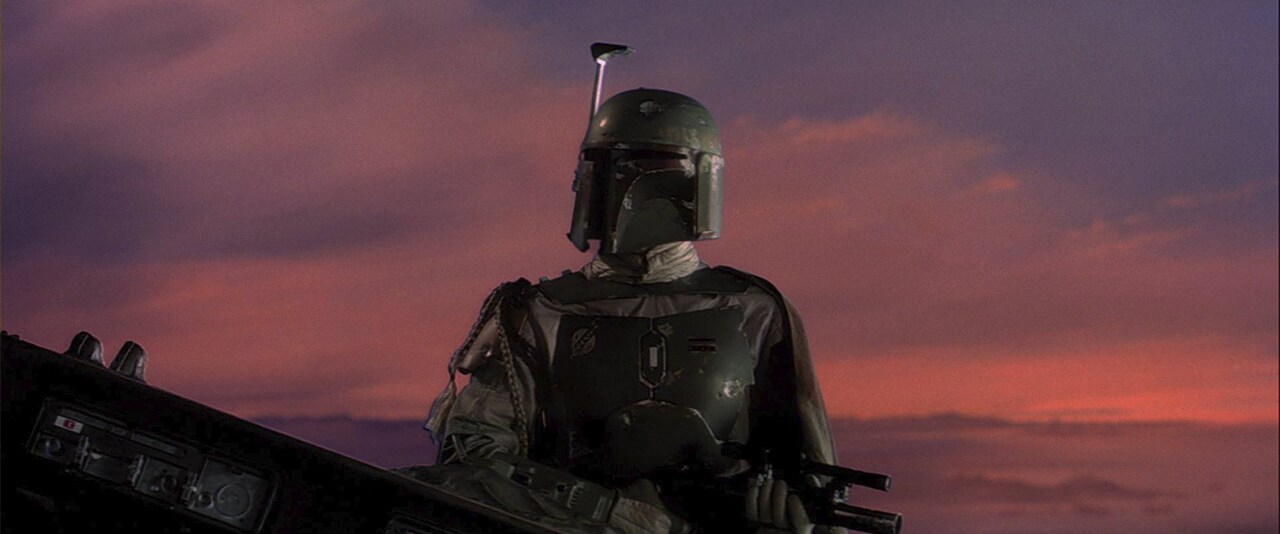 Legacy
Forty years later, the legacy of Boba Fett lives prominently in pop culture. The character's backstory was revealed in Star Wars: Attack of the Clones. Star Wars: The Clone Wars further developed Fett as he grows up in the underworld, hoping to be a bounty hunter like his fallen father. And The Mandalorian, carrying on Johnston's incredible design, is one of the world's biggest series. (Johnston has yet to see The Mandalorian.)
Johnston is humble about that legacy and the icon status of Fett, though he's proud. "I'm a little surprised by it, but I think it's great," he says with a laugh. "I'm glad he is [popular]. I like him. I think he's a cool character." And when it comes to his overall experience on Empire and Star Wars, Johnston, who went on to direct his own classics -- including Honey, I Shrunk the Kids, The Rocketeer, and Captain America: The First Avenger, among many others -- remains grateful. 
"Even though I went off to direct films after that, the part of my career that I remember with the most fondness is the years I worked with George," he says. "It was a great time."