The author of the New York Times bestseller discusses some of the book's biggest moments.
Since the introduction of the character in The Clone Wars, Ahsoka Tano has been winning fans over by leaps and bounds, as quickly as she can defeat battle droids in combat. Two weeks ago, the beloved Togruta leapt to new heights: the new novel, Star Wars: Ahsoka, by E. K. Johnston, stormed The New York Times Bestseller lists to grab the number one spot for both Young Adult Hardcover and Young Adult E-Book lists -- in its first week of release. Plus, huge crowds are turning up for book signings coast to coast with author E. K. Johnston and audiobook narrator Ashley Eckstein.
Now that Ahsoka is out, StarWars.com brings you some in-depth insight into key moments of the book. Chatting via e-mail, E.K. Johnston takes us inside her process for writing some of the biggest scenes in the book. Spoiler warning! This list of commentaries gives away a lot of key plot points in Ahsoka.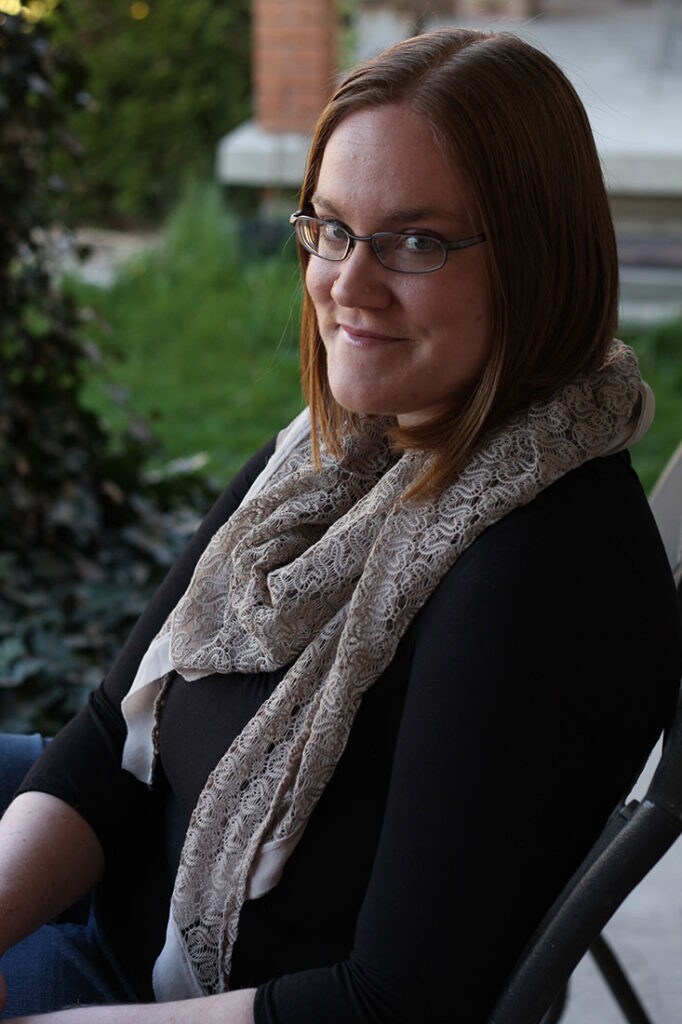 Ahsoka Tano versus Maul on Mandalore
The story kicks off with a prologue pitting Ahsoka against Maul during a battle on Mandalore -- at a point in time after Ahsoka left the Jedi Order. Johnston describes writing this scene: "This was the first scene I wrote in full, and I was SO NERVOUS about it! I had a list of things to include as well as two lines of dialogue (not connected) that I knew were going to be good places to start. I built it up from there."
Ahsoka uses the Force during Hoban's raid
For a long time, Ahsoka has wandered on her own, unwilling to be seen using the Force because it would unveil her identity as a former Jedi. But when a poorly-planned attack against an Imperial base needs backup, Ahsoka arrives on the scene, and taps into the Force to stop the Imperial forces and let the survivors escape alive -- but in doing so, she's dropped her cover to her new allies on Raada, and revealed a Jedi presence to the Empire. Johnston comments, "Really, the whole book was about balance: who Ahsoka was (which can get her killed), and who Ahsoka is going to be (which...can also get her killed). This scene is really the moment when the two lines collide, even if Ahsoka doesn't quite realize it yet." This scene creates a lot of trouble for Ahsoka, both with her new friends and with the Empire's focus shifting from dealing with a local rebellion to hunting a Jedi.
Hedala Fardi tells Ahsoka about the shadow
During her journeys, Ahsoka has befriended the Fardi family, and has discovered that one of the youngest, Hedala, is attuned to the Force, and has recently sensed the presence of an Inquisitor on her world. Johnston describes the challenge, "It's REALLY HARD to write dialogue for three-year-olds! Which, in hindsight, helps make her warning a bit more menacing. She doesn't know what she's afraid of, but she knows to be afraid of something."
Obi-Wan's interlude
There are a handful of interludes in the novel, most of which focus on different times in Ahsoka's past that might connect to where she is at the moment. But a few interludes focus on other characters, including a look at Obi-Wan Kenobi pensively reviewing his life on Tatooine.
Johnston reflects, "I wrote this entirely for my own heart (one spoilery part in particular!), and I am so, so pleased with how it turned out. It's my nod to Kenobi [by John Jackson Miller], which was a huge influence on me as a Star Wars writer, but also my acknowledgement that there are several battles going on, and as much as it hurts, Obi-Wan has to save himself for one that's much, much closer to the end."
Kaeden gets captured by the Inquisitor
While Ahsoka is off-planet, one of the Inquisitors arrives and tracks down where the rebellious farmers are hiding. In a vain effort to protect the rest, Kaeden, one of people closest to Ahsoka, surrenders herself to the Inquisitor, who plans to use her as bait. "The two Star Wars scenes that scared me the most as a kid," Johnston comments, "were when Leia stares down the interrogation droid in A New Hope, and Han's 'They never even asked me any questions' scene in Empire. So. You know."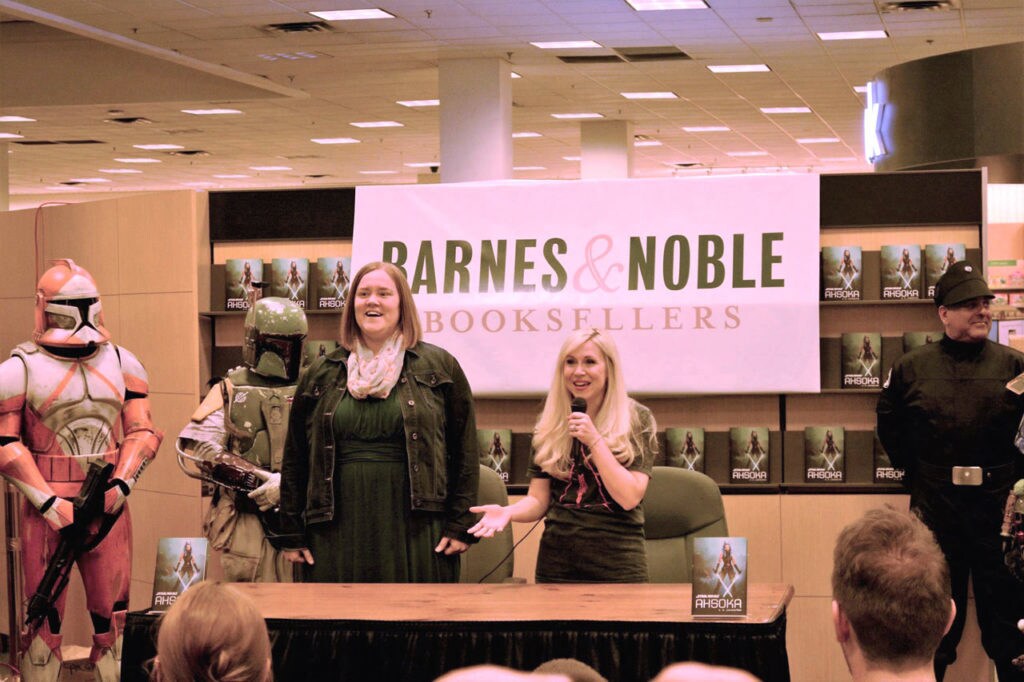 Ahsoka is re-united with R2-D2
At a recent stop on their book signing tour, Ashley Eckstein, the voice of Ahsoka Tano in The Clone Wars and Rebels, who provides the narration for the Ahsoka audiobook, mentioned that R2-D2 was her favorite Star Wars character, and was really excited when Artooey and Snips reconnect in the book. Johnston explained on the secret of writing with Artoo: "You do not realize how much dialogue is spoken to droids until a character doesn't have a droid to talk to. Writing those scenes was so fun and a bit less stressful for me, because I knew exactly who knew what, and what was going on."
Ahsoka completes her new lightsabers
One of the big questions raised when Ahsoka appeared on Star Wars Rebels is where she gets new lightsabers, with a unique color to her blades. Yup, this book answers that question, with Ahsoka finally obtaining the last key component right in the middle of the book's climax. How and where she finds the crystals, and how blade colors are determined. Johnston relates writing this sequence: "Also kinda terrifying. Super fun, but terrifying. It was a really epic and amazing scene to put together (and it got about a billion times better in the second draft!)."
Ahsoka becomes Fulcrum
As the story wraps up, Ahsoka realizes that it's time to stop hiding from the Empire and begin working with others to fight it. Bail Organa has re-connected with her, and she takes on the code name Fulcrum as she joins the Rebellion as an intelligence operative. Johnston explains, "This scene was written in sequence (i.e. it was the second to last thing I physically wrote during the first draft), but I had it in the back of my mind from the start of the project. Super glad I got to write Bail, but even moreso that I got to have that scene with Ahsoka and her determination."
Think you know everything now that you've read some of the author's commentary on Ahsoka? Think again. While we've covered some of the most anticipated moments and key scenes, there's a lot more to Ahsoka Tano that gets revealed in this novel, available from Disney Lucasfilm Press in hardcover and ebook, and from Listening Library as a downloadable audiobook, narrated by Ashley Eckstein.
James Floyd is a writer, photographer, and organizer of puzzle adventures. He's a bit tall for a Jawa. His current project is Wear Star Wars Every Day, a fundraising effort for a refugee aid organization. You can follow him on Twitter at @jamesjawa or check out his articles on Club Jade and Big Shiny Robot.