Learn their stories of fandom and inspiration from the galaxy far, far away.
Fan art has been part of the Star Wars story for decades. It's how many, no matter where they're from or when they discovered Star Wars, express their love of the saga. And in celebration of Star Wars Day, Lucasfilm and The Walt Disney Company are honoring the tradition of Star Wars fan art with something of a digital exhibit on Disney+. Fifteen creators from around the world were commissioned for a Disney+ artwork takeover, all with unique styles and interpretations of various Star Wars movies and series -- from Cole Thompson's powerful use of color for Star Wars: Return of the Jedi to Salvador Anguiano's elegant Star Wars: Revenge of the Sith painting. StarWars.com is honored to feature these works below, along with exclusive commentary from many of the artists.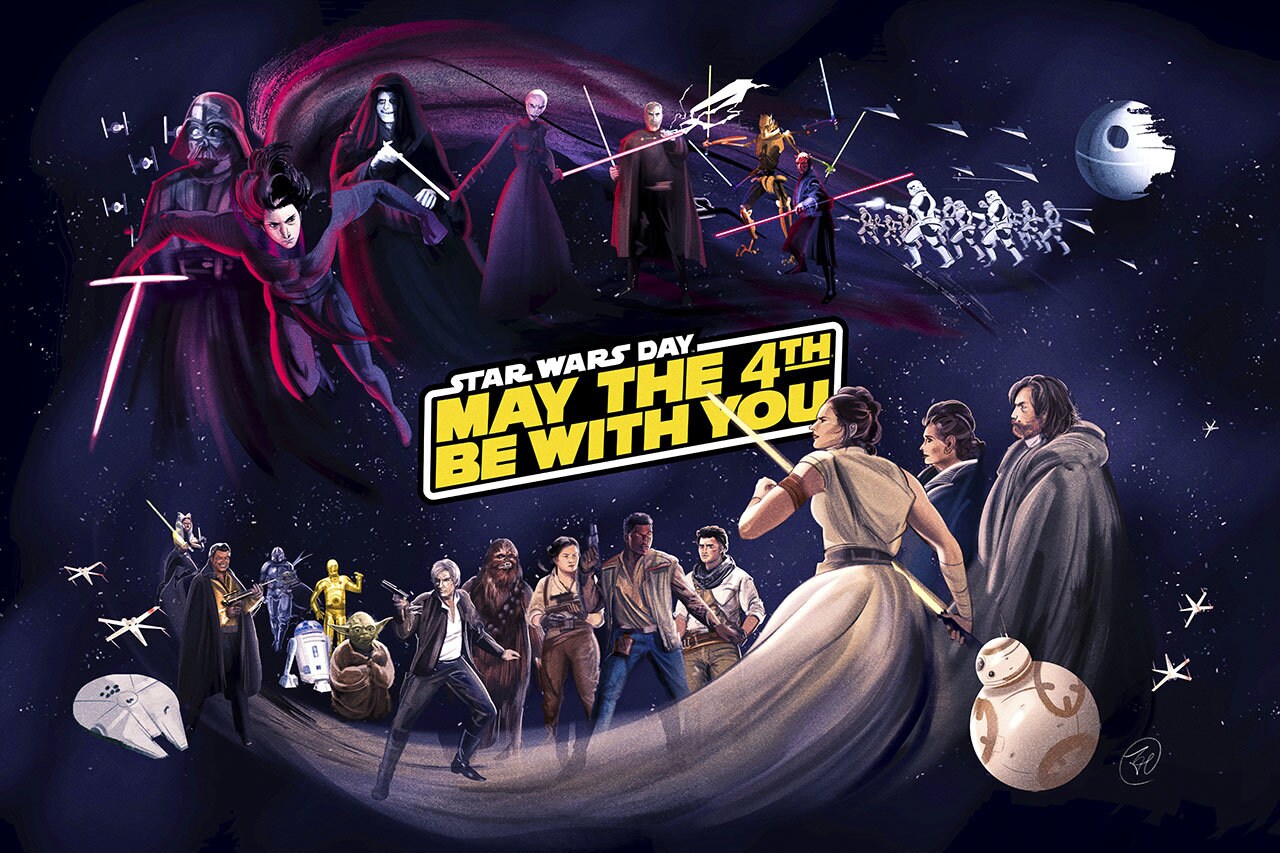 Star Wars Saga Mural
Zi Xu (New Jersey)
"This was an absolutely incredible experience, and I am so grateful to have had the privilege of working with such a wonderful team at Lucasfilm and also with the incredible artists over at Poster Posse/MEOKCA.
"To me, the core of Star Wars is the balance of good and evil that rules over the universe, so I wanted that balance to be reflected in my illustration. Getting this job felt absolutely surreal because I remember when Episode VII had just come out. I pulled an all-nighter marathoning the entire series up to that point so I could see the newest one with my friends the next day. After I saw it, I had a period of three months where I drew Star Wars fan art all the time! So going from that to doing official mural art for Lucasfilm was like, wow! How did this happen? What a dream come true."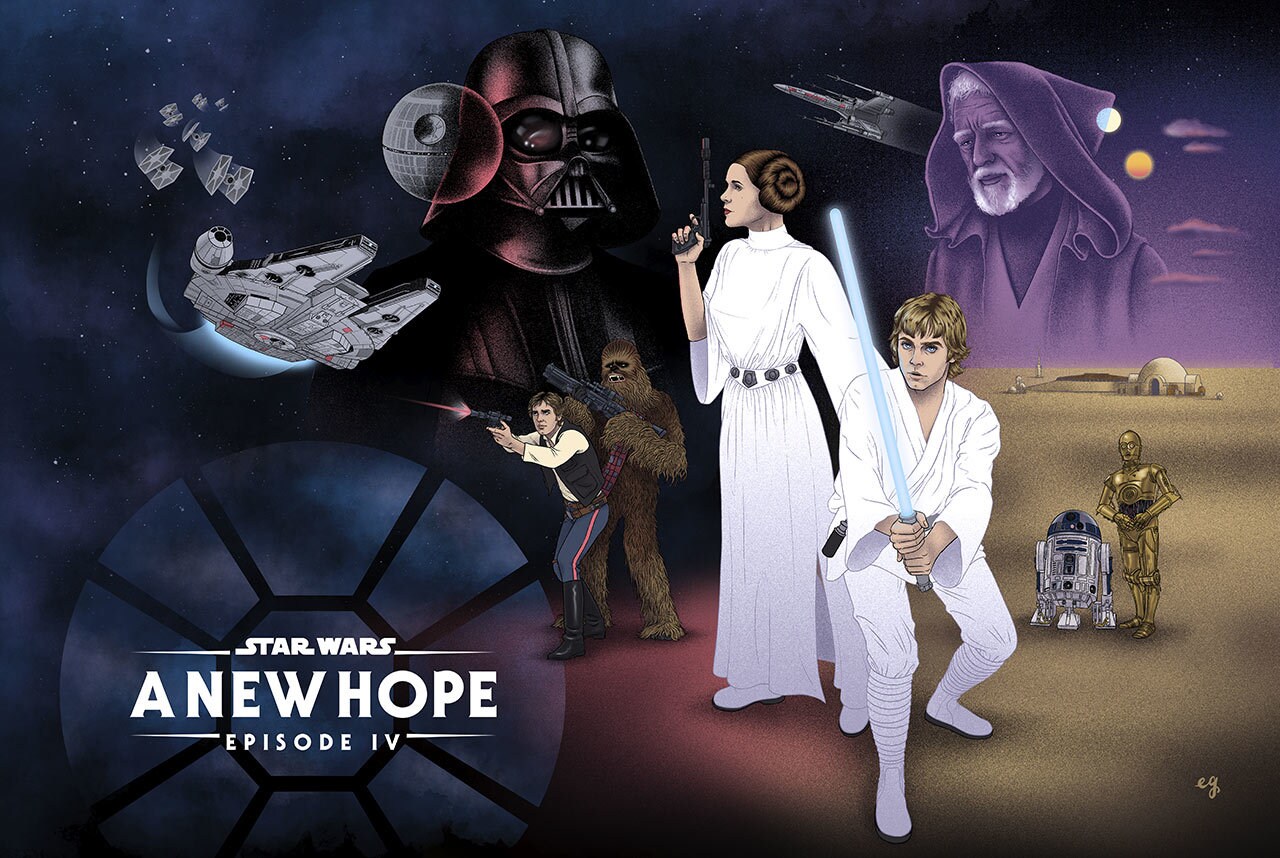 Star Wars: A New Hope
Erin Gallagher (California)
"For me, being born one year before Return of the Jedi was released, the original trilogy was always in the ether. It was played on VHS and cable TV; I knew who Luke's dad was and I very much enjoyed Ewoks. As I got a little older I actually watched the films in order, with purpose, and understood what all the fuss was about. When I was a teenager, Episode I came out and it was the biggest thing ever in pop culture -- it was a must-see, must-discuss event in my circle. Now as an adult, to see the how much the Star Wars universe has grown over the years is mind-blowing.
"As much as I love the sequels and the [greater story], it always comes back to A New Hope for me -- the one that started it all. The beginning of our heroes' journey is very special, and I took that to heart when creating this artwork. I wanted to convey the sense of wonder people felt when they first entered Luke and Leia's world. I wanted to hint at things to come while staying true to A New Hope as its own creation, when it was a weird, unexpected movie like nothing else people had seen in theaters. I think most artists have lists of projects they dream of working on, and working with Star Wars has been one for me, but this particular project, my illustration being on people's televisions all over the world, is something I hadn't even considered -- and I'm so grateful to be involved."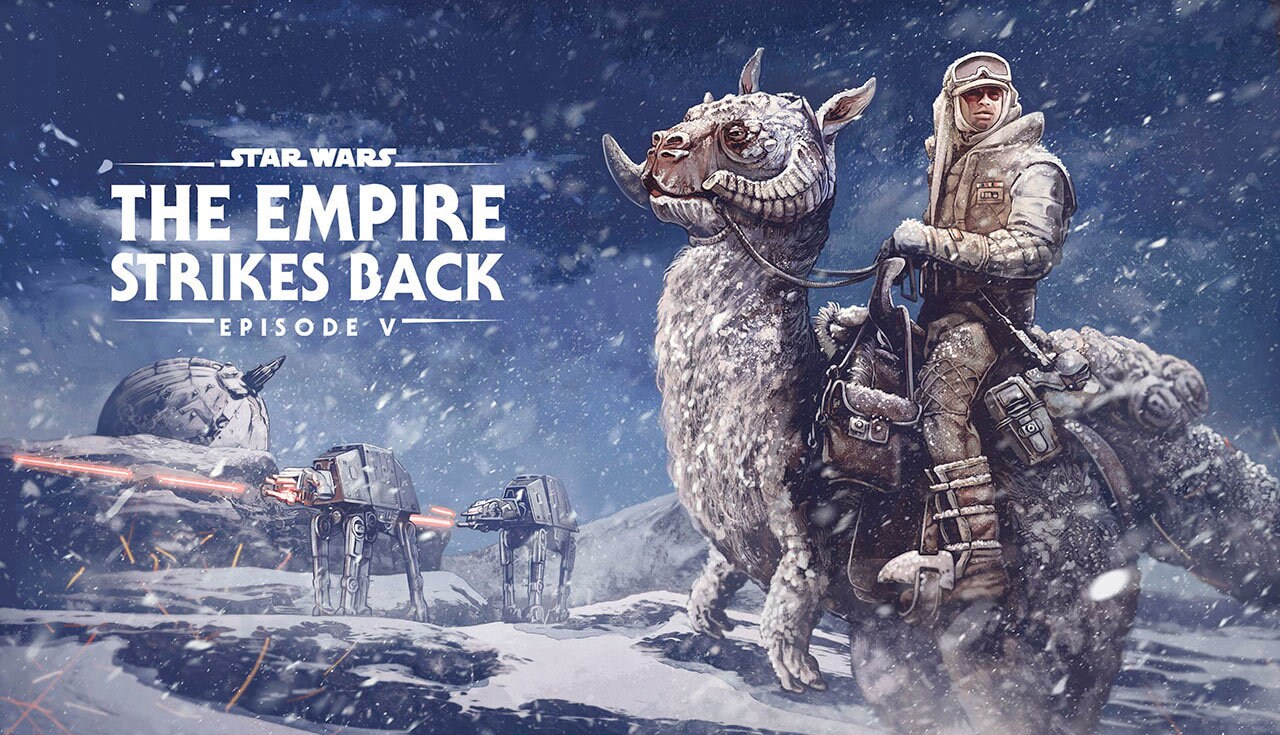 Star Wars: The Empire Strikes Back
AJ Frena (Pennsylvania)
"My mom is an OG fan, and one of my first memories is watching A New Hope with her on a box TV. When I was a pre-teen, a Star Wars exhibit opened up at the local science museum and, of course, we went together. Many of the original puppets and models were there, including the tauntaun. I wanted to reflect these memories in my piece."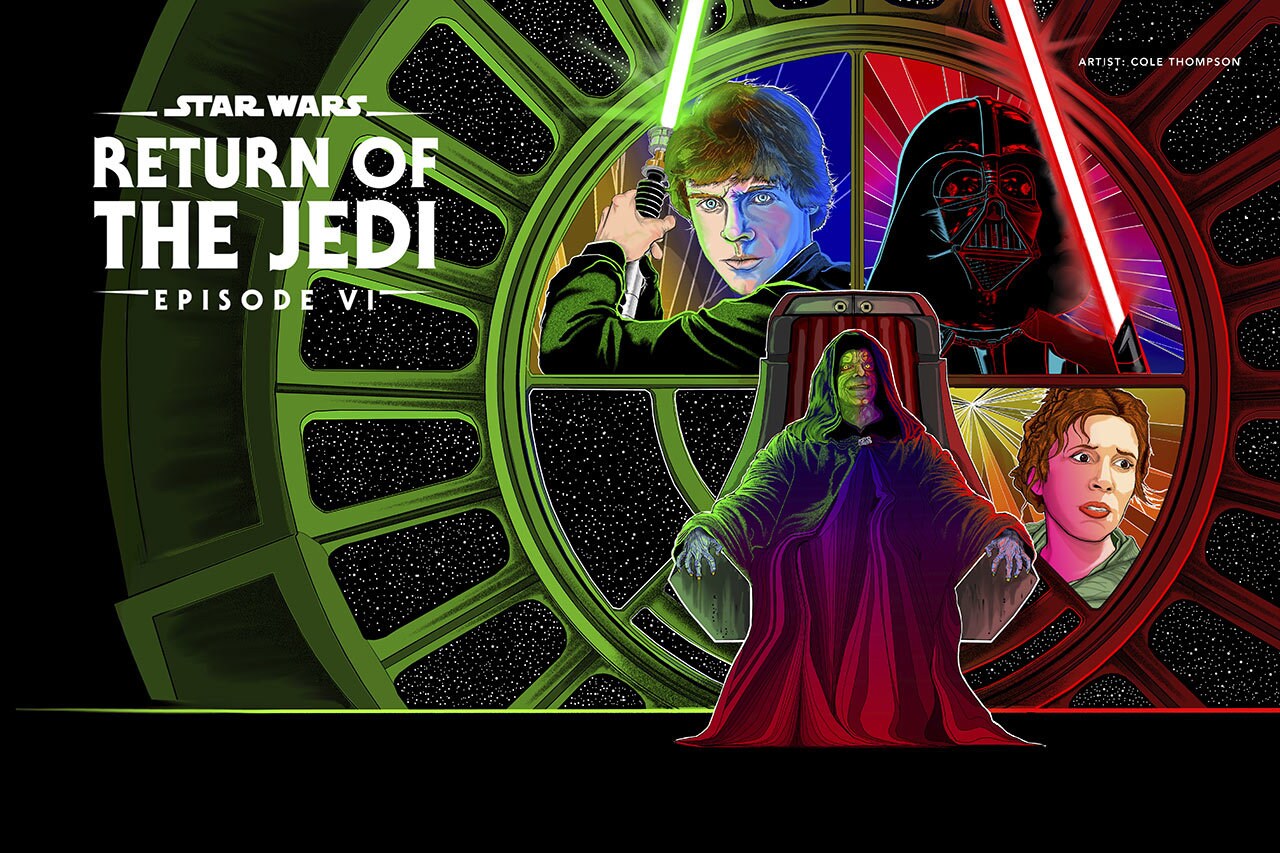 Star Wars: Return of the Jedi
Cole Thompson (Glasgow, UK)
"Watching Return of the Jedi on VHS as a toddler was my first memory of Star Wars ever. That was how I was introduced to all these iconic characters and landscapes. I grew up with the prequel trilogy, and going to see Revenge of the Sith on opening day when I was eight years old was something I'll never forget.
"Star Wars has always been in my life, influencing me as a filmmaker and as an illustrator. I love doing weird concepts of creatures and having that 'sky's the limit' attitude to designing them. I was very fortunate to be chosen by Lucasfilm to illustrate a piece based on my first Star Wars film, and wanted to use the strongest elements of that memory. I always associate Return of the Jedi with the color green: the forests of Endor, Luke's lightsaber, Leia's camouflage poncho. A visual that always creeped me out as a kid was that amazing shot of Luke and Vader's lightsabers clashing, illuminating the Emperor's ghoulish grin with those yellow eyes. As a huge fan of horror films, I decided to really emphasize what scared me as a kid: each side of the illustration is dedicated to the vivid colors of green and red. The contrasting colors bleed into the endless robe and corpse-like face of the Emperor, making him look as terrifying as I remembered him to be."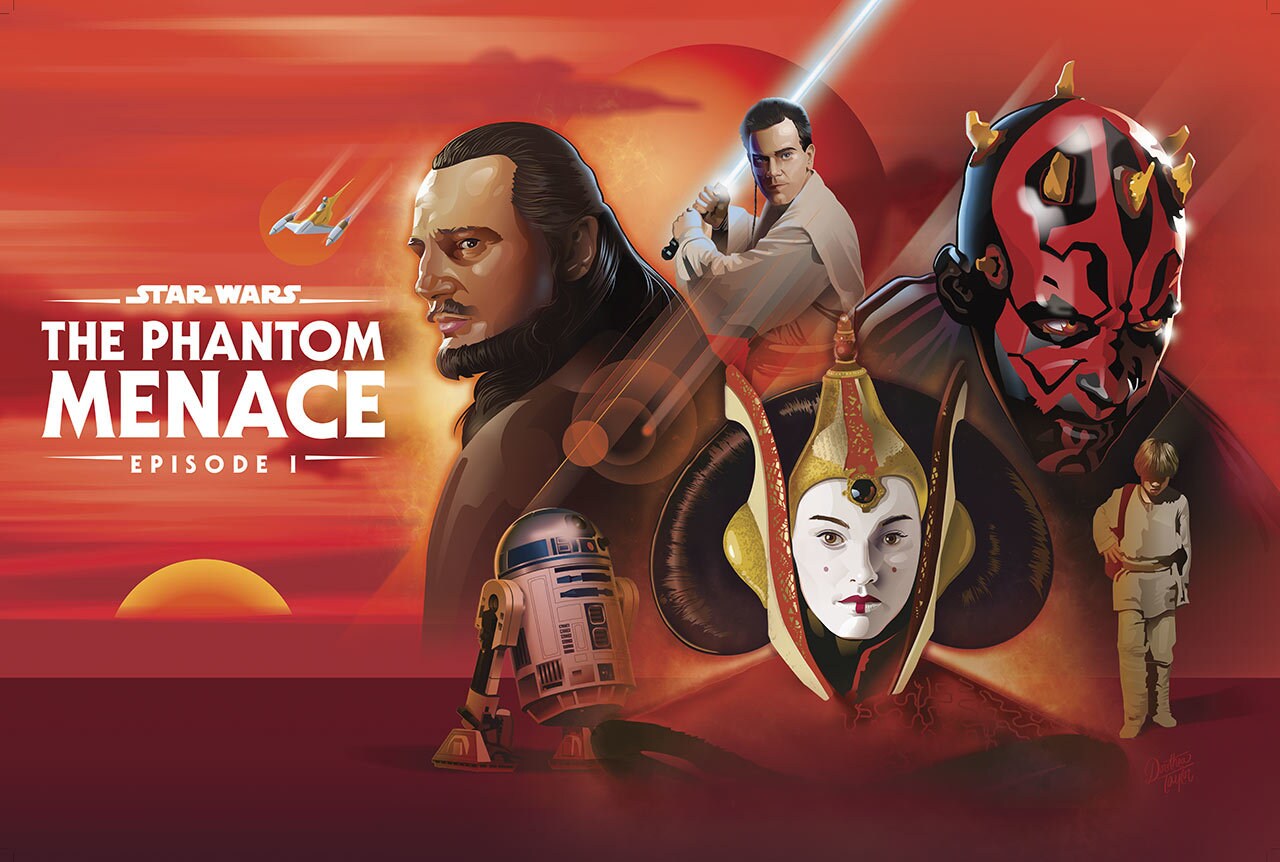 Star Wars: The Phantom Menace
Dorthea Taylor (Georgia)
"The first movie fan art I illustrated was a Star Wars poster. I can't make this up. It was literally my first alternative movie poster. As a creative person, I fell in love with the groundbreaking cinematography and creativity in the films. That was a big part of the movies' appeal, along with the storytelling. That glossy black Darth Vader helmet with the beautiful blue highlights took my breath away. (Why is it that the villains and the aliens were always the coolest things on the screen?)
"With each film the franchise seemed to up the ante as far as creativity. When given the choice of which movie I wanted to illustrate, Darth Maul and Queen Amidala immediately came to mind. I knew that The Phantom Menace would be one of my top choices. I was always fascinated by the fierce makeup on Maul (Like I said, VILLAINS!) and the beautifully intricate costumes of Queen Amidala. I knew I wanted to create a poster that would showcase both characters."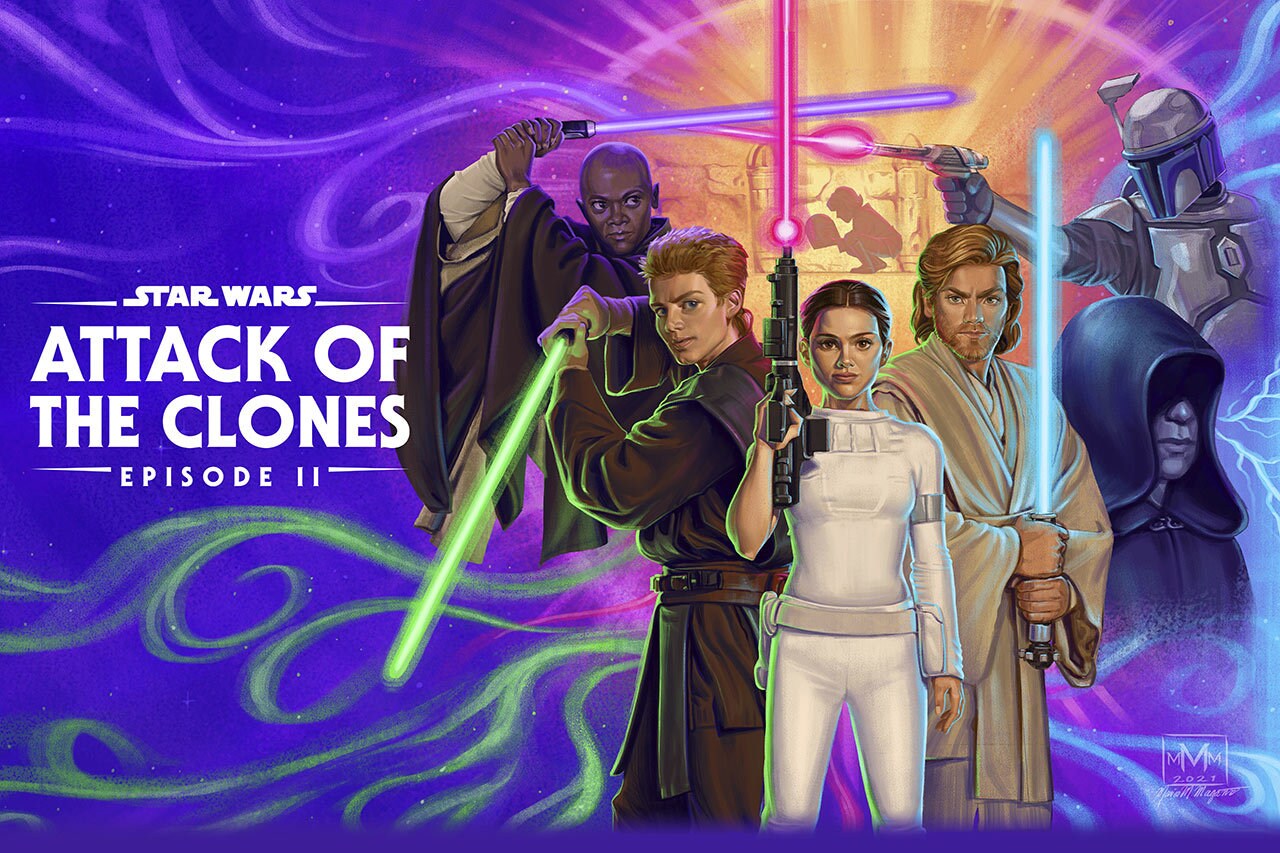 Star Wars: Attack of the Clones
Monica M. Magaña (Vancouver, Canada)
"Star Wars has always been a source of immense inspiration to me. I grew up with my dad taking me to see the prequels when I was very young. I remember being in awe of the fantastic worlds that Anakin and Obi-Wan traveled to. When I got a little older my uncle lent me his VHS set of the original trilogy to watch, and it became a cornerstone of my love for the series. Going to Disneyland to ride Star Tours was always a favorite and I loved getting to see the series implemented at the Parks more and more.
"I wanted to get across some of that youthful awe that I remember with my piece and one of the biggest things that always stuck out to me was the bright colors of the lightsabers. I wanted my piece to be as illuminated as the lightsabers themselves. Even though my piece is digitally created, I also wanted to try and get a traditional media feel since I have such a love for Drew Struzan's original poster art and all the hand-painted matte paintings used in the original trilogy. I used some customized brushes to give my paint strokes a more natural feel."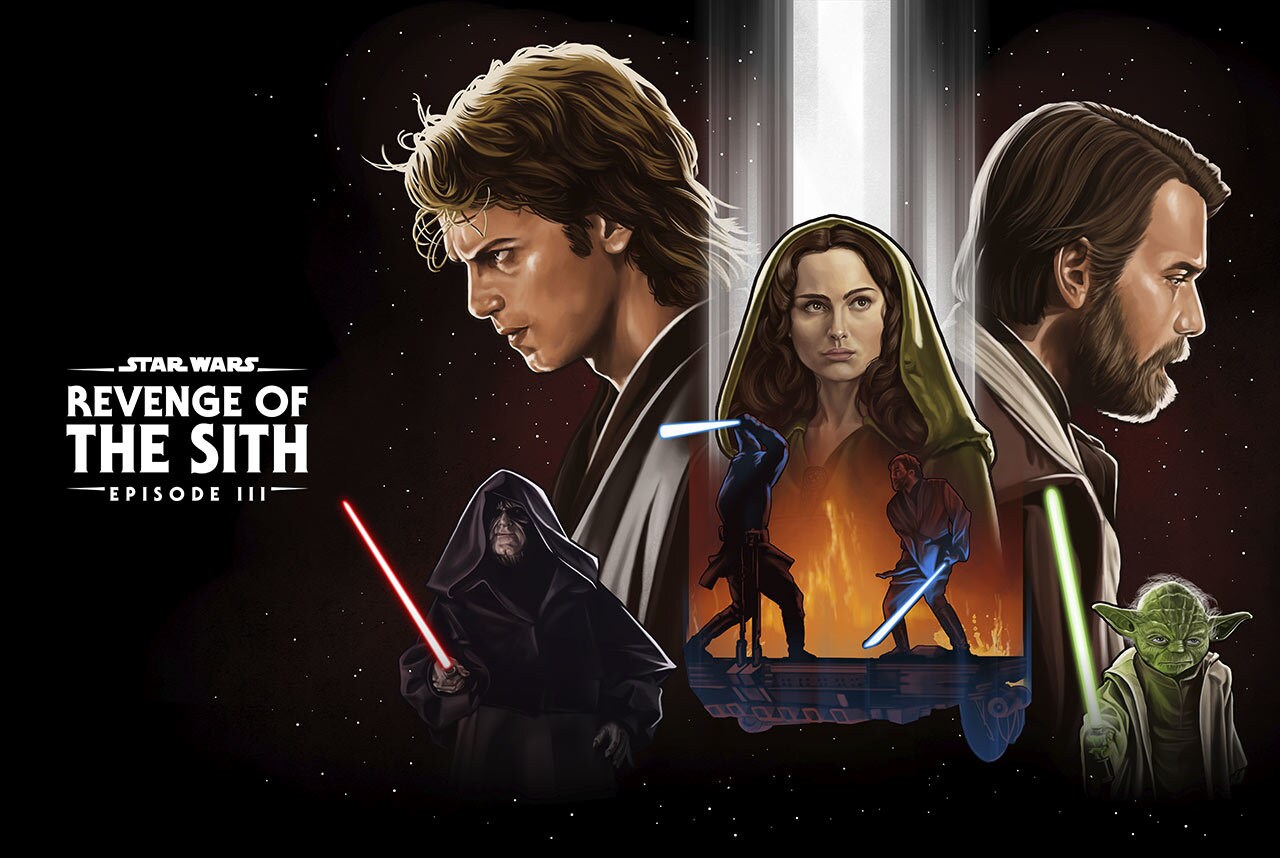 Star Wars: Revenge of the Sith
Salvador Anguiano (Mexico)
"I was introduced to Star Wars when I was around six years old. Back then I didn't have any friends because I was the quiet, shy kid in a new school but this one kid would talk -- quite loudly -- about these movies with aliens and laser swords and this scary bad guy all dressed in black to anyone who'd listen. This one time he caught a glimpse of me nearby, eavesdropping on him, and he just came up to me and asked if I had seen Star Wars. He became my first friend back in elementary school, all the way up till high school. That's what Star Wars means to me: friendship.
"All the way from elementary school to college, Star Wars has been there for me. My mom got me the Return of the Jedi VHS and I'd watch it every day. I made a few friends at school playing with Star Wars figures, saw the prequel trilogy at the theater with the girl who would become my wife, my kid and I watched The Clone Wars show together. Star Wars has been a constant source of great moments throughout my whole life.
"When we were given the chance to choose a movie I immediately had Revenge of the Sith as my first choice, because at the core of it, it really is about friendship. It is the tale of Anakin and Obi-Wan falling out and each one choosing the opposing sides of the Force, which is the subject on which I based my whole piece around, with each character looking in the opposite direction. And I think the expression on their face helps tell the whole story."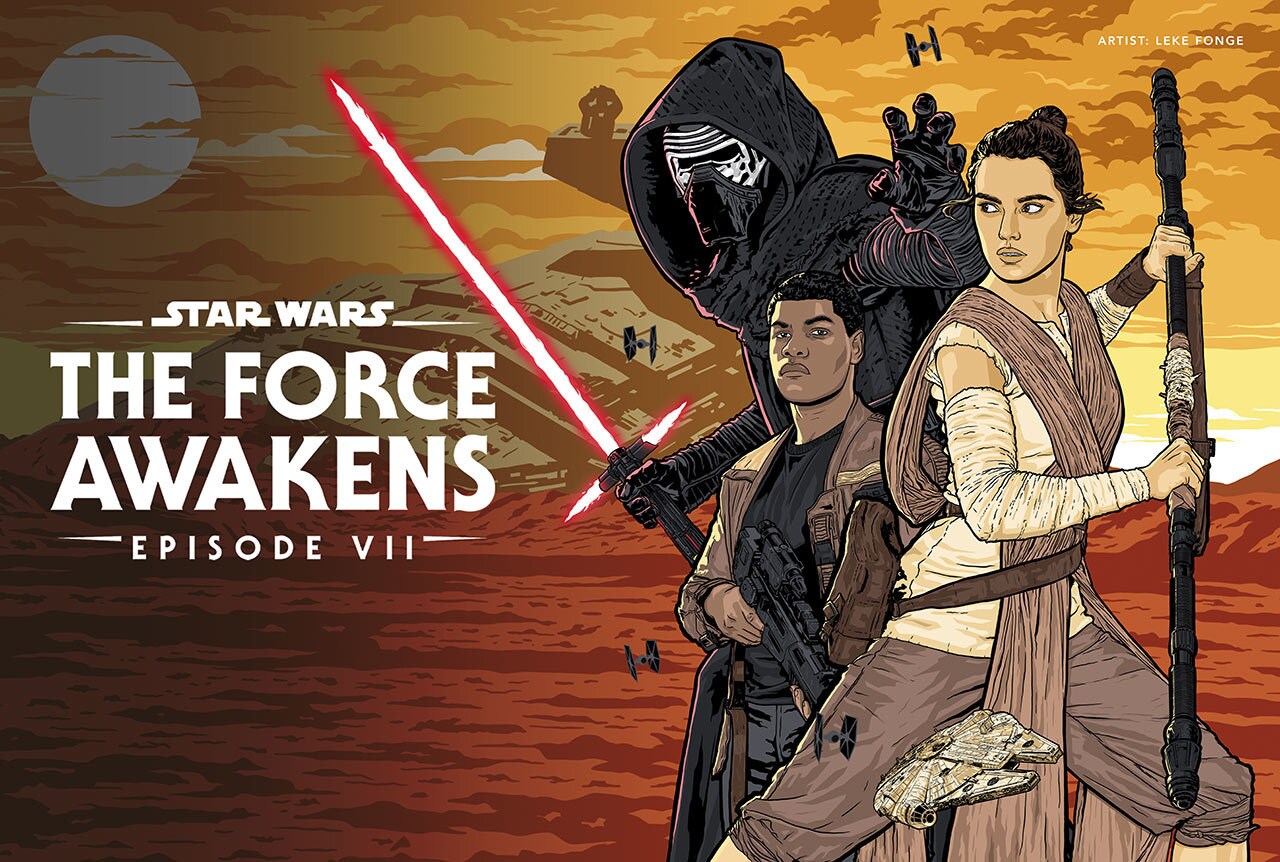 Star Wars: The Force Awakens
Lekelefac Fonge (Maryland)
"Like so many others, Star Wars has been extremely influential in my life. It taught me to reach into the deepest depths of my imagination and to explore and embrace the strange, the weird, and the magical. Working on this project has been an absolute dream and my goal was to illustrate the magic and wonder that each of these characters that we hold so dear exude. From the mysteriousness of the Force to the amazing vehicle and ship designs, down to the creative costume designs, Star Wars has always been groundbreaking and trendsetting and I try to treat my own work the same way in hopes that when people see my art, they simply whisper, 'Wow.'"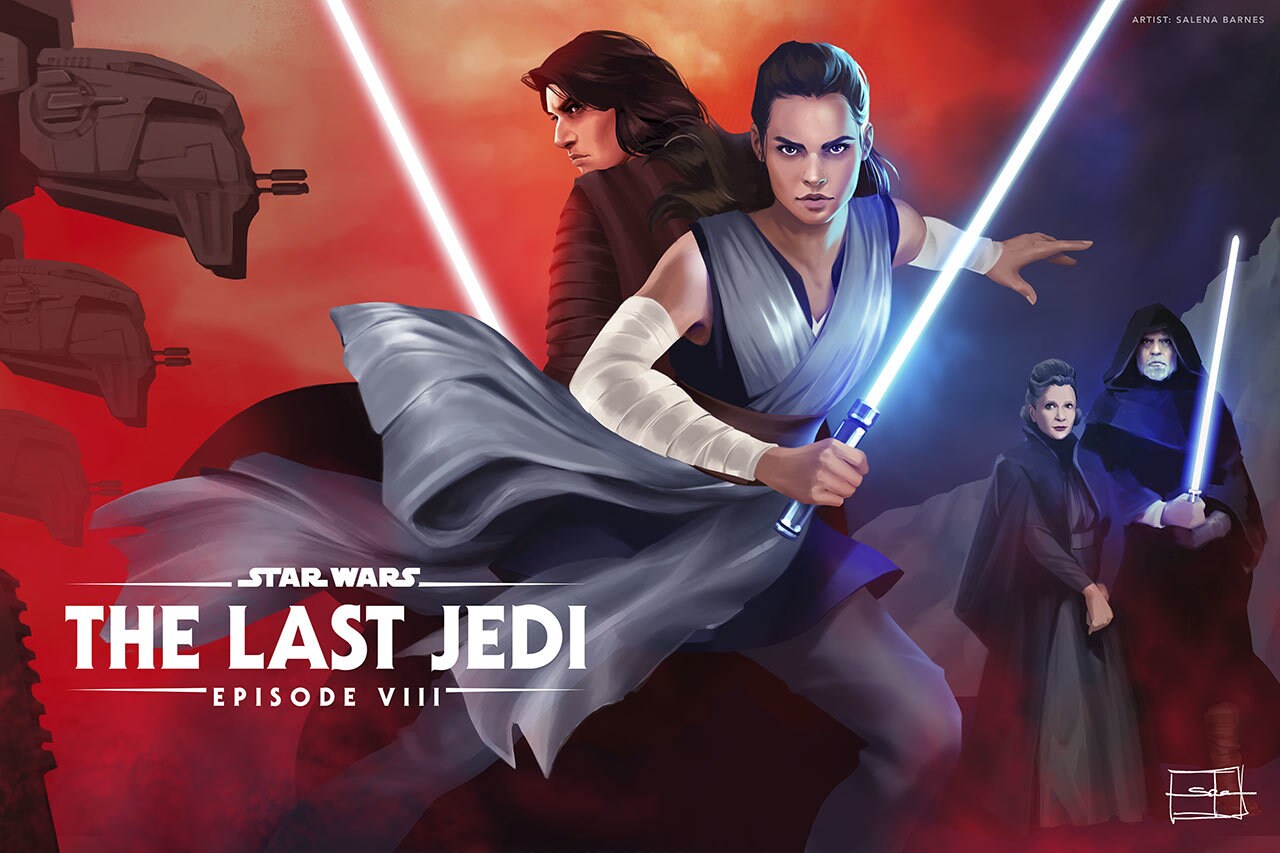 Star Wars: The Last Jedi
Salena Barnes (Berlin, Germany)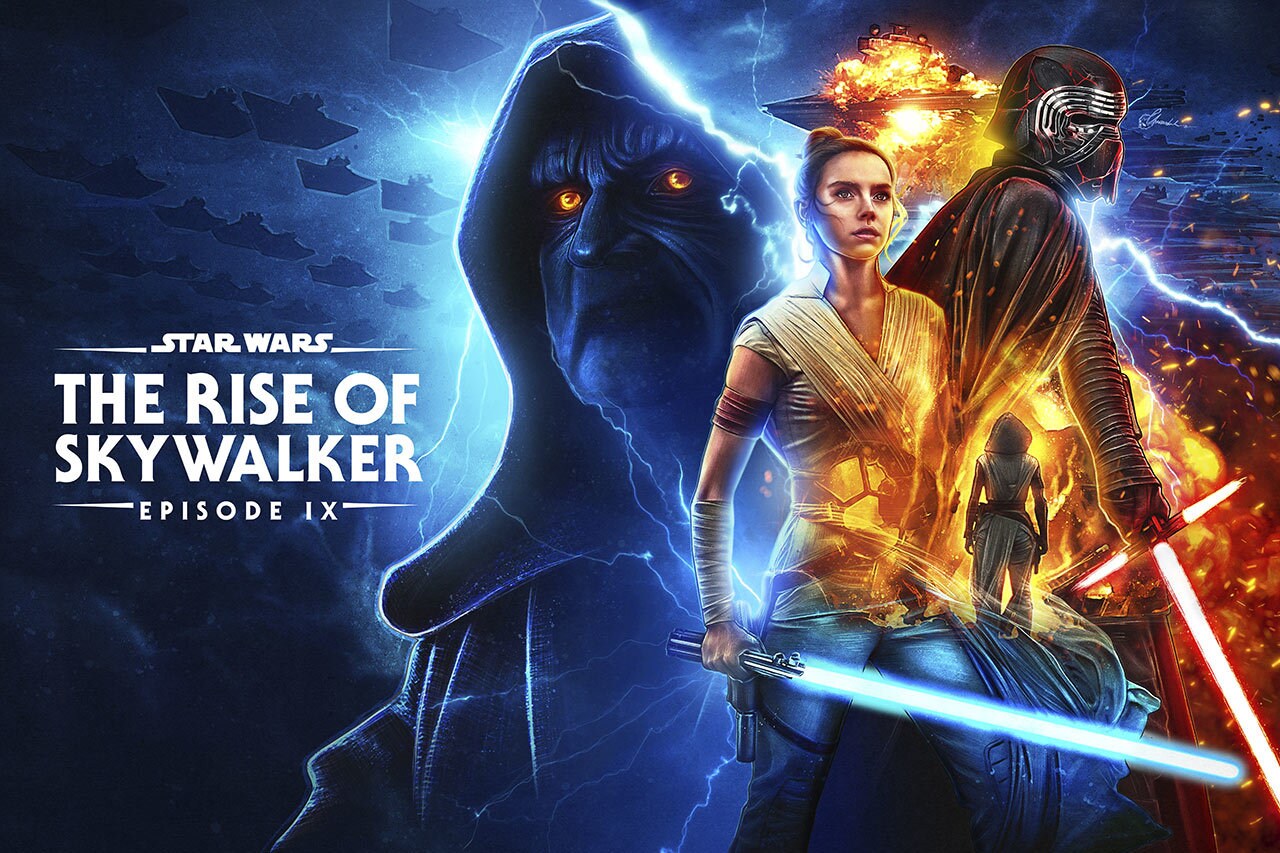 Star Wars: The Rise of Skywalker
Chris Christodoulou (London, UK)
Rogue One: A Star Wars Story
Talisa Almonte (New York)
"I've always been a fan of the Star Wars films and will never forget my earliest memory: dragging my dad to see Revenge of the Sith in theaters, and coming out so in awe by the costumes, characters, and world. I really wanted to create a piece that highlights the main characters but also, in a way, transports the viewer into the space and main objective of the film I was illustrating. In my case, having Rogue One, it's centered around Jyn and her journey, so I wanted my artwork to focus mainly on her but also highlight some of the key imagery of the film like the Death Star, the X-wings, Scarif, and the beach battle.
"Having this memory of my father and I watching Star Wars as a kid and receiving the news of this project a week after his passing made this project feel like I was creating a new memory of Star Wars in his honor. Participating in this project has been nothing short of a dream come true and to share this experience alongside so many other talented artists really makes this experience a highlight of my career as an artist.
Not to mention, Rogue One happens to be one of my favorites, so that was also a plus."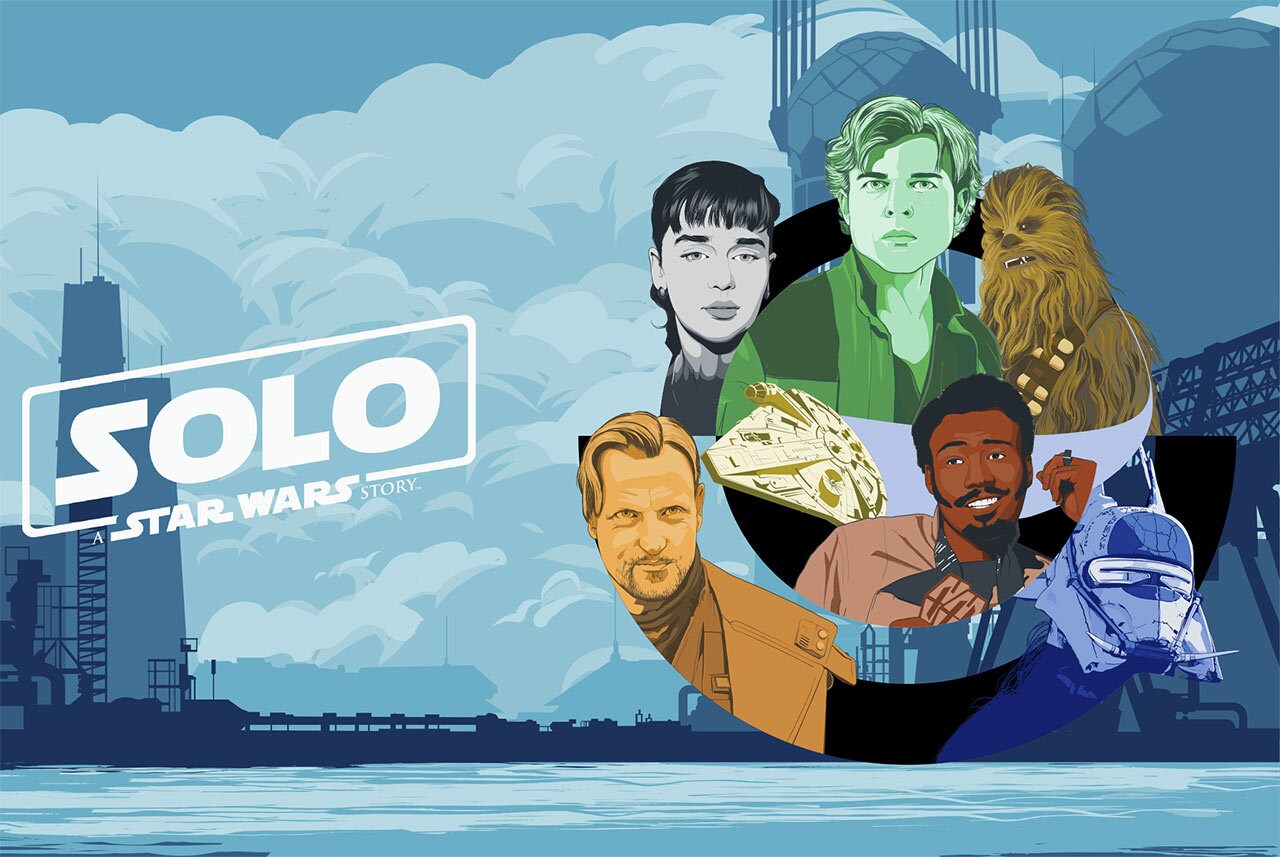 Solo: A Star Wars Story
Kwasi Amankwah (Illinois)
"As the little brother of two older siblings, Star Wars was introduced to me very early on. From toys, comic books, and movies, the extensive Star Wars world has always been a part of my life and helped drive my creativity. The best word to describe working on this project is surreal. Star Wars is arguably one of the biggest franchises in the world and to be given the keys to bring my artistic viewpoint was just so unreal. It was a dream project and to be a part of it alongside all of these talented artists is an honor."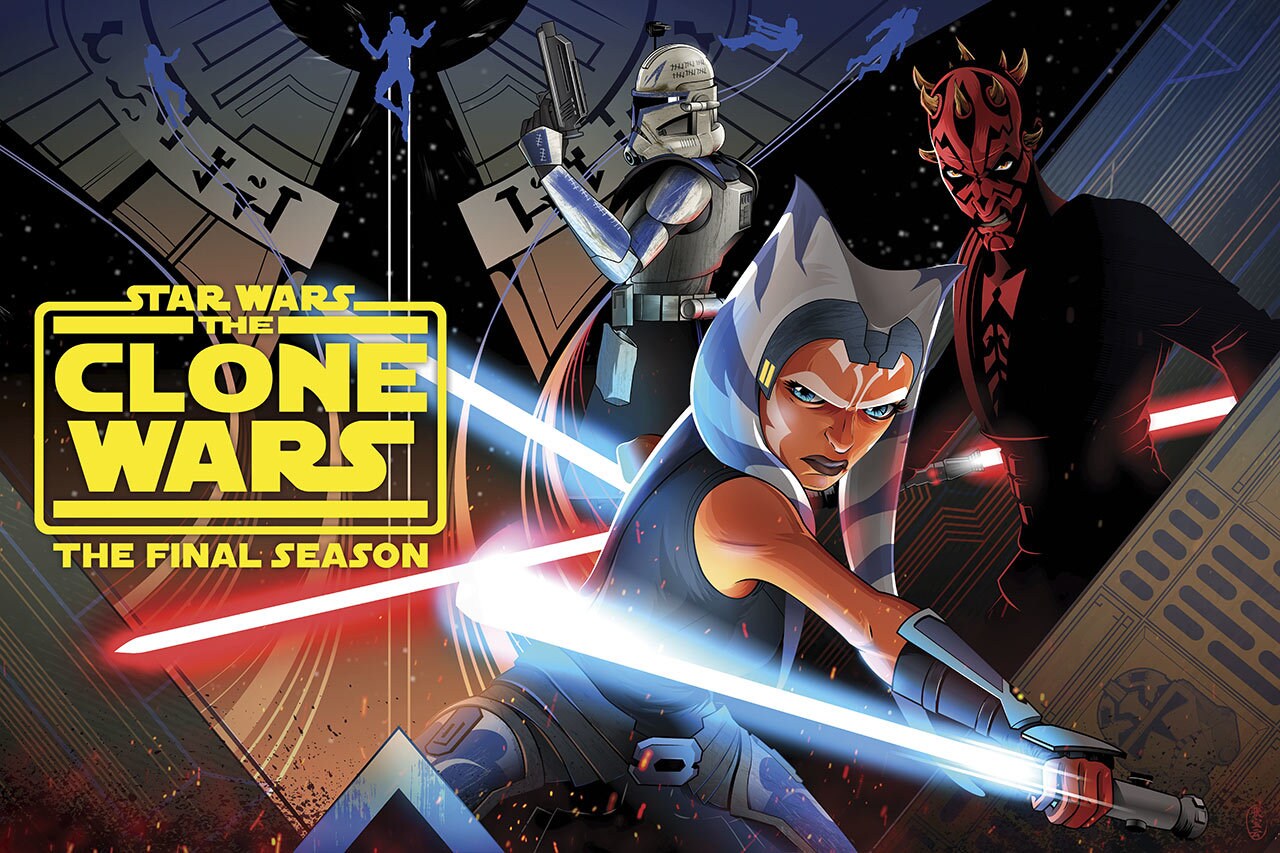 Star Wars: The Clone Wars
Cryssy Cheung (New York)
"When I received the brief to create artwork for The Clone Wars, I knew immediately that I needed to design a piece inspired by the incredible 'Siege of Mandalore' story arc. My goal was to highlight the tense relationship between Ahsoka and Maul, but at the same time show the partnership between Ahsoka and Rex.
"Inspired by Mandalorian architecture and armor design, I wanted to contrast art deco-style design elements with the dynamic lines of Mandalorian soldiers in flight. The dark mood and dramatic lighting reflects the serious, emotional moments in the story and the overall color palette is based on Ahsoka's character coloring."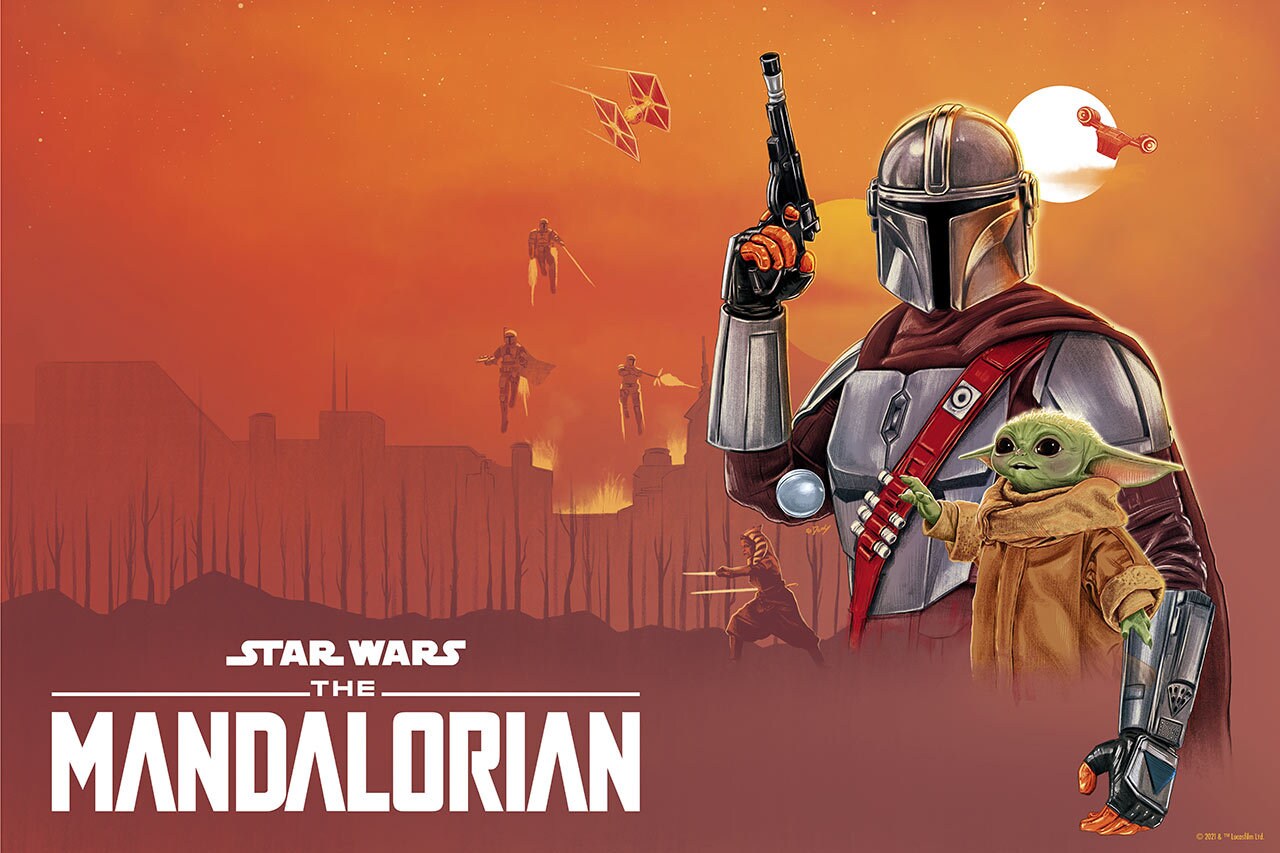 Doaly (UK)
"For me, The Mandalorian is a Western at heart -- the story of a lone gunfighter -- and I wanted my piece to reflect that gritty aesthetic/style. I knew I wanted Mando front and center, but also his father-son relationship between him and Grogu was key for me against this beautiful sunset scene."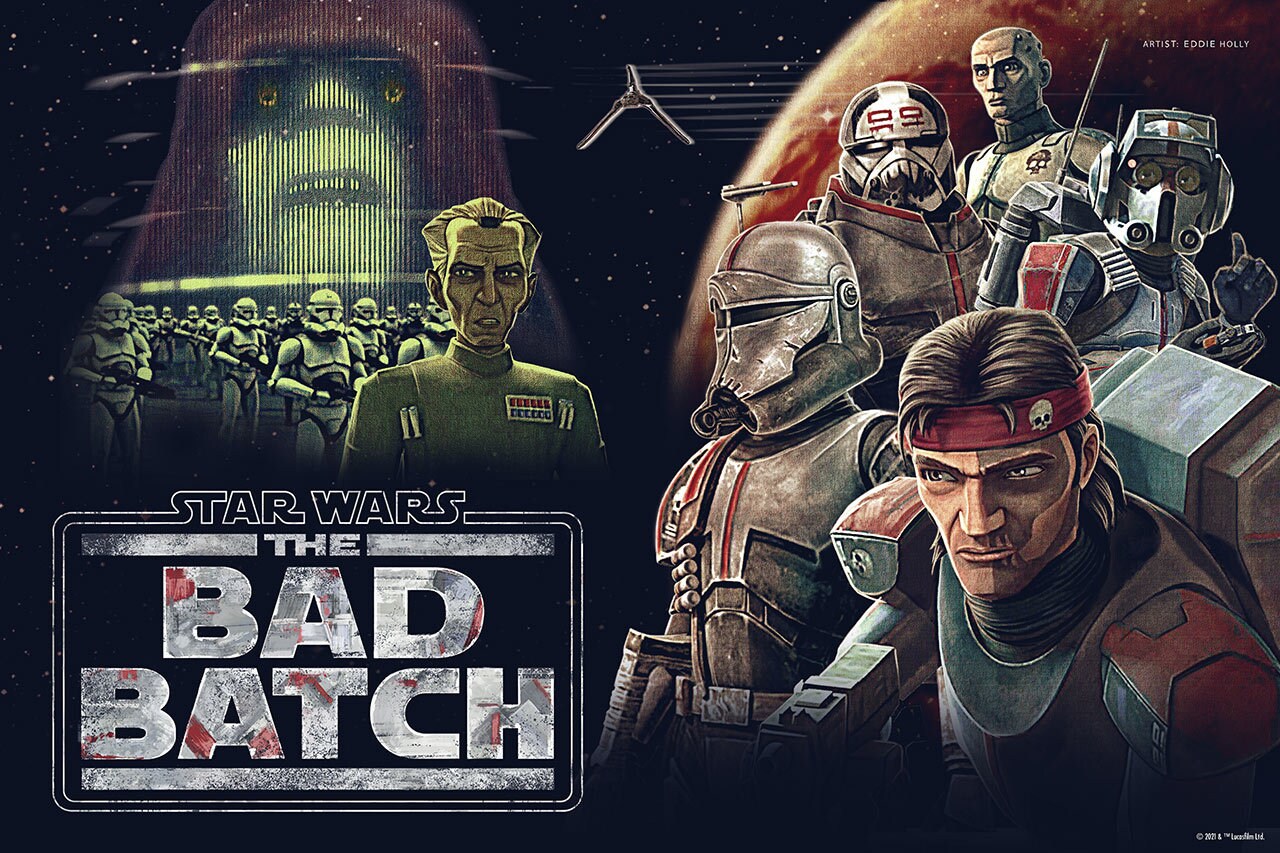 Star Wars: The Bad Batch
Eddie Holly (California)
"Star Wars means a lot to me. I grew up loving Star Wars movies, the toys, and video games. Most of my nerdy collection is Star Wars-themed. I think every kid or adult back in the day wanted to be a Jedi or Sith Lord wielding a lightsaber at some point.
"Being a fan of The Clone Wars and Rebels shows really helped inspire this art for The Bad Batch. It's a show I have been looking forward to watching and I am happy to be able to contribute something for its debut."
Check out Amazon for an exclusive range of products featuring this fan-made artwork.