StarWars.com examines five characters who sacrificed life and limb to be rebuilt as part man (or alien), part machine.
The look of Star Wars is unlike anything else in popular culture. Step back in time to explore the history and philosophy behind the concepts that define the galaxy far, far away in Designing Star Wars.
In a galaxy embroiled in conflict, where wars rage between peaceful ideals and a lust for power, the internal struggle of mechanically-altered men is a microcosm of the battles surrounding them, the clash between darkness and light.
Flesh-and-blood intermingles with machine to allow these badly injured warriors to fight another day, yet irrevocably alters the core of their characters. In prolonging basic life-support, the organic creature deep within the metal exoskeleton becomes barely recognizable, assisting autonomic function in a body that is too far gone to exist otherwise.
Beginning with the mysterious helmeted figure of Darth Vader, himself more machine than man, and continuing to the more recent resurrection of Maul, no longer a Sith yet building a new life through the aid of myriad metalized parts, cyborgs have struggled to maintain their identity, while reflecting the greater hostilities surrounding them. Each one forces us to consider – when the natural world is fused with unnatural elements, how much of the character's essence truly remains?
Darth Vader
For the man who was Anakin Skywalker, mechanical implants are simply a means to extend a life devoted to revenge and fueled by fear. Darth Vader rises, twisted by the Emperor's machinations, the good in him all-but consumed by darkness, a sinister figure whose presence is punctuated by the shuttering gasps of his breathing apparatus.
But in peeling back the layers to expose the man beneath the mask, artists and designers who have shepherded Vader through his prequel transformation and to the quieter, vulnerable moments in a bacta bath on Mustafar, have uncovered more of the conflict within.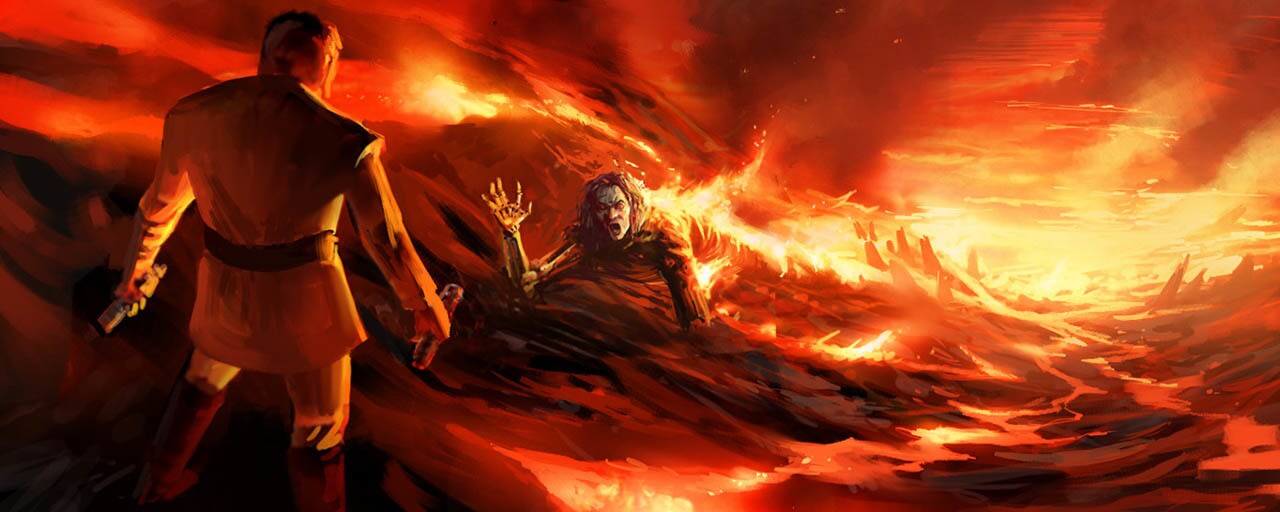 Although his seething rage and fear of loss was already putting Anakin firmly on the path to be the Emperor's apprentice, losing his right arm to Dooku only to have it replaced by a fine mechanical mechanism marks the beginning of his physical transformation into what he would become. Later, viciously cut down by Obi-Wan Kenobi and burned beyond recognition, his Jedi robes fused to shreds of charred flesh, what remained of his humanity, and the man who was Luke Skywalker's father, was essentially snuffed out.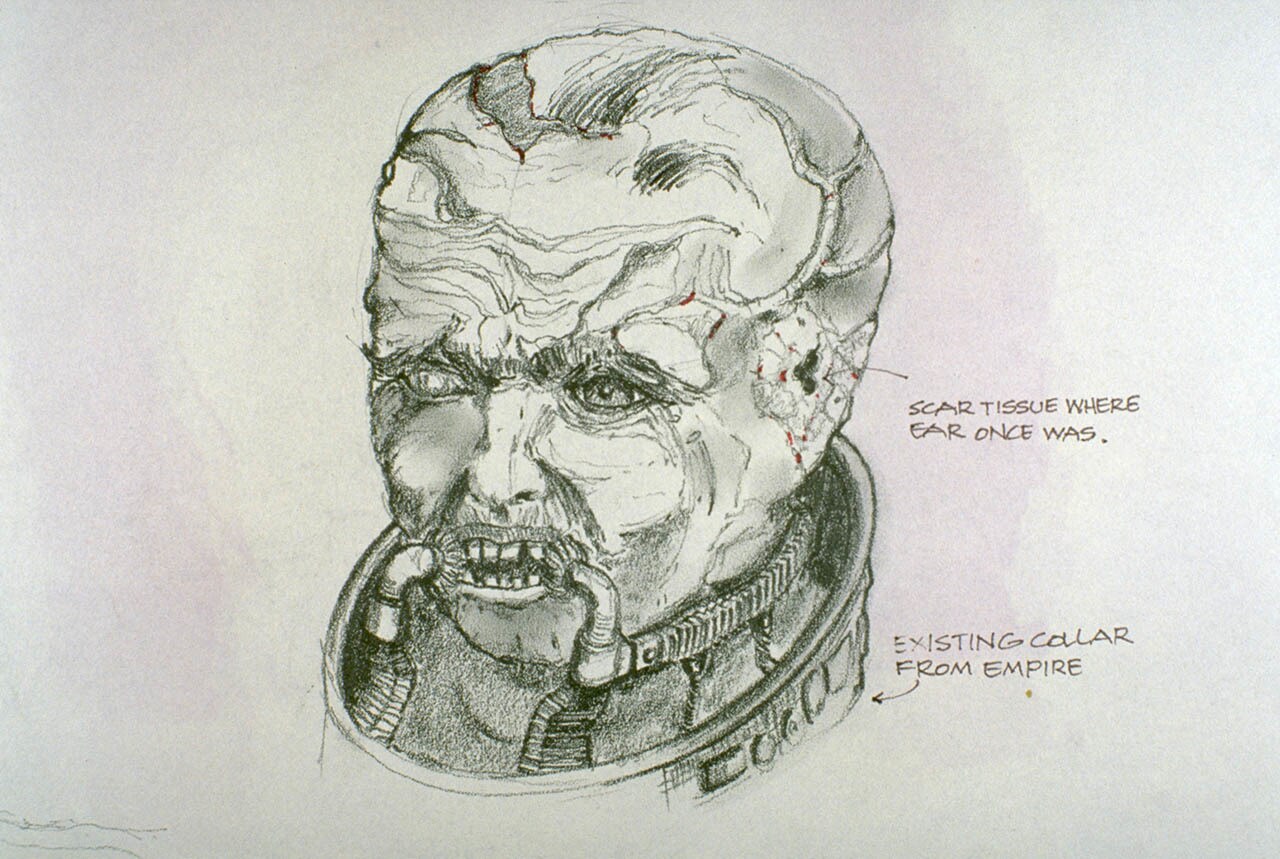 No longer being torn apart by the competing forces of darkness and light, the last pieces of Anakin's former self went dormant, the last bit of good in him hidden, his organic systems still functional but the soul of Anakin atrophied and nearly obliterated by the Emperor's lies.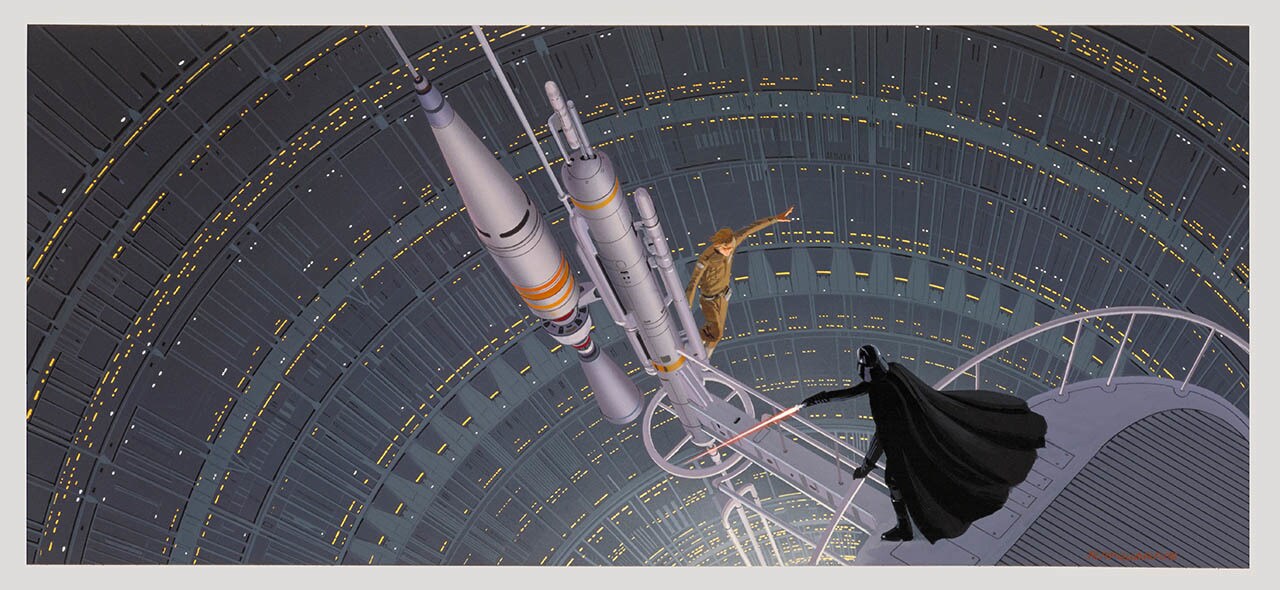 Under Palpatine's watchful gaze, Darth Vader was built from the ashes of his former life,  restored in a fashion, but warped beyond all recognition, stumbling off the operating table a monster of his master's creation. Only his son, seeing beyond this horrifying façade, could save him and put his tormented soul to rest.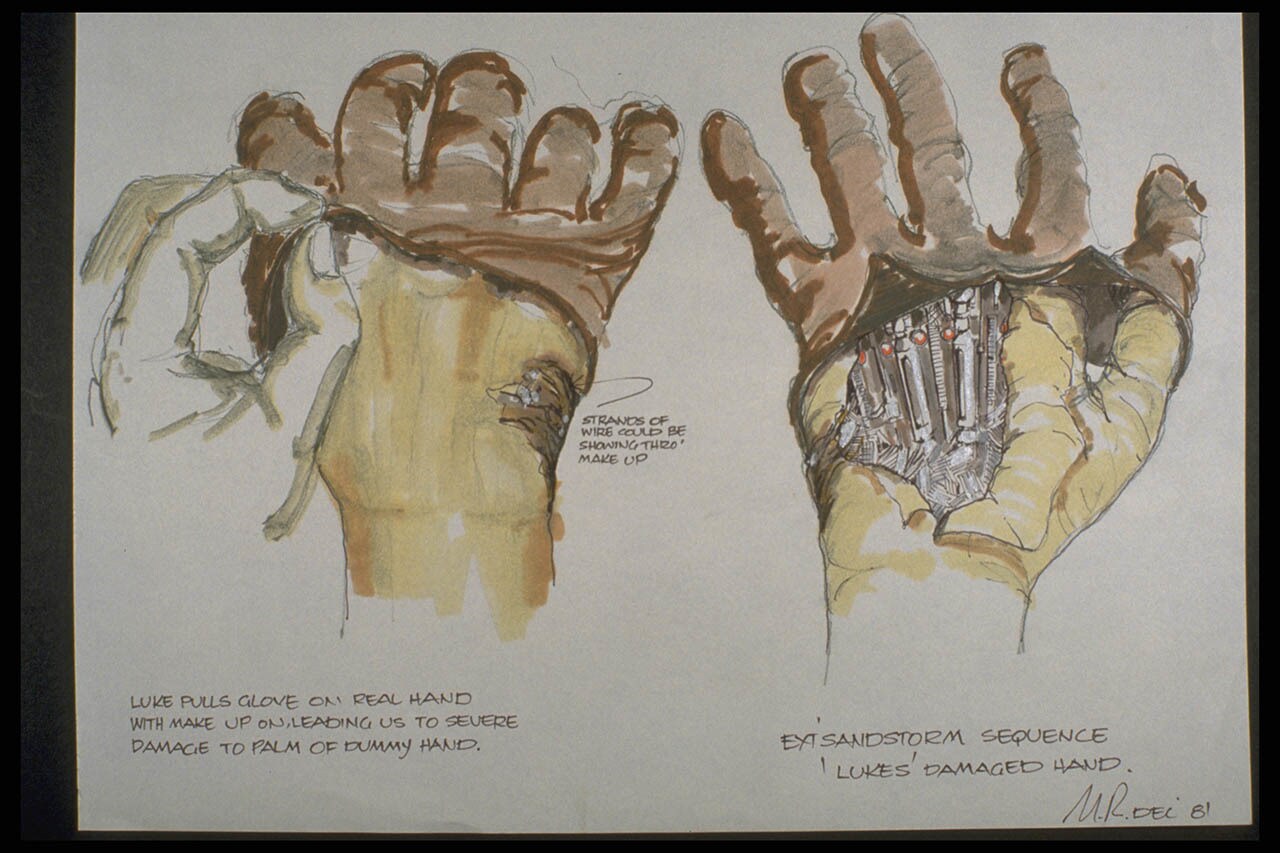 The balance
Luke's own bionic limb arguably deepened his compassion for the vestiges of his father left behind Darth Vader's mask. His hand severed in combat during their duel on Cloud City, Vader attempted the same kind of manipulation that had worked on Anakin all those years ago. "Come with me," he says. "It is the only way." But Luke sees another solution, preferring to let go and free falling into the unknown.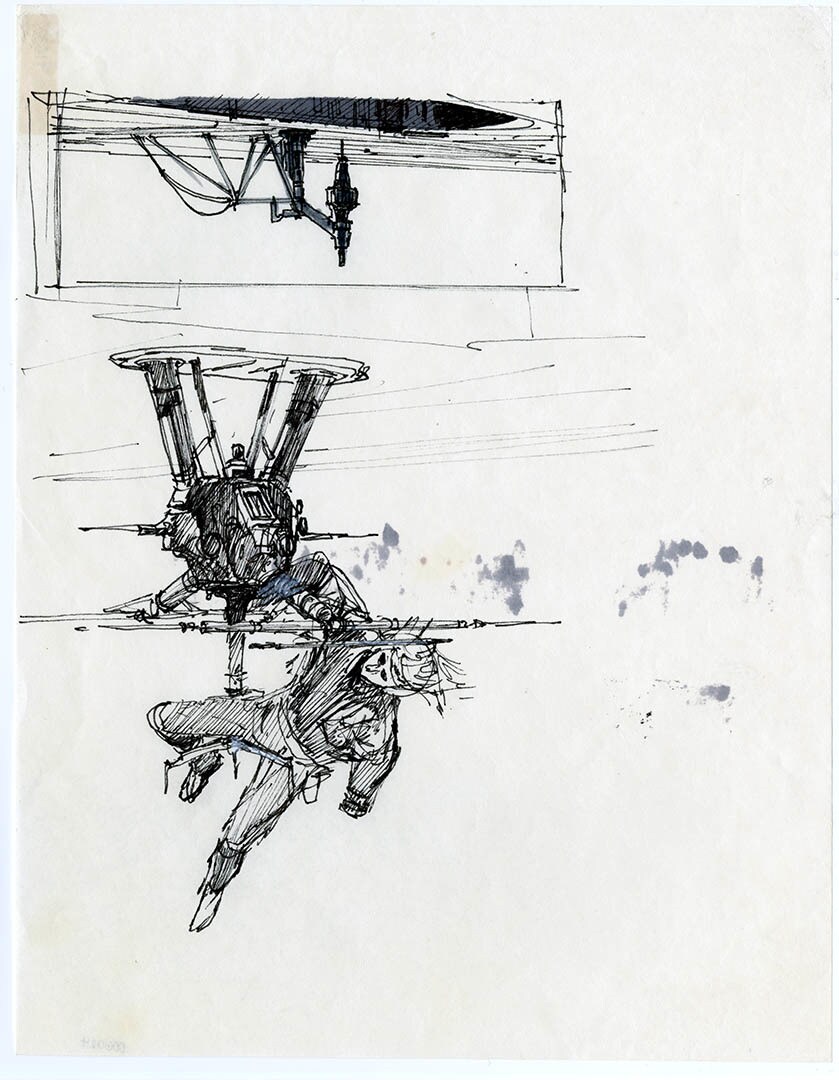 Luke's connection to his sister, Leia, proved to be stronger than any mind trick or devious ploy, and safely aboard the medical frigate, like his father before him, he was fitted with a mechanical limb.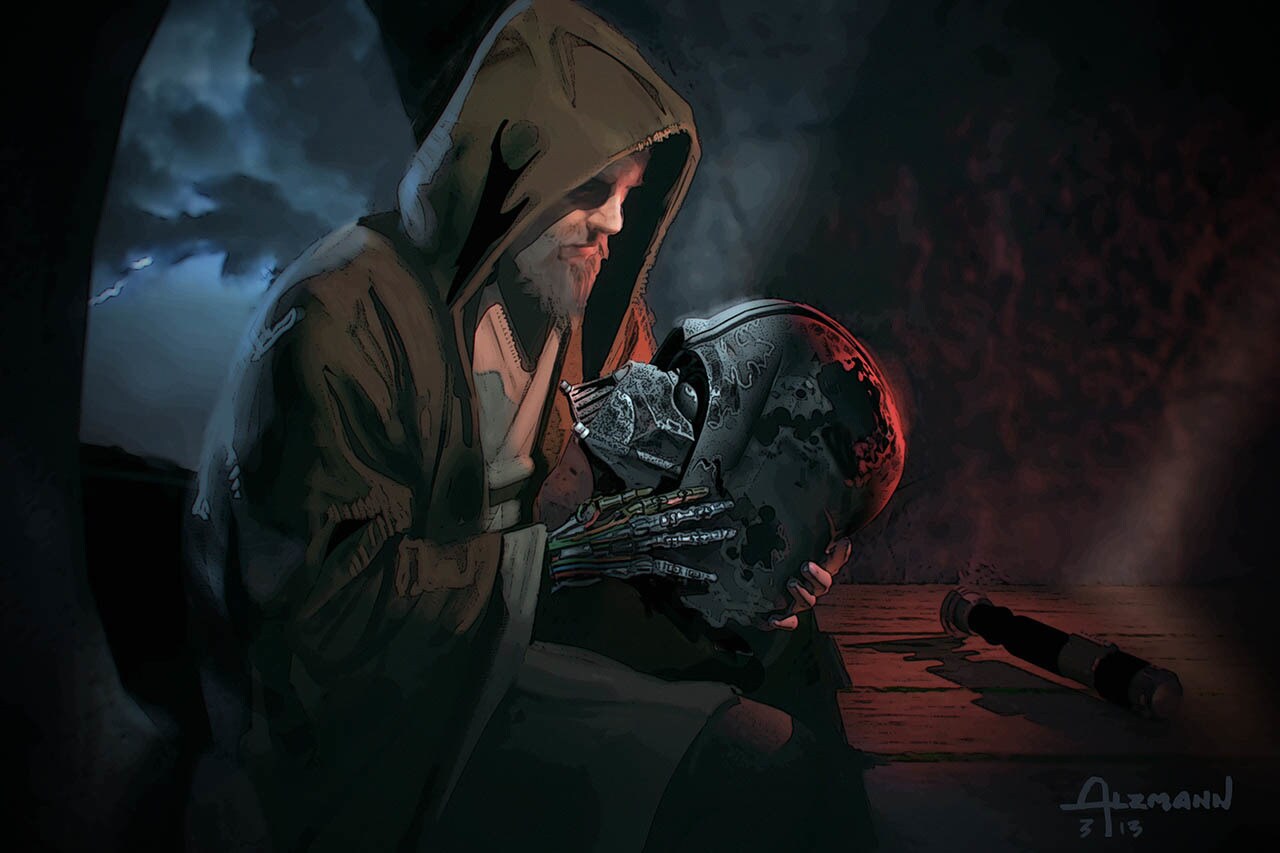 Yet, unlike Vader, Luke never lost sight of his humanity or his identity. His new hand served as a reminder of his own mortality, and allowed him to empathize with Darth Vader after his green-bladed lightsaber left his father's own hand a smoking stump of exposed wiring. Luke delivered the blow (and several more) in defense of his sister, enraged by Vader's threat to try to turn her, but confronted with his father's vulnerability, he realized not only that he'd moved beyond defense to blind, spitting rage, but that he and his father were not so different. A hand for a hand had settled the score. If he continued and murdered his father, he would be no better than the monster he once believed Vader to be.
Maul
For Maul, a body fused with mechanical pieces salvaged from a garbage heap may have fueled his madness, but was not to blame for his journey down the path to the dark side. When Obi-Wan cut down Darth Maul, cleaving the agile Sith Lord in two and seemingly destroying the Zabrak warrior, he was left for dead by his master Darth Sidious.