Learn the story of the amazing Hoth-ready costume that went viral this month.
We can't think of a better arbiter of Luke Skywalker cosplay than Mark Hamill himself, so when the actor tweeted his praise for a four-year-old boy riding his custom tauntaun earlier this month, we couldn't argue.

Perhaps no one was more excited than the boy's father, Clint Case, who built the snow beast from scratch in his Corona, California, garage. Overnight, a
YouTube clip
of his son Hudson gleefully trotting around the family's home had become a viral hit.
Case was fielding phone calls from licensing companies and European cosplayers who wanted to pay him to build a larger version of the costume.
But the fuzzy Halloween getup was a one-off project, Case says, that was a year in the making. "It was fun," Case says of the months of preparation. "I just kind of picture myself doing what those guys did back when they made Empire Strikes Back. Half the time I was out there with my bluetooth on listening to Star Wars music while I did it. It was inspiring."
Reliving the magic
Last Halloween, Case, 37, wife Sarah, and their children Hudson and baby Harper, now 2, all had costumes to fit the Star Wars theme. Sarah, a talented seamstress, made her own Han Solo smuggling garb, while Case went as a dressed-down Darth Vader. Hudson wore the robes of a Jedi while his sister donned the baby buns to become a pint-sized Princess Leia.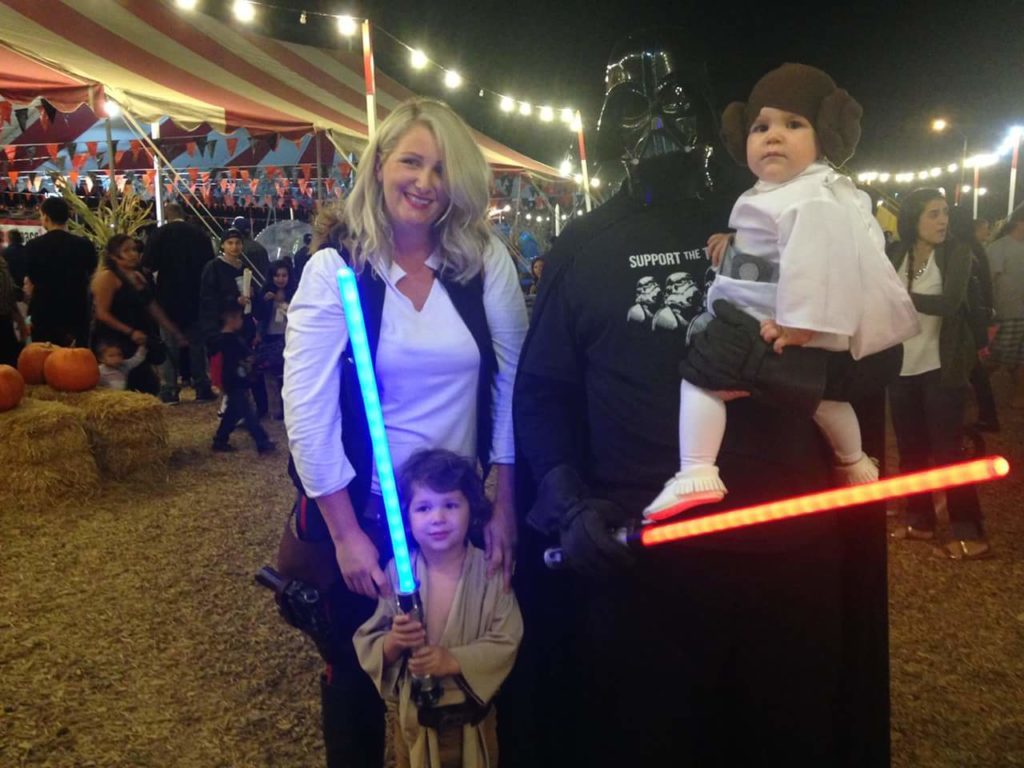 But Case, a meter technician for Southern California Edison by day and a leather craftsman for Bruiser Custom Cycle in his free time, knew he wanted to make a more elaborate tauntaun suit to transform Hudson into Luke Skywalker scouting the planet Hoth in time for Halloween 2016 and a trip to Disneyland's Halloween celebration. "I always loved Star Wars, but having kids now it's like I'm reliving everything through them," Case said.
First, Case scoured the internet for ideas. He's not the first to recreate the smelly beast, although he says he found a lot of interpretations that didn't quite hit the mark. He was confident that he could build the body, but he didn't know how he would sculpt the face until he stumbled upon a Pinterest board for a cosplayer who had subbed in a faux goat head. "I spent hours on Amazon looking for a goat mask," he says, before settling on an adult-sized rubbery facade that he could cannibalize for parts. Airbrush paint gave it a dingier look, "like a dirty poodle," and he ordered a pair of demon horns that could be antiqued and painted to complete the face.
In May, Case started his project in earnest, eyeballing the general shape of the animal using movie stills and trying to size it to Hudson's petite frame. The suit needed to be light enough for a pre-schooler to lug around and relatively breathable for the California heat. "I just wanted to give myself enough time. I knew it was going to work. I didn't know it was going to look good."
Even with his engineering and artistic acumen, Case says he had to go back and make the head a second time after it came out disproportionately large. "And I actually forgot the arms," he says.