StarWars.com feels the Force and the flippers with Arcade1Up's digital pinball cabinet.
Over the last few years, Arcade1Up has been on a mission to bring the arcade experience home. Beautifully reproducing cabinet art and games, the company has released ¾ scale versions of classic titles, such as the original Star Wars arcade game, to great success. But in even better news for silverball obsessives, Arcade1Up has expanded its scope to the world of flippers, bumpers, and skill shots with digital pinball machines -- actual cabinets that feature a screen instead of a playfield, and come preloaded with tables -- including one inspired by the galaxy far, far away. I recently had the chance to play Arcade1Up's Star Wars Pinball, and found it to be a fantastic pinball experience, one that longtime and new pinball fans alike can enjoy. Here are the biggest highlights.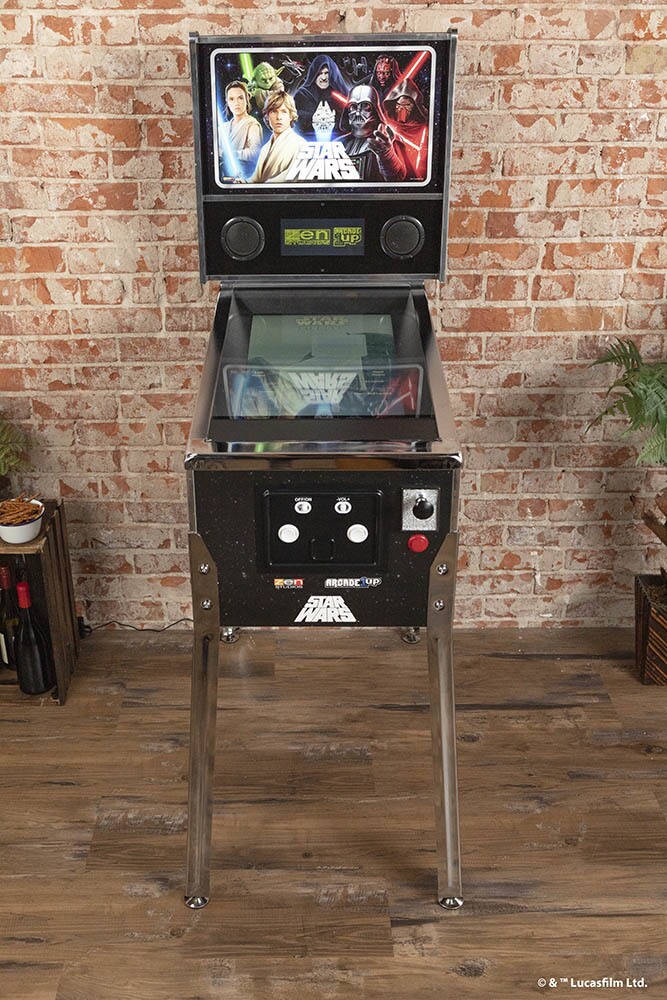 1. The pinball feel.
What's most striking about Arcade1Up's Star Wars Pinball is how much it feels like you're playing a physical pinball cabinet. Pull the cabinet's plunger and release, and the launcher sends the ball upward immediately. Press the flipper buttons, and you'll hear them activate and feel the vibration as they move, hitting the ball as you intend. If the ball hits the bumpers, there's a satisfying clang! and impact sensation. You can even tilt the machine to change the ball's direction. This combination of effects, courtesy of internal haptic feedback, with the near-flawless interplay between the cabinet and digital tables, truly completes the pinball experience. It's a bit of tech wizardry that delivers a significant wow factor, and I couldn't believe how well it worked.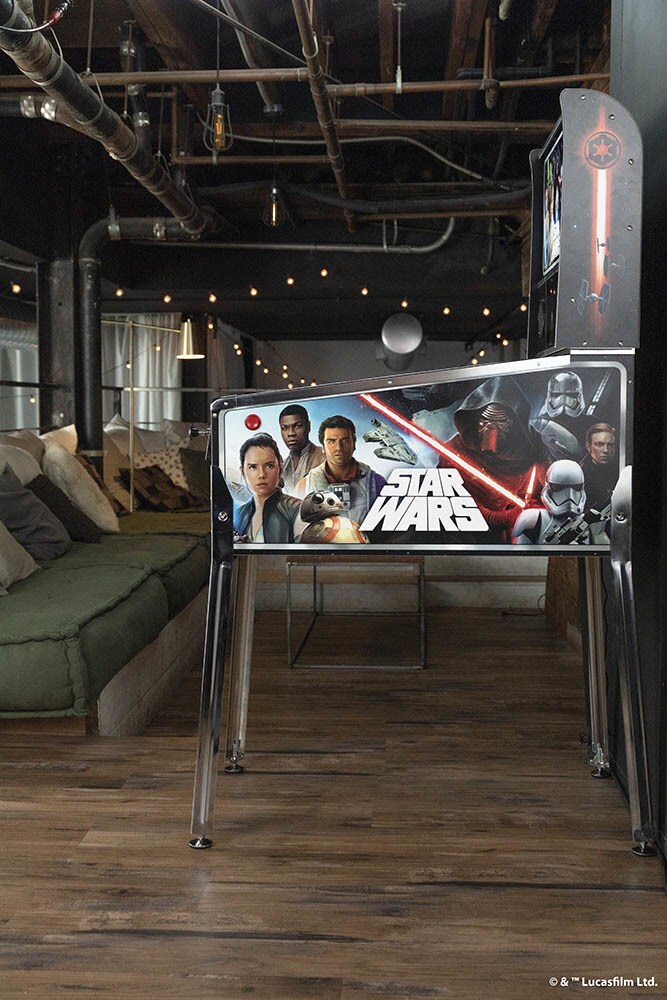 2. The cabinet itself.
Part of the love for arcade and pinball games has always come from the cabinets themselves. The physical object, the artwork, the aesthetic surprises. And Arcade1Up's Star Wars Pinball doesn't disappoint, showing a clear love for the tradition and art of machine design. The side panels feature beautiful air-brushed paintings of original and sequel trilogy heroes and villains. The stunning light-up back box -- which showcases character art on the front, X-wings and TIE fighters on the sides -- incorporates a digital display that recreates movie scenes and offers up instructions with charmingly retro graphics. And at ¾ scale, the cabinet fits much easier into a home. Taken together, it's an elegant cabinet for a more civilized pinball fan.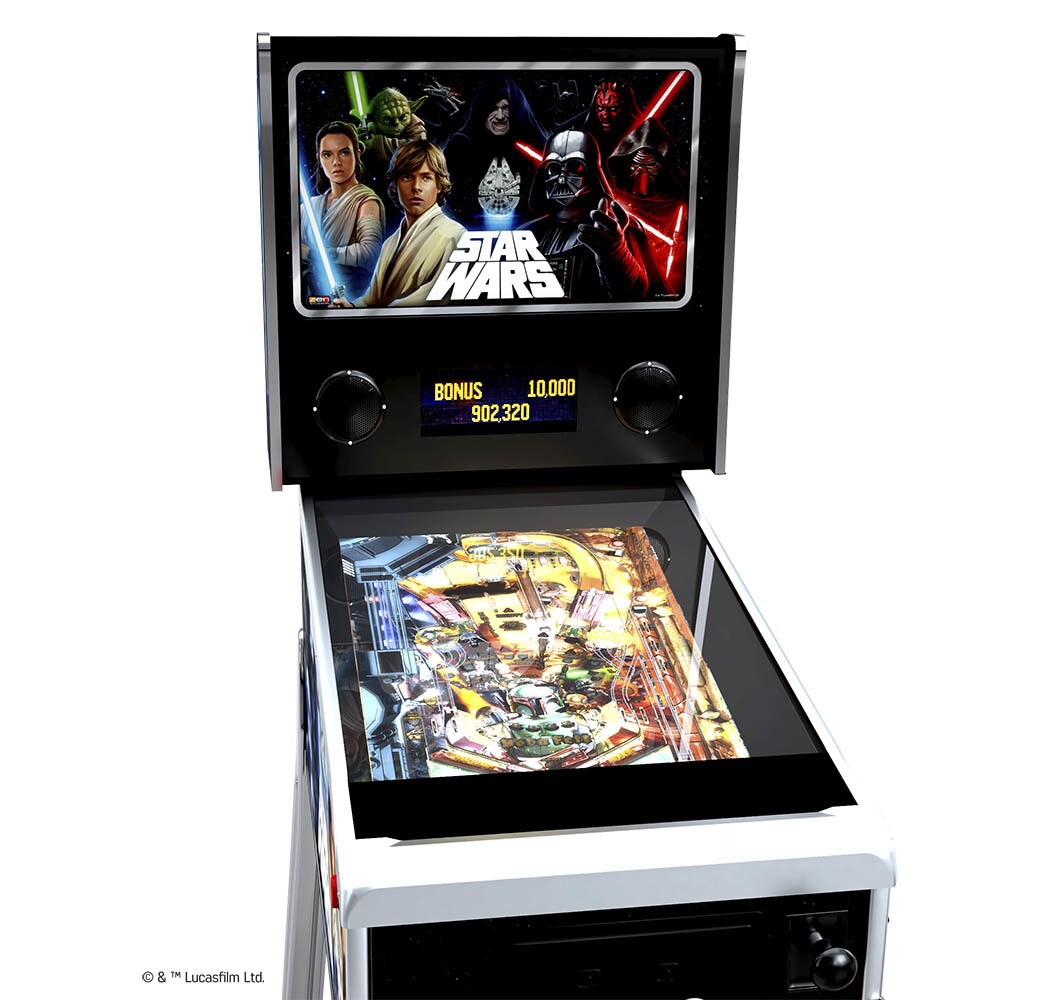 3. The excellent tables.
Arcade1Up's machine comes pre-loaded with 10 Star Wars tables from Zen Studios, purveyors of excellent digital pinball games for years. While these tables have all been previously released, they make for a fantastic collection and span across the saga. Themed tables range from Star Wars: A New Hope to Star Wars Rebels to Ahch-To Island, and they're all rewarding pinball games in their own right, well-designed with inventive playfields, storylines, and modes. They're also filled with surprises and great animation that take advantage of the digital form. On the Star Wars: The Force Awakens table, Rey's speeder acts as the launcher; on the Boba Fett table, you can help the notorious bounty hunter escape the Sarlacc by pummeling its tentacles with precise shots; and when you unlock multiball on the Star Wars Rebels table, the Ghost takes off and drops the additional balls onto the playfield. Moreover, I've long loved Zen Studios' Star Wars pinball games, but playing them on Arcade1Up's machine is something of a revelation; they're great with a controller, but even better and more immersive here.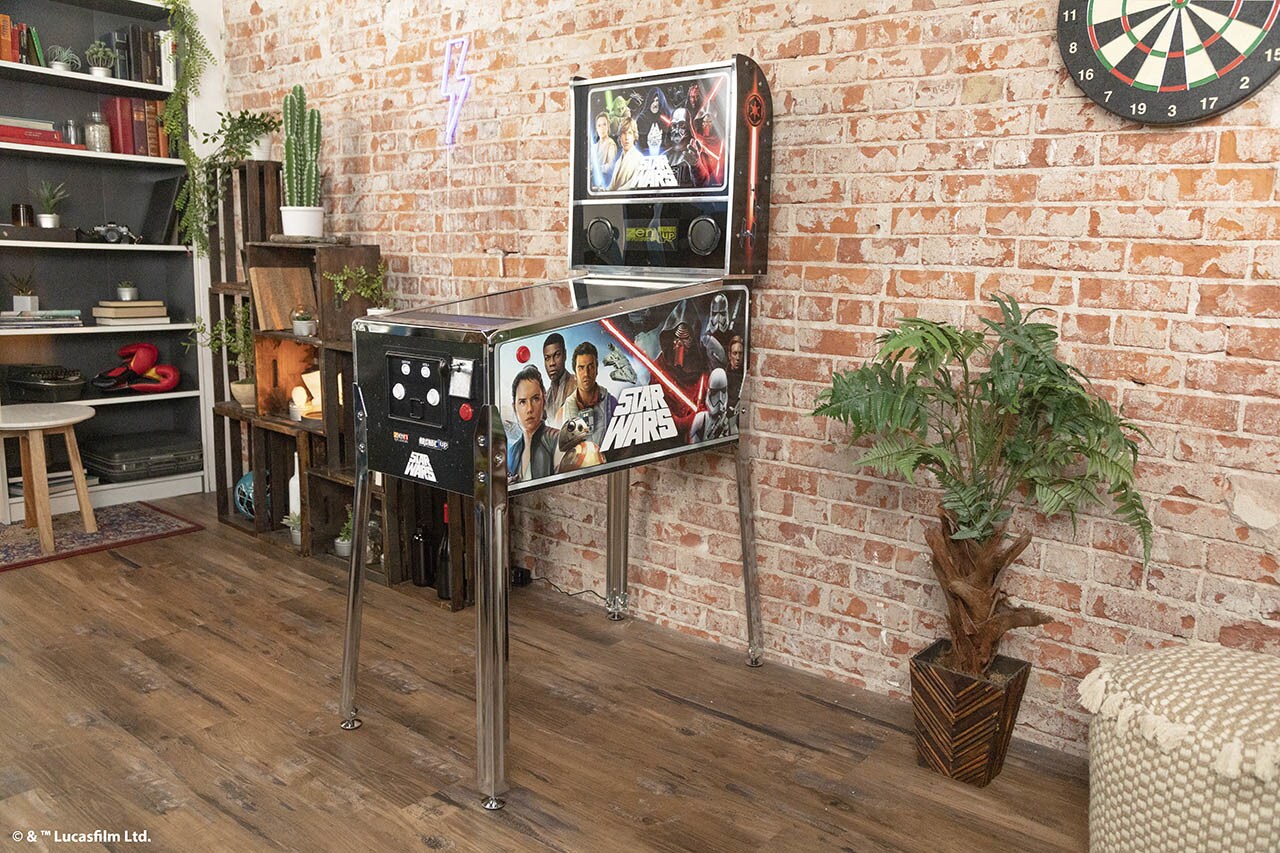 4. The sound.
For Zen Studios' games, sound plays a huge role in the experience. Every table features voice acting, sound effects, and new and classic Star Wars music. Arcade1Up's machine features dual, forward-facing speakers that easily handle it all, with everything coming through loud and clear. You can control the sound level, too -- so if you like your arcades extra noisy, as they often are, crank it up.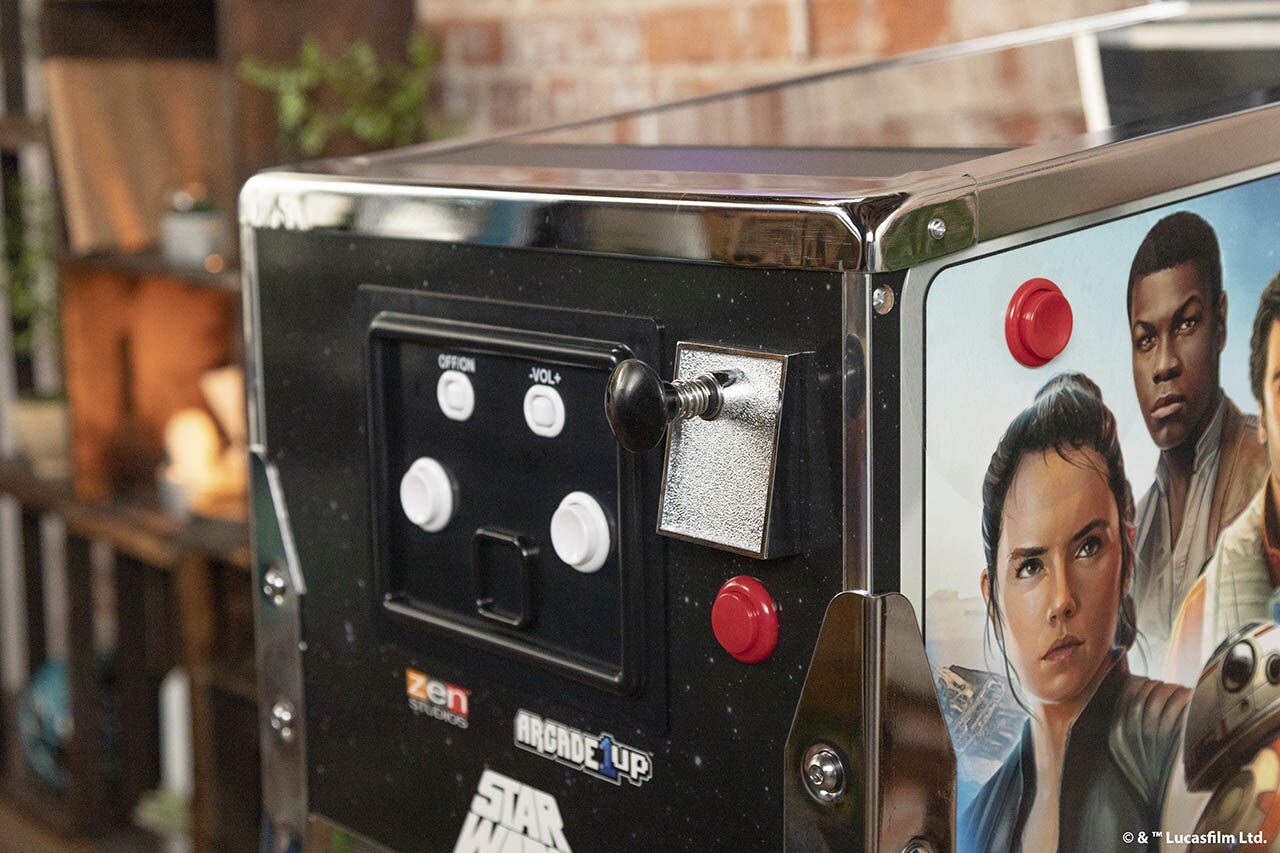 5. It's for everyone.
I put two additional play testers to work: my kids, who are three and six years old. To say they were excited is an understatement, but I was amazed at how quickly both picked it up and developed skill. Like anyone who loves pinball, they responded immediately to the physical interaction of the experience in pulling the plunger and pressing the flipper buttons, but they also loved the Star Wars of it all -- dazzled when they unlocked a mode and, say, Kanan and Ezra would battle a stormtrooper. It led to some great round-robin matches between us, with every high score a big point of pride. And that could be the secret Force power of Arcade1Up's Star Wars Pinball: it's not just for pinball pros. It's for everyone.
Arcade1Up's Star Wars Pinball is available now.
Photos courtesy of Arcade1Up.