From garbage-dwellers to cackling court jesters, the galaxy far, far away has some of the oddest creatures around.
A mouth full of sharp teeth, a pet with a shrill laugh, a beast that calls an asteroid home -- all manner of bizarre creatures inhabit the Star Wars universe. They thrive in arid, inhospitable deserts and in swamps (or swampy garbage containers). They play important roles in the story, sometimes devouring or assisting our heroes, and they have an impact even if they only appear in the background or in a passing frame. The presence of creatures gives the exotic and different worlds we visit in the Star Wars films depth and a feeling of realism.
The talented artists who design and bring these creatures to life come up with some incredible concepts. Here are 8 of the weirdest creatures from each of the saga films so far: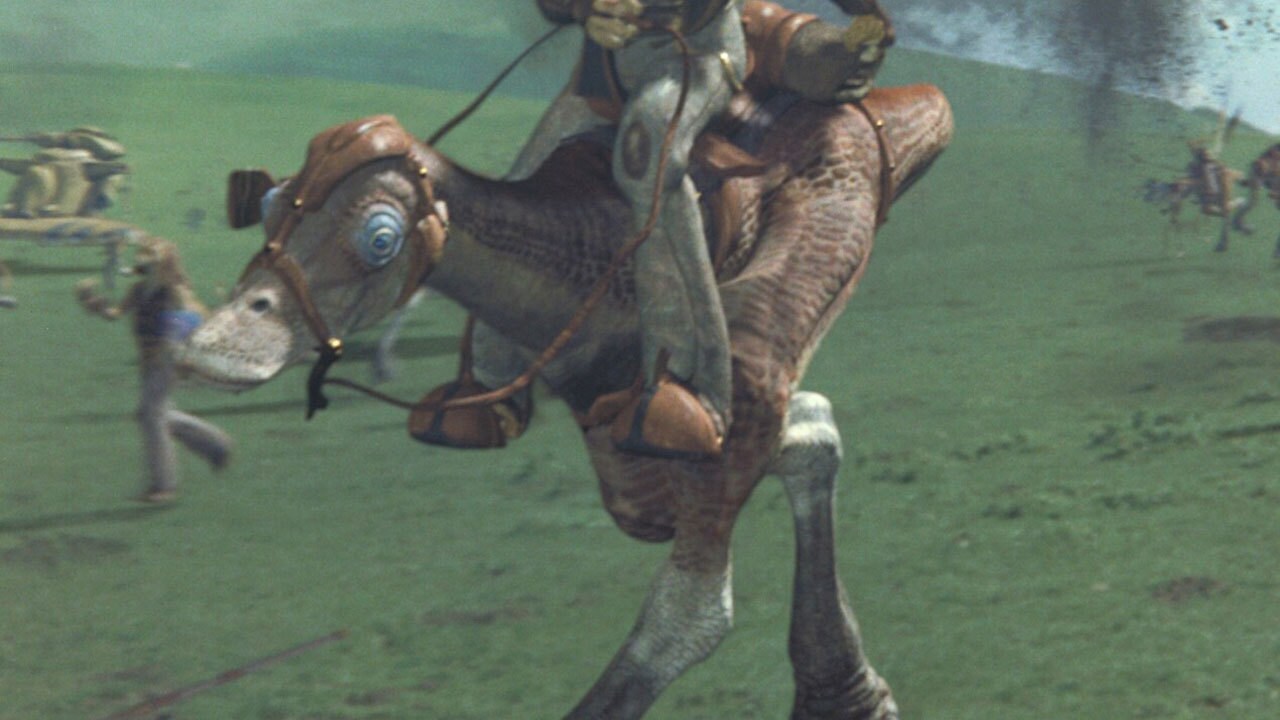 Kaadu
When the Gungans charge into battle on Naboo in Star Wars: The Phantom Menace, they ride wobbly-looking kaadu. Somehow the two-legged beasts remain balanced while taking deliberate, graceful steps. And they can move at high speeds, too, even while carrying a rider. You'd never guess from looking at them.
Nexu
If the nexu's wide snarl wasn't full of ferocious, long teeth, it might look like a grin. The predator sent after Anakin, Padmé, and Obi-Wan in Star Wars: Attack of the Clones isn't your typical monster, blending cat-like and reptilian features. On top of the razor sharp claws and terrifying fangs, the nexu has two sets of eyes with infrared vision. In other words, it would be hard to escape this peculiar, lethal creature.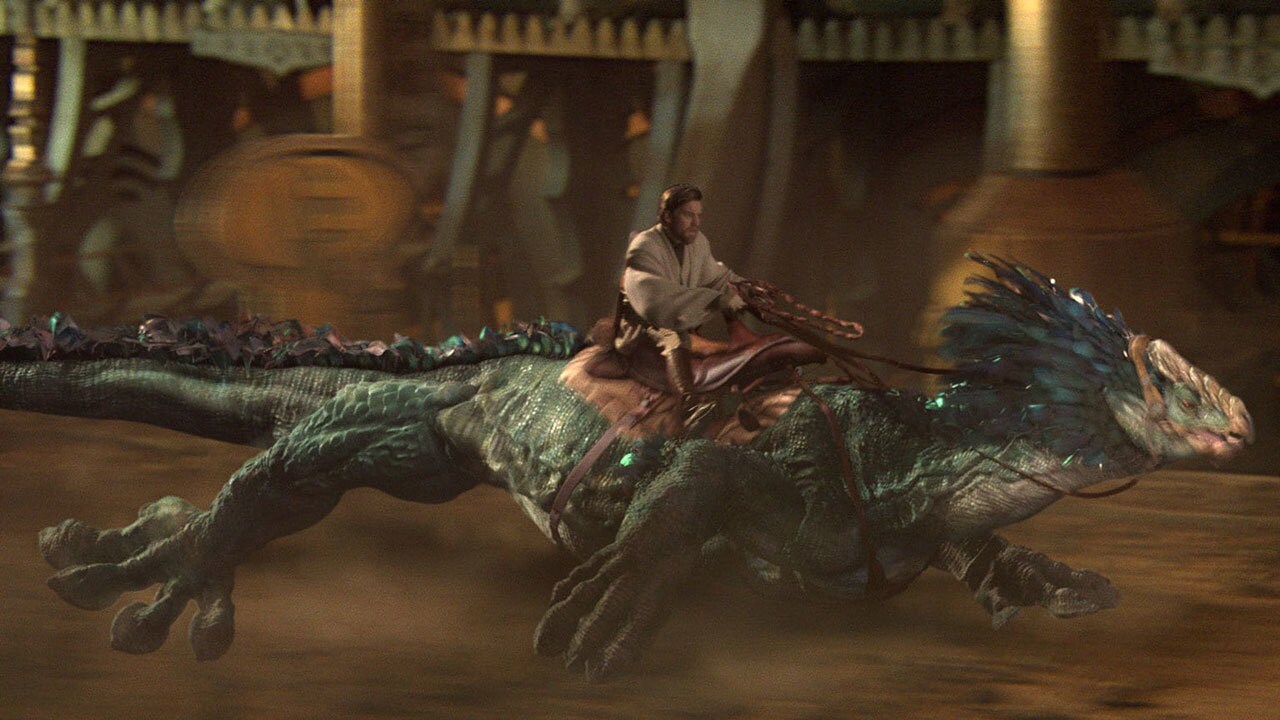 Varactyl
Extravagant plumage and shimmering iridescent pebbled skin are but two qualities that make the varactyl a striking, fantastical creature. Seen on Utapau in Star Wars: Revenge of the Sith, varactyls are powerful reptavians with both armor-plated skulls and extreme agility -- attributes you wouldn't think of as being complementary. Since they can move quickly on both horizontal and vertical surfaces, and they're known for being loyal and obedient, they're desirable mounts.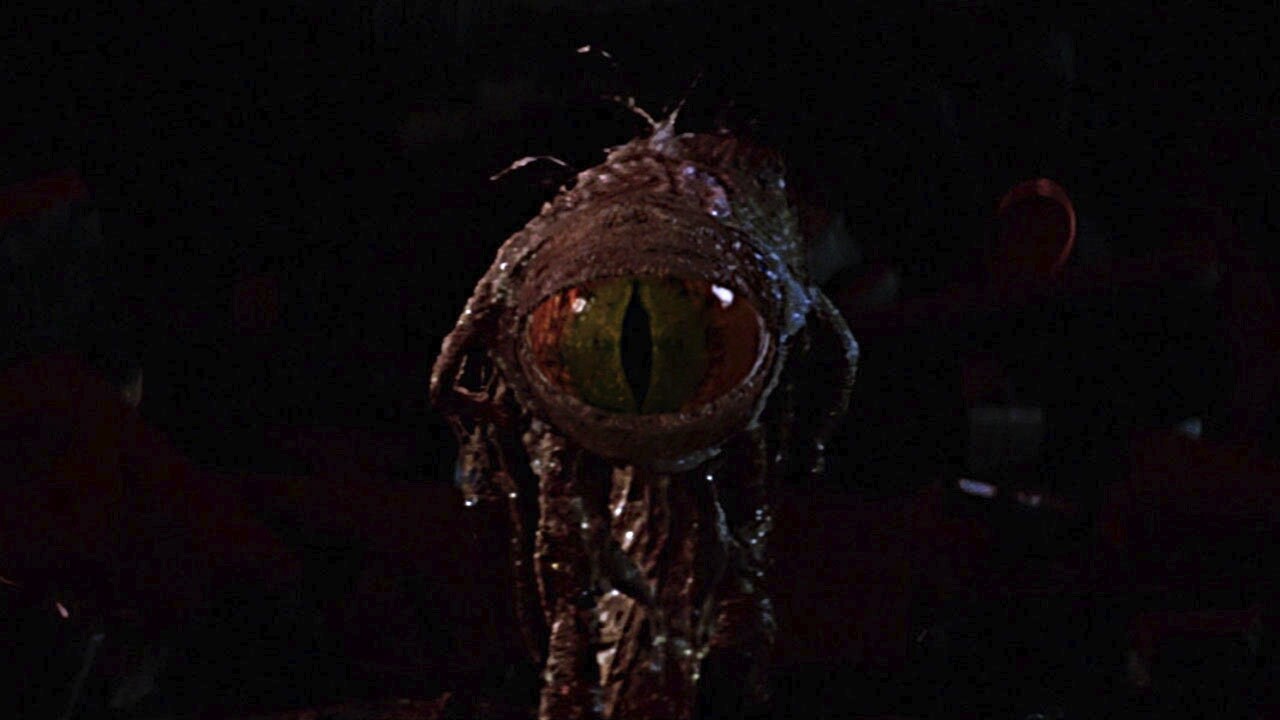 Dianoga
Imagine thinking of slimy water littered with trash as homey and comfortable. As seen in Star Wars: A New Hope, the dianoga gets by just fine in such an environment. Besides its unlikely habitat, the dianoga makes an impression with its slow-blinking eyestalk popping above the surface of the water. In the depths below, the dianoga's bulbous frame with seven tentacles hides out of sight. They can grow to be as large as ten meters high! And all from feasting on organic matter that floats within their reach.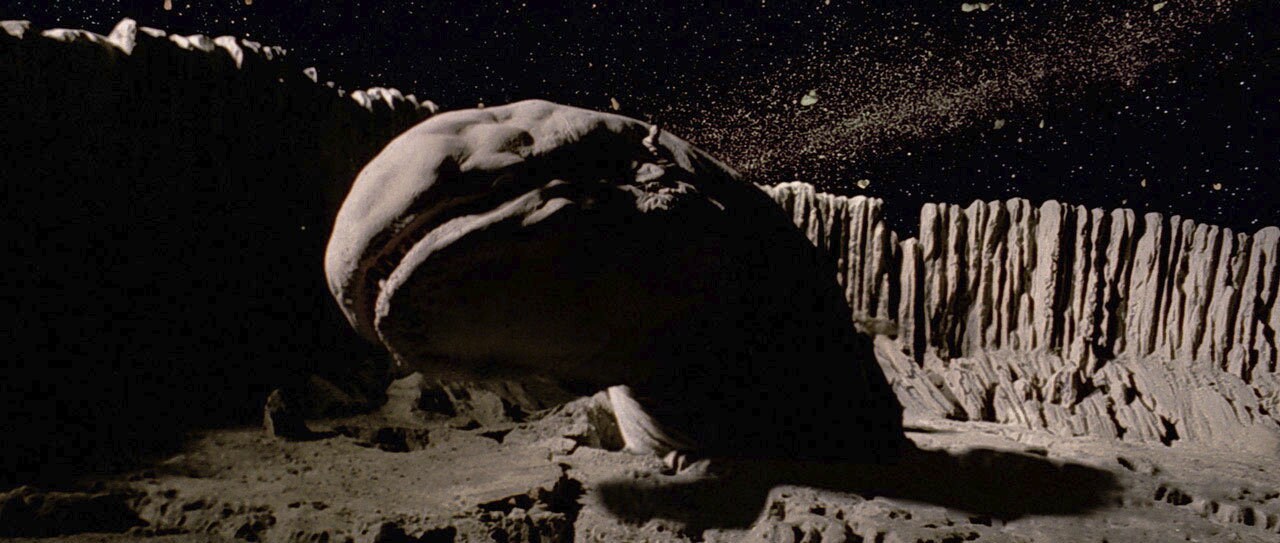 Space slug
An unfathomably massive monster that lives inside an asteroid? Yes, please. Star Wars: The Empire Strikes Back introduced a whopping exogorth, a.k.a. a space slug. When Han pilots the Millennium Falcon into what seems like the perfect hiding place, it quickly becomes a dangerous situation as they have to escape -- or risk becoming the space slug's dinner. The silicon-based life forms with sharp teeth feed on the minerals and energy emissions found on asteroids, but if a ship wanders in, they're not going to turn down a snack.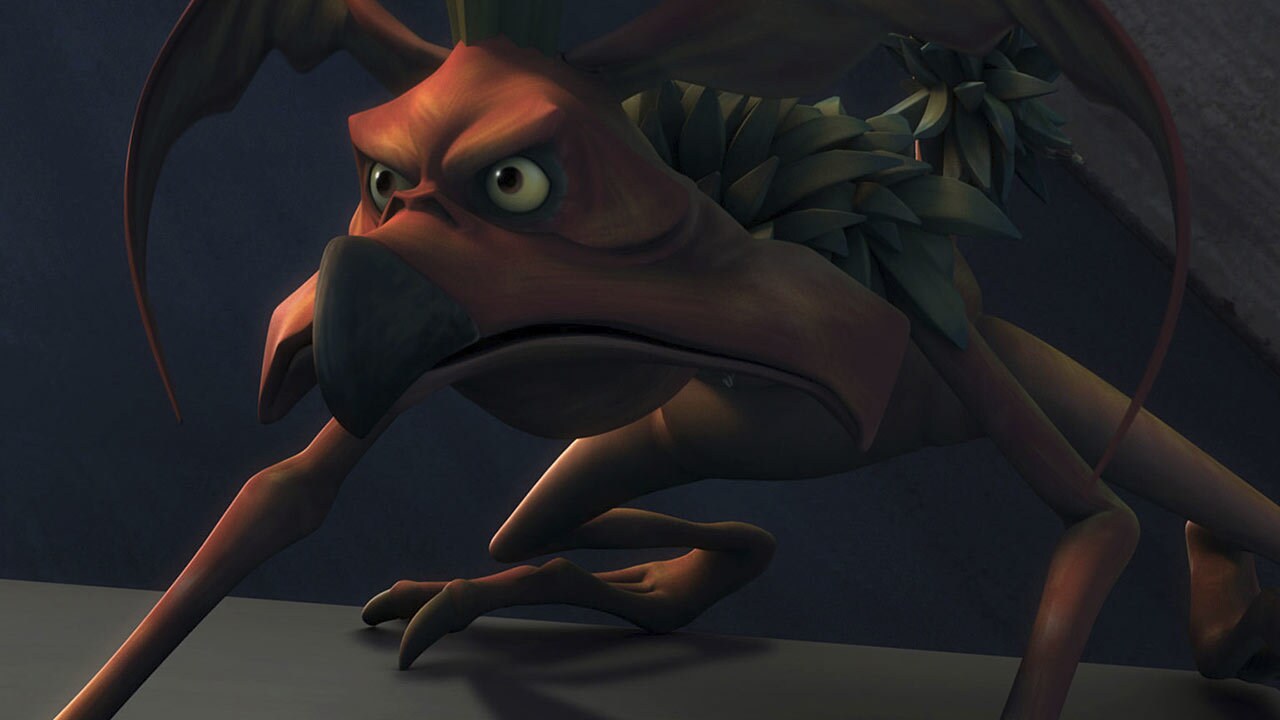 Kowakian monkey-lizard
What are your favorite qualities about your pets? Maybe they cuddle with you when you're blue or brighten your day with a round of fetch. What if they'd laugh at all your jokes? In Star Wars: Return of the Jedi, Jabba the Hutt receives constant appreciation in the form of cackling from his pet, a Kowakian monkey-lizard named Salacious B. Crumb. Monkey-lizards combine, you guessed it, monkey and reptilian features with a beaked nose. Their slightly squished faces, drooping ears, and tufts of fur make them quirky and a little frightening at the same time. With their odd, gangly looks, they're not what you envision when you think about a pet, but maybe they should be.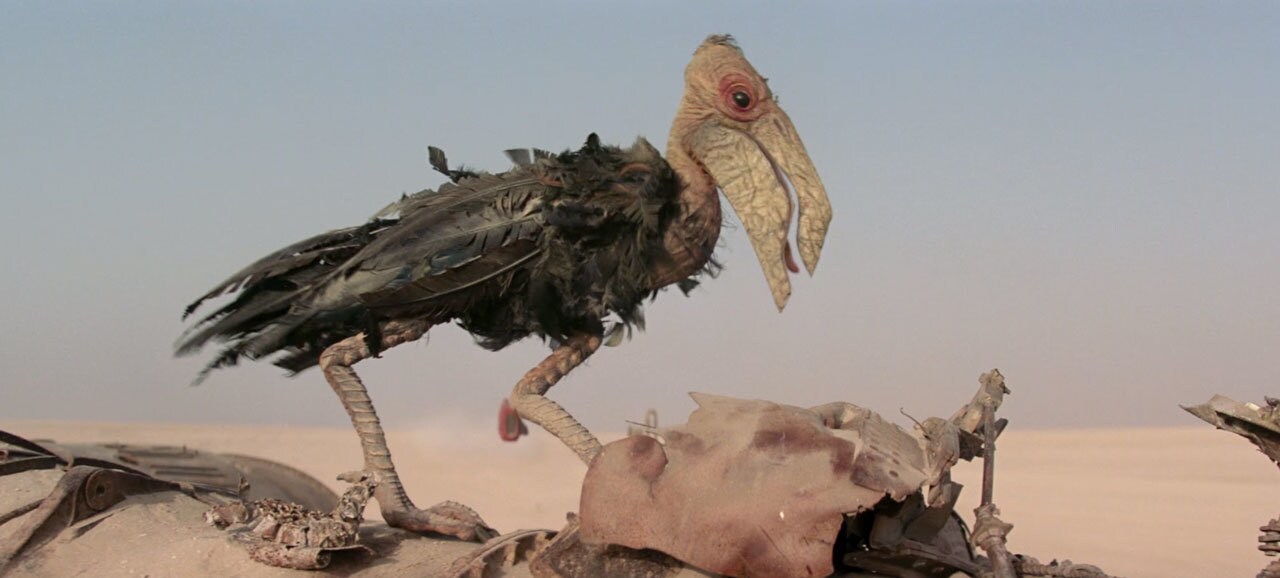 Steelpecker
Close your eyes and picture Jakku and its endless stretches of sand, dotted here and there with crashed ships and scraps. The steelpecker calls this environment home. You may not have given the steelpecker's brief appearance in Star Wars: The Force Awakens much attention, but you should take a second look. This decidedly extraordinary bird feeds on metal. Metal! With its razor-sharp beak and talons, the steelpecker can sustain itself by tearing into the junk around the planet. Mmm, nothing like osmiridium for a midday snack.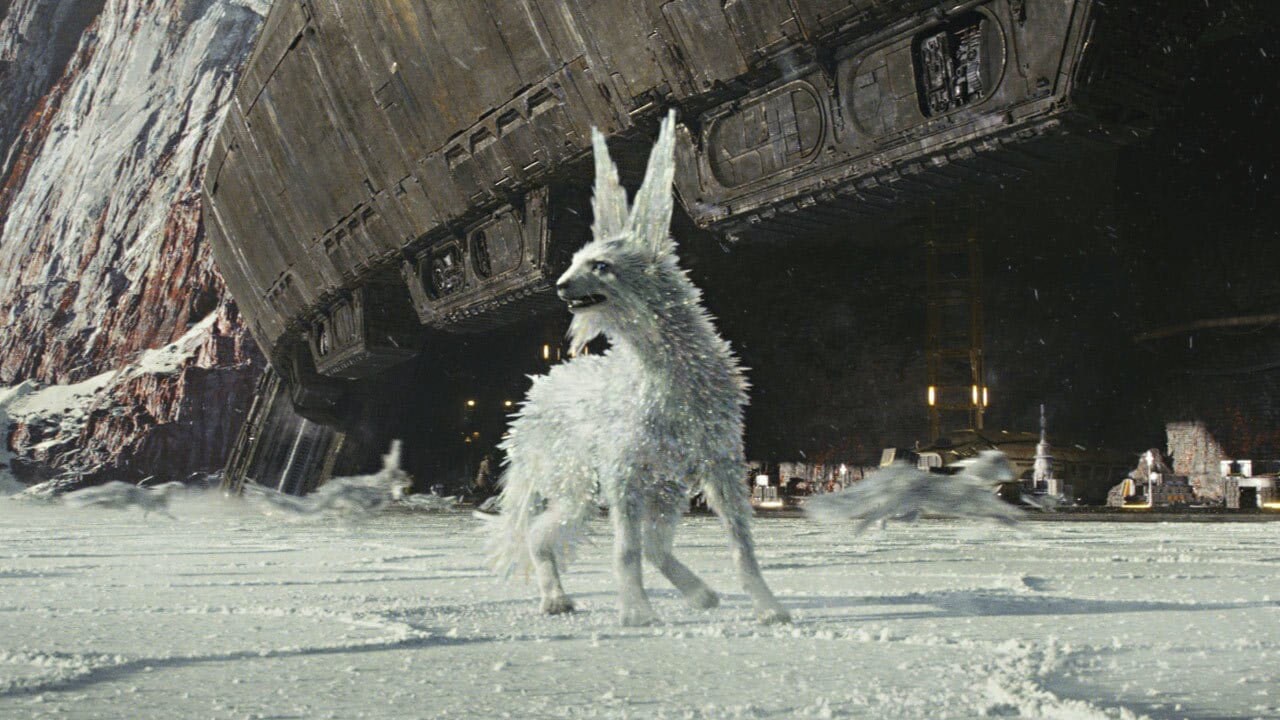 Vulptex
When animals scurry past, you don't usually hear the faint tinkling sound of wind chimes. But that's what you'd notice if a vulptex was near. The fox-like creatures from Star Wars: The Last Jedi are elegant and quick. And the light-footed critters stand out; they have a sparkle and glow about them thanks to their stunning but unusual fur. Vulptices are covered in pointy crystalline pelts; they're a little like living chandeliers, reflecting light and glimmering in the darkness.
Amy Ratcliffe is passionate about Star Wars and coffee. She always has her nose stuck in a book. She's the author of Star Wars: Women of the Galaxy and a co-host of the podcast Lattes with Leia. Nerd out with her on Twitter at @amy_geek.
Site tags: #StarWarsBlog