Here are just a few of the many insights and highlights from the revealing documentary.
Star Wars: The Last Jedi arrived on Digital and Movies Anywhere this week (and heads to 4K UHD, Blu-ray, and On-Demand on March 27), and with it came a porgasbord (thank you) of bonus features. Deleted scenes, featurettes, even an alternate version of the movie with just John Williams' score. But it also includes a feature-length documentary on the making of the film, The Director and the Jedi -- a revealing look at writer/director Rian Johnson's journey in shepherding Episode VIII. Here are five things we learned from what is less a bonus feature and more a bonus movie.
1. Rian Johnson was a top Star Wars draft pick. 
Lucasfilm president Kathleen Kennedy knew early on in her tenure that she wanted Johnson, director of Brick, The Brothers Bloom, Looper, and several (great) episodes of Breaking Bad to helm a Star Wars film. "Once we decided that we were making Star Wars movies, he was one of the people that I was immediately interested in," she says in The Director and the Jedi. "I just think that his storytelling ability and who he is as a human being just exemplified a lot of the values and sense of fun."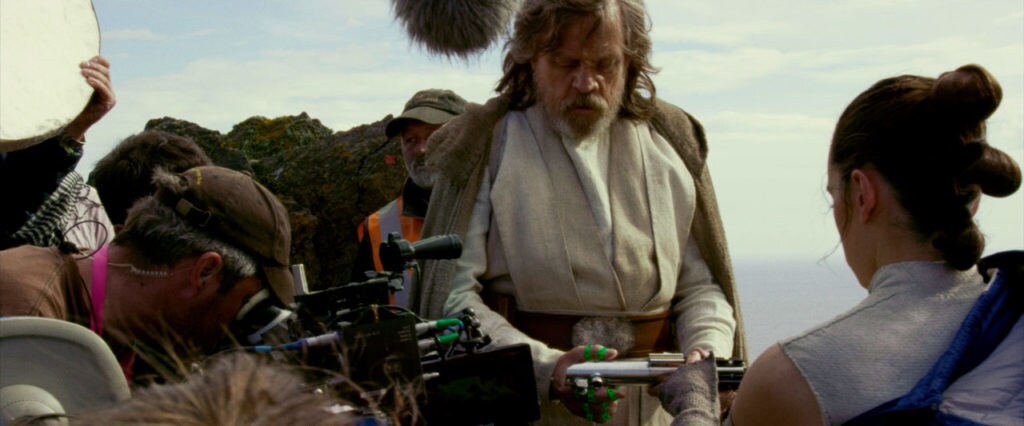 2. When it came to writing The Last Jedi, Johnson knew right away where the story would begin.
At the end of The Force Awakens, Rey finally tracks down Luke on Ahch-To, a beautiful if isolated island. And for Johnson, there was little doubt that that's where his story would pick up. "This is literally the moment right after VII," he says in the documentary as he prepares to direct the scene. "I always knew that I wanted to see what the very next thing that happened was. So that's where we're coming in on. Some young kid shows up and hands him this symbol of everything he's walked away from. It's not like he's going to fire it up and say, 'Let's go.' He's done with that. That's why he's here."
3. There were a lot of practical-effects creatures in The Last Jedi. A. Lot.
The Director and the Jedi is filled with visits to the creature shop, where we get to see artists and sculptors toiling away at everything from the massive thala-sirens (the green-milk-producing animals from Ahch-To) to smaller beings that only get a few seconds of screen time. It's truly amazing to see, both in quality and scope. "If we took Force Awakens and Rogue One," creature shop supervisor Neal Scanlan says, "and we put them together, this project is still bigger. It's double the size."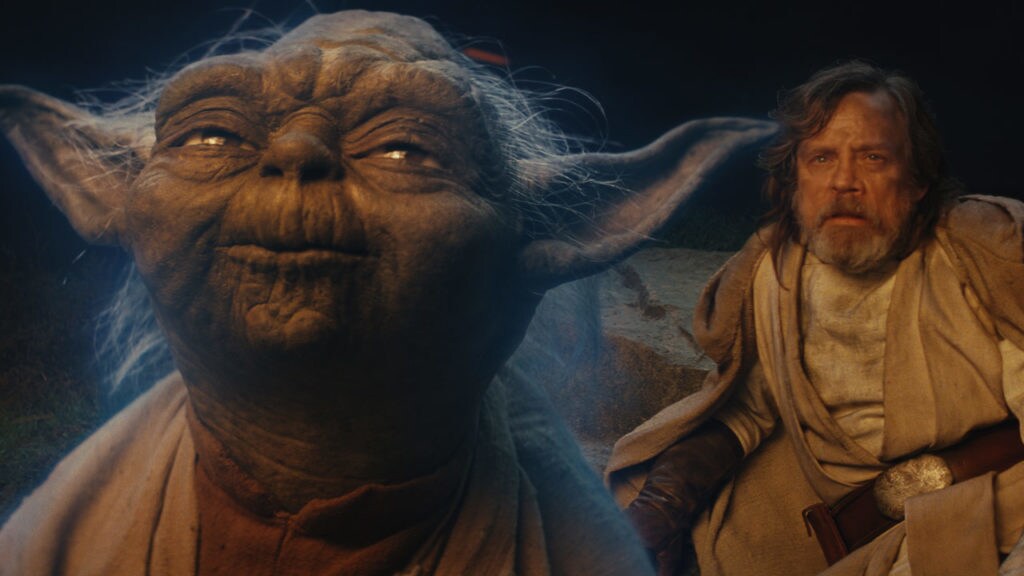 4. You're not the only one who teared up seeing Yoda again.
In one of the documentary's most revealing moments, we get to see Mark Hamill encounter the Yoda puppet for the first time -- as he watches the legendary puppeteer Frank Oz rehearse. "It's really getting to me," Hamill says, hand over heart. Same for us.
5. "I'm literally having the time of my life."
As The Director and the Jedi details, the road to finishing The Last Jedi wasn't always easy. There were budgetary concerns, shooting logistics to figure out (especially on Skellig Michael, the island location for Ahch-To), and creative differences. But Johnson's honest and creative spirit seems to never waver, and toward the end of shooting he's already missing the experience. "Every day, there's always a moment in the day where I feel a little sad that it's going to be over when it's over," he says. "I'm literally having the time of my life." Thankfully, there's that new trilogy on the horizon...
Star Wars: The Last Jedi is available now on Digital and via Movies Anywhere, and comes to 4K Ultra HD, Blu-ray, and On-Demand on March 27.
Dan Brooks is Lucasfilm's senior content strategist of online, the editor of StarWars.com, and a writer. He loves Star Wars, ELO, and the New York Rangers, Jets, and Yankees. Follow him on Twitter @dan_brooks where he rants about all these things.