Gary Gerani, editor of the original Star Wars Widevision trading cards, talks to StarWars.com about the series' origins and Abrams' new collection.
Star Wars and trading cards have gone together since the beginning, and just as Star Wars was a ground-breaker in the film world, the Star Wars trading card sets have always shook up the world of card collecting. While it might seem like a no-brainer today with widescreen movie format being the standard for home video, having a trading card set that used the full width of a movie frame and wasn't the regular card proportions or size was a radical departure 20 years ago -- but that's just what Topps did with the Star Wars Widevision trading card series. Now Abrams ComicArts, an imprint of Abrams, is bringing together the full set of Widevision cards in an awesome collection titled Star Wars Widevision: The Original Topps Trading Card Series, Volume One -- no need to open packs or trade to try to complete your set! With this 400+ page book starting a new series, but continuing their line reprinting the Star Wars trading card sets from Topps chronologically, Star Wars Widevision comes is available now, and this book isn't just for those nostalgic for their trading cards; because the cards themselves have so much info about the making of the film, it's a great history into the behind-the-scenes of Star Wars itself!
Star Wars Widevision not only has all 120 cards from the base set of the 1995 card series covering A New Hope, reprinted front and back as well as all the imagery from the associated promo cards and chase cards, box and wrapper art, it also includes the images of the 60 A New Hope Special Edition cards from the Star Wars Trilogy Special Edition trading card set from 1997. Plus, it includes actual trading cards made just for this book! Gary Gerani, who was the editor of the Star Wars Widevision trading card set for Topps, has written the introduction and commentary for the cards, and has answered a few questions with StarWars.com via e-mail about the new book and this game-changing trading card series.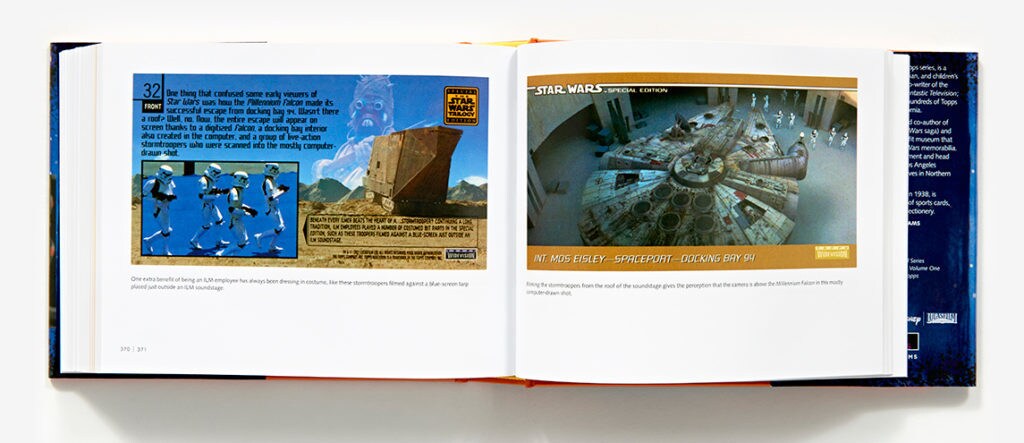 StarWars.com: Star Wars Widevision showcases the complete set of all the card imagery, fronts and backs, from the 1995 Topps Star Wars Widevision trading card series. You were the editor on this trading card set back then -- how was Widevision ground-breaking?
Gary Gerani: In the early '90s, Topps' New Product Development exec, Ira Friedman, had asked me to come up with fresh ideas for Star Wars trading card products. This resulted in Star Wars Galaxy, the company's first Star Wars card set not tied to the release of a current film. Since it was prepared for the "direct sales" comic book market, the emphasis was on artwork: production illustrations, movie posters, and most exciting of all, exciting new interpretations by renowned illustrators. Star Wars Galaxy was a huge success, and eventually we began considering interesting ways to do a contemporary photo-driven series, one with state-of-the-art production values. Our original tie-in sets were certainly charming, but rather limited and aimed at a younger audience. So for Topps to re-visit the trilogy in trading card form, there would have to be some truly compelling creative reason.
As a film historian, I always admired the anamorphic widescreen image, and the Star Wars films had made such incredible use of it. Our old photo cards employed standard, square-shaped unit photography, pictures taken on set…what if we found a way to reproduce the original movie frames, so the exact visual compositions could be provided? Great idea, but a super-long image on a standard trading card would have to be greatly diminished and "letterboxed," in order to fit.
Fortunately, there was a solution to that problem -- "Why not make the card itself longer?" That's where the groundbreaking angle comes in. Sure, there had been odd-shaped trading cards in the past, but never anything this ambitious. I dubbed the new format Widevision ("New Visions" had been the category name of our original Star Wars renderings for Galaxy), and did everything I could to give the product a film-scholar feel. I especially loved using original storyboards as part of the back components. By flipping the Widevision photo card over, one could compare what was originally intended by Star Wars film artists, to what eventually wound up on the big screen.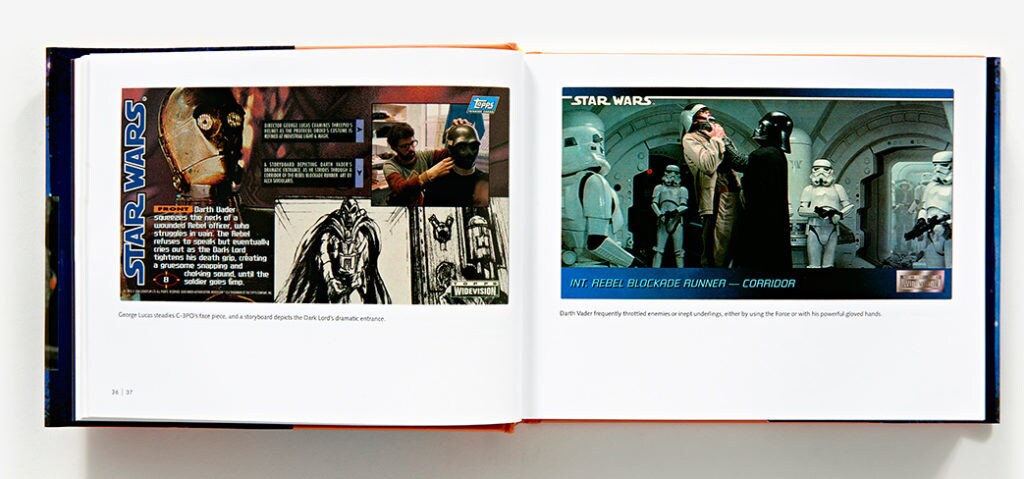 StarWars.com: Because the trading card series itself was so packed with concept artwork, behind-the-scenes photography, and information, this book is more than just a reference to the trading cards or to the story in the movie, but also an amazing guide to the making of A New Hope, at almost a shot-by-shot level. What are some of the details went into developing a single card in the series, and the series as a whole?
Gary Gerani: As the book explains, I selected all the images at the Telecine Research Center in Hollywood, capturing one frame at a time with early digital technology. It was then a matter of living through the storyline again, matching storyboards and production paintings to the selected Panavision frames whenever possible. Since the card itself was so long, we were able to include various stations of information, which contained behind-the-scenes shots, concept art, and other goodies.
StarWars.com: How did putting the original set come together? How can you distill a movie as epic as Star Wars into a 120 card set?
Gary Gerani: Again, you just review the movie's storyline, select the strongest images, and put them in the proper sequence. The big problem with a fantastic epic like Star Wars is that there are so many compelling moments!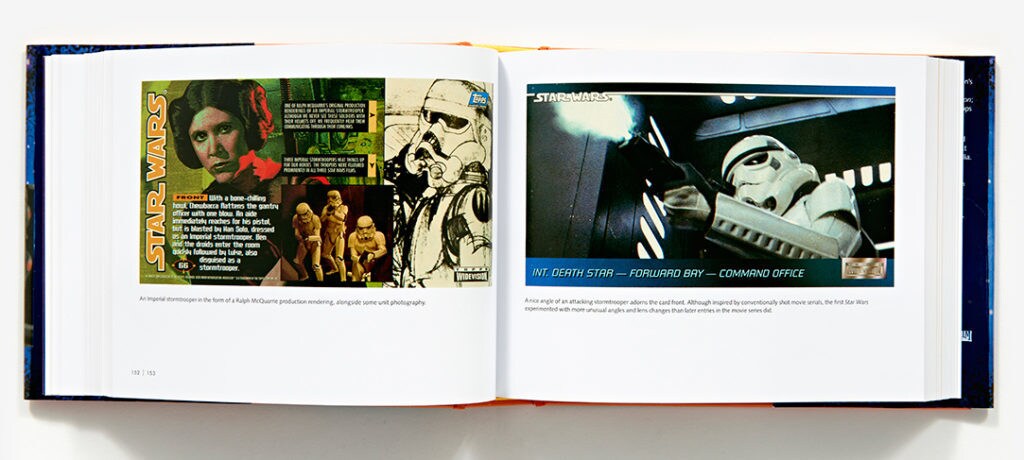 StarWars.com: In addition to reprinting the entire card set, Star Wars Widevision also contains your history of the series in the introduction, as well as your commentary notes on many of the cards. What was it like revisiting this series for creating this book?
Gary Gerani: A lot of fun, really. It was a great thrill developing Widevision back in the day, and I can't think of a more deserving movie franchise to match it up with.
StarWars.com: The book also reprints 60 cards from Star Wars Trilogy Special Edition Widevision set from 1997, focusing on the changes made for the A New Hope Special Edition, with an afterword and card commentary by the editor of that set, Stephen J. Sansweet. What treasures await readers in this section?
Gary Gerani: All the treasures George Lucas came up with for his Special Edition release! Steve Sansweet was working for Lucasfilm during this period, so he had direct access to the exciting new visuals ILM was preparing for these spiffed-up incarnations. Steve used our existing Widevision format to showcase and discuss these just-created CG images… Han Solo talking to Jabba at Mos Eisley, etc. These cards really are a neat way to chart all the changes Lucas made in 1997, and nicely represent A New Hope's ongoing, always expanding legacy.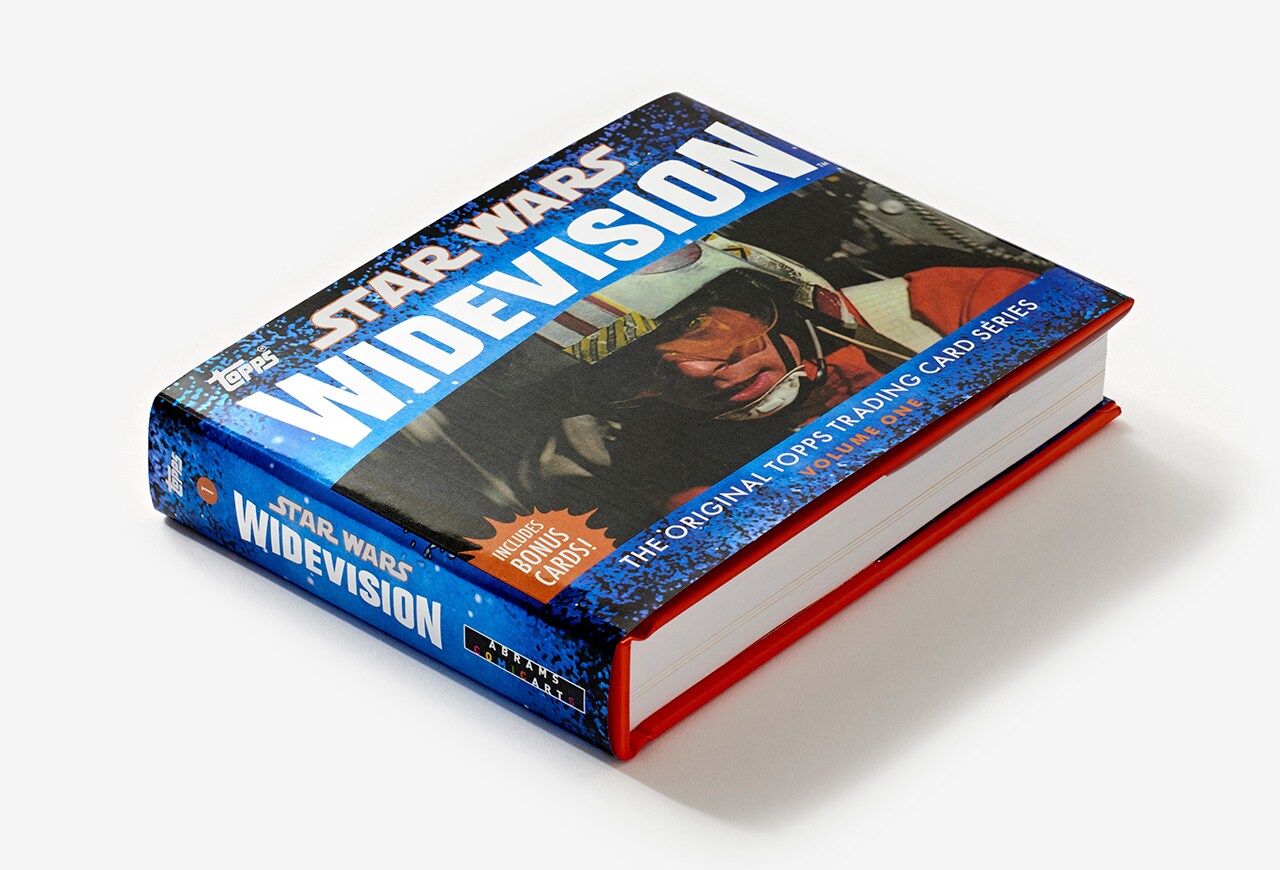 James Floyd is a writer, photographer, and organizer of puzzle adventures. He's a bit tall for a Jawa. His current project is Wear Star Wars Every Day, a fundraising effort for a refugee aid organization. You can follow him on Twitter at @jamesjawa or check out his articles on Club Jade and Big Shiny Robot.