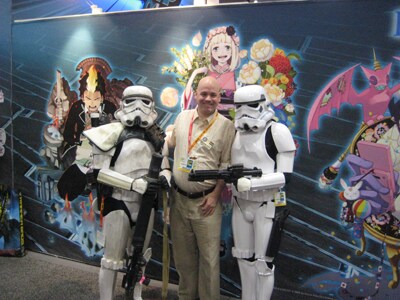 Here's my confession, and my no longer secret shame: I am a niche geek, a jack of very few trades.
I love Comic-Con because there are about a billion things to see, and because even though it gets insanely crowded, the jammed-up throng is nearly always remarkably cheerful and patient about being stuck somewhere while someone takes pictures or gawks at rare graphic novels or stops to buttonhole an author, artist or fellow fan. Comic-Con is a collection of crazy enthusiast tribes, whose members rub elbows (quite literally) with good humor.
Part of the fun of conventions is the fans dressed up as their favorite characters. (This is called cosplay, I've learned.) But this is where I get revealed as a wallflower at Nerd Prom. Here's pretty much the full list of characters I can recognize at cons: Gandalf, Pikachu, the Doctor Who with a scarf, the Ghostbusters (as a collective), that guy Laurence Fishburne played in The Matrix, the Tick, that anti-hero from that movie played by the guy who was in the Bad News Bears, the Joker.
Fans dressed as anything else? I'm baffled.
Some all-too-typical displays of ignorance:

I'm signing books and some big dude in a mask with a snake on his chest marches by, accompanied by a woman in black leather. An editor friend leaves the booth to take a picture, declaring "that is the BEST Cobra Commander and Baroness I've seen all week!" Behind him I'm gawking in confusion and trying to remember how to sign my name. The best what?
I'm walking around and traffic has completely stopped, halted by a huge crowd taking cellphone photos. At the center of the scrim is … I don't know, looks like a woman with orange hair wearing what looks like mummy underwear. Oh, that's … Leeloo? Something to do with Bruce Willis, right?
I'm in the hall halfway through a 20-minute wait for coffee and the knots of recuperating attendees begin buzzing because a pair of cosplayers is parading by. They're wearing pastels and he's got a natty-looking cane and she's in a kind of schoolgirl dress, and they're … well actually I have no chance at this one, except that it's anime. Which I've learned is not steampunk.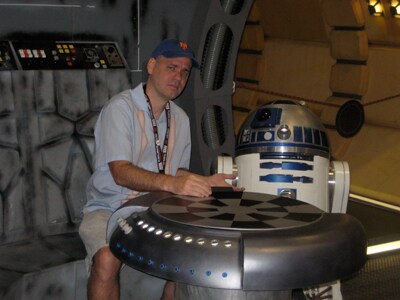 For the first couple of years I asked questions. But I crumbled under the weight of good-humored scorn and friends looking shocked and saying, "Dude, REALLY?" So now I just keep quiet and try to mumble appreciatively when everybody else gets excited.
Such experiences are why I really love Celebration. It's not just that there are about a million things to do, and tons of fellow fans to meet, and amazing prop recreations and news and cool surprises. It's because at Celebration I know my stuff.
This year I'll be signing my DK books at their booth, and my Del Rey books at Barnes & Noble's booth, and sharing a podium with Pablo Hidalgo for The Essential Panel. If you come say hi, thank you – and wear your gear. I will admire the weathering on your Boba Fett helmet, and applaud you for including the Journeyman Protector sash. I will give you the nod because your Aayla Secura lekku look organic and not like a headdress, and did you notice I called them lekku? I will immediately grasp that you're an A New Hope Vader because the inner cape is over the chest armor and the striping on your gloves is horizontal. (Well, duh.) I'll size up your costume, turn to the author next to me, and casually say, "That is the best Hermione Bagwa I've seen all week."
Still, sometimes even at Comic-Con I have the advantage. Last month I signed books with Ashley Eckstein, who's insanely nice and genuinely loves talking with people. As an author who's still fairly new to all this, I admired the way she remembered kids from previous cons, and her gift for making every fan feel like the most important person in San Diego.
Meeting Ashley was one of my Comic-Con highlights – but as a huge baseball fan, I was really starry-eyed about meeting her husband, David Eckstein. I kept my cool, but five minutes after the signing, I had to run and tell a Star Wars friend. He'll remain nameless, because he looked at me blankly.
David Eckstein? Ten years in the major leagues? Played all those years for the Angels? World Series MVP for the Cardinals? The freaking definition of gritty shortstop?
Dude, REALLY?

Star Wars Celebration VI is coming to Orlando, Florida on August 23-26. Join the party that brings together fans of all ages to celebrate the pop culture phenomenon that is Star Wars.