The Mexican cosplayer has created a stunning fusion of her cultural heritage and her love of Queen Amidala.
StarWars.com is shining a light on those who truly give the saga its power: the fans. In the StarWars.com Fan Spotlight, we're honored to tell their stories.
There is something empowering about Padmé Amidala. On screen, the character embodies an independent woman willing to fight for her ideals and provide a voice for the voiceless, a stylish and sophisticated leader who exudes confidence and class.
In the hands of cosplayer Momo Naberrie, the fashion icon from Star Wars: The Phantom Menace is transformed into La Catrina in a celebration for La Día de los Muertos, or Day of the Dead, a fitting tribute to the young mother, former queen, and galactic senator. The cosplay mash up allows Naberrie, who was born and raised in Mexico where she lives today, to celebrate her own cultural heritage and her favorite Star Wars character in one elegant and elaborate ensemble, an homage to the namesake of her cosplay moniker.
"Día de los Muertos is my favorite Mexican Holiday," she explains. Although some mistakenly think of it as a morose or macabre holiday, it's quite the opposite. "It's a happy celebration," she says. "We believe that on that day our loved ones who passed away come to visit us, so all the decorations you can see in this celebration are colorful, cheerful, and vibrant!"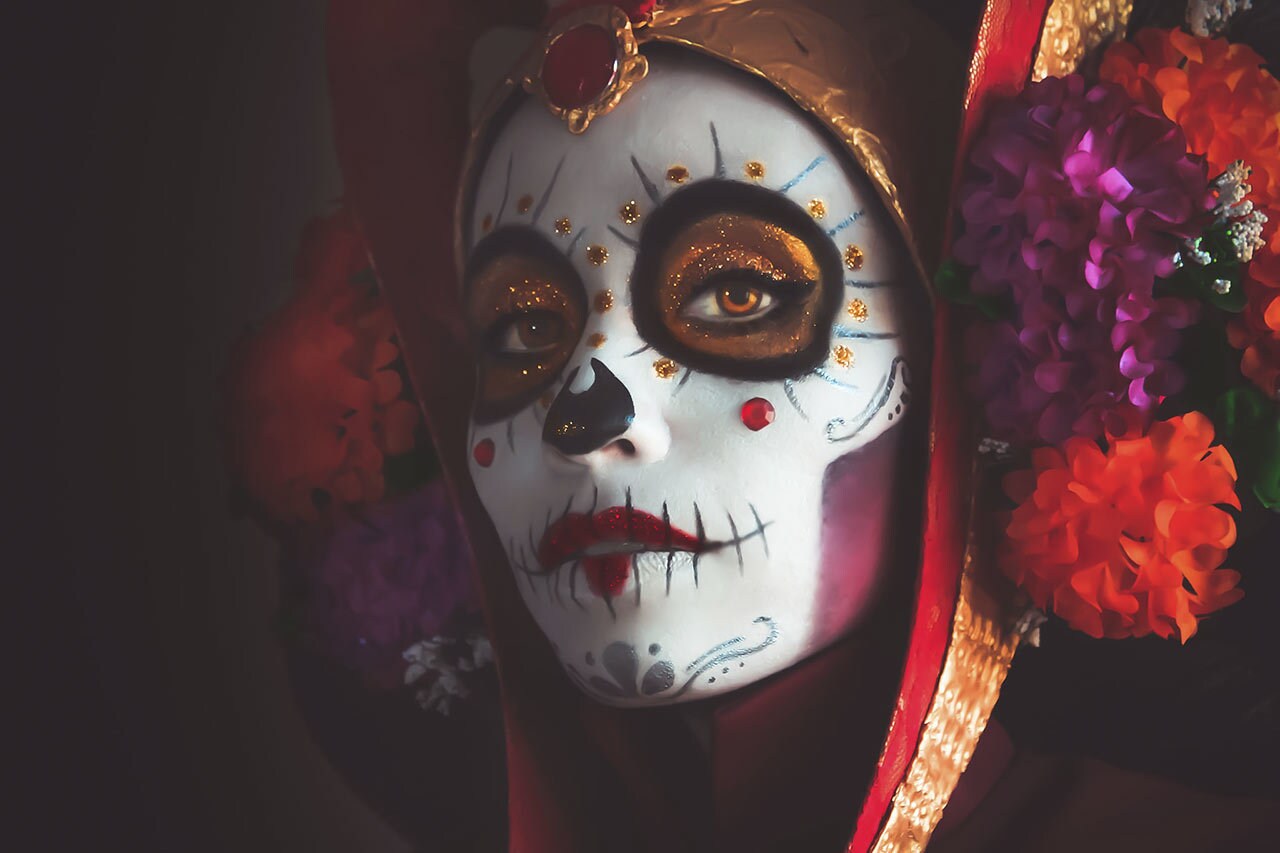 La Catrina, the Day of the Dead's own immortal icon, and Amidala have much in common. "They are represented by beautiful, ornamental, and extravagant gowns," Naberrie says. "We can consider both of them as fashionistas, for sure!" And personally, the two women are significant figures in Naberrie's life. "So when the celebration was near I had this idea: why not try to make a union between these two things I love a lot?...I'm so glad to be able to add this part of my culture to Star Wars. It's a way I can share part of my beautiful culture and also share my big love for Star Wars with the world."
In addition to the mashup, Naberrie has a closet full of Padmé-inspired looks that span the prequels. "Padmé Amidala always has been my favorite character," she says. Her first introduction to Star Wars was in 1999 when the then 10-year-old saw the trailer on TV and asked her dad to take her to the movies to see it. "It was love at first sight."
In the 21 years since, Naberrie has drawn inspiration and strength from the mother of the Skywalker twins. "She is a strong and independent woman who was always willing to fight for her ideals, but above all to fight and help those who had no voice or vote, maintaining strong values that I admire a lot such as honesty, loyalty, helping others, and empathy. She is a character who gives me strength to be loyal to my beliefs and who makes me feel so proud to be a girl in this world!"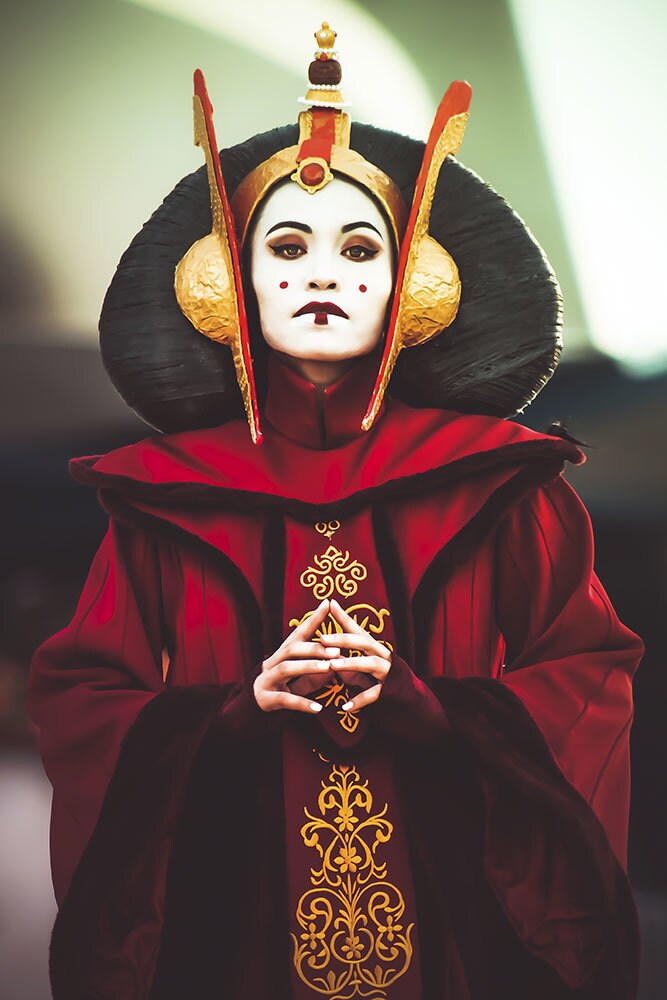 From a design perspective, Trisha Biggar's highly-detailed costumes provide boundless inspiration. But the feeling Naberrie gets when she's in full Padmé garb is transformative. "When I wear my Padmé cosplays, I feel so strong and so beautiful. It's as if an energy takes my body and makes me feel like I can do anything! Thanks to her, I have gained a lot of self-confidence. She makes me feel like a heroine!"
That said, it wasn't easy to recreate the character's iconic looks. "Since I was a child I have always loved to dress as a character," she says. "I can remember my parents throwing me costume parties." In adulthood, Naberrie had to teach herself how to create props and make a costume "with zero knowledge," she says. "I have wasted a lot of material by not knowing how to handle it and by practicing with it," she adds, but solving these problems has allowed her to take on more complex costumes.
Her first introduction to the worldwide cosplay community was actually in line at the theater for the first showing of Star Wars: The Force Awakens, when she saw fellow cosplayers dressed as Jedi, Sith, stormtroopers, and other characters.  "I'm so happy to finally be part of this beautiful community."
And her Catrinas Amidala cosplay is of particular interest, landing Naberrie in Cosplay Realm Magazine earlier this year and eliciting lots of questions from the community. "That makes me so happy! I can share with people from other countries the story behind this Celebration and the story of The Catrina herself! It has also served to create a bond of belonging with all those people who were born in another country but their roots are Mexican, and for me that is priceless."
The StarWars.com Fan Spotlight Q&A 
What's your favorite Star Wars memory?
Momo: I have a lot of wonderful memories that Star Wars has given to me, but one I really appreciate a lot is the day I was at a Con here in Mexico dressed as a Jedi and two little brothers approached me with their eyes really open and excited. They asked me if I could give them an autograph because they were so excited to meet a Jedi! At that point, I was more excited than them, I couldn't believe that! And for me that is the really amazing thing about Star Wars. It doesn't matter your age, your gender, etcetera, we can share the same passion! Also, for me, it is so satisfying knowing I can bring some happiness to others when I'm [cosplaying as] a Star Wars character!
Would you join the Resistance or the First Order? 
Momo: The Resistance of course! I'm a proud member of the Rebel Legion.
If you could fly or drive any Star Wars vehicle, what would it be? 
Momo: OMG, I would love to drive or fly in the Razor Crest [from The Mandalorian] and have fun like Grogu!
Which Star Wars character would you want as a roommate? 
Momo: Good question. Well, I would definitely love to have a lot of porgs as my roomies. I think they would be so funny and also so adorable. It doesn't matter to me that they create a chaos.
If you could have any job in the Star Wars galaxy -- Jedi, Sith, Death Star janitor, rancor keeper, whatever you want -- what would it be?
Momo: I would love to be the fashion designer of the Queen of Naboo! Yes, please!
Photos by Cesar Olguín.