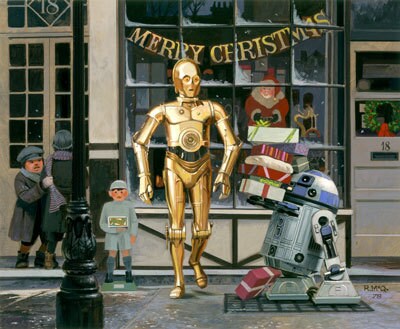 For those hoping to save on Star Wars merchandise this Black Friday, Thanksgiving weekend, and Cyber Monday, you're in luck. There will be sales and savings on almost everything Star Wars-related, from comics to toys, and StarWars.com has compiled a guide to some of the best discounts available. Check out the list below and consider your search over: These are the deals you're looking for.
DARK HORSE COMICS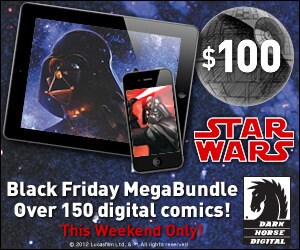 Dark Horse Comics has been home to Star Wars comic books for over 20 years, and has produced many memorable series, from Dark Empire to Legacy. Dark Horse will be selling a Star Wars Black Friday Digital Comic MegaBundle, featuring over 150 digital comics for only $100. Available November 23 to 25.
MIGHTY FINE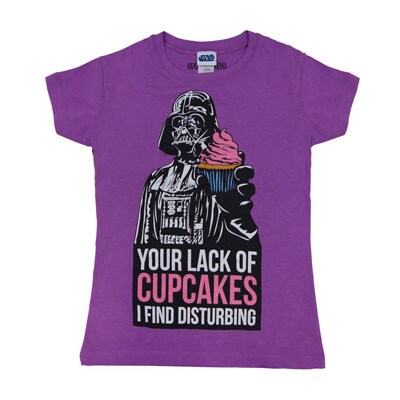 Mighty Fine is a leading retailer of some of the most creative pop culture-themed clothing and accessories on the Internet, with some particularly choice Star Wars products. All day on Cyber Monday, November 26, you can use code STARWARSCYBER25 to receive 25 percent off your entire order.
STAR WARS INSIDER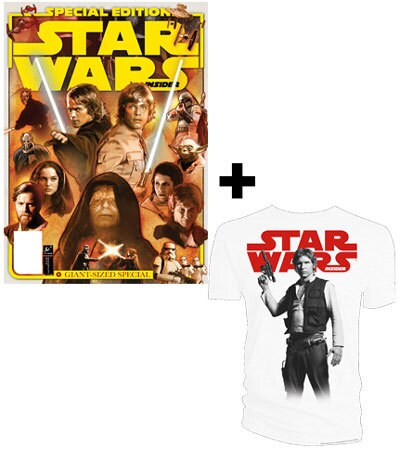 Fans in the United States and Canada who subscribe to Star Wars Insider Magazine on November 23rd will get a FREE Star Wars Insider Souvenir Edition and an exclusive Star Wars Insider Han Solo T-shirt! If you're in the United Kingdom subscribe on the 23rd to get a FREE Star Wars Insider Souvenir Edition and an exclusive Star Wars Insider action figure!
JO-ANN FABRIC AND CRAFT STORES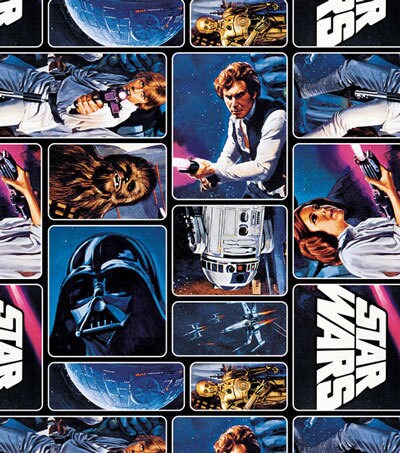 For fans of homemade crafts, Jo-Ann Fabric and Craft Stores will be offering 30 percent off Star Wars fabric, by the yard. Available November 23 to 25.
WALMART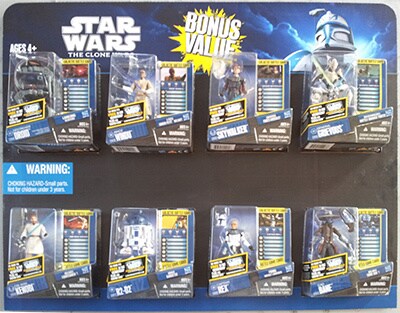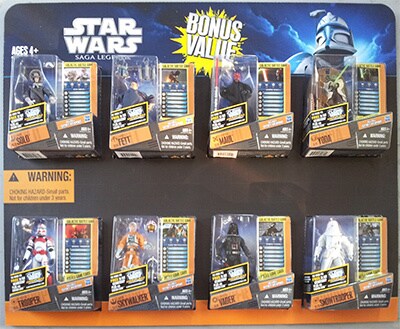 Action figure fans take note: At Walmarts nationwide this Thanksgiving weekend, Hasbro will be offering two exclusive eight-figure value packs for the Movie Legends and The Clone Wars lines, priced at $20 each.
HER UNIVERSE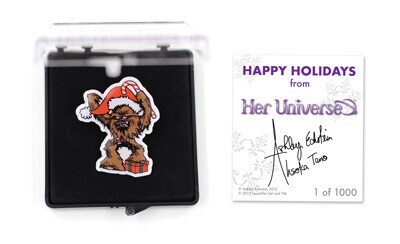 Her Universe -- the innovative line of girls' Star Wars clothes created by Ashley Eckstein, the voice of Ahsoka Tano on The Clone Wars -- will launch its revamped website on Cyber Monday, November 26. To mark the occasion, Her Universe will release its third annual collectible Star Wars pin (with signed certificate by Ashley Eckstein), emblazoned with the image of Chewbacca. This pin is free with any order (while supplies last). Plus, for Cyber Monday only, Her Universe will be offering free US ground shipping on all orders.
Special note to Her Universe fans: Some exciting new products will be released for the first time on Cyber Monday, including a new Darth Vader pajama set (available in sizes SM to 4X) featuring art by famed cartoonist Katie Cook, and a new Star Wars women's t-shirt (available in sizes SM to 2XL), featuring Japanese symbol art.
EPIC INK BOOKS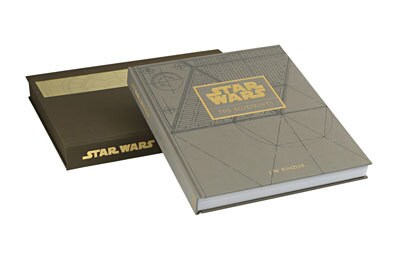 Epic Ink Books, publisher of the stunning Star Wars: The Blueprints by J.W. Rinzler -- a book that shows, in beautiful detail, the technical designs behind the Star Wars saga -- is running a special promotion this weekend. From November 26 through November 30, customers who order Star Wars: The Blueprints at www.theblueprintsbook.com and enter the promo code CYBER2012 at checkout will receive 50 percent off the original retail price of the book. This discount is valid on both the limited signed edition (books numbered 1-100; normally $1,000) and the limited un-signed edition (books numbered 101-5,000; normally $500). All orders will receive free ground shipping in the continental US.
iTUNES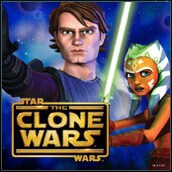 iTunes is featuring a great deal for fans of The Clone Wars. Season One is discounted to $29.99 and $19.99 for HD and SD, respectively, and episode one of Season Five, "Revival," is available for free. The promotion is currently running and ends on November 27.