See the trailer and key art for the upcoming game.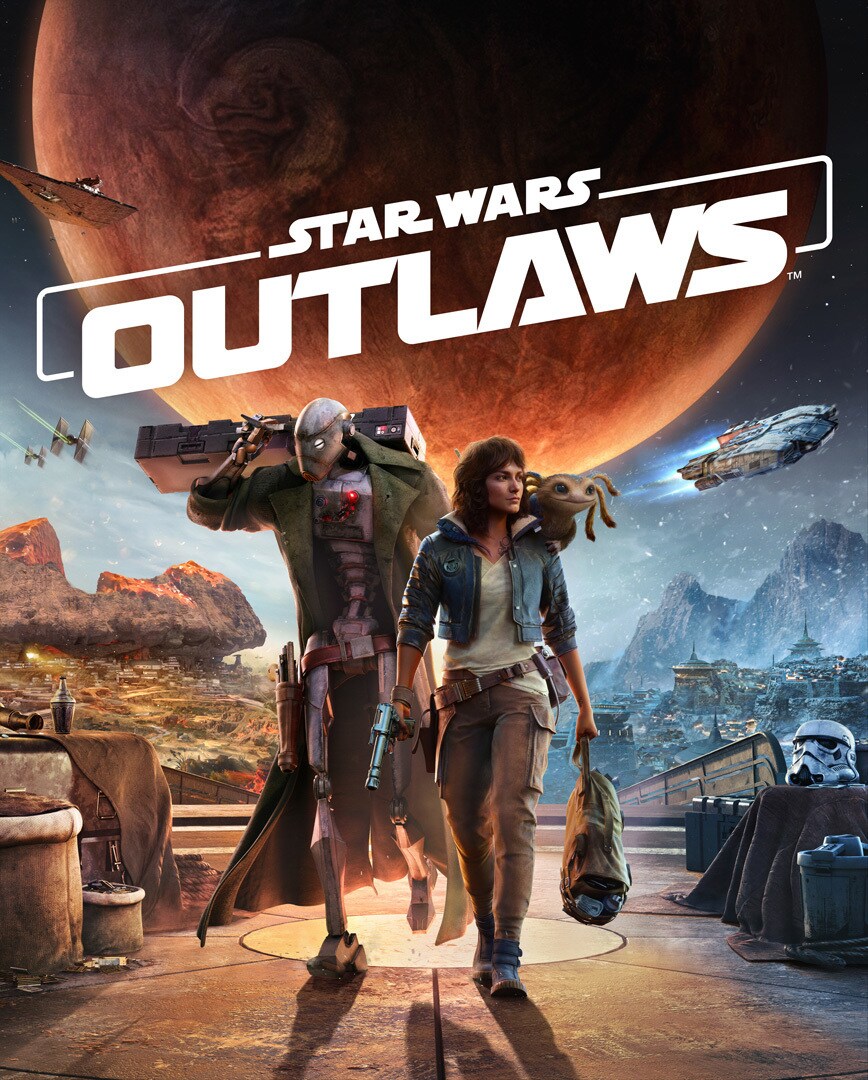 Massive Entertainment, Ubisoft, and Lucasfilm Games pulled back the curtain today on the first-ever open world Star Wars game, Star Wars Outlaws, releasing in 2024 on Xbox Series X|S, PlayStation 5, and PC. Set between the events of Star Wars: The Empire Strikes Back and Star Wars: Return of the Jedi, players will step into the role of Kay Vess, a clever scoundrel in the galactic underworld. In Star Wars Outlaws, Kay is looking to attempt one of the biggest heists the Outer Rim has ever seen, all in an effort to start a new life. You can check out the official key art — featuring Kay and her companion Nix (perched atop her shoulder), along with a trench coat-wearing BX-commando droid, and other mysterious details — to the right, and the announcement trailer below.
"It's a dream come true to be able to collaborate with the team at Lucasfilm Games to create Star Wars Outlaws, the first open-world Star Wars game," Julian Gerighty, creative director at Massive Entertainment, tells StarWars.com. "Our team at Massive Entertainment has a great deal of experience in open-world games backed by strong technology, and it's the perfect time to tell an original scoundrel story that will resonate with fans. With the Galactic Empire on the heels of the Rebel Alliance, and the criminal underworld thriving, an outlaw like Kay Vess has a whole galaxy of opportunity in front of her."
Kay and Nix will explore sprawling landscapes of Star Wars locations both old and new. Kay will race across the humid jungles of Akiva and the windswept savannah of Toshara on her speeder, then jump into the pilot seat of her ship, the Trailblazer, to travel to other parts of the galaxy. From dogfights to high-risk, high-reward missions from crime syndicates, the choices Kay makes can influence her ever-changing reputation. When Kay and Nix find themselves in a sticky situation, she'll have her trusty blaster, can employ stealth and gadgets, or wait for the right moment to distract enemies. You can watch the official gameplay walkthrough trailer below!