Take a behind-the-scenes sneak peek at the ambitious attraction headed to Star Wars: Galaxy's Edge.
When you suddenly find yourself transported from sunny Batuu, inside a sprawling Star Destroyer hangar, it's impossible not to be in awe. During the epic opening of Star Wars: Galaxy's Edge recently at Walt Disney World® Resort, StarWars.com was among a select few given an early glimpse at the new ride, Star Wars: Rise of the Resistance, opening at Walt Disney World Resort on December 5 and Disneyland® Resort on January 17, 2020.
We won't tell you how it ends, but it's safe to say whether you fancy yourself a member of the Resistance, a First Order recruit, or even a smuggler at heart, you're not prepared for what portfolio creative executive Scott Trowbridge calls one of "the most ambitious attractions we've ever done at Disney." It's a pretty big claim, but based on what we've seen so far, and a chat with its executive creative director, Walt Disney Imagineer John Larena, we're believers. Here are five reasons why we can't wait to climb aboard.
1. The magnitude is truly epic.
During our brief walkthrough of a small part of the attraction, we entered a full-size Star Destroyer hangar, complete with a docked TIE fighter and 50 stormtroopers staring us down. Trowbridge casually mentioned this massive set piece was not the attraction's biggest, a claim Larena later backed up.
"It gets bigger and bigger," Larena says. "I think one of the things that Imagineering is great at is just staging, like 'go big,' then we'll cramp you down really tight and then big again. There's going to be this whole language of experience you're going to have, that feeling of confinement and that feeling of breaking out and the awe and wonderment at the scale of things."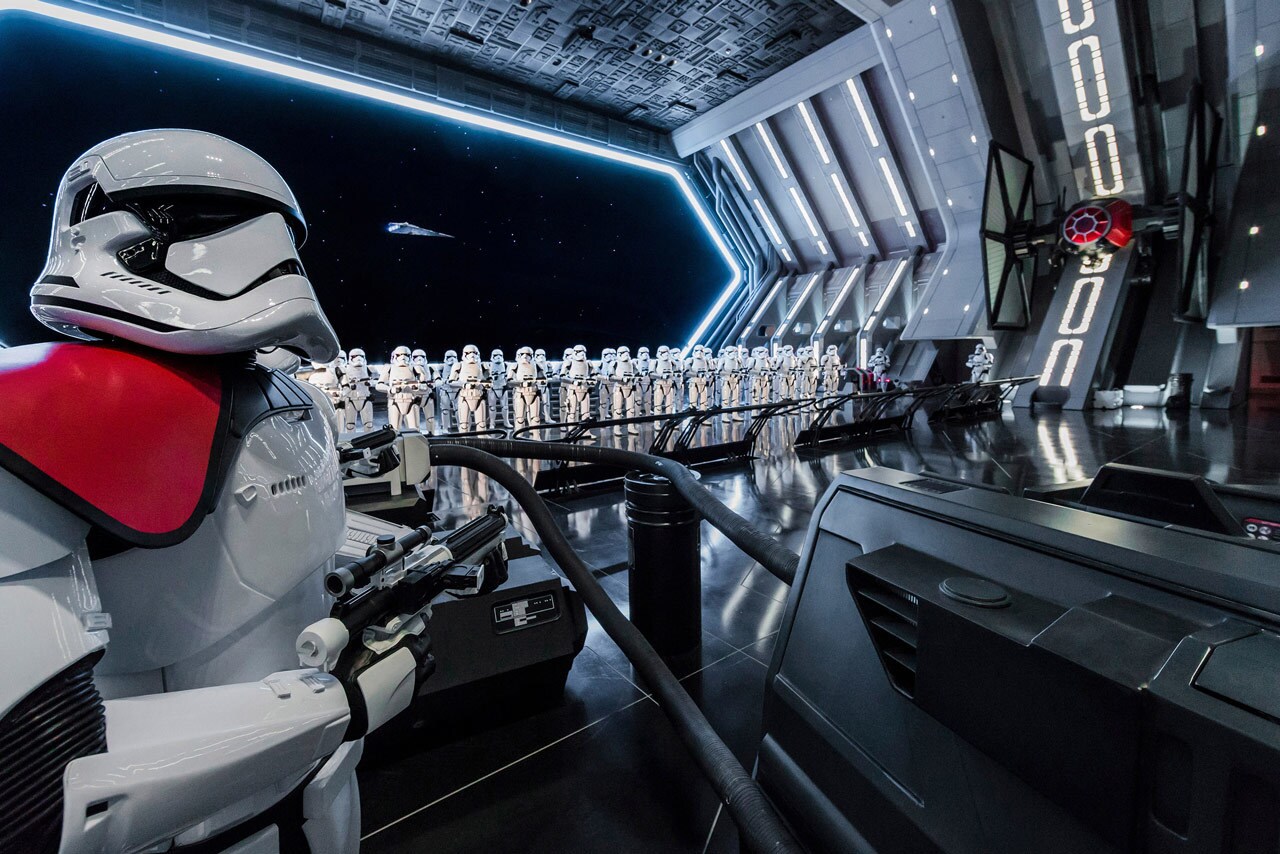 2. Don't expect the usual friendly faces where the First Order is involved.
While it was hard to take our eyes off the army of stormtroopers in the hangar bay, we couldn't help but notice the disapproving looks we were getting from a trio in First Order officer attire. The attraction will feature appearances from the likes of Kylo Ren and General Hux, but Larena's also counting on these in-story Cast Members to add to the immersion.
"I think our Cast Members who are part of the story, or a live component of it, help bring the whole thing to life," Larena says. "So when you first get tractor-beamed into the Star Destroyer, there are going to be those gray suits that are going to be barking at you, 'Move along! Move along!'"
3. It's more than your standard dark ride.
Disney's dark rides, from the Haunted Mansion to Pirates of the Caribbean, are some of the parks' most popular and iconic attractions, but based on Larena's enthusiastic description, it sounds like Star Wars: Rise of the Resistance is raising the bar on the concept of these interior experiences.
"I think it's a dark ride-plus," he says. "Most dark rides...they've sometimes got more of a leisurely pace. This one is really fast action, and being a trackless ride, you'll never know exactly where it's going to take you."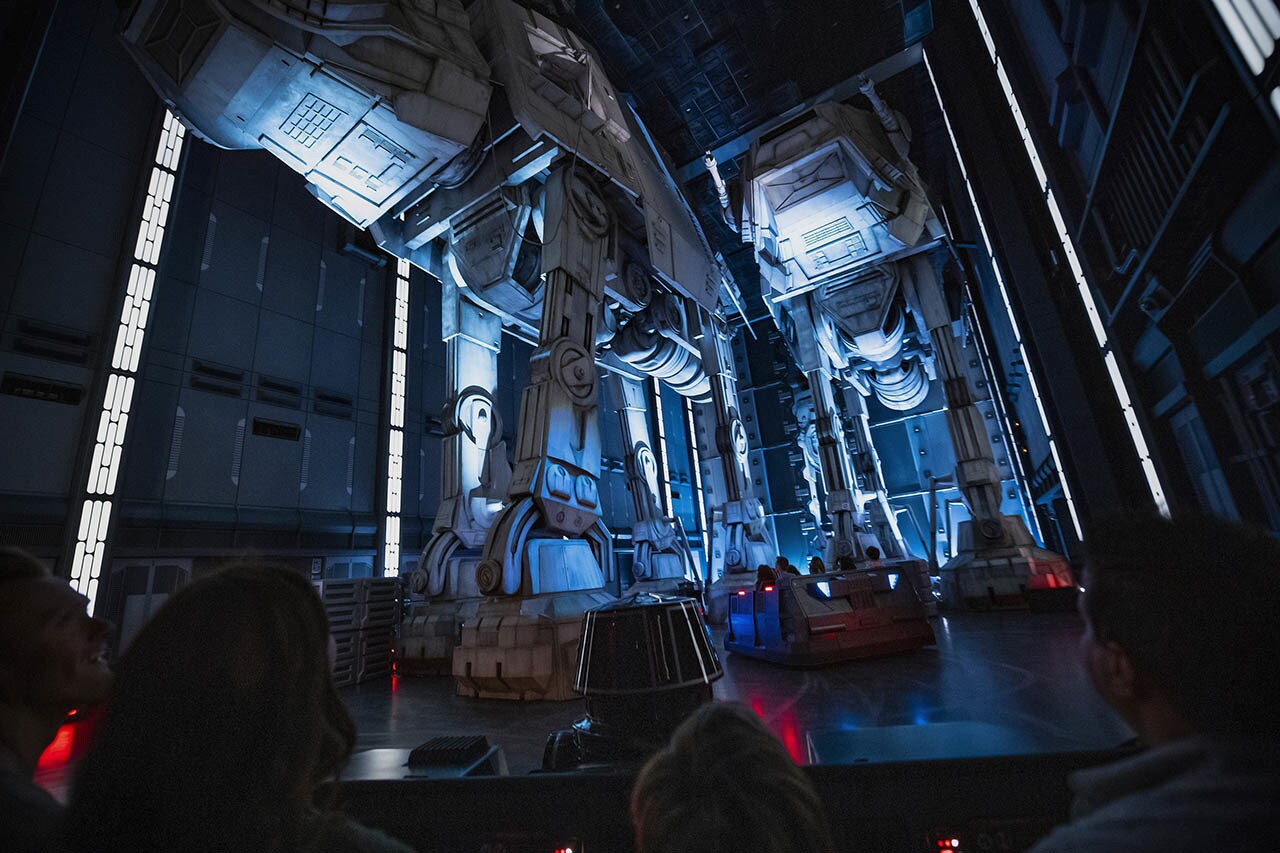 4. That's how many ride systems are featured. Four!
Star Wars: Rise of the Resistance tells a sprawling story, which will see guests recruited by the Resistance, before taking a transport to meet with General Leia Organa. An unfortunate detour finds them sucked into a Star Destroyer tractor beam, where they quickly become detainees of the First Order. According to Larena, this journey -- including an attempted escape -- is too epic for just one ride system alone.
"It's actually four ride systems all working together to give you this seamless experience of getting captured, then breaking out and getting on these trackless vehicles that are First Order transports."
5. This ride's got a few surprises in her, sweetheart.
We won't tell you how the ride ends, but let's just say you'll be in for a few surprises, both in the story you experience and the way it's presented. And one of those four ride systems might just pack a few more thrills than the others. "It's enough to really surprise you," says Larena.
Star Wars: Galaxy's Edge is now open at Disneyland® Resort and Walt Disney World® Resort.
A full-time freelance writer born in Lizzie Borden's hometown, Matt Cabral has covered film, television, and video games for over a decade. You can follow him on Twitter @gamegoat or find him in the basement of an abandoned building hoarding all the canned goods, med-kits, and shotgun shells.
Site tags: #StarWarsBlog