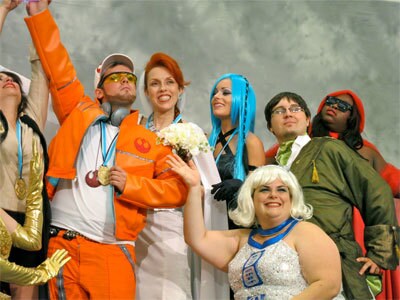 This past Saturday I had the honor and privilege to act as Lucasfilm's official judge for the "Best Costume(s) from the Star Wars Galaxy" award at San Diego Comic-Con's annual Masquerade – presented by HBO (I remember this because the whole shebang started with a long True Blood commercial).
I've been a Star Wars fan all my life but I've never been much of a costumer – mainly due to the fact that I can't make a movie-quality costume and my inability to settle for anything less – but I have been going to SDCC for the last 10 years and I've only missed one Star Wars Celebration (stupid high school finals keeping me from traveling to Colorado), so I can confidently say that I've seen some pretty epic costumes in my time.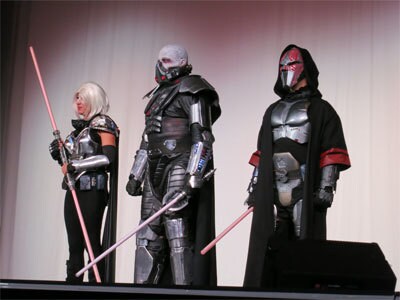 While I was just there to judge the Star Wars costumes, one of the primary judges for the contest was also no stranger to the Star Wars universe. Dragon Dronet (yup, his name is really Dragon) was responsible for creating the hyper-detailed costumes used in the Times Square viral video created to promote  Star Wars: The Old Republic – and if that's not cool enough, he judged the entire masquerade while dressed as Darth Malgus.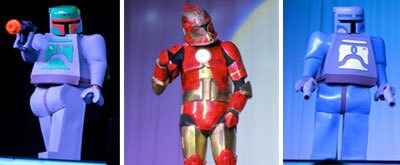 There were 33 entries in the contest. Each individual or group would come out on stage and perform a quick little skit or dance to audio that they provided. Costumes ranged from the Justice League to Mass Effect to Disney Princesses to Adventure Time to a super rad Galactus, complete with a tiny Silver Surfer action figure affixed to his shoulder and while those were all great it was hard to compete with Star Wars, which had six entries! There were Republic Commandos (well, just Scorch), LEGO Fetts, droid ballerinas and even an Iron Man Clone Trooper – who performed a brilliant skit comparing Comic-Con with his own Stark Expo – but it wasn't until the final entry that I was blown away.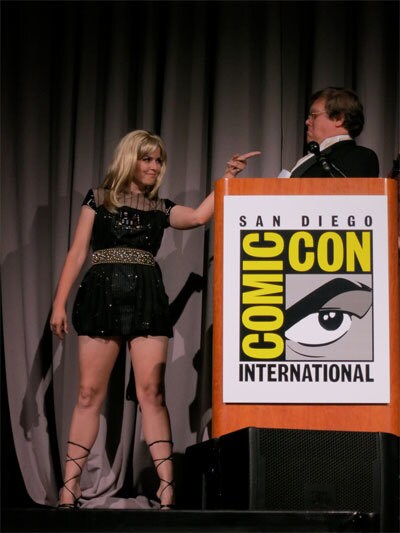 The stealthy ninja stagehands brought out a giant sign that said "Project Runway: All Star Wars" on it and I knew I was in for a treat. As soon as Grand Moff Tim Gunn strutted out onto the stage I was sold but then he was followed by 11 more costumers in what could only be described as Star Wars Couture.  There was a sequin R2-D2, a hip-hop Luke, an elegant female Emperor (with Force lighting-colored mini-lights in her skirt) and even a Darth Heidi! It's safe to say they could really "make it work" (I had to fit that in somewhere).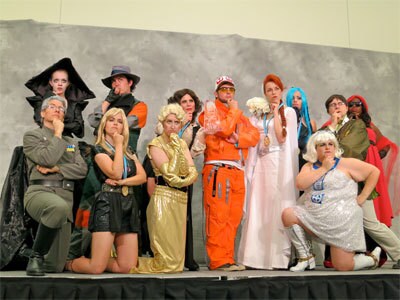 In the end the Project Runway group managed to take home not only the Star Wars prize but also Best In Show, chosen by Darth Dragon himself.
Oh, and in one final bit of Star Wars awesomeness, the intermission entertainment was a choreographed lightsaber battle by the Saber Guild! Technically as a judge I was supposed to go backstage to deliberate but forget that, there were like 15 people on stage fighting with lightsabers! I wasn't about to miss that!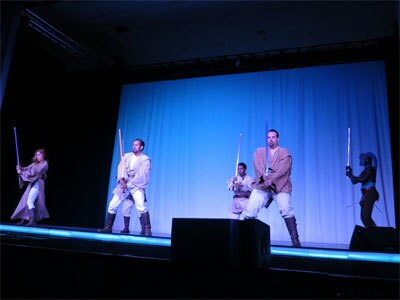 Congrats to the winners and great work to all the costumers involved in the masquerade, there wasn't one dud in the bunch… anyone want to help me make some sweet Mando armor?
Follow me, perhaps? @missingwords
Update: Here's a photo of Scorch as requested in the comments...