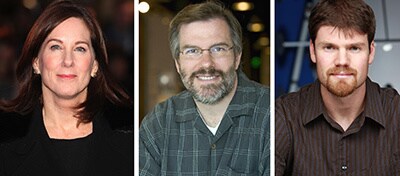 Lucasfilm congratulates all of this year's Academy Award nominees, including ILM's Jeff White who is nominated for Visual Effects for The Avengers and Skywalker Sound's Gary Rydstrom, nominated for Best Sound Mixing for Lincoln. We also congratulate our very own Kathleen Kennedy on her Best Picture nomination on Lincoln. Lincoln received 12 nominations — the most for any film this year.
This is Kathleen Kennedy's eighth Academy Award nomination, Jeff White's first and Gary Rydstrom's 17th (with 7 wins).
Visit oscar.go.com/nominees for a full list of this year's nominees, and watch The Oscars live on Sunday, February 24, 7:00 p.m. ET / 4:00 p.m. PT on ABC.