The director takes us inside his new documentary series, now streaming on Disney+.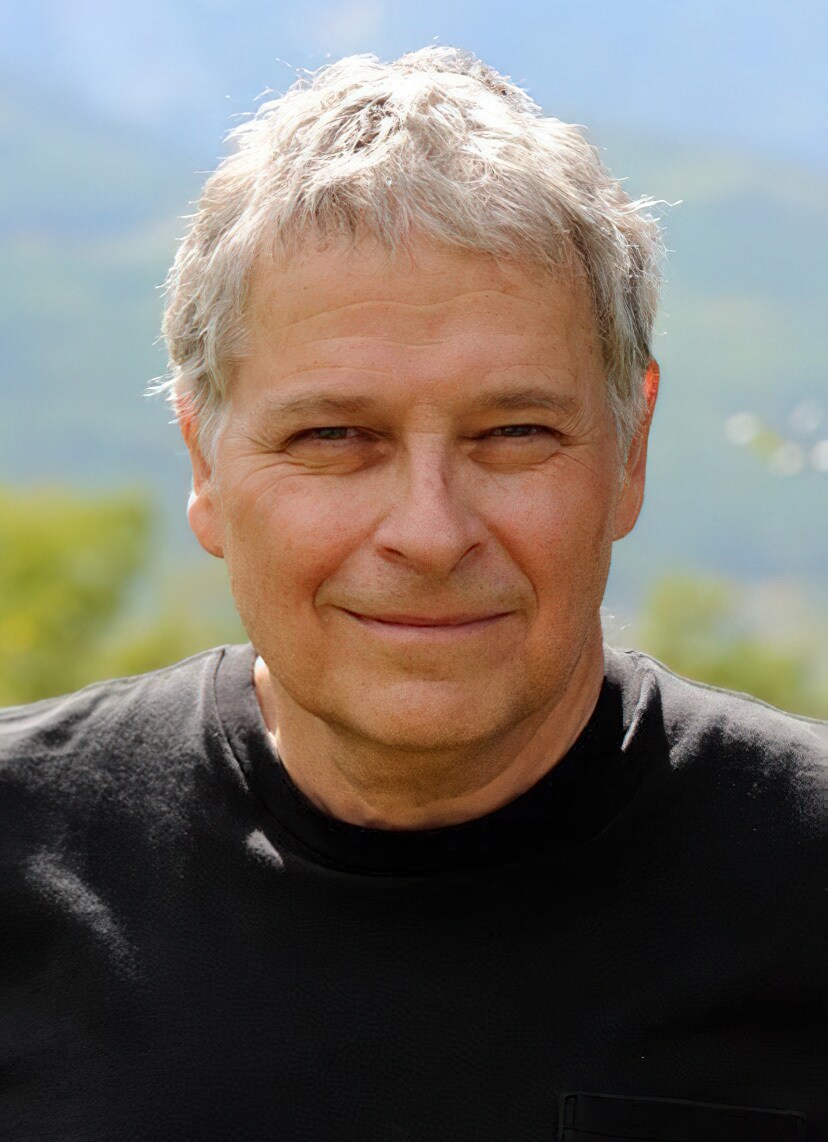 "Just think about it."
With this simple advice, Star Wars creator George Lucas inspired the special effects artists at Industrial Light & Magic to pioneer new techniques and make the impossible a reality.
"One thing you never heard from them was 'That's impossible!'" Lawrence Kasdan, the director and executive producer of the new documentary series Light & Magic, tells StarWars.com. "Giving up was unacceptable." Instead, ILM was infused with a spirit of ingenuity and a belief that there was always a way, whether it was bringing dinosaurs back from the dead or sending audiences hurtling through the stars during an epic dogfight in space. And in Kasdan's estimation, Lucas' approach reflects the humanistic atmosphere that made ILM special, putting people first and allowing creativity to blossom through the free exchange of ideas and technological techniques.
In Light & Magic, the new six-part documentary series now streaming on Disney+, Kasdan pulls back the curtain on the titans of the filmmaking industry to tell the stories of the individuals who made the magic happen, from ILM's inception to modern day innovations. Recently, Kasdan sat down with StarWars.com to discuss how he fell in love with cinema, the day an invitation to write Indiana Jones and the Raiders of the Lost Ark changed the course of his career, and why the lessons of Light & Magic are important for the next generation of would-be filmmakers.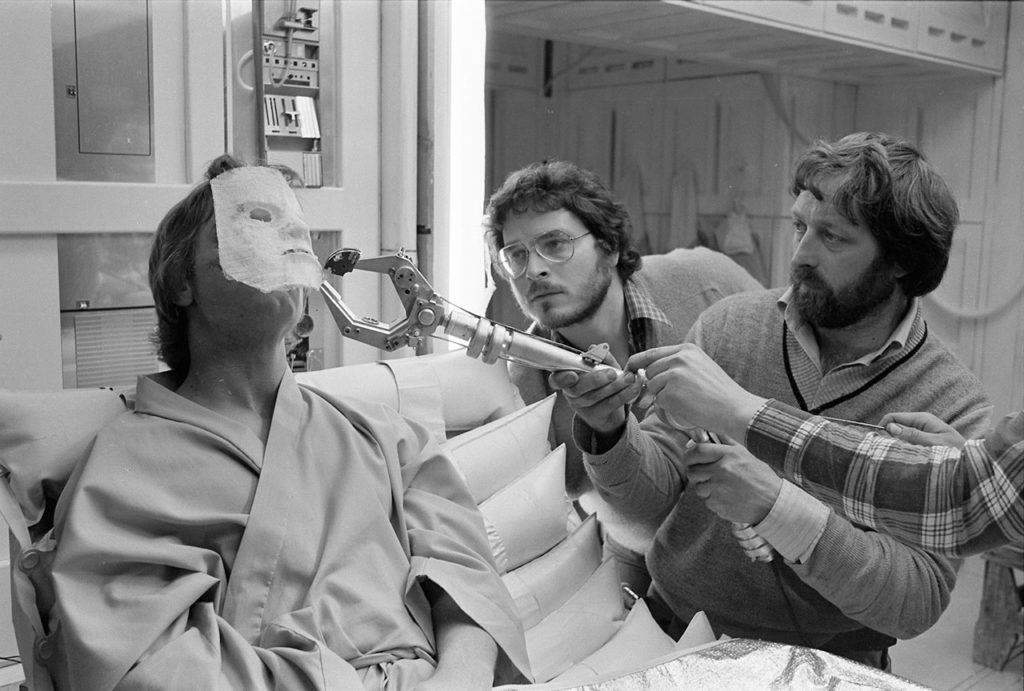 "A hugely important moment"
Kasdan was writing screenplays for seven years before he got his big break, working with Steven Spielberg and George Lucas on the first film in the Indiana Jones franchise and, soon after, Star Wars: The Empire Strikes Back. But in 1977, he was just like everyone else in the world discovering Star Wars on the big screen. While visiting friends in Washington, DC, that summer, Kasdan saw Star Wars: A New Hope at the uptown theater. "Everybody in the country was going to see this movie. And my friends, you know, weren't necessarily interested, but I dragged them along. And everyone all over the world had the same reaction: 'What?! That is the most fun I've ever had. How did they do that?'"
A month later, Kasdan had sold his screenplay for Continental Divide to Spielberg and he was being invited to meet with the director. "My head was spinning because I had tried a long time to get in the business," Kasdan says. "I suddenly sold two [screenplays] and it was just chance that one of them went to Steven Spielberg. The day I met him, he said, 'We're going to do something great with Continental Divide, but that's not why I called you here. George Lucas and I are going to do a [film] and I want you to write it. And I think George does, too.' Well, you can imagine what I was thinking. I'd just been on the street, you know? And he said, 'I want to take you to meet George Lucas.' I was brand new in in the business that turned out to be hugely important moment in my career."
Kasdan's initial interest in filmmaking had started nearly 20 years prior, when the then 10-year-old Kasdan saw The Magnificent Seven in his small hometown of Morgantown, West Virginia. "What was more important than any specific movie when I was very young was that I loved being in that dark theater and I loved being transported to places. It was so much better than reading!" he says with a laugh. "Reading was hard compared to that, but it had the same effect: it opens up your world." John Sturges' remake of Seven Samurai as a Western stuck with Kasdan in particular. "When I finally saw [the original] at college, I was blown away. I think it's the best movie ever made, but I didn't realize that. I thought it was just a great Western and it was full of these young actors, all of whom became stars and all of whom became my favorite stars. That transformed my life."
Kasdan's brother, Mark, returned from studying at Harvard University around the same time, and he was the first person to illuminate the reality of movie magic for the future filmmaker. "He had gotten out of this little town and he came back and we both loved the movies. And he said, 'You know, you're not going to believe this, but people actually make these movies! They make a living doing these movies. These actors aren't making up these lines.' You know, that's how naive I was. And he said, 'You could have a future working, making movies.' Everything was different after that."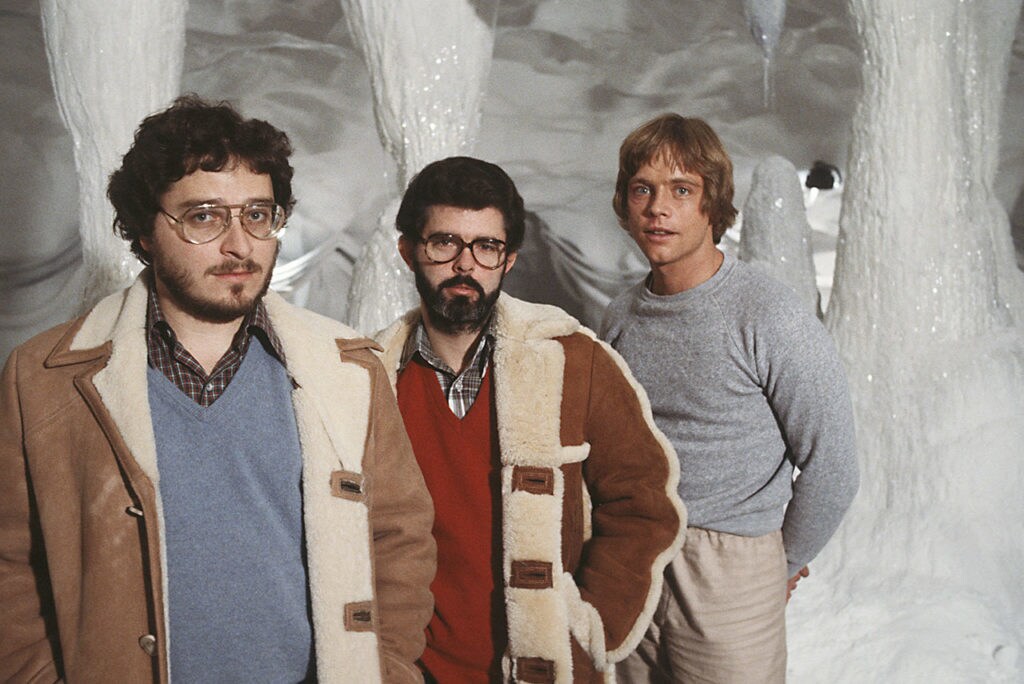 Never-before-seen footage
Kasdan's work on Raiders and Empire brought him into the orbit of ILM early in his career. Although he found their work exhilarating, tackling the documentary was the first opportunity he had to sit down and talk to his former colleagues at length. "I was around ILM, but ILM had just been created. I wasn't watching how they did it, I was just casually meeting people and going to screenings and saying, 'Wow!' You know?"
After writing and directing narrative films for 40 years, Light & Magic is Kasdan's second documentary, after making a short film about a favorite family diner sparked his interest in the genre. In collaboration with Imagine Documentaries, which had recently been founded by Ron Howard and Brian Grazer, it felt like the right time to chronicle ILM's history. Howard and Grazer loved the idea, and already had a working relationship with Disney and ILM. "And I said, 'Well, ILM, that's like asking me back to my old high school,'" Kasdan quips.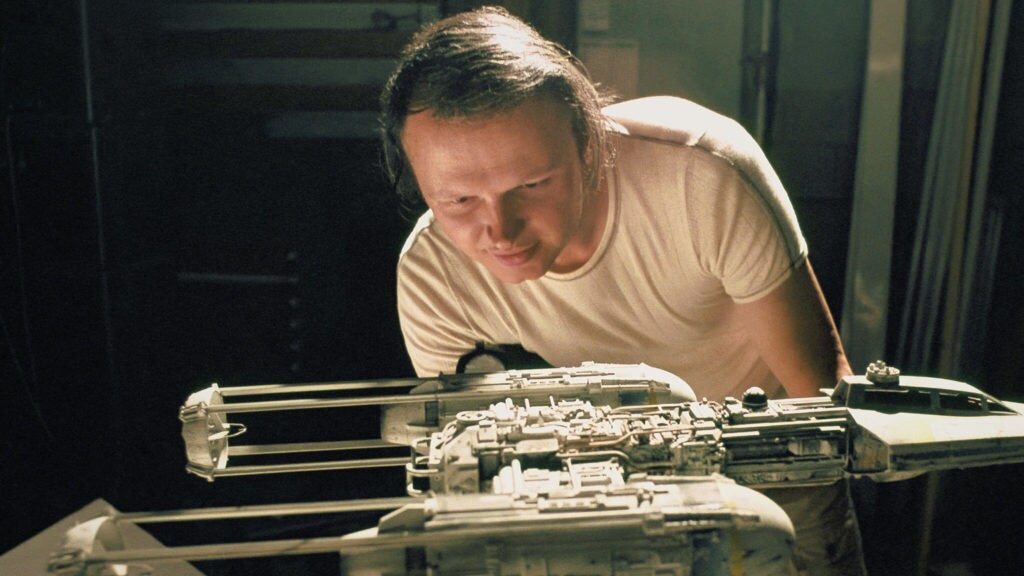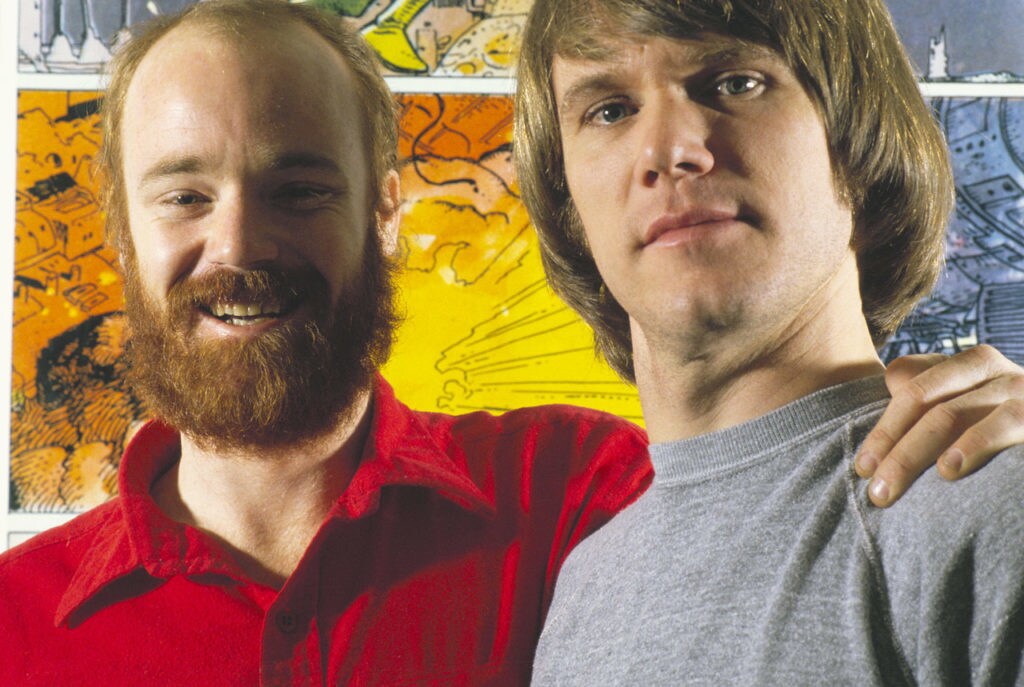 Over about 25 days of filming, Kasdan and his team captured dozens of interviews with some of the titans of the industry, including Dennis Muren, Phil Tippett, and Joe Johnston. Kasdan was in awe of their stories of creating new technology and rigs, sometimes with scrap materials and raw parts found at a Ventura Boulevard electronics store across the street from their workshop. While previous documentaries often focused on the technological advancements and how the techniques were discovered and implemented, Kasdan had a different angle in mind.
In six hours, Light & Magic explores the basics of some of ILM's techniques with a sharp focus on the people who made those discoveries and advancements, telling the stories of the individuals who keep ILM moving forward. "I love that spirit," Kasdan says. "But more than that, I'm tickled by the kind of people that want to do that, like Joe Johnston who can do anything. He's a terrific painter. He's a great designer. And you see him, he's pushing a dolly and moving the [speederbikes] along. There was nothing he wouldn't do."
Through Kasdan's thoughtful curiosity, visual effects masters open up about their greatest achievements and most difficult struggles, often overlaid with never-before-seen footage from personal home movies to photos and film plucked from Lucas' personal collection and the Lucasfilm vaults. "We had the best staff, fabulous producers, researchers, and archivists, and George and Lucasfilm separately opened up vaults that had never been opened up before. You're seeing [footage] that's never been seen before," Kasdan says. "I love that feeling of intimacy you get when a 74-year-old man is describing something and you can cut to him at 31 and he's doing the thing he's talking about. That's priceless."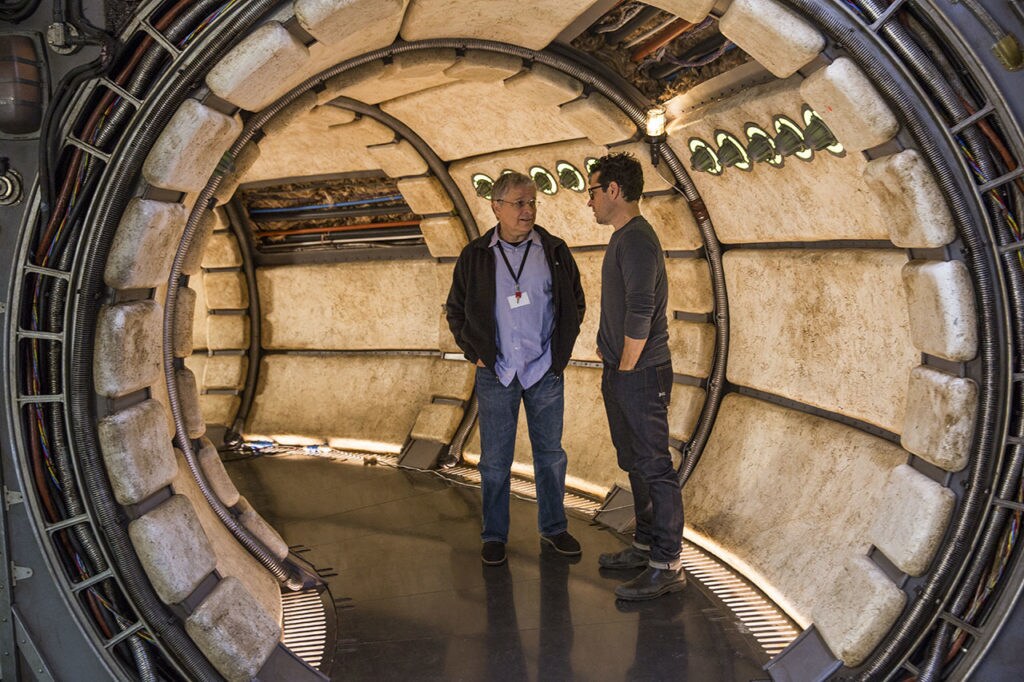 "How things are made"
After four decades of writing dialogue -- including a return to Star Wars on Star Wars: The Force Awakens -- it was freeing to allow his interview subjects to surprise him, Kasdan adds. "I had confidence about talking to people because that's been my main interest all my life. Most of my other movies are about people talking to each other and that is what I love. What I found so liberating on the documentary was they came up with stuff that was much better than what I would've written and much more unpredictable and eccentric," he adds with a laugh. "My goal on Light & Magic was to create an atmosphere for the people where they were comfortable talking about everything….Getting them to talk about what they did and being open about their relationships, the loyalty they had toward each other, and the troubles they had and the disappointments they had."
Respectful yet unflinching, "I think I was asking them questions that they had not been asked before, because so much of the interest in that stuff is technological," Kasdan says. "You can see in the show that their memories are as vivid as if it was last week. They were so passionate about this work." Although the documentary does give basic diagrams and explanations around some of the special effects marvels, Kasdan's interests were in key questions like "How do you get a group of brilliant people and apply them to a different job every two months, every year? 'What are the challenges of this one?' I love the fact that George set up an atmosphere in which that was encouraged, where you didn't have to know the answer. You just had to know you were going to figure it out."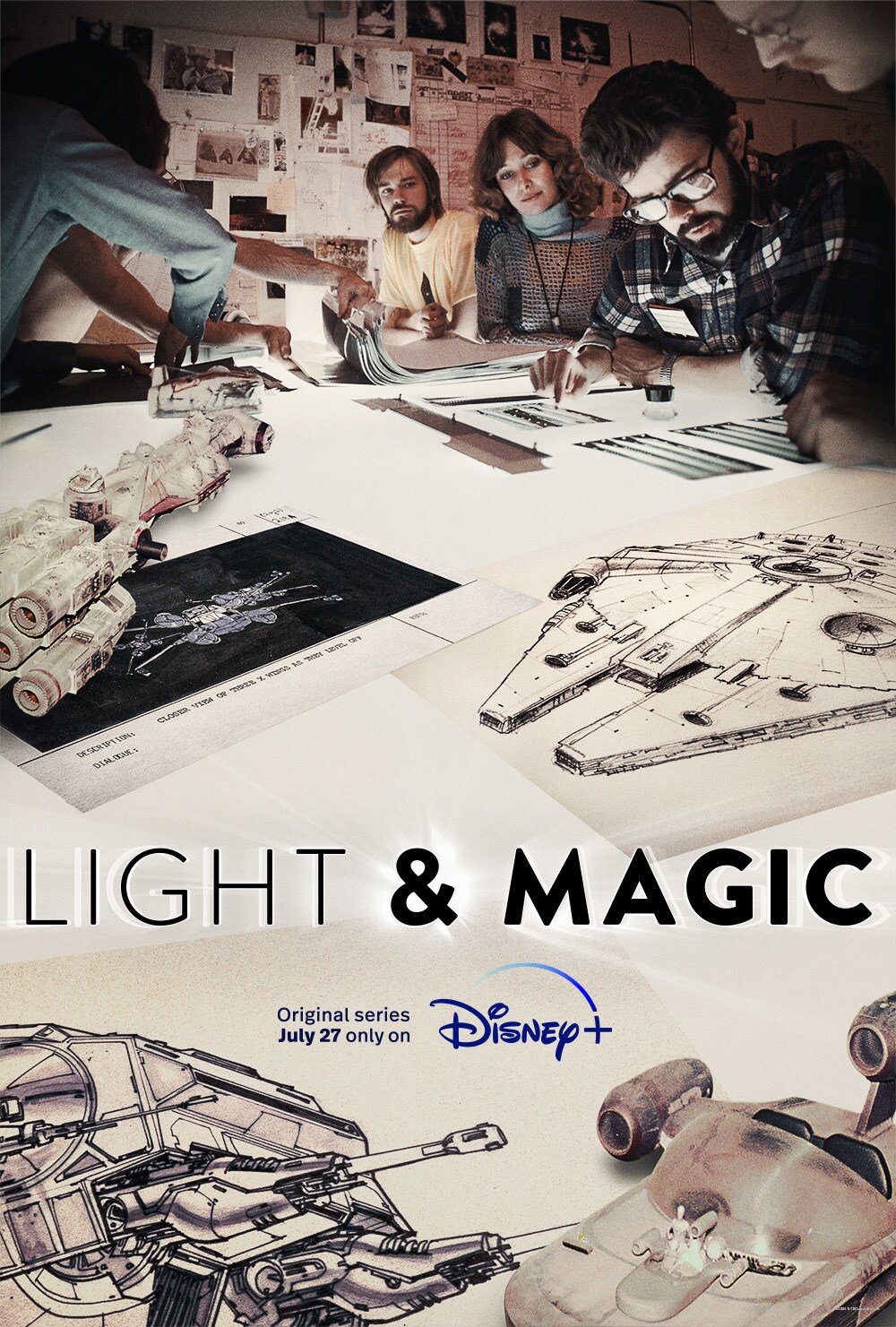 Kasdan is hopeful that's the message that resonates with young dreamers sitting down to watch his documentary series today. "George always used to say, 'Just think about it.' And that, to me, is a very inspiring thing to tell young people," Kasdan says. "I have grandchildren who are watching this show and I'd like them to get the message that even though sometimes a problem seems insurmountable, if you just keep working at it….It's a story about how things are made. And I love that they see people saying, 'Oh, that's a problem, but we can solve it.' I think that's a great thing for young people to see. And the encouragement to go make something is terribly important for people. You know, that's what these kids did."
Some of Kasdan's favorite moments from Light & Magic are from those formative years of experimentation for ILM's future Academy Award-winners. "What I really like is when you see a 12-year-old Dennis Muren or a 10-year-old Ken Ralston, and they're doing stuff that I could not do today. They're creating out of nothing," Kasdan says. "They were doing these incredible special effects. How'd they work it out? There was no handbook to do it. And I want kids today to look at this and say, 'You know, I could make one of these movies in my backyard."
Watch portions of the interview with Kasdan on the latest episode of This Week! In Star Wars below!

Light & Magic
,
the six-part documentary series, is now streaming exclusively on Disney+.