Announcing an exciting new role for the effects wizard whose credits include the Star Wars prequels, Pirates of the Caribbean: Dead Man's Chest, and Pacific Rim.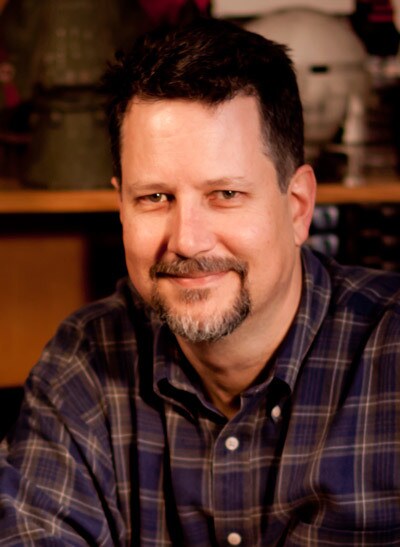 Lucasfilm Ltd. announced today the promotion of John Knoll to chief creative officer of Industrial Light & Magic (ILM) effective immediately. Knoll, who joined the company in 1986, has served as a visual effects supervisor since 1991. Knoll will serve alongside ILM president Lynwen Brennan.
"In John I see a keen eye and an incredible mind for creative problem solving and that's what visual effects are all about," said Lucasfilm president, Kathleen Kennedy. "Lynwen continues to successfully navigate the business through these challenging times and I'm confident that with her business acumen and John's experience and passion for combining creative art with technology, the company will continue to perform at the highest levels."
Brennan, who has been with ILM for 14 years and has served as president since 2010 noted, "I couldn't ask for a better partner than John. I have relied on John's creative input for years and I'm thrilled to make this role official. His creativity and laser focus on combining technical innovation with artistry has benefited not only our clients but the company as a whole."
"I am thrilled that Lynwen asked me to take on this new role," explained Knoll. "I am fortunate to work at a company as stable as ILM where we can focus our energy on the creative and continue to be able to bring together the right mix of talent and technology to keep ILM on the cutting edge."
Well known for co-creating Photoshop with his brother Thomas, Knoll has been a driving force of innovation at ILM for years. In 1996 Knoll founded the Rebel (Mac) Unit at ILM, a creative incubator for fine artists and software developers to define working methodologies and advance the state of the art. This led to the development of a variety of breakthrough techniques including some of the earliest examples of digital compositing for The Abyss, a tool to recreate optical lens flares in the digital realm first used on Hook, and a host of advanced digital camera projection techniques used on such films as Mission: Impossible, Star Trek: First Contact, and Star Wars: Episode I The Phantom Menace.
Knoll was also a key contributor to the development of ILM's cutting-edge on set performance capture technology, Imocap, which saw its first use on Pirates of the Caribbean: Dead Man's Chest and has been used on 12 films. Most recently it was used on the Oscar-nominated Marvel's The Avengers.
In 2012 Knoll was elected to the Academy's Board of Governors representing the visual effects branch and is a four-time Academy Award nominee. In 2007 he won both the Oscar and the BAFTA for Best Visual Effects for his work on Pirates of the Caribbean: Dead Man's Chest.
Knoll is currently wrapping up work as visual effects supervisor on Guillermo del Toro's highly anticipated science fiction epic, Pacific Rim, set to open on July 12.