Check out the full cast, box art, and an interview with producers Aaron Blank and Nick Martorelli.
The stories of X-wing pilots, droid-hunting stormtroopers, and more background characters from Star Wars: A New Hope are about to be told -- by some very famous names.
From a Certain Point of View, coming October 3, will bring together more than 40 authors for 40 stories, all in celebration of Star Wars' 40th anniversary. It's definitely a special release, and Del Rey has assembled an amazing cast of narrators for the audiobook version, which we're excited to reveal below:
Full cast list (in alphabetical order):
Jonathan Davis
Ashley Eckstein
Janina Gavankar
Jon Hamm
Neil Patrick Harris
January LaVoy
Saskia Maarleveld
Carol Monda
Daniel José Older
Marc Thompson
StarWars.com caught up over e-mail with producers Aaron Blank and Nick Martorelli to find out more about the casting and making of a Star Wars audiobook that will be long remembered. Thankfully, we don't have to wait too long to hear it.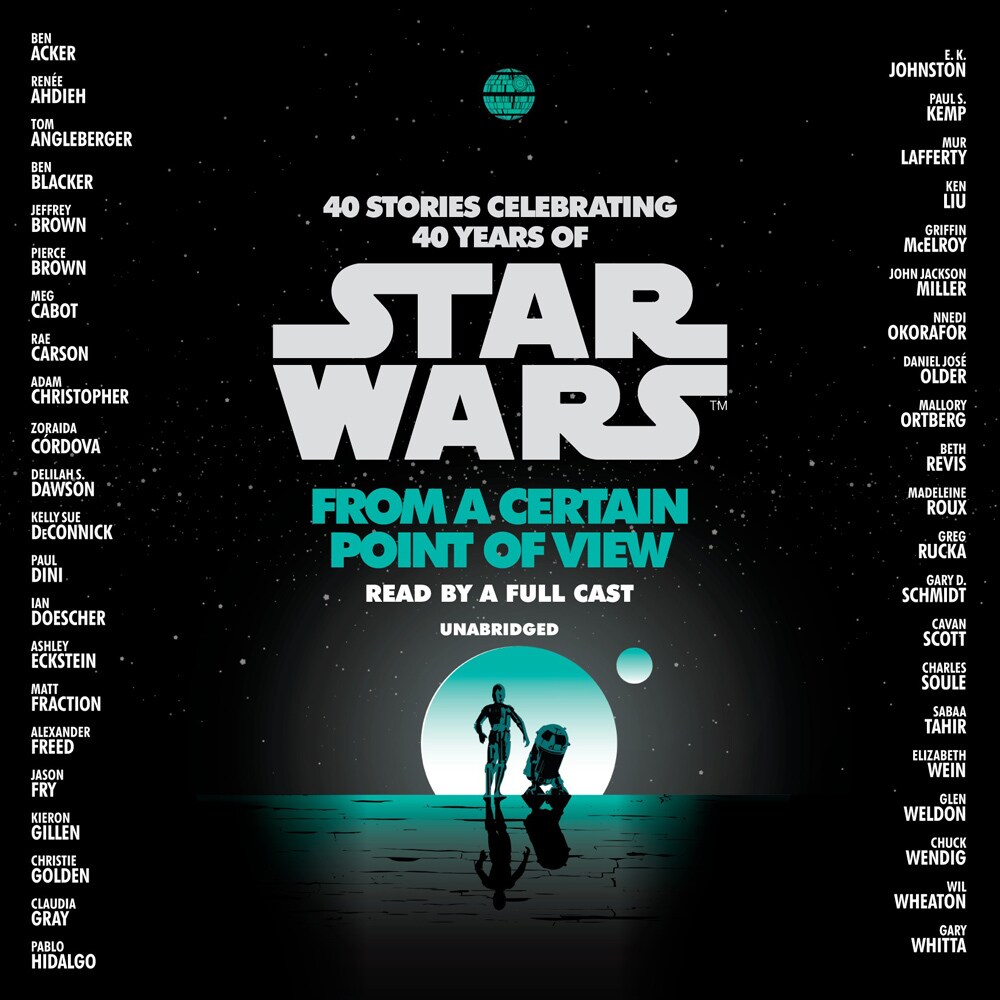 StarWars.com: There are some big names here -- it's really an all-star cast. Was choosing the lineup kind of like making a list of your dream team and going from there?
Nick Martorelli: Since we have over 40 authors in this collection retelling different moments from Star Wars literary history, we wanted to use the audiobook as an opportunity to work with an all-star cast of narrators. We matched our veteran Star Wars narrators with stories that suited their talents, and from there we dreamed big and reached out to people who might have been interested in celebrating this landmark 40th anniversary project. It was also a great opportunity for narrators to return to some of the worlds they had read about previously. As soon as we saw Gary D. Schmidt's Yoda story, Marc Thompson was our only choice. And Saskia Maarleveld had just been cast for Claudia Gray's Leia, Princess of Alderaan, so it made sense for her to also read Madeline Roux's story about Leia's mother. We were also able to reunite some author and narrator pairs who had worked together previously, including E.K. Johnston and Ashley Eckstein.
StarWars.com: There's never been a Star Wars book like this before. How did that impact your production of the audiobook version?
Aaron Blank: This was a fun opportunity to do a full-cast Star Wars audiobook, which we've only been able to truly do thus far with Ian Doescher's William Shakespeare's Star Wars audiobooks because they're written as plays. We got lucky this time in From A Certain Point of View with all the multiple first person points of view. In addition to multiple perspectives, short stories mean a small time commitment in the recording studio, and that enabled us to pursue some big names! We know some of these readers -- like Jon Hamm (reading as Boba Fett) and Neil Patrick Harris (reading about an Imperial officer in the Death Star) -- might not be available for an entire audiobook, but we were able to bring them on board for this project.
StarWars.com: Did any of the readers surprise you with their level of Star Wars fandom?
Aaron Blank: I'm always impressed by audiobook narrators' commitment to being fans, and feel that such dedication comes through in the quality of their performances. Marc Thompson is a die-hard fan, so much so that he has enough Star Wars T-shirts to wear a different one to each day of recording!
Nick Martorelli: Not surprised as much as delighted that everyone wanted to be a part of this audiobook. We had just worked with Janina Gavankar on Battlefront II: Inferno Squad, and she is a huge fan, so we were delighted to bring her back to read as a different Imperial officer for Adam Christopher's story.
StarWars.com: Why are you especially excited for fans to hear this?
Nick Martorelli: Everyone knows the basic shape of the story -- we've seen A New Hope hundreds of times. But this audiobook shows sides of that story we've never heard before. The amount of talent working on this audiobook is phenomenal, and they've put together something special -- unique, but very familiar.
Aaron Blank: This is like no other Star Wars audiobook ever. It let us flex our casting muscle and really do 40 audiobooks in one.
From a Certain Point of View, coming October 3 on hardcover, ebook, and unabridged audiobook, is available for preorder now.
Dan Brooks is Lucasfilm's senior content writer and editor of the StarWars.com blog. He loves Star Wars, ELO, and the New York Rangers, Jets, and Yankees. Follow him on Twitter @dan_brooks where he rants about all these things.