The author of over 20 books, including the celebrated trilogy of behind-the-scenes Star Wars tomes, died July 28.
Jonathan Rinzler was something like Indiana Jones when it came to unearthing film histories. On a tip from then-Director of Fan Relations Steve Sansweet more than a decade ago, Rinzler and the librarians at Skywalker Ranch recovered a collection of long-forgotten transcripts from Lucasfilm's storied past.
In four boxes filled with yellowing papers, Rinzler discovered a treasure trove that he would dub the "Lost Interviews," more than fifty accounts recorded between 1975 and 1978 and conducted by publicist Charley Lippincott, documenting the formative creation of the original Star Wars film from the likes of George Lucas, Harrison Ford, Mark Hamill, Carrie Fisher, and Gary Kurtz. Several pre-dated the film's meteoric success in May of 1977, a time capsule that allowed modern fans to gain insights into how the gifted cast and crew at the helm of the future box-office success viewed the film before it became a pop culture mainstay. Through painstaking research, Rinzler pieced together these candid interviews and other records to create The Making of Star Wars in time for the film's 30th anniversary in 2007. The book went on to become a New York Times bestseller, setting the bar for similar accounts that followed, and further cemented Rinzler, then already the author of books including The Making of Revenge of the Sith, as a preeminent film historian whose work was lauded as the Holy Grail for Star Wars fans.
On July 28, 2021, Rinzler died peacefully at his home in Albion after an 11-month bout with pancreatic cancer. He was 58. But his words live on.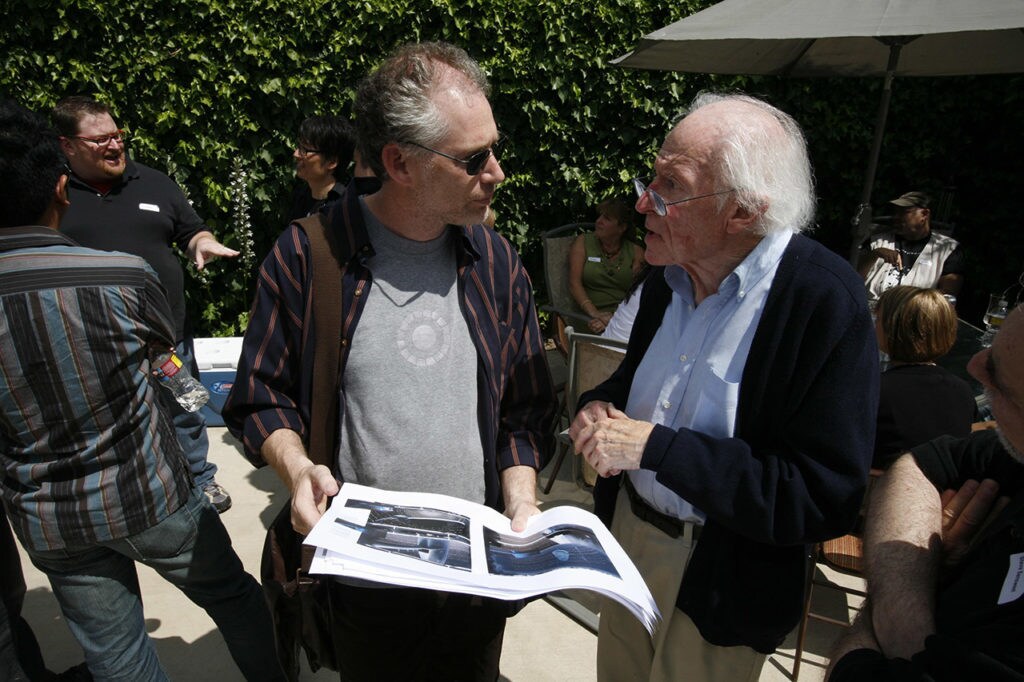 Rinzler worked closely with George Lucas for 15 years, joining Lucasfilm in 2001 and serving as the executive editor for Lucasfilm publishing, then called Lucasbooks, until 2016. "Jonathan was a sure and steady presence across the years as both a writer and executive at Lucasfilm," Lucas recalled Wednesday. "With his kind and contemplative nature, you could see a glint in his eye, the wheels turning when he had a new idea and a quiet fervor with which he sought out ever more detail for the books he wrote and edited. The works he left behind are touchstones to times and places we can each remember and appreciate in our own way."
Friends and former colleagues mourned the loss as news broke, celebrating Rinzler's prodigious career. His meticulous research allowed for unvarnished accounts of film history that would have otherwise gone untold. Rinzler's passion for writing and research was clear in his storytelling, but many remembered his kindness above all else.
"In addition to being an incredible writer, Jonathan was such a kind and beautiful person," said Lynne Hale, Lucasfilm's VP of publicity and communications. "His dedication and passion for preserving our cultural heritage and his deep knowledge of our films make his books extraordinary. The many books he authored while at Lucasfilm can be found on almost every Star Wars director and employees' bookshelf, and are a constant resource and reminder of who we are as a company and what we continually strive to achieve. Jonathan's memory will live on within the halls of Lucasfilm, and his kind, generous nature will remain forever in our hearts."
His writing credits included penning the two-part arc "The Disappeared" for Season 6 of Star Wars: The Clone Wars. "I knew Jonathan as a writer and was fortunate to work with him on two episodes of The Clone Wars," said Dave Filoni. "His Making of Star Wars books are the most in-depth accounting of the films I have ever seen. I am sure his work will be to the benefit of generations of filmmakers to come. And in that he has fulfilled one of the greatest tenets of a Jedi, to 'Pass on what you have learned.' Something Jonathan did brilliantly."
Altogether, Rinzler left behind a legacy of more than 25 books, including The Complete Making of Indiana Jones, The Making of The Empire Strikes Back, and The Making of Return of the Jedi. Among his accolades and accomplishments, Rinzler was the author of three New York Times bestsellers and one London Times bestseller; the novel All Up, published last year combining speculative and real history to recreate the space race; and the graphic novelization of The Star Wars, an illustrated adaptation of Lucas's rough-draft screenplay and a glimpse at what may have been. Rinzler's final book, Howard Kazanjian: A Producer's Life, is slated for release next month.
Rinzler is survived by his family: his wife, Genevieve, and daughters Judith and Sarah. In his final days, Sarah took to her father's Twitter account to alert followers to his diagnosis and the family's end-of-life planning. In just 48 hours, a GoFundMe page created to help with medical expenses exceeded its goal. "No words can describe how moving it's been to see this outpouring of support for my dad & our family," Sarah wrote in gratitude. "Thanks to all of you." Additional contributions will be donated to the Pancreatic Cancer Action Network, where the family has also requested remembrances in Jonathan's name be made.