A fangirl revolution started a few years ago when we launched Her Universe. It was not a single effort by me or my team, it was a united effort by an army of fangirls -- starting with Star Wars fans. We were tired of settling for Star Wars clothes made for men and boys and we wanted merchandise made just for women. Lucasfilm recognized its female fans and gave me the opportunity to make Star Wars products as the first collection for my company, Her Universe.
My dream was that one day a girl could walk into a store in the mall and she would have just as many sci-fi apparel options to choose from as the boys did. My favorite specialty retailer of choice is Hot Topic. They always have me covered for all of my geeky and trendy needs! Hot Topic has definitely heard the requests from our army of fangirls and they now offer several sci-fi/fantasy products made exclusively for women in their store. To take it a step further, they've even made the above video about fangirls, Her Universe, and Ahsoka Tano!
On behalf of female fans, I would like to say thank you to Hot Topic for giving us fangirls our own section. We no longer have to walk over to the boys' side to get what we want! If you have a message for Hot Topic or would like to share your shopping story as a fangirl, let me know in the comments section, and trust me: I also know that we still have a long way to go. We are working on new designs, expanded size ranges, and I am ALWAYS looking for your suggestions.
May The Force Be With You!
Ashley :o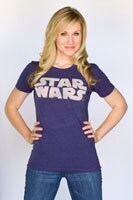 Ashley Eckstein is the voice of Ahsoka Tano on Star Wars: The Clone Wars and also the founder of Her Universe, the first merchandise line made exclusively for female Star Wars fans! You can follow Ashley on Facebook and Twitter.