Channel your inner Admiral Ackbar and set a plan for Celebration Anaheim!
The wait is nearly over. Star Wars Celebration Anaheim is so close that I can practically hear the sounds of Darth Vader cosplayers breathing. While you should absolutely leave room for spontaneity in your schedule, having a loose plan in place and knowing what to expect will make four days of nonstop Star Wars seem less overwhelming and way more fun -- and fun is the operative word. It can be easy to get wrapped up in the details and get stressed, but that path leads to the dark side. I have some general Celebration advice and some tips specific to the location to help you be as prepared as a Jedi Master.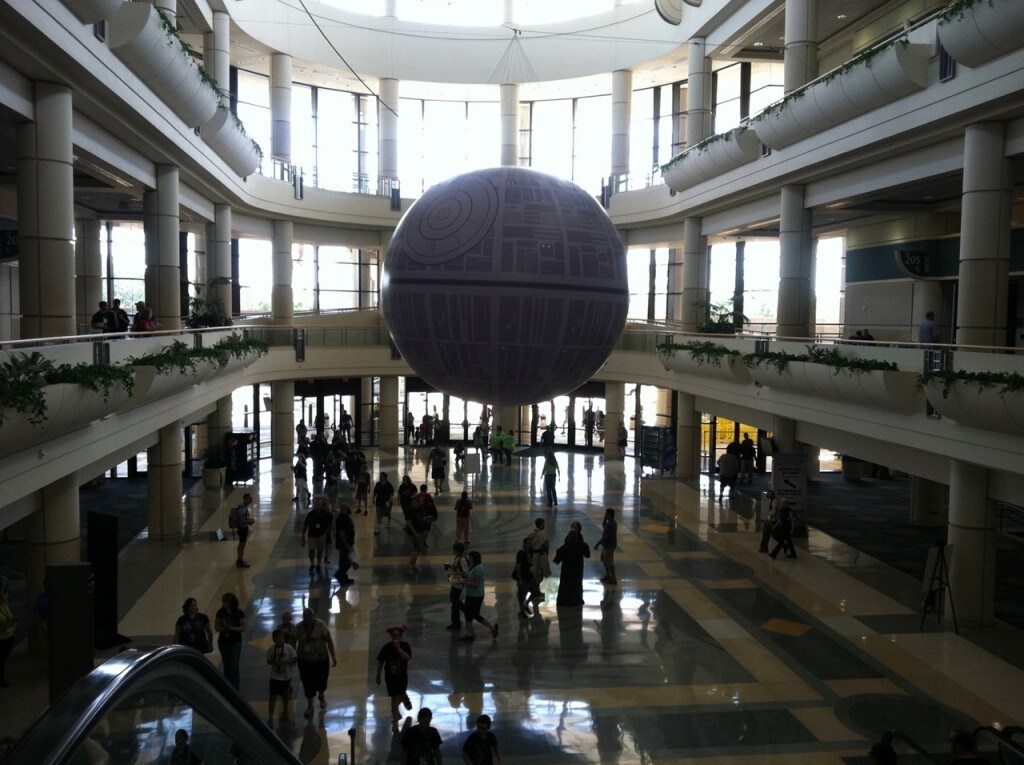 General Convention Tips

Wear comfortable shoes. Being in pain just isn't worth it. If you must wear that pair of awesome shoes that pinch your feet a little, save them for the last day.
Dress in layers. The temperature in southern California varies wildly, and you'll want to be able to shed or add clothing accordingly. Mornings and evenings are chilly while midday is blazing hot. Chances are good that the convention center's air conditioning will be set to Hoth-level temps. Wear T-shirts and hoodies, bring hose or tights if you're wearing a skirt, and consider packing a pair of jeans in addition to your shorts.
Stay hydrated. Eating regularly is important during conventions (start the day with a full breakfast if you can), but drinking lots of water may be more key to staying energized and healthy. Buy a bottle of water and keep filling it up all weekend. Make sure the bag you're taking to the convention has room for the bottle because you'll want to have it on hand all the time. I also like to keep lip balm and travel-size lotion in my bag because the air conditioning dries out my skin.
Bring extra chargers. If you're planning to use the Celebration app, stay in touch with friends, or use social media, keeping your battery levels high will make you a happier camper. Invest in a battery pack before the convention starts -- there are tons of options -- and charge it and your mobile devices when you turn in each night. Go ahead and carry your charger and plug with you too because you never know when you'll have an opportunity to use an outlet. Bonus: If you're sharing your hotel room, have someone bring a power strip so you can charge all the things.
Save taxi and car service information now. If you think you might leave the immediate area around the convention center to go to an off-site event or simply to get back to your hotel, you might want to call a cab or car service like Uber. Prepare that information before you leave so you have it on hand. Record the numbers, install the apps, etc.
Make a loose schedule. You're not going to be able to attend every panel and see everything you want to see. Go ahead and brace yourself for that disappointment now. Use the Celebration app or good ol' fashioned spreadsheets to prioritize the panels, exhibitors, and fan activities that are most important to you. Bonus: Choose one panel you absolutely must see, calculate plenty of time for waiting in line, and plan around it.
Shop smart. If you know you really want a show exclusive, make a plan to purchase it as soon as you can. If you want to mull a purchase over, take note of the booth number and name so you can locate it again. Those of you planning to purchase art should bring a poster tube or a sturdy plastic sleeve to ensure it gets home in pristine condition.
Star Wars Celebration Tips
Talk to those around you in line. Celebration is unique in that everyone is there for the same reason. You have an automatic icebreaker. Chat with people around you while you're waiting. It will make time fly, and you might make new friends.
Plan for lines. About those lines -- it's impossible to know how long they'll be. At Celebration VI, the lines for the Celebration Stage were manageable. It's not usually like Hall H at San Diego Comic-Con. If you really, really want to see a given panel, commit and plan on getting in line at least an hour and half before the panel starts. Sometimes I'll cruise by waiting areas and take a look before making a decision.
If you're going for autographs and photo ops, try to schedule them all on one day and knock them out. It will give you more freedom on the other three days of the convention.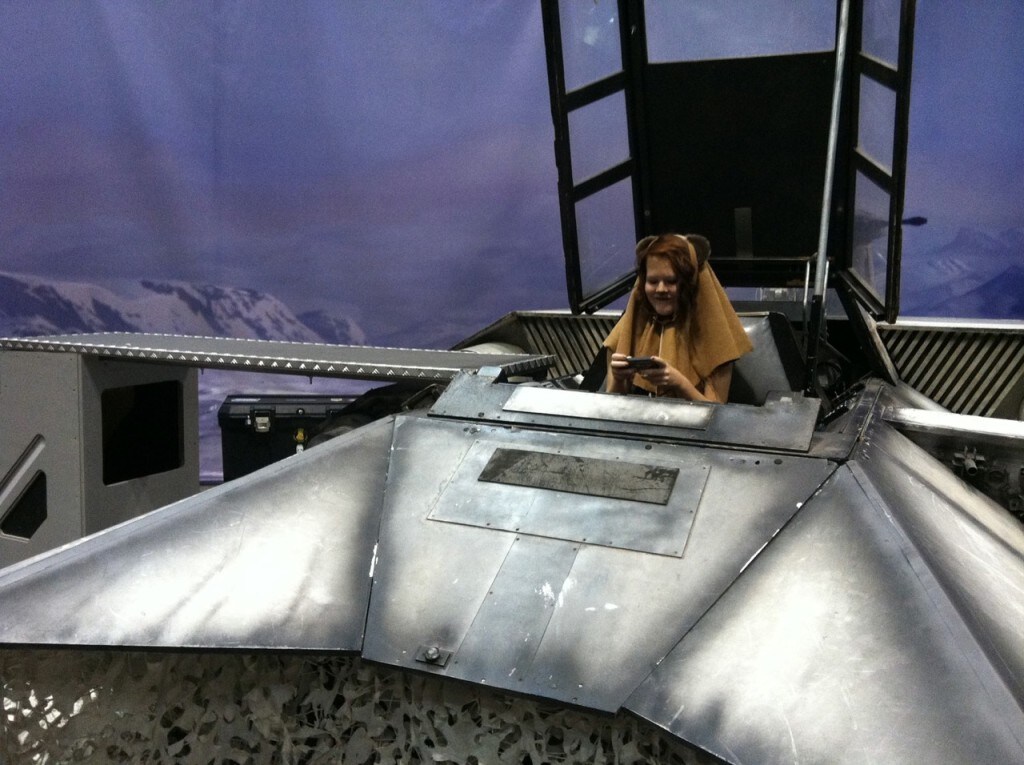 Leave time to explore fan exhibits. Unlike other conventions, the Celebration exhibit hall isn't all about shopping. You can definitely put a dent in your credits, but there are so many photo ops. You might be able to sit in a snowspeeder, pose inside a bacta tank, or sit down and consider a move at a Dejarik table. These sort of displays are available around the show floor and in separate rooms around the convention center. Lines tend to move quickly, and it's just fantastic to immerse yourself in a little corner of the galaxy far, far away.
Anaheim Convention Center Tips
What about the location? Here are a few important considerations:
Size: The Anaheim Convention Center accommodates roughly 60,000+ attendees for WonderCon with no problem. Don't stress about feeling crowded. The convention center may not be giant, but there's plenty of room to breathe. Walking from one end of the convention center to the other takes only a few minutes, but be sure to leave yourself extra time to navigate between panel rooms. If you're planning on attending panels in the Arena where the main stage will be, remember that the Arena is at the far end of the convention center and usually exits to the outside of the building. Getting to the opposite side of the convention center from there could take 5-10 minutes.
Food: The food at the Anaheim Convention Center is typical convention center fare such as soft pretzels, hot dogs, and pizza. If you step outside and walk a couple of minutes, you can access the food court at the Hilton with Starbucks, Baja Fresh, Sbarro, Just Grillin', and Submarina. Several gourmet food trucks are typically lined up during conventions; just be prepared to wait 15-20 minutes in line during the lunch rush. Finally, there is a CVS Pharmacy on Katella Ave. (about a 20-minute one-way walk) if you want to stock up on snacks and bottled water before Celebration begins.
WiFi: The Anaheim Convention Center has free WiFi, and the two hotels next door -- Hilton and Marriott -- both offer free WiFi in public areas. Signal strength varies, but the convention center's WiFi is reliable for social media use.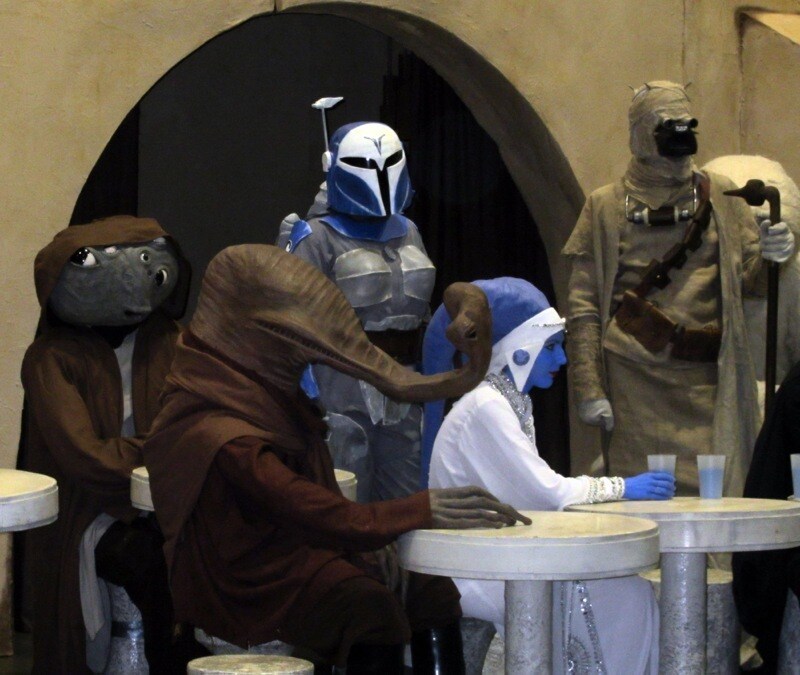 Cosplay: There's a fountain and small wooded, grassy area just in front of the convention center that make great places to take photos of costumes or to have photos taken of your costume. The third level also has a balcony if you'd like a more dramatic background.
Parking: If you're driving into the convention each day, arrive early for the best parking options. Carry cash to pay for parking and be aware that you probably won't find parking for less than $10 unless you locate street parking and walk farther. If you don't plan to arrive until late morning or afternoon, leave yourself 30-45 minutes to secure a parking space and get to the convention center.
Disneyland Resort: Disneyland, Disney California Adventure, and Downtown Disney are within walking distance of the Anaheim Convention Center. You'll be taking Katella Ave. to Disneyland Dr. If you want your stroll to the parks to be nice and leisurely, leave 20 minutes to walk each way. You can enter Downtown Disney and Disney California Adventure through Disney's Grand Californian Hotel & Spa or you can continue walking down Disneyland Dr. until you reach Downtown Disney. You can find plenty of snacks, full meals, and beverages in Downtown Disney without going into the parks, and if you need more Star Wars merchandise, be sure to visit D Street.
If you want to visit the parks any evening during Celebration, take advantage of discounted tickets until April 15.
---
I look forward to meeting many of you at Celebration! I'll be talking to fans at the convention to record all of your favorite experiences so please give me a shout if you see me or send your memories to me on Twitter.
Feel free to share your helpful hints in the comments -- we're all in this together!
Amy Ratcliffe is a writer obsessed with all things Star Wars, Disney, and coffee. Follow her on Twitter at @amy_geek and keep up with all things geeky at her blog.