Learn the stories behind the emotional musical cues and layered soundscape that are essential in bringing Batuu and Black Spire Outpost to life.
A heartfelt message from legendary composer John Williams, the familiar growl of a frustrated Wookiee losing a game of holochess, and a live performance of one of the galactic hits currently spinning inside Oga's Cantina. On Friday, fans at D23 Expo were invited to pull back the curtain on the soundscape and soundtrack that helps make Star Wars: Galaxy's Edge, now open inside Disneyland Resort and opening August 29 at Walt Disney World Resort, a wholly immersive experience.
From sound effects that make you feel like a ship is about to take off from Black Spire Outpost, to the ambient sounds of a humble Wookiee apartment (where one of the residents sings in the shower) located just above the bustling marketplace, not to mention the newly composed score Williams crafted for the attraction, the sounds of Star Wars: Galaxy's Edge contribute to making it a vibrant oasis in a galaxy far, far away. "Music and sound are essential ingredients in telling those stories," said panel host Matt Walker, executive in charge of Walt Disney Imagineering Music Studio. "Music and sound transcend language and borders."
Here are five of our favorite highlights from the panel.
1. The music of John Williams permeates the land, even in some of the hidden corners and secret hideaways.
William Ross, the arranger and producer on the project, was part of a hard-hat wearing team that had to design some of the key audiovisual elements when the land was still little more than a dream. Beyond the new track Williams composed, Ross knew it was important to connect themes from the Star Wars saga with emotional experiences guests will have inside the park. For example, inside Savi's Workshop, fans who choose to build their own lightsaber are walked through the process until a pinnacle moment when they hold their elegant weapon aloft for the first time. Ross imbued the scene with strains from the theme playing as Yoda lifts Luke Skywalker's X-wing out of the swampy waters during Star Wars: The Empire Strikes Back. "And sure enough I'm lifting this up, I'm lifting the saber, and everything about it…it was just like, tears," he said. "And a big part of that, a huge part of that, is John's magnificent music."
The emotional pull of that moment has surprised fans and even others working closely on the project. John Dennis, executive music producer for Walt Disney Imagineering Music Studio, took his family to the workshop this week. "The culmination of the journey for me came yesterday," he said. As he told the crowd about watching his sons experience that same moment of igniting their newly built lightsabers for the first time, he choked up.
2. The importance of his contribution isn't lost on Williams.
Although Williams couldn't attend in person, in a pre-recorded message he addressed the fans to talk about how privileged he felt to have composed the music that defined Star Wars over more than 40 years, creating an emotional bond for generations of fans. "You almost want to say you wish you could meet them all," he said. Creating the score is just one part of making music, a delicate balance that requires an interpreter to play the composition and a listener to actively consume and interact with it. When fans at Star Wars: Galaxy's Edge hear the new track, Williams said he hopes "listening to the music will take us out of the corporeal world for five minutes…just as these films have done." Williams and the Los Angeles Philharmonic will premiere the symphony suite during a performance later this month, Walker said.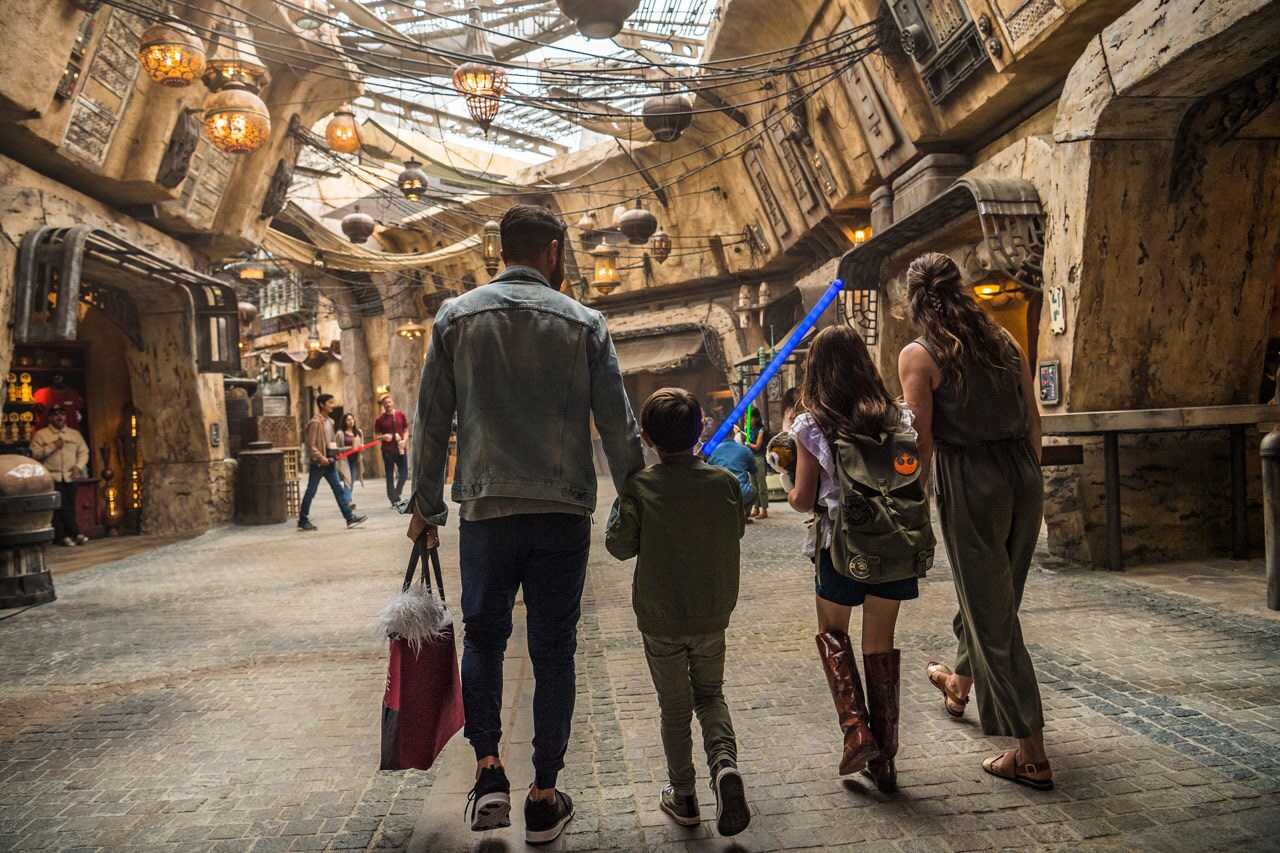 3. Sounds you may not even notice play a key role in making the land feel authentic and immersive.
John "JK" Kestler, the principal audio media designer on the project, recalled attending an airshow as a child and hearing the roar of a jet aircraft overhead. "I remember that experience and how amazing it sounded," he said. "I couldn't see it but I could hear it." Moments like that propelled him toward a career in sound design, and helped inform how he approached creating nearly 300 individual soundscapes for the land, from the rustle of creatures in the bushes to the trembling roar of a First Order ship preparing to fly off. "We wanted it to look amazing and we also wanted it to sound amazing," he said, and through ambient noise to the sound of a galactic radio station blaring a pod race interspersed with in-universe commercials, he and his team created "an environment of thousands of sounds and skits." Listen closely next time you're in the park and you may just hear a vignette you've never noticed before.
4. Musician Adam Dorn's remix of the cantina band classic earned the stamp of approval from Williams himself.
Dorn couldn't believe his luck when he was handpicked to take on the task of remixing the tune synonymous with Obi-Wan Kenobi and Luke Skywalker's first meeting with Han Solo and Chewbacca inside the wretched hive of scum and villainy known as the Mos Eisley cantina. He still vividly remembers being six years old and sitting in a movie theater in Philadelphia watching Star Wars: A New Hope for the first time. "I remember where I was, what was going on. When the cantina scene came on, I was transfixed. I will always remember this piece of music," he said. "And every time I hear it, I still smile." Of course, when he was first called upon to work on the piece, he was also understandably terrified of the task. In the first five seconds, his mind bounced from thoughts like "No pressure at all because only a couple billion people know this song," to "You can't do this. You're going to fail!" But once he recovered from the jaw-dropping offer, he realized he was up to the task. "What an amazing challenge, what an amazing piece of music, what an amazing opportunity." Dorn said. "This one you know. My goal was make [listeners] smile." And while he can't speak for everyone who's heard it so far, Walker did deliver a message from one satisfied customer -- Williams himself, who listened to Dorn's take and told Walker, "Well, that was perfectly lovely."
5. Attendees were treated to a live performance of an Oga's Cantina favorite -- "Oola Shuka," by Judith Hill.
The performance had the audience clapping along to the rocking intergalactic funk, which you can enjoy for yourself through a special Spotify playlist, Star Wars: Galaxy's Edge Oga's Cantina: R-3X's Playlist #1, out now!
Star Wars: Galaxy's Edge at Disneyland® Resort is now open. Star Wars: Galaxy's Edge will open at Disney's Hollywood Studios in Florida on August 29.
Associate Editor Kristin Baver is a writer and all-around sci-fi nerd who always has just one more question in an inexhaustible list of curiosities. Sometimes she blurts out "It's a trap!" even when it's not. Do you know a fan who's most impressive? Hop on Twitter and tell @KristinBaver all about them.
Site tags: #StarWarsBlog, #D23Expo2019