The legendary photographer discusses her Star Wars: The Force Awakens photos and much more.
Han Solo lounges in the cockpit of the Falcon. His head is tilted, his smile is sly, and his eyes betray an ever-youthful bravado. To his right are two new faces -- Rey and Finn. They look confident, excited, cool. In the background is BB-8, the ball-shaped droid. He could be powered off, he could be on. He appears curious and innocent all the same. Above them all is Chewbacca, towering as always, but with a grin and welcoming demeanor. Suddenly, Han's eyes suggest a here-we-go-again wariness, and he now seems almost protective of his younger companions. We're home.
That's what you get from an Annie Leibovitz Star Wars photo -- the cover photo, in fact, from Vanity Fair's blowout on Star Wars: The Force Awakens. You get a story, you get character. You get Star Wars. And you get it packaged in Leibovitz's arresting style of moment-in-time clarity, allowing you to take in expressions, fashions, and attitudes. It's a powerful match, one whose seed was planted when the photographer saw Star Wars for the first time in 1977.
"I can remember, from the very beginning," Leibovitz tells StarWars.com in an exclusive interview, "I was astounded by the universe that George [Lucas] had created. I'd never seen anything like it. It was just unbelievable, and the actors and characters really resonated with all of us. It was a great, great visual story that continues to carry forth today." It follows, then, that Leibovitz would honor both the characters and the filmmakers in her Star Wars photos, of which there have been many. Indeed, Leibovitz has been bringing her vision to Star Wars iconography for a long time: She photographed the cast of The Empire Strikes Back for Rolling Stone back in 1980, and has made a tradition of visiting and shooting Star Wars sets for Vanity Fair starting with 1999's The Phantom Menace. Her shoot for The Force Awakens was a continuation of this tradition, and especially meaningful.
"One of the more emotional parts of going back this time was seeing Harrison Ford," Leibovitz says. "I've photographed Harrison many times over the years -- he's such an incredible actor and also a really cool guy. It was interesting to see him with these young actors and to see the admiration they had for him. It was quite a beautiful moment when we did the cover.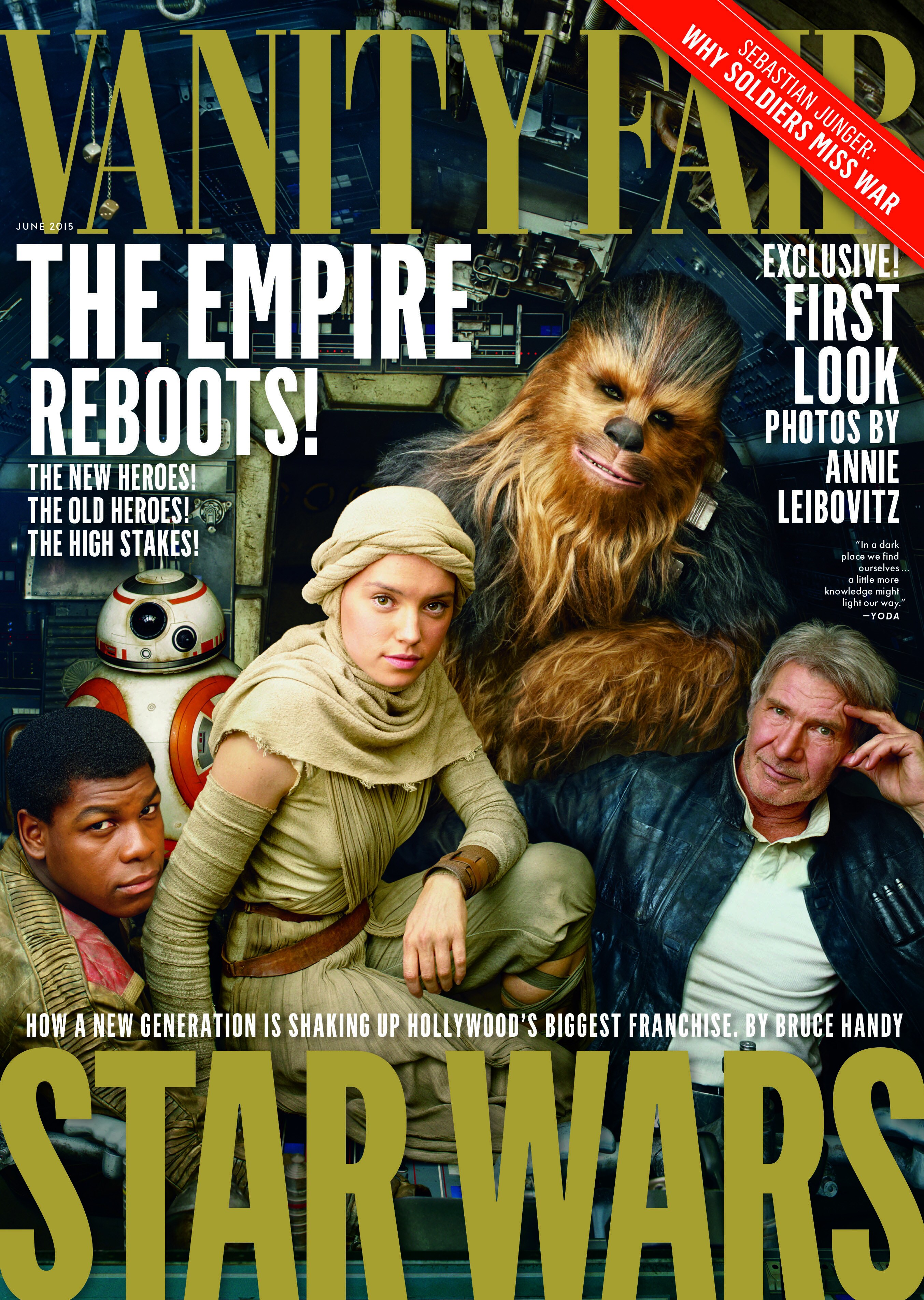 "To me," Leibovitz continues, "this cover was really Harrison's photograph. He provided the foundation and experience to allow these young actors to really shine." That passing of the baton between generations seems to be an unspoken theme of The Force Awakens, and Leibovitz's photos rightfully reflect it. They feature the film's original and new Star Wars actors, its original and new Star Wars creators, and its original and new Star Wars effects techniques. Taken together, they also tell a story about how much goes into making a Star Wars film.
"I've always been in love with process," Leibovtiz says. "I cannot walk on a film set today without being enamored with the way these things are done. I'm so lucky to be able to observe people like George Lucas and J.J. Abrams, who are literally geniuses. I always have to say to Vanity Fair, 'How many pages do we have?'" For Leibovitz (and for Star Wars fans), there are never enough, but what's inside the latest issue is still very exciting. Among its many photos, the collection reveals new characters such as Captain Phasma (played by Gwendoline Christie), showcases a Mos Eisley-cantina-worthy gang of aliens, and features villain Kylo Ren, played by Adam Driver -- without his mask for the first time anywhere. He looks intense, serious, and troubled.
"I'd like to take credit for that," Leibovitz says, "but it's all Adam. He's an extraordinary actor. If you talk to J.J. about him, J.J. says, 'He's Brando, he's Brando!' It's true. You just ask for a little and you get a lot. I think what's great about going to the set is, your actors are in that mode. They are in their characters. So even though I didn't know anything about Adam's character, he gave us that performance, which was amazing." But not everyone is shown in-character, in-costume. Lupita Nyong'o, who plays the computer-generated pirate Maz Kanata, was photographed close-up, motion-capture trackers glittering her face as she looks slightly off camera. "I asked Lupita to get rigged up for the picture," Leibovitz says. "That's a look you don't see in the film -- you're going to see what happens when they use that system to create a moving character." It's an image that creates a counterbalance to the character portraits, illustrating more of the process that Leibovitz admires so much. (It also just looks very, very cool.) A previously unpublished photo of Andy Serkis, also sporting mo-cap gear for his portrayal of Supreme Leader Snoke, is available here exclusively.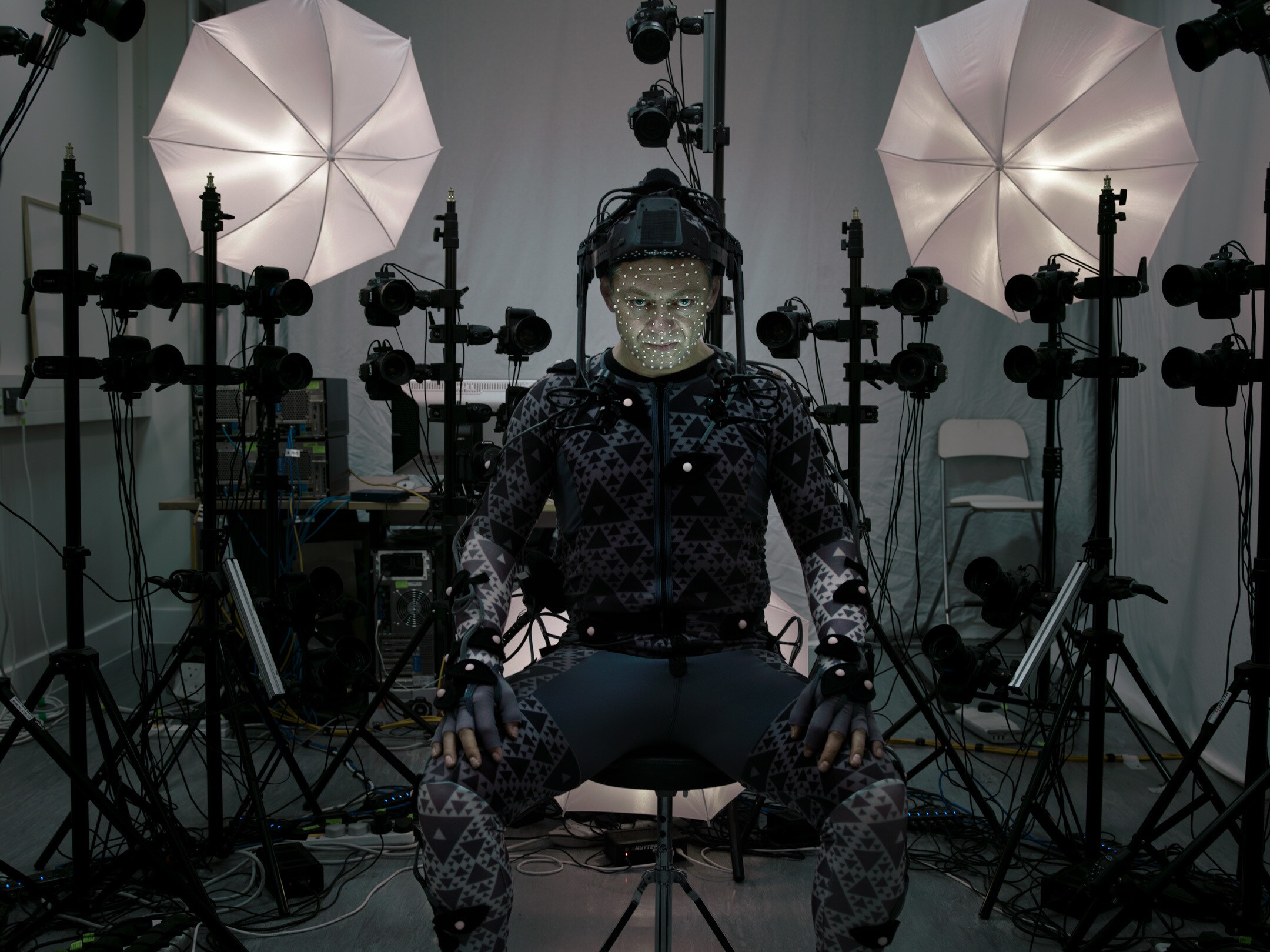 While these photos set the Internet ablaze upon their May the 4th release, Leibovitz -- who has photographed everyone from John Lennon and Yoko Ono to the cast of The Sopranos -- still has especially fond memories of her past Star Wars shoots. Much like the expanded shot of aliens and creatures from The Force Awakens, Leibovitz has always featured the non-humans of a galaxy far, far away for Vanity Fair. It speaks to her specific gifts that she's able to capture their personality without the benefit of sound and motion, and it's one of these photos that she especially cherishes: R2-D2 sitting in a recently opened crate. "R2-D2 is very human in that box," Leibovitz says. "You see on the side the list of places that R2-D2 has traveled, and you feel this wonderful affection for him. It's very sweet. That's one of my favorites."
Upon the release of Revenge of the Sith in 2005, then thought to be the last Star Wars film, she gathered casts from both trilogies (along with some digital friends) for a massive group photo. It was, essentially, the Star Wars family, all together for the first and probably last time. "That was an amazing moment," she says. "We called it 'The Final Chapter.' We had a sense that there was history going on here."
But it wasn't the final chapter. Not for Star Wars, not for Leibovitz, and not for the two together. Looking back at her photos for The Force Awakens, the photographer is still excited. "We didn't take enough pictures," she says. "Let's go back. Call J.J. Tell him we're coming back." While that might not be possible, Episode VIII  -- another trip home -- is right around the corner.
Lynne Hale is a 27-year veteran of Lucasfilm, and was present for all four Annie Leibovitz Star Wars cover shoots.
Dan Brooks is Lucasfilm's senior content writer, and spends his days writing stuff for and around StarWars.com. Follow him on Twitter @dan_brooks.