Dak recounts his Javits Center adventures!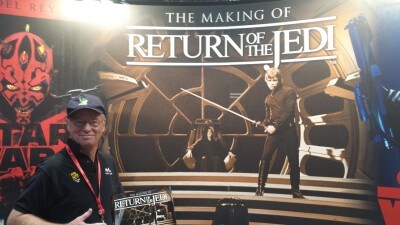 Rebels and Imperials converged on Gotham earlier this month for the New York Comic Con at the West Side's Javits Center. The convergence from both Core World and Outer Rim gave evidence of the ever-expanding Star Wars universe as we continue moving into the new century and another generation.
Executing a hyperspace jump from Tierfon to Tribeca, Dak arrived for his first autographing session on the Friday where he joined Anthony Daniels who was signing through the weekend to very long lines. Anthony also participated in a Sunday Q&A panel where he entertained and oversaw a number of very good and funny fan impersonations of Star Wars characters. Also signing was Ashley Eckstein. Fans visited with her over at the DK Publishing booth and in the Her Universe section at one of the ReedPop Supply Company concession areas. Here is one adorable shot of her and a young admirer in front of the Reed concession, courtesy of Frank D. Rich.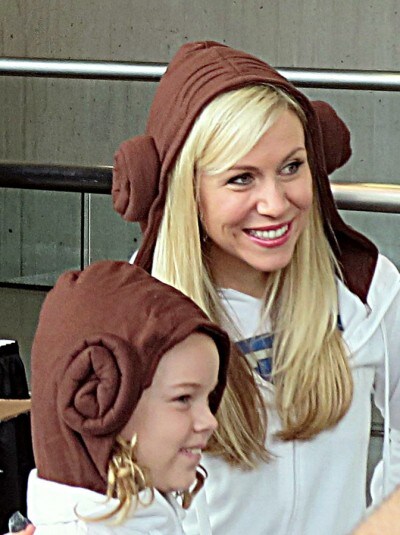 The big NYCC reveals of course came Saturday during Pablo Hidalgo's panel discussion on the forthcoming animated series Star Wars Rebels, well reported elsewhere. Pablo treated us to more of Ralph McQuarrie's magnificent artwork that is informing the animation, portrayals of planetary landscapes -- bright, dreamlike, and wide open. He encouraged us to think of the planet Lothal, the main setting for Rebels, as analogous to the frontier towns on the 19th century American Plains that eventually attracted railroad branch lines -- "spurs" -- connecting them to a larger world back east. (As a Canadian originally from the prairie province of Manitoba, Hidalgo clearly empathizes.) Lothal is undergoing a colonizing process where range and intimate, self-sufficient farming communities are getting drawn into impersonal industrial networks and exploitative empires. Their economies are shifting from pure agriculture to extractive industries -- raw materials mining. And young men are suddenly getting conscripted by the Empire to fight distant wars for interests well beyond their horizon.
This is fairly high-concept stuff that will appeal to the social science fiction segment of Star Wars fans. The arc, as presented by Hidalgo, reminds some old timers from the sixties of the analysis in Walt Rostow's The Stages of Economic Growth. This classic by the MIT academic who later became LBJ's national security advisor provided the so-called Best and the Brightest with a five-stage historical model of economic development so influential during the Kennedy-Johnson years.
Pablo then moved quickly from high-concept to childhood pleasures when he produced a vintage Kenner Imperial Troop Transport, a toy that was actually not based on designs from the films. This transport will be featured in the series, he said -- a reveal that brought delight to Star Wars collectors who now are anticipating appearances of other classic and repurposed collectables in Rebels. Such continuities are intriguing, especially if one considers that this next generation of Star Wars writers, producers, and designers working on the animated series are all folks who grew up on Star Wars and did their earliest work with action figures and toy vehicles in homes and on streets, backyards, and playgrounds across the world. They are obviously having a ball bringing to life in their maturity a lot of their childhood Star Wars imaginings.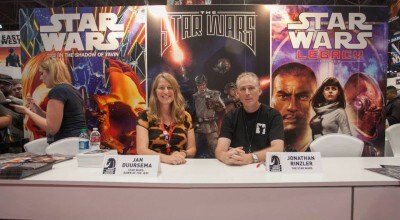 Through the weekend, Dak was drawn to the publishers' alley to rendezvous with some old friends, among whom was Steve Saffel formerly of Del Rey and now with Titan Books. At Del Rey, we got a chance to see Joe Scalora who was busy talking up J.W. Rinzler's new offering The Making of Return of the Jedi, which is generating great buzz. Rinzler himself was busy over at Dark Horse Comics where assistant editor Spencer Newlin-Cushing excitedly told us about all the fan attention on his "The Star Wars," the official eight-series adaptation of George Lucas' first draft screenplay circa 1974. With J.W. was artist Jan Duursema who was featuring her Star Wars: Dawn of the Jedi series that she is currently doing for Dark Horse with writer John Ostrander. We then returned to DK where we met author Ryder Windham, who was busy autographing Star Wars: Complete Vehicles for a long line of waiting fans.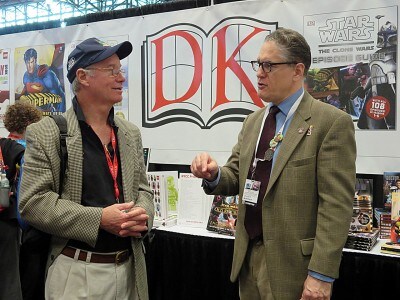 Hallmark Cards was celebrating 30 years of Return of the Jedi with a line of Star Wars items. Here in a photo by Emily Morton is Christine Taylor of Hallmark's License Design Studio enthusiastically telling us about a laser button whose office uses can include a desktop installation for application anytime a need arises to kill the messenger.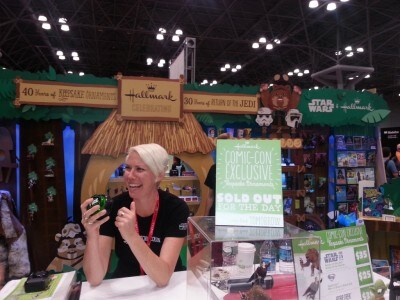 Entering the Javits we immediately ran into a couple New Englanders: Frank Rich and Steve Perry. Rich is a Star Wars podcaster who runs the Star Wars Autograph Collection website. Perry is the organizer of the Rhode Island ComicCon. Next month, Steve will bring to Providence a dozen or so personalities to represent the galaxy. Headlining will be Billy Dee Williams. Also present at RICC will be Bonnie Piesse, Barrie Holland, Tim Rose, and Jett Lucas. Perry is also featuring a bounty hunters reunion where Bespin Boba will join Cathy Munroe, Chris Parsons, Allan Harris, and Paul Blake.
Speaking of bounty hunters, it is becoming increasingly apparent that Boba has long had an avocation as a song and dance man -- very much at odds with the cool and measured menace usually associated with the legendary Mandalorian. As most already know, Boba's dancing talent was in evidence at Celebration Europe 2013 when Jango led the Four Fett clones and Warwick Davis in a performance of a Maori haka. Outside NYCC, we found along West 34th Street another Boba clone busking for the passing throng of cosplayers and other street people. This Fett goes by the stage name -- if that is the term -- "The Renegade Accordian, New York's Only Musical Bounty Hunter," a.k.a. Nathan Stodola. His was a full repertoire -- from doo-wop to John Williams. Read more at Boba Fett Fan Club.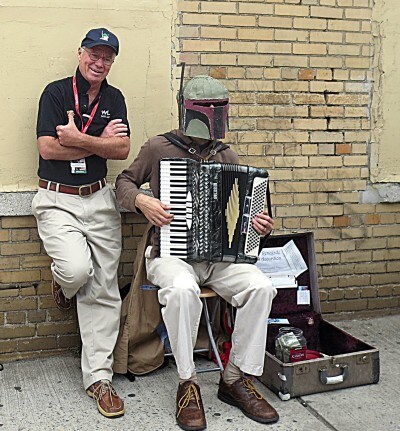 John appeared as Dak, Luke Skywalker's back-seater in the Battle of Hoth in The Empire Strikes Back. He also appeared in the film substituting for Jeremy Bulloch as Boba Fett on Bespin, when Boba utters his famous line to Darth Vader, "He's no good to me dead." Follow him on Twitter @tapcaf.