Turns out Unkar Plutt had a backup plan.
A funny thing happened on the way to Maz Kanata's castle. The Force Awakens gets the Forces of Destiny treatment once more, when Rey, Finn, and BB-8 join forces to help Han and Chewie keep their beloved ship in one piece. In the latest micro-adventure, the crew must work together to find Unkar Plutt's nefarious tracking beacon before they're caught with what is, from a certain point of view, his stolen ship. But Finn is reckless, and his rash judgement presents a whole new problem. The vignette is a fine example of the kind of quick-thinking heroics and no-nonsense leadership that inspired Han to offer Rey a job on his crew, while illustrating the importance of teamwork, especially in times of trouble.
Here are five highlights from the short, "Tracker Trouble" -- which you can watch below!
1. The fastest hunk of junk in the galaxy!
You've never seen the Millennium Falcon quite like this. The ship that made the Kessel Run in less than 12 parsecs makes its animated debut hurtling through hyperspace. And. It. Is. Magnificent.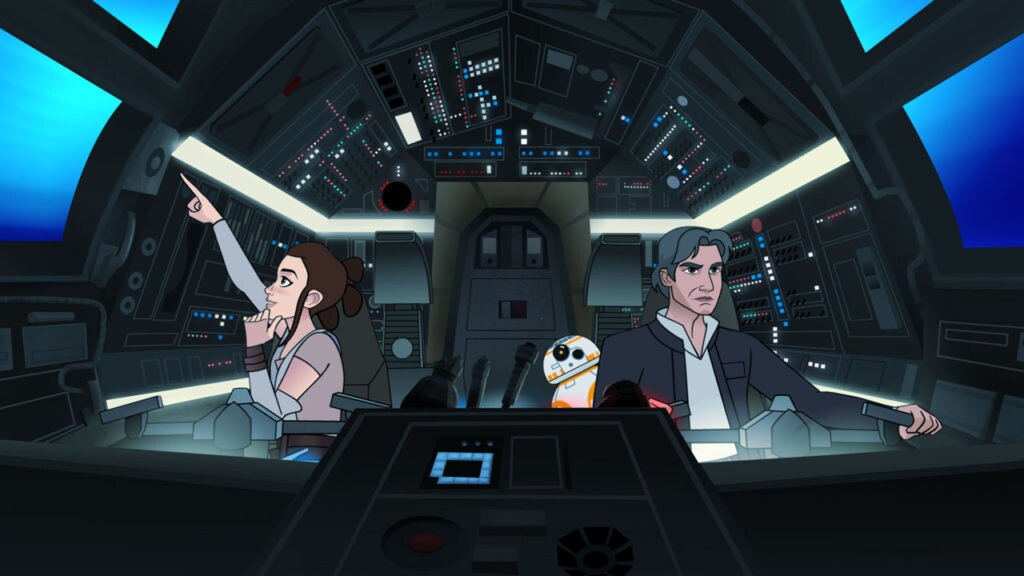 2. Han!
But who's going to fly it, kid. You? Voice actor Kiff VandenHeuvel channels his gruffest Han Solo, barking out orders in a pitch-perfect rendition of our favorite scruffy-looking smuggler. He arguably reaches peak nerfherder when it comes to dealing with yet another wily astromech in his life. "You! Ball! Scan the ship again." Ha! Classic Solo.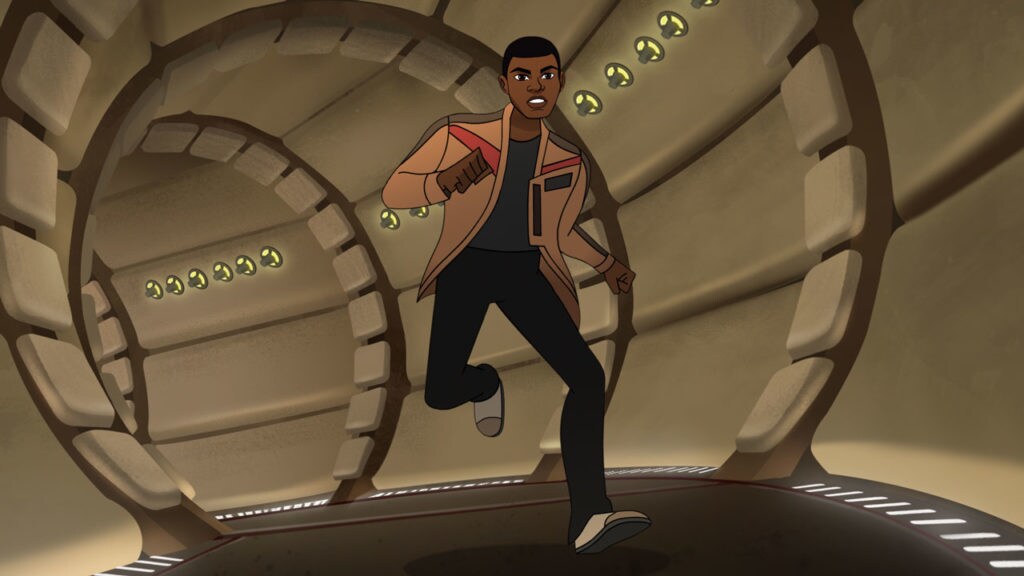 3. And Finn!
Oh, you hapless, lovable ex-Imperial. Finn always gets by with a little help from his friends, and this story is no exception. As Rey and Chewie hatch a clever plan to narrow down the places a hidden tracker could have escaped inspection, Finn's eyebrows capture his utter bemusement. Bonus: John Boyega himself lends his voice to the cast that also includes Daisy Ridley reprising the role of Rey.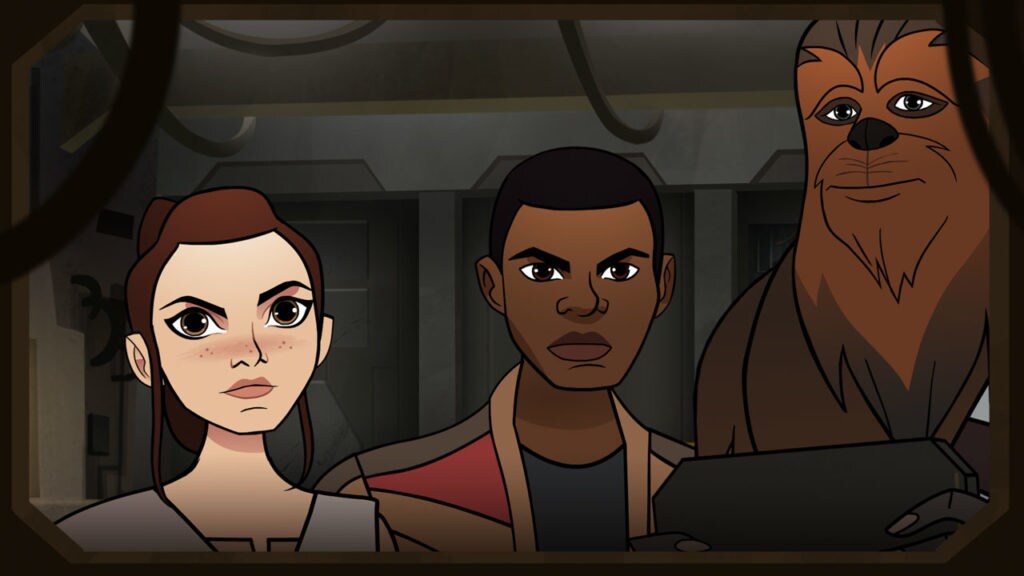 4. Chewie is all of us.
Refer back to number three and you'll understand why the Wookiee is roaring this time. Finn means well, but we imagine Chewbacca's frustrated howls roughly translate to: "Why did you you remove the tracking device, you silly hairless beast?"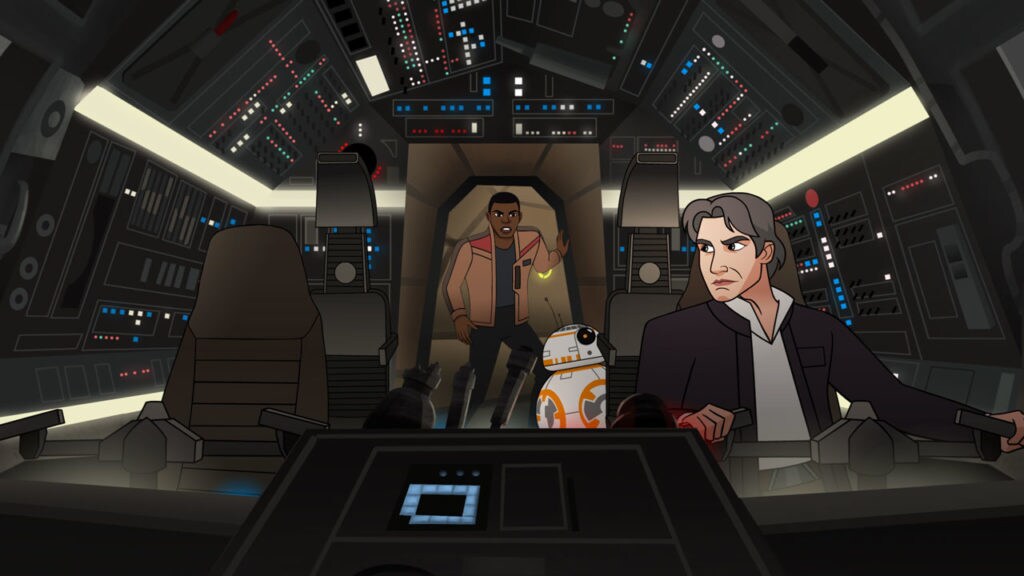 5. Perfect timing.
Good thing Rey's got a plan and a fearless walking carpet up to the task of tossing the offending bomb out of the nearest airlock. And Finn redeems himself just in the nick of time by warning Han about the impending explosion. Lucky for us the hyperdrive is, miraculously, back online and even though it took the whole crew to save their skins, they made it safely to Takodana.
What were your highlights from "Tracker Trouble"? Let us know in the comments below!
Kristin Baver is a writer and all-around sci-fi nerd who always has just one more question in an inexhaustible list of curiosities. Sometimes she blurts out "It's a trap!" even when it's not. Do you know a fan who's most impressive? Hop on Twitter and tell @KristinBaver all about them!