Star Wars: A New Hope toured the UK accompanied by live orchestras, and StarWars.com was there.
Star Wars: A New Hope -- played with live orchestral music -- recently came to the UK, debuting at the iconic Royal Albert Hall on November 16 with five matinee and evening performances, before hitting the road and heading to Liverpool, Bournemouth, Manchester, Birmingham, Cardiff, Leeds, and finishing off in Glasgow on December 9.
The Royal Albert Hall shows were performed by the London Symphony Orchestra and conducted by Ludwig Wicki; packed houses were welcomed by the bombastic blast of the orchestra, who provided the gorgeous John Williams soundtrack for 125 engrossing minutes. StarWars.com sat down with Royal Albert Hall Program Director George Prince, as well as Birmingham's Novello Orchestra violinist and leader of the orchestra Jamie Hutchinson, 5th horn Tom Taffinder, and Creative Director and Producer David Mahoney, to talk about bringing this revered music to life for the Star Wars Film Concert series. Here are five behind-the-scenes insights we learned.
1. Preparation is key. "Typically, the orchestra will have the printed scores about a month in advance in order to take their own rehearsal time to work on the music as they see fit," Prince says. "In terms of working with the conductor, they don't have a great deal of time. They do rehearsals the day before the show, a dress rehearsal the day of the performance, and then they're straight in." Despite the challenges, the process is very smooth. "We're very collaborative with Disney, we've been working with [John] Williams. The orchestra have been amazing, it's been an honor to work with the LSO on a project like this. We've gone into this as partners, and that's the key on any project. "
2. It helps having seen the film. Hutchinson had just finished watching Star Wars: A New Hope a few days before the Birmingham performance. "I actually watched the film on the train up to Manchester on the rehearsal day, watched it with my earphones in thinking, 'I can hear the violin bit!'" For Taffinder, being a brass musician means his big numbers stand out. "It's quite easy for us brass because we get all the big tunes, so you kind of know all the tunes before you start."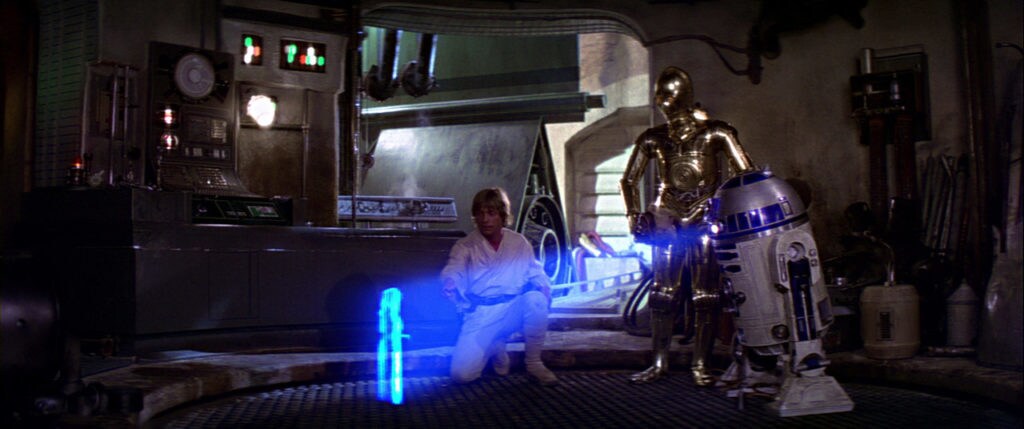 3. Everybody has a favorite tune. While every track takes 100% concentration and execution, Hutchinson and Taffinder both have compositions they especially love to play. For Hutchinson it's a familiar finale. "The 'Throne Room' and 'End Titles' obviously, but the first time Princess Leia appears in R2-D2's projection there's a beautiful horn and Cor anglais theme, the strings just shimmering underneath, and it's the first time that you hear that amazing Leia theme."
4. It's hard music to play. You can't coast through a Star Wars score, despite being familiar with the music. "It's the sort of music that makes you grateful that you had to practice your scales when you were growing up and going through your grades," Hutchinson says. "There's a lot of scale work when it's fast and exciting, but there's also lots of beautiful moments as well, where we just get to make a really beautiful sound."
Taffinder agrees. "From the brass players' point of view, the hardest thing about it is that it's very tiring on your lips, especially if you have a rehearsal before. Not all of the brass players are playing all of the time, as we're trying to rest, because when you get to the gig it's just relentless -- especially the big themes."
5. Familiarity isn't always your friend. Star Wars fans know the music of the saga inside and out, so the pressure's on for the orchestra to replicate it as perfectly as possible. Hutchinson was well aware of that responsibility. "There are moments in this when you know that you're center stage, and some of the principal players have quite big solos. The difference with this is every single person in the audience knows exactly how it's supposed to sound."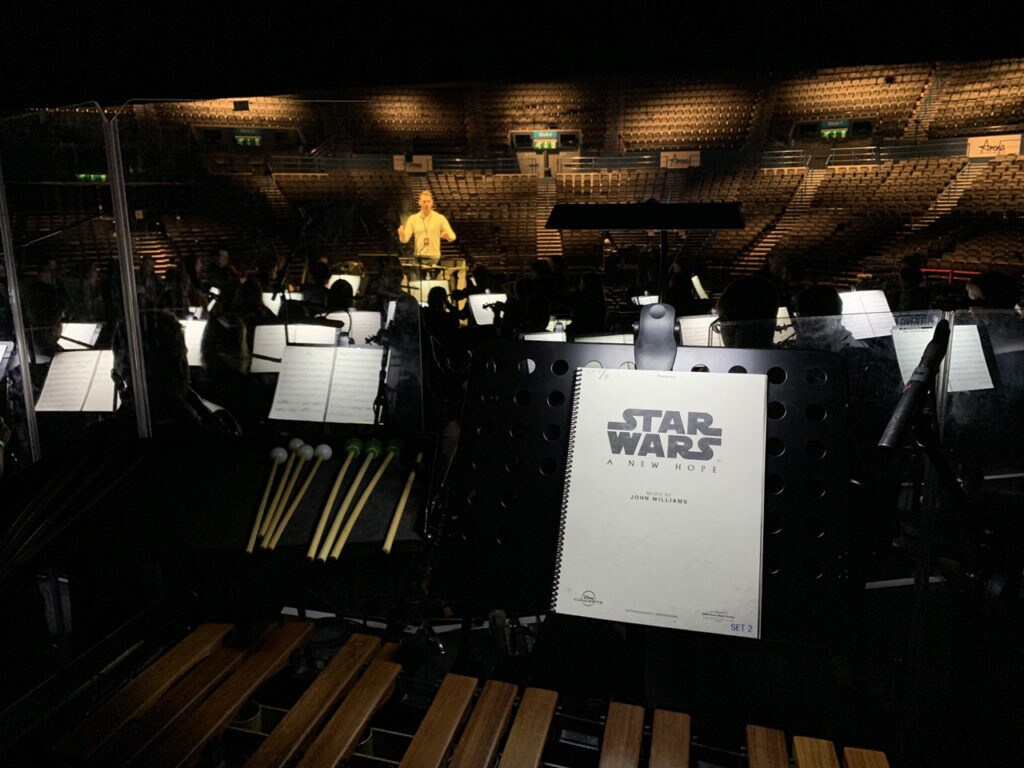 6. Things were a little tougher the first time around. David Mahoney explained how tough it is to marry up the music with the imagery. "Weirdly, two of my players, their fathers were in the original orchestra that recorded the soundtrack, so I've had a few chats with them and they were telling me how it worked back in the day in the studio. Without going too technical, these days when you record a soundtrack you record along to a click track, which basically means you can prepare everything before the sessions and then ensure you play at the exact right moment. Back when this was recorded, that didn't exist. They were just trying to hit certain moments at certain times. I have a click in my ear and that relates to a little screen that I have in front of me that gives me direct moments."
7. You've got to feel the Force. John Williams didn't sit down with the editors of the original film to ensure everything fit neatly. Sometimes there are rough edges, and Mahoney explained that while the click track is generally accurate, quite often the orchestra just has to feel it. "There are certain moments where it doesn't do what you think it's going to do, and that's an added element for us," he says. "Some bits are so odd there are no clues in the music, you just have to know what that feels like. It just has to be in your bones, which is why it takes a lot of time to prepare it. For me it's much more of a thrill than conducting a classical concert, and what's interesting is, all of these players know this music inside out because they've done the big famous moments all over the country with different orchestras -- but the speeds of those melodies are very different when doing it here. As a general rule, a lot of it's a lot faster than it would be if you had the ability to do it without a click track, so there's no moment where the orchestra can have a rest and think 'this will just play itself.' The focus has to be there from the very first second right to the very last chord, but I think that's good because it means even though we're doing this show eight times around the UK, with other shows it can get a bit repetitive, but you can never relax. You've got to be on it and focused."
The Star Wars Film Concert series is produced under license by Disney Concerts in association with 20th Century Fox and Warner/Chappell Music.
Many thanks to Paul Bernstein, Bridget Nolan and Rick Burin at The Royal Albert Hall, Andy Farquharson from The Music Agency, Stuart Bennett from Deacon Communications, Kitty Stafford-Clark at SENBLA, the Novello Orchestra, and Clair Henry, Richard Mitchell, and Carl Bayliss of Fantha Tracks.
Mark writes for Star Wars Insider, the Official Star Trek Magazine, Starburst magazine, and is the editor-in-chief of Fantha Tracks. He's an honorary member of the 501st and Rebel Legion and when he's not talking, tweeting, or writing about Star Wars, he can usually be found sleeping, where he'll most likely be dreaming about Star Wars.