As seen on Star Wars: The High Republic Show, StarWars.com busts the seams for a closer look at creating host Krystina Arielle's robes.
StarWars.com is shining a light on those who truly give the saga its power: the fans. In the StarWars.com Fan Spotlight, we're honored to tell their stories.
Just as the Jedi of the High Republic can be linked directly to the Order seen in the Star Wars prequel era. the robes that transformed the host of the Star Wars: The High Republic Show into Jedi Master Krystina Arielle today owe a debt to costumer Trisha Biggar's immaculate designs.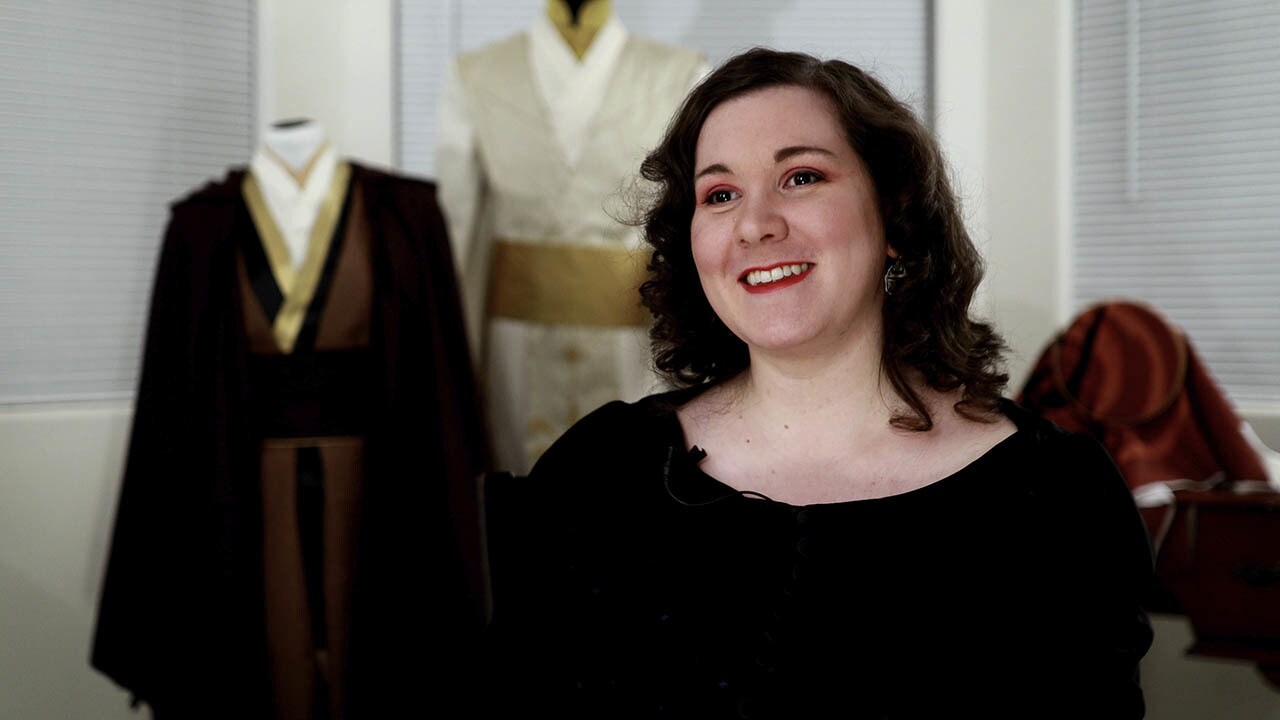 There's no detail too small for fan costumer Caitlin Jacques, who poured over real-world historical research and screen-accurate costume resources to create Arielle's formal Temple robes, rugged mission attire, and an array of battle banners clipped from the pages of Star Wars: The High Republic. In fact, for Jacques -- who has been costuming ever since 2017, when she decided to make screen-accurate Depa Billaba robes while completing her doctoral dissertation in engineering -- one particular point of pride is an element so hidden, it's rarely even glimpsed while in use.
"I am very proud of the armpits and the sleeve construction," Jacques tells StarWars.com. "I went through a lot of iterations of trying to decide how to make that piece. Then I found one of the costume test shots of Mace Windu, where he's holding his lightsaber and you can actually see how the under part of his sleeve was sewn, so I was able to pull that for Krystina's robe." It's a precise detail that speaks to Jacques dedication to her craft overall. "It gives it that sense of continuity with the rest of the Star Wars universe. It has that sense of history and connection."
Jacques first connected to Star Wars storytelling as a young fan who dreamed of becoming an Alderaan royal. "I do not remember any point in my life where I was not a giant Star Wars fan," she says. "When I was three years old, if you asked me what I wanted to do when I grew up, I said I wanted to be Princess Leia, because that seemed like a legitimate career path."
After getting involved in theater as a teenager and learning to sew costumes for the stage, Jacques' foray into cosplay merged the two passions and allowed her to achieve her childhood goal, appearing at Rebel Legion outings as Leia Organa. Jacques was first introduced to the fan group after moving back to Seattle where she attended Emerald City Comic-Con in her full Jedi Master Billaba ensemble. A cosplayer dressed as Hera Syndulla sprinted across the room to greet her and whisk her away to join the Rebel Legion as an official member, she recalls. "They pretty quickly realized that I was someone with an entire theatrical costuming background and a background in research who could help make costumes," in addition to experience with leather work, a rarity among the other members in her region. Soon, Jacques was judging generic Jedi costumes for the Saber Guild and helping other fans craft their own Jedi tunics and robes that were comfortable and fit for fighting -- should the need for aggressive negotiations arise.
In the last five years, Jacques has sewn or worked on parts of so many Jedi costumes, "I really have lost count," she says. "I've made at least somewhere between 12 and 15 complete Jedi costumes for myself or for other people, but I've worked on parts for so many more." Although she's also cosplayed as other characters, including Leia in full Bespin attire, there's something special about the Jedi Order. "In the prequel trilogy, I really identified a lot with the Jedi characters," she says, noting a correlation between the disconnected Jedi and her own Mexican-American heritage, a fact that her grandfather hid for many years to protect himself. "How do you do the best you can in a world where a lot of things are going wrong and where you may or may not have the same kind of connection to your culture and history that maybe folks in previous generations had? I think that resonates a lot with me. But there's also just the fact that the costumes are fun. They have so many different things going on. Let's be honest: who does not love having a lightsaber?"
When she was approached to create Krystina's robes, Jacques dove into the research and spent about 200 hours sewing and hand embroidering the detailed ensemble. For both the stark white formal attire and the brown leather mission gear, Jacques took care to ensure that Krystina could fight in either costume if she desired. While the more delicate temple uniform was made from a mix of silk dupioni, wool crepe, and gold braid, the mission apparel was crafted from more rugged materials like linen, silk noil, chrome tanned leather, silk shantung, and wool suiting, with cotton embroidery detail. Jacques also used her leather-crafting skills to make the belts, pouches, bracers, and even a saber holster to finish the look. "I really loved the element of having these saber holsters, so I had to design one," Jacques says. "I couldn't resist!"
The costumes were a labor of love, only hastened by a deadline and Jacques own desire to make the time to create her own High Republic Jedi garb before Star Wars Celebration Anaheim this year. Like the other Star Wars stories that have come before, the High Republic era has been an important touchpoint for Jacques' fandom. "There are very few universes of fiction that I think have so much influence and culture and that resonate as much with me personally," she says. The High Republic brought her fandom and appreciation to a whole new level. "It is a love letter to the Jedi of the rest of the Star Wars universe, showing them at their very best. And as a fan who is both Latina and queer, The High Republic is giving us a level of representation that not only have we rarely seen in Star Wars, but we rarely see in media in general," she continues. "People of color exist all over the universe. Queer folks exist all over the universe. There are people of many genders, many races, many cultural backgrounds, and they all have a place in the narrative."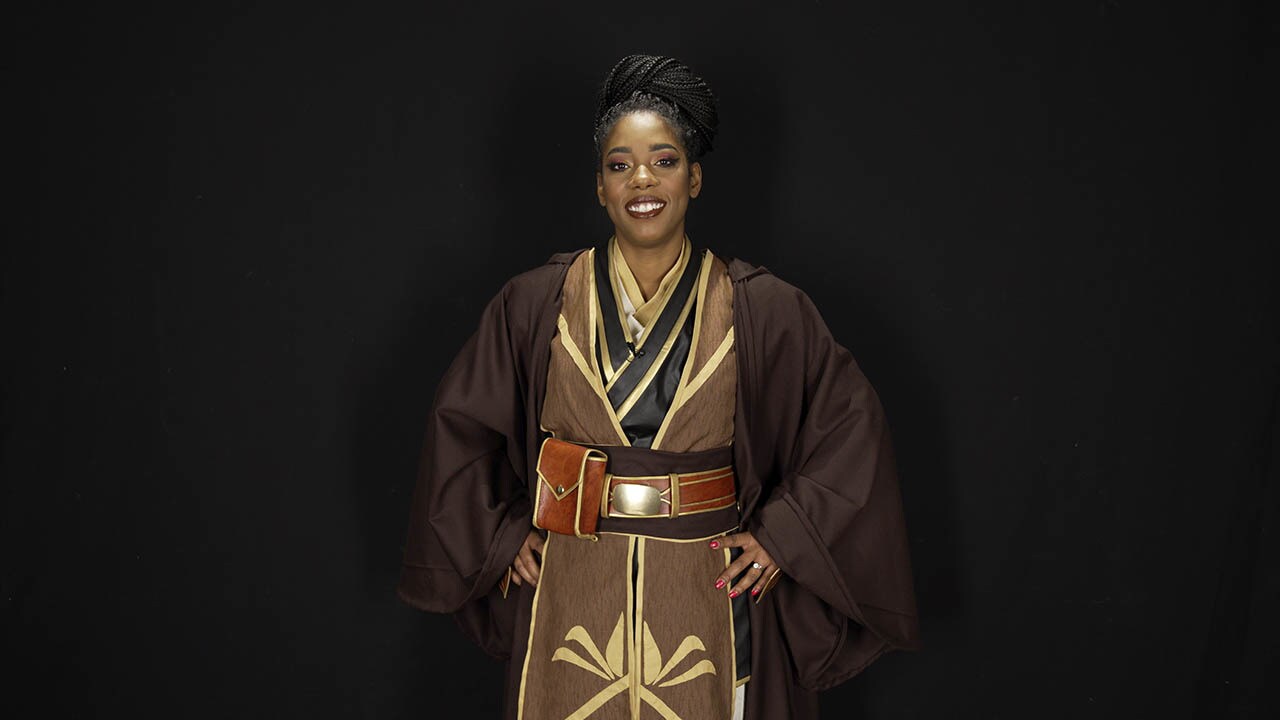 And with Jacques' help, Jedi Master Arielle has now entered the galaxy. "It is so important that people see themselves in fiction and that people see themselves in the narratives that helped to define our culture," Jacques says. "And I really feel like the High Republic is doing an amazing job of making that happen."
---
The StarWars.com Fan Spotlight Q&A 

What's your favorite Star Wars movie and why?
Caitlin: My favorite is definitely Star Wars: Return of the Jedi. I used to watch it every time I was home sick from school as a kid. Leia really gets to come into her own as a fighting member of the Rebellion, and that has always really resonated with me.
Would you join the Rebel Alliance or the Empire?
Caitlin: Rebel Alliance, all the way.
You can have Mando's Darksaber, Kylo Ren's unstable red lightsaber, or Luke Skywalker's green lightsaber. Which do you choose and why?
Caitlin: Luke's green saber. I have tried fighting with a Darksaber and a cross guard, and they are a pain to wield. Luke's saber is much better for my fighting style and short arms.
Which Star Wars character would you want as a road trip buddy?
Caitlin: Obi-Wan Kenobi. Sure, he might attract disaster, but he will make sure I get where I am going.
If you could align yourself with any group in the Star Wars galaxy — the Jedi, the First Order, the Mandalorian Death Watch, whatever you want — what would it be?
Caitlin: The Jedi, of course!
Watch the latest episode of 
Star Wars: The High Republic Show 
for this story and much more!
Visit Lucasfilm's official hub for all things
 Star Wars: The High Republic
 at StarWars.com/TheHighRepublic.