To celebrate Star Wars Day, some current StarWars.com writers reflect on their favorite moments as Star Wars fans.
On Star Wars Day, there are countless ways to celebrate the Star Wars fan community and the the saga that unites us. This May the 4th, we asked some of our StarWars.com contributors to share their favorite Star Wars memories. Although each one is unique, it always comes back to one thing: our love for these timeless stories.
---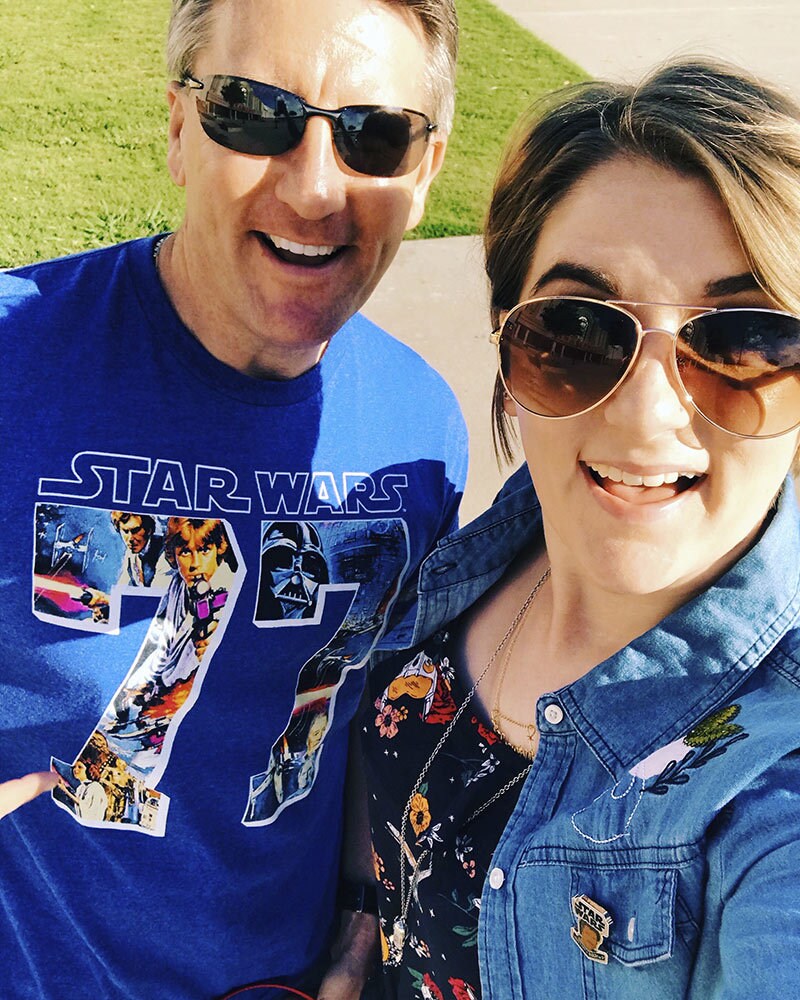 My favorite Star Wars memory is my dad taking me to see the re-released Star Wars trilogy at the small three-screen theater in my hometown back in 1997. It was my first step into the larger world of Star Wars and something that I continue to share with my dad. I can't remember a time in my life before Star Wars and this was the catalyst: I got to see A New Hope for the first time in a movie theater just like my dad did back in 1977. Even as a kid, I could tell this shared experience meant a lot to my dad. My first introduction to a galaxy far, far away was with warmth, love, and excitement. It was the first time that I could truly lose myself in an experience and pretend that I was fighting alongside the Rebellion rather than living in the middle of nowhere. I was in a place where my dad and I both existed as kids.
I'm not sure I would be where I am had it not been for my dad showing me a piece of something he loved. From that moment, he encouraged my own love of Star Wars even as it surpassed his. We went to all the midnight releases of the prequel trilogy, celebrated each birthday with a Star Wars theme, and used every excuse to get Star Wars action figures and video games. That first movie theater experience was the spark that lit my passion for the Star Wars universe. I firmly believe that my dad introducing me to Star Wars is the reason I'm writing this today on the official website. Thanks, dad. - Kristen Bates
I've always been a museum nerd, even if I don't typically like to read every placard in an exhibit. There's something magical about being so close you can almost touch a painting you've only seen in photos, or finding yourself in the presence of the remains of Pharaohs long dead or being in the room with one of the sweaters worn by a children's television icon. And while Star Wars has always felt visceral and real to me as a viewer either at home or in the theater, the moment that solidified that love was seeing the Star Wars: The Magic of Myth exhibit at the Smithsonian Air And Space Museum in 1997.
Even though I grew up about three hours away in Pennsylvania, my family made frequent treks to the Smithsonian museums in Washington D.C. It wasn't long after I had seen the original trilogy on the big screen for the first time as the Special Editions made their debut a few months prior. I had watched and rewatched the previous versions on VHS at home, but none of that could really prepare me for being absolutely awe-struck by the collected artifacts in the exhibit. Although I'm sure there were carefully curated placards explaining the connection between Star Wars as a modern myth and our fascination with real space exploration, what I remember is ricocheting from case to case, so excited I could have exploded with glee. There was C-3PO and R2-D2! Leia's gown! A Han still locked in carbonite! And then: Jedi. Master. Yoda. Seeing Yoda on display felt akin to a celebrity sighting.
I had the chance to go back a second time before the exhibit went on the road in 1999. I have had the great fortune to see other exhibits, including Star Wars Identities and The Power of Costume, in the years since. And, working for Lucasfilm, I've had the privilege to interview some of the talented individuals who brought Star Wars into existence as well as passing props and other treasures in display cases around our halls every day I'm at the office. But whenever I see Yoda on display, I will gravitate toward the case like I'm being pulled by the Force itself. And all of the sudden I'm a kid again, standing in the Smithsonian, in the presence of a Jedi Master. – Kristin Baver 
Star Wars has been a big part of my life for so long, and that's largely because of my parents. They introduced me to the movies at a young age, and were always generous when it came to Kenner's amazing toys. One of my earliest memories is going to see a re-release of Return of the Jedi in Manhattan with them in 1985, taking all my action figures and lining them up on one seat, and then watching the movie perched from my dad's lap. I was four years old. As I got older, and my fandom seemed to only grow, they never pressured me to stop. They never said "This is kids' stuff." They loved that I loved Star Wars, and for that I'll be forever grateful.
When Revenge of the Sith came out in 2005, I decided it was time to return the favor. I bought tickets for my mom, my dad, my future wife, and myself, for the Ziegfeld Theater in midtown Manhattan. The Ziegfeld has since stopped playing movies, but it was a gorgeous, old-fashioned cinema -- it had only one screen, hidden behind large red curtains until showtime. Seeing a movie there, especially Star Wars, felt special.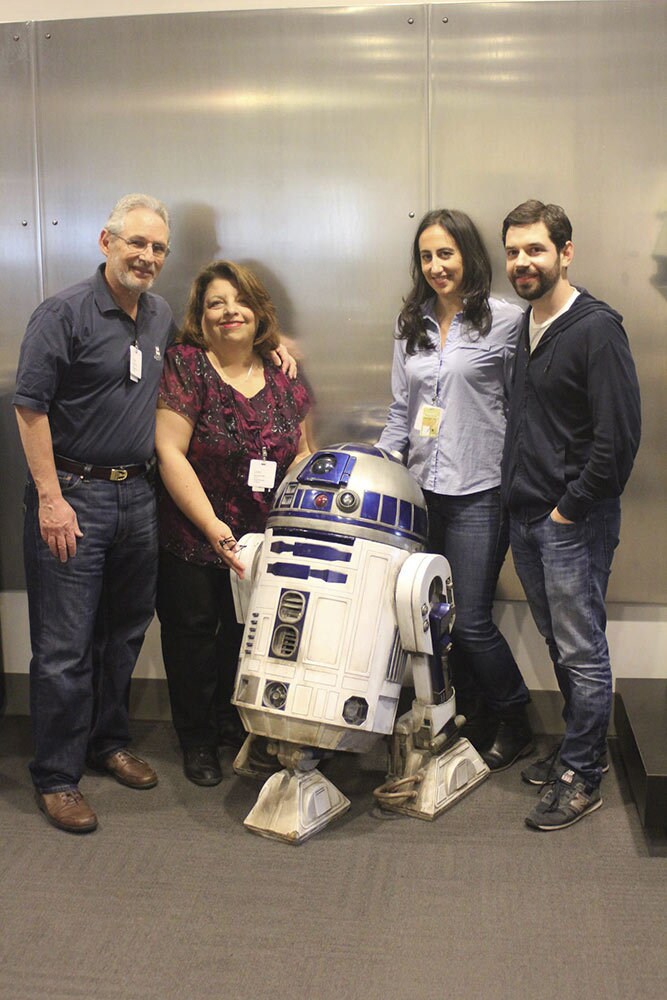 The day came and we filed in, taking our seats. As the movie began, I kept looking over at my parents, as I'd seen Sith already by this point. A funny thing about my mom: she can't help but react audibly to movies -- Ohh! Ah! Wow! -- and it's a trait I've always loved. Sith brought out some great reactions from her. Her favorite movie of all time is The Adventures of Robin Hood with Errol Flynn, a classic swashbuckling adventure. So during the climactic duel between Anakin and Obi-Wan, she was literally on the edge of her seat, letting out a loud Whoa! upon seeing Obi-Wan's final strike. My father's a little quieter. But when the end credits came up -- following Obi-Wan's delivery of Luke to Owen and Beru -- he leaned over to me. "That was sensational," he whispered.
That screening is my favorite Star Wars memory -- a thank you to my parents for a lifelong love of Star Wars and for letting me be me. - Dan Brooks
My favorite Star Wars memory is also my first Star Wars memory. It was squarely in the "dark times," before the release of the Star Wars Special Editions and well before the first inklings of the prequel trilogy. I was in grade school and one day after class, I came home to my dad beaming.
"Hey! I recorded something on TV I think you'll like," he said, popping a VHS tape into the player with a click.
"What is it?" I was a bit incredulous … up until then, my exposure to my dad's movie and TV taste was limited to Top Gun and Seinfeld.
"Just wait."
I tossed my backpack onto the counter and settled into the couch to hear the 20th Century Fox drums and get my first glimpse at the twinkling Lucasfilm logo. Then those stark blue letters, teasing a story from a far off galaxy a long time ago …
Then John Williams' indelible fanfare and the words that, quite literally, changed my life forever: Star Wars.
The simple recollection of this moment still makes me emotional. It wasn't just my introduction to a story and to characters that would come to define a large part of my life. It was also a moment that connected me to family -- a theme that resonates in every fiber of the Star Wars mythos.
From that opening crawl, I was hooked. After the credits rolled that evening, I was desperate for more. The next school day dragged on. What was in store for Luke Skywalker? What happened to Darth Vader? How else was Princess Leia going to save the day?
I rushed home, eager to continue my adventure. My dad wouldn't be home for another few hours, but I couldn't wait. I shuffled through the stack of VHS tapes next to the TV looking for … ah! There it was. Star Wars: The Empire Strikes Back.
The Battle of Hoth. Asteroid fields. Yoda. I was once again swept away. The Millennium Falcon had just landed on Cloud City when my dad walked through the door.
"What are you doing? You didn't wait for me?"
I paused the tape, embarrassed. "It's ok! We can start it over!" And we did. And that was the start of my lifelong love of Star Wars. - Dustin Diehl
Choosing just one favorite Star Wars memory is hard for me -- there's so many to choose from, and they are all precious. But probably my favorite is meeting fellow fans wherever I go in my travels.
Through a message board for Star Wars literature fans, I made friends with some Czech fans, helping them with some translations, and got to meet a few of them in person when I visited Prague in 2004. It's always fun to see a city through the eyes of locals, and Jan and Jana were great guides for a day of exploration. Before easy availability of international merchandise, connecting ahead of time meant also finding out which hard-to-find American toys and collectibles I could bring them. I may be on an Interpol wanted list for bringing a copy of the Star Wars Holiday Special to eastern Europe.
A few years later, the French Fan Force chapter held a get together just for me and my traveling companions, where we shared dinner and traded some swag, while discussing our favorite moments and theories. For the more recent Star Wars Celebrations in Europe (Essen and London), I caught up with European friends who regularly come to the U.S. Celebrations, like Mark and Matt of Fantha Tracks, but also made new close friends, like Sam, Sander, and Nadine, the last of whom put up with my mangling of German.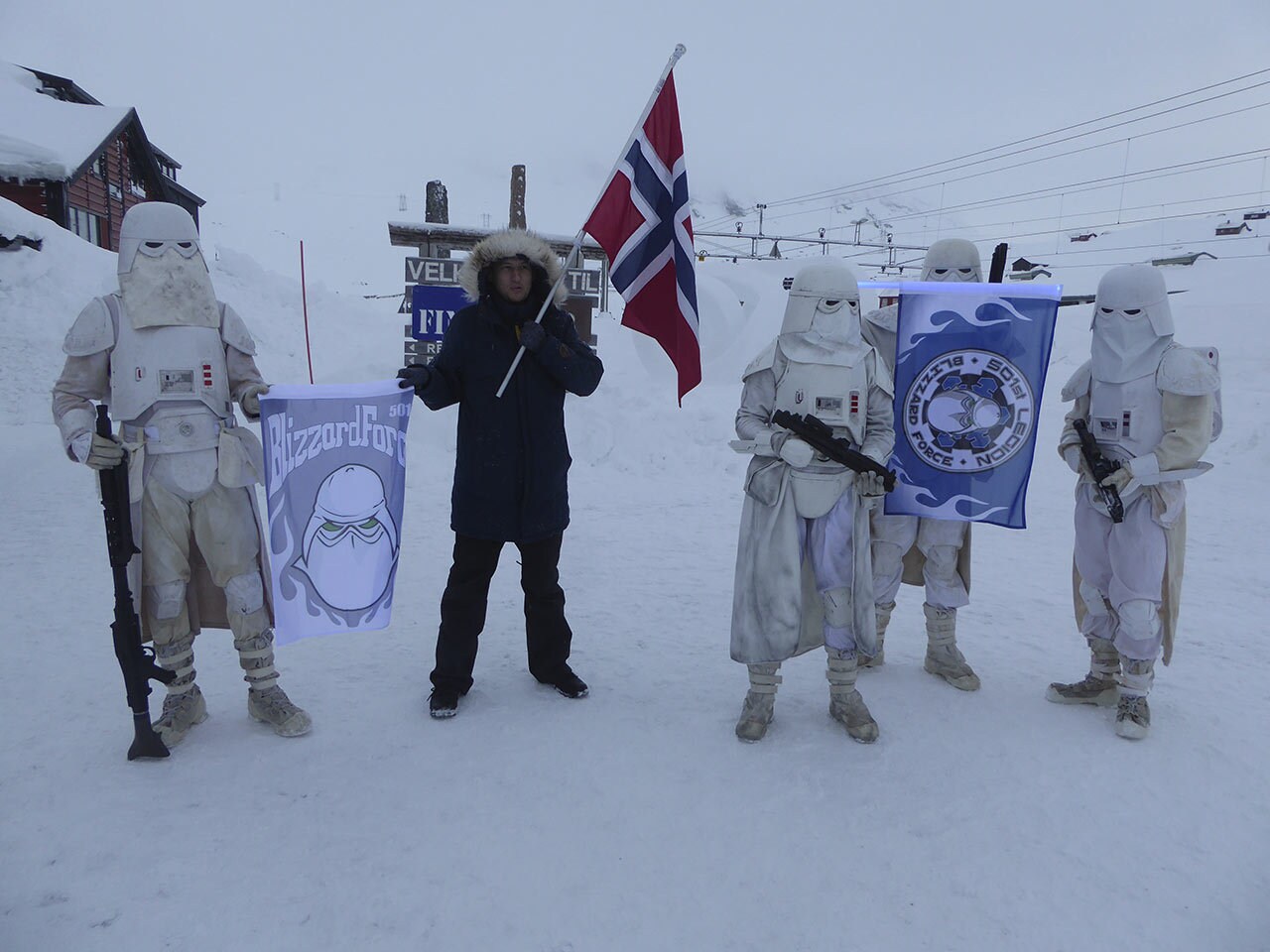 As I started visiting Star Wars filming locations from Norway to Death Valley, I've encountered new pals along the way. When I went to visit Scandinavia as part of a trip to the Hoth filming sites, I first stopped in Sweden, where an old friend, Johanna, took me around Stockholm. I found a new Norwegian friend, Peter, on the train to the visit some of the shooting locations in Finse, and while there I shared a dog sled ride with Gonzalo from Spain. I had a blast with my new friends from the Nordic Garrison of the 501st Legion on the train back to Oslo.
While in Ireland to see Ahch-To filming locations, I got to share a pint with Jamie and Gary of the Blabba the Hutt podcast, who hooked me up with the right folks at the Ballyferriter filming site. I've tried to return the favor by hosting or guiding my friends around when they visit the States, whether showing them around southern California or Chicago. I've even got an upcoming trip out to Death Valley after Celebration Anaheim for some British buddies.
But some of the best Star Wars friends I've made have been folks that just happened to be standing in the same lines as me, like Laura at Celebration II in Indianapolis, who then introduced me to the great group of folks from Chicago Force, or Pedro and his family from Mexico City. And this doesn't even include all the wonderful friends from clubs I've been in, from Fan Force to Club Jade. To me, big events like Celebration are as much about seeing all these friends from all over as experiencing the newest Star Wars stuff. There really are Star Wars fans everywhere, and when you look for them, you can make instant friends in many parts of the world. - James Floyd
In the '90s, there were no iPhones, no iPods, and no MP3 players. If you wanted to take Star Wars with you wherever you went, there was just one solution: a CD or tape player.
In my teenage years I was the proud owner of a portable CD player, and there was only one thing I wanted to listen to with it. One Christmas, I asked my parents for what I thought would be the pinnacle of Star Wars on-the-go, a four-disc CD set called Star Wars Trilogy: The Original Soundtrack Anthology.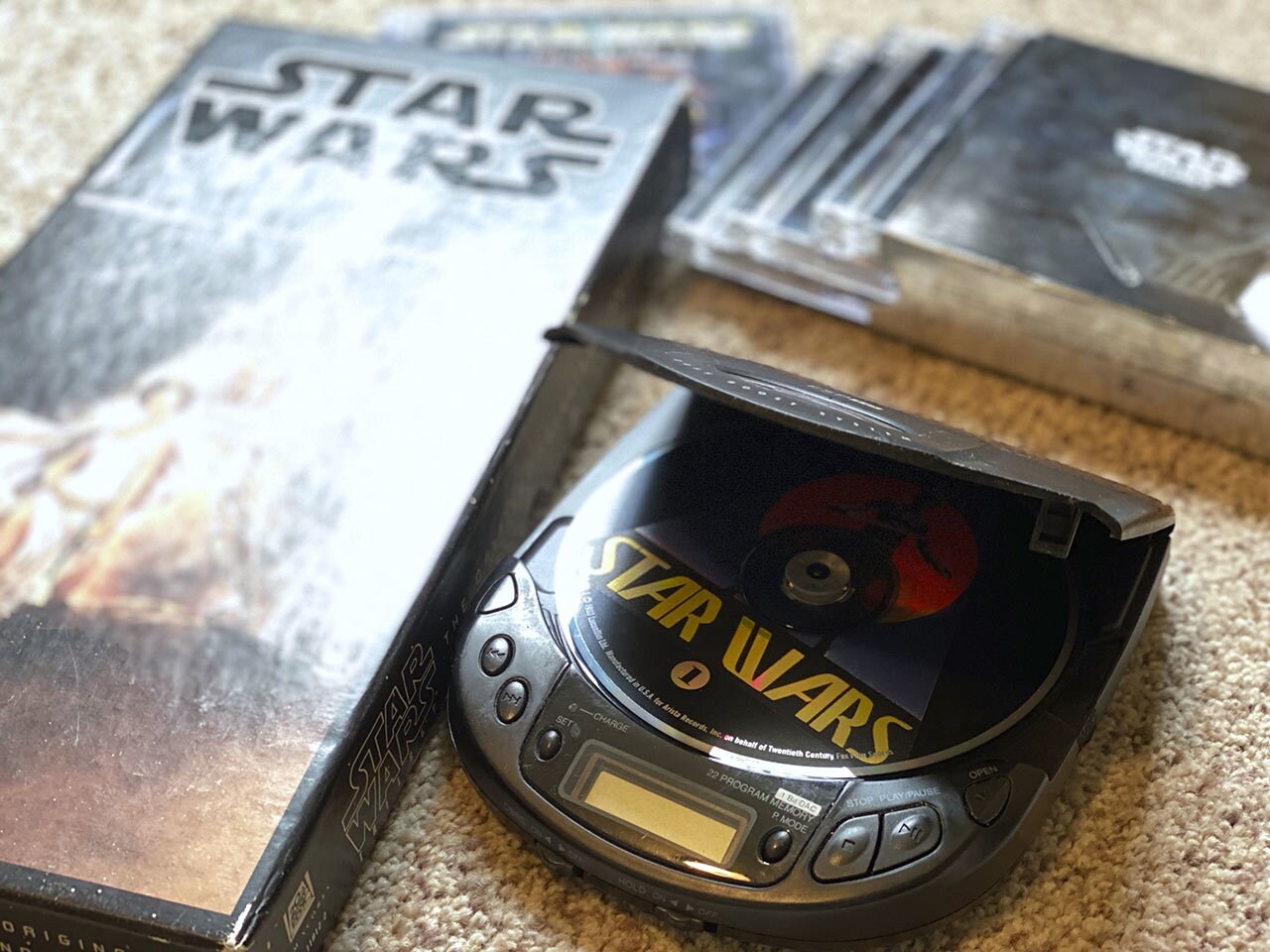 When I wanted to "watch" Star Wars, I loaded up the first disc, closed my eyes, and replayed the movie in my imagination. Through the magic of John Williams' music, the hours I spent listening to that CD set became my favorite Star Wars memory. Whether I was on a school bus in the dark morning hours or curled up under a blanket, I took my CD player and Star Wars along as my personal soundtrack. I felt safe and happy if I had Star Wars with me -- which is probably why Star Wars: A New Hope is the only movie I have downloaded on my phone now! - Kelly Knox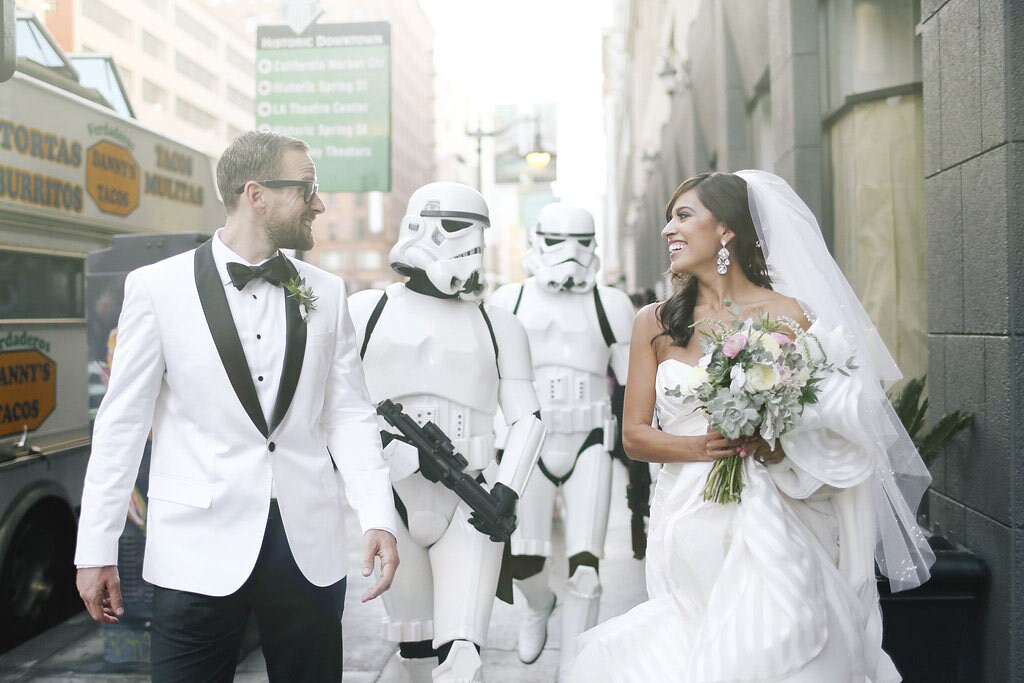 It was our first date. I was a little nervous, but determined to be my true self. So 15 minutes into our conversation, I began discussing the biology of tauntauns. Fortunately, my date was intrigued by my musings on tauntaun nostrils and 4 years later, we were planning our Star Wars-themed wedding. Our goal was to infuse our love for Star Wars into the wedding festivities while keeping it classy (per my mom's request). We tried to incorporate our fandom in subtle ways like having Princess Leia-inspired flower girls and Endor terrarium centerpieces. Albeit some touches were unabashedly Star Wars, like the 501st Legion stormtroopers that escorted me to the aisle during the ceremony.
What made that day so special is that it felt like a genuine reflection of who we are as a couple. It was fun and liberating to turn a formal tradition into a big Star Wars party, complete with lightsabers and dancing troopers. The theme also gave me a chance to share something that has been so meaningful in my life with family and friends. For many years my fandom was something I kept mainly to myself. It wasn't until the birth of social media that I took my first step into a larger world of the Star Wars fan community…and it was glorious!
Connecting with fellow fans online over the years has brought me so much joy and helped me find lifelong friends. What was once something that I enjoyed in solitude has now become a communal experience for me, whether it's geeking out on TikTok about the latest episode of The Book of Boba Fett, or chatting with cosplayers at Star Wars Celebration, or dancing with my father dressed as Darth Vader at my wedding. These days when I'm watching Star Wars Rebels with my 6-year-old daughter, it's easy to see why Star Wars stories have touched so many lives. Star Wars reminds us that strength is compatible with compassion, hope is a necessary tool for change, and the impossible can be possible when friends or family are by your side. - Jennifer Landa
Star Wars Celebration Orlando in 2017 was the first Celebration after Carrie Fisher passed away and the 40th Anniversary of Star Wars itself, so the first panel that year was fittingly a tribute to both the first film and Fisher's legacy. The panel stage was a veritable who's who of Star Wars royalty from George Lucas and Mark Hamill to Hayden Christensen and Harrison Ford. It was an hour filled with reunions, reminiscences, and genuine, unadulterated love for the galaxy we all love so much. But there was still a notable absence without Carrie (and Gary) there.
Cue Billie Lourd, Fisher's daughter, taking the stage. Dressed in white, Lourd spoke movingly about her mother and how much she had loved Star Wars and the fans. She introduced a short tribute video that highlighted Carrie's time as Leia. To cap off the experience, John Williams conducted the Orlando Symphony Orchestra in a surprise performance that started with Princess Leia's Theme.
Even though I was trying desperately not to cry because runny black eyeliner would not have gone well with the white Princess Leia costume I was wearing, it was one of the most genuinely moving and cathartic experiences I have ever had as a fan. In those fifteen minutes, it didn't matter what differences we all had: we were all simply Star Wars fans coming together to mourn and (more importantly) to celebrate Carrie Fisher. We laughed, we cried, and we loved our Princess and the galaxy far, far away. - Bria LaVorgna
I feel fortunate to have a lifetime full of joyous Star Wars experiences. I love being a fan, and I treasure the many happy memories that Star Wars is responsible for. But my favorite Star Wars memory is arguably my most random and, like many good things, came about in the most unexpected of ways.
When not writing about Star Wars or trying to perfect my shoyu ramen recipe, I'm the co-founder of a UK-based tech company. One day, on a train journey to London, a colleague asked me, completely out of the blue, if the name Gary Kurtz meant anything to me. I immediately said, "Star Wars' Gary Kurtz?" It turns out Gary was a neighbor and a friend of his, and he offered to have us both "'round for dinner."
Fast forward a few months. We were having a small informal dinner for the company's leadership. I walked in to the restaurant and there at the table was Gary Kurtz. The producer of Star Wars and The Empire Strikes Back (not to mention American Graffiti) was at our company get-together.
I fought the temptation to blurt out anything about Star Wars and totally derail the table-wide conversation (for a behind-the-scenes Star Wars nerd like me, this was next to impossible). At the end of the dinner, Gary walked over to me. "I hear you like Star Wars," he said. We then proceeded to talk, just the two of us, about his career. As he was leaving, he gave me his email and said, "Write me and we'll continue our chat over another meal." And write him I did. We corresponded briefly and got together again. He spoke in great detail about filmmaking and his career -- filling me with enough behind-the-scenes stories, many of which I had never heard before, to delight both the grown-up and the kid in me. He was a gentleman, and a member of that small and elite unit who helped make Star Wars what it was and what it is today. - Carlos Miranda
It's so hard to pick one Star Wars memory, but my first time visiting Skywalker Ranch has got to be among my favorites. Shortly after moving to the Bay Area in 2004 I heard from a fellow archivist that a temporary contract job was opening up later that year. I still remember jumping up and down with joy when I got the call about an interview.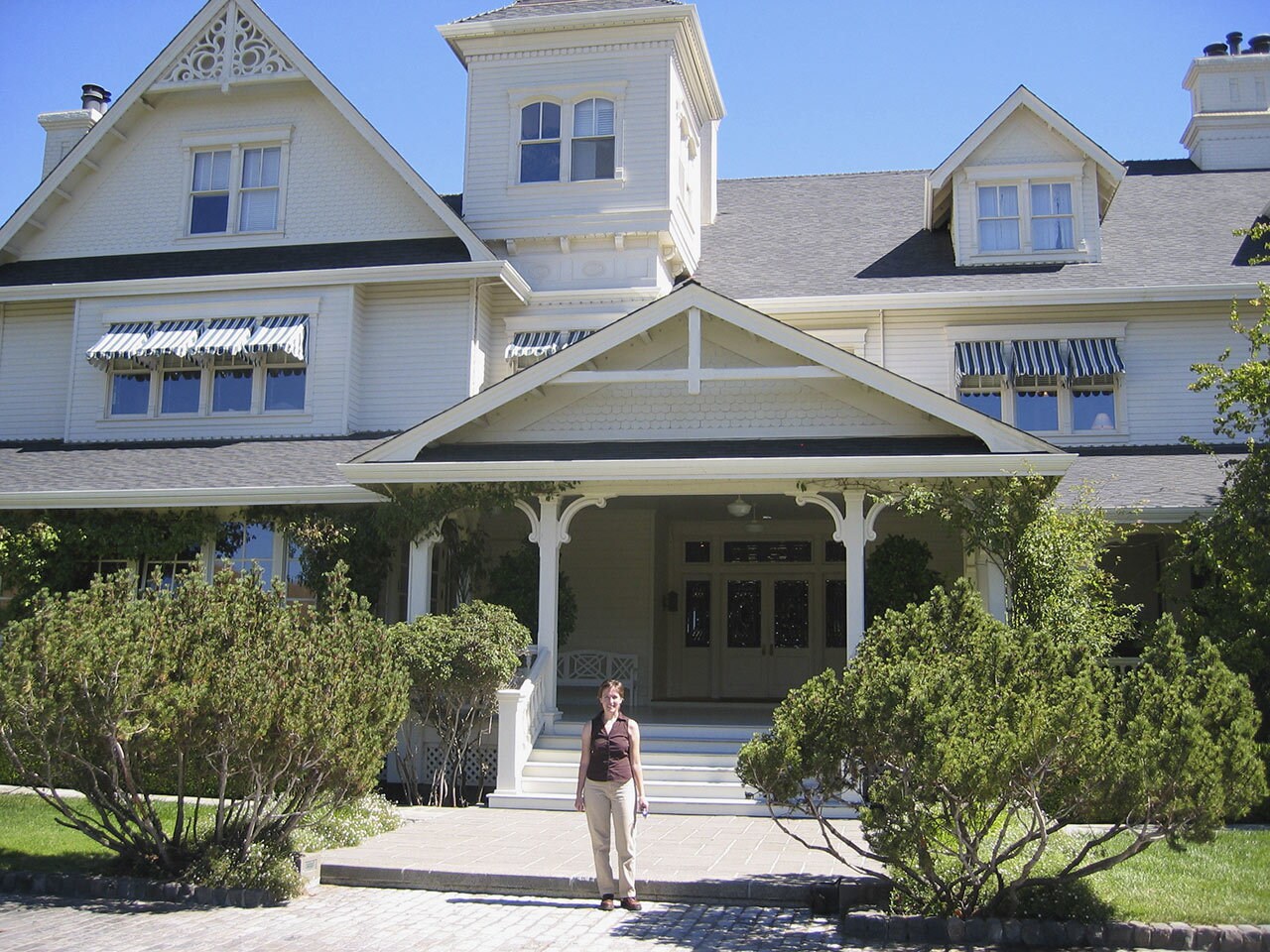 Driving to Skywalker Ranch from Silicon Valley is an almost 2 hour journey. Not only do you drive through the city of San Francisco, but you cross the iconic Golden Gate bridge before driving through Marin County and the windy roads to Skywalker Ranch -- where you always have to have an eye out for deer! Entering those gates for the first time was surreal. How could I even explain this to the 10-year-old version of myself? The grounds are as beautiful as everyone says. I felt like I was stepping into film history and that getting a peek of the Ranch was some kind of gift for sticking with Star Wars for so long, whether or not I got the job.
In the end, I did get the job. I did make that commute. And I never hit a deer. While my time at Skywalker Ranch was brief, I cherished every day. And now almost 20 years later I look forward to meeting up with Lucasfilm employees I have met over the last few years, some who were there back in 2004! Which proves to me my Star Wars story -- and all fans' -- never really ends. - Amy Richau
The year was 1978. I distinctly remember walking down a toy store aisle at Lakeside Shopping Center in Metairie, Louisiana and seeing rows and rows of action figures featuring the name Star Wars. There was only one problem: I had no idea who any of them were. Two of the figures stood out: a man with blond hair wearing what appeared to be a karate outfit, and a gold-plated robot. At that moment, I was not aware of how important these two characters were to the overall story, but I knew they were a part of a movie I desperately wanted to see.
As a kid, we were not allowed to go to PG movies unless they were from Disney, so when I saw a commercial on television about an exciting new movie called Star Wars, all I could do was ask repeatedly if my brother and I could go. After several inquiries, my parents called my cousin, who had seen the film, and she gave the all-clear. From that moment, we embarked on a mission to see Star Wars in theaters. However, back in the late seventies, advanced ticket sales were not an option; you opened up the newspaper and went to the movie listings, found the time the movie started, and drove to the local cinema. Without fail, once we arrived, there would be a piece of paper on the box-office ticket window that would read, "Star Wars Sold Out." It was like a gut punch every single time. To pacify us, my parents would offer to take us to watch any other movie playing, but my brother and I were resolute: we wanted to see Star Wars.
Dejected and discouraged, we would walk out of the vacated lobby in the hopes that the next time would be the moment of truth! While I am not completely certain how many times this happened, it was enough to make me wonder if I would ever get a chance to see this movie that everyone was talking about. In the meantime, I picked up the gold-plated robot, labelled See-Threepio (C-3PO), opened him up, and pacified myself with the first of what was to be countless action figures and collectibles.
Then one night that summer, it happened. The four of us headed to the drive-in, turning down a dirt road and pulling up to an outdoor booth. My father rolled down the window and said the words that would change my life: "Four tickets for Star Wars."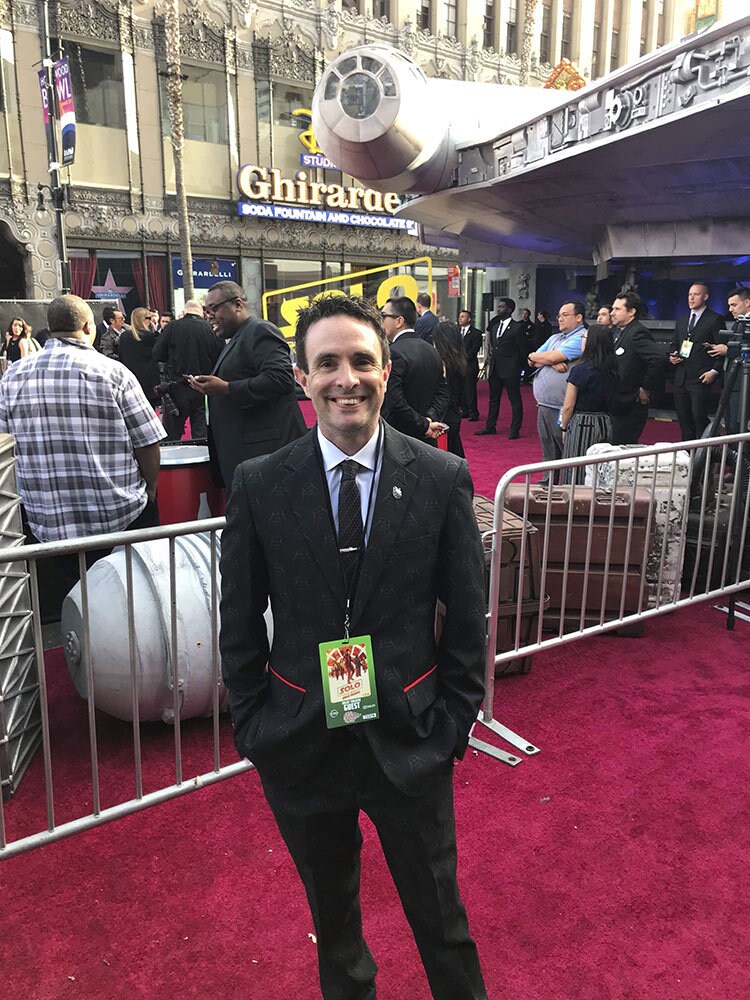 I could not believe it!  After so many missed opportunities, I finally got to see Star Wars for the first time, under the stars, at a drive-in movie theater: the Twin-Do drive-in in Metairie, Louisiana. While that specific theater is no longer in existence, the memory has lasted a lifetime and has spring-boarded my love for this mythology into countless moments and experiences. Several years later, I attended my first red carpet event: the Solo: A Star Wars Story world-premiere in Hollywood, California. And that C-3PO action figure was there with me, safely tucked into my coat pocket, to commemorate my first step into that larger world. - Dan Zehr
Join the Star Wars Day conversation on social media with #MayThe4thBeWithYou and #StarWarsDay!