Hear from the real fans who creatively -- and rebelliously -- bring Star Wars into their lives and work.
Fans connect with Star Wars for different reasons. Some love the story. Some love a certain character. Some love its lessons and themes. (And some love it for the exploding Death Stars and podraces and speeder bikes, which is totally fine.) Some love all of that, yet still connect with it through yet another way: a shared spirit of rebellion. Doing things their own way, thinking of alternatives, being creative. In a powerful new commercial by Target -- which also celebrates the launch of Rogue One product and exclusives hitting Target on September 30 -- four real-life fans hand-picked by the retailer show how they've incorporated that spirit and their love of Star Wars into their lives.

There's Dan Zehr, a teacher who uses
Star Wars 
to introduce the works of Shakespeare to a new generation; Jennifer Landa Busch, who made her wedding
Star Wars
-themed (complete with stormtroopers greeting guests at the ceremony); Amiyrah Martin, who takes inspiration from 
Star Wars 
in parenting her children; and Charley Burns, a nine-year-old female fan who "likes the characters that do their own thing...like me." StarWars.com e-mailed with each to find out more.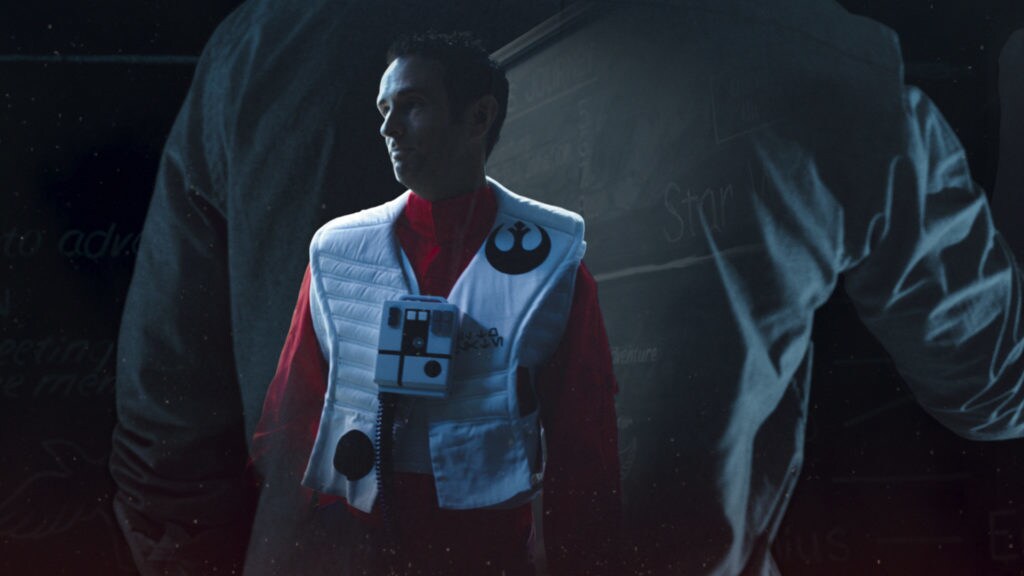 Dan Zehr

When and why did you first decide to integrate Star Wars into your lessons, specifically Shakespeare?
The first lesson I ever taught was in a workshop class, and the lesson was to my fellow aspiring teachers. It was 2005, and Revenge of the Sith was fresh in my mind. As I watched the film, I was struck with how closely Anakin Skywalker's fall fit beautifully with Shakespeare's formula for a tragic hero. He is a prominent figure revered by other characters in the story, has special talents, a tragic flaw, and has a dramatic fall from grace. 
So, it seemed like a natural fit to incorporate Episode III into a lesson on Shakespeare and tragic heroes. One of the keys to successful engagement is to meet students where they are at, and nothing does that quite like Star Wars. I also believe if you have passion for the material you are teaching, it comes to life for your classes. 
Would you say that's something you learned from Star Wars -- to take a different approach to things?
I think that one of the more powerful things that Star Wars does is teach us that there are many different ways to approach a problem or situation. So often in life, you may feel limited in what you can do, or what you can accomplish. However, much like Luke, Ahsoka, Rey, or Finn learned, the different approach is the one that is more difficult, but much more rewarding. 
So it's not so much that Star Wars taught me to take a different approach (I credit my mom for that), but more that it helps reinforce this mantra. 
As a teacher and father, has your view of Star Wars changed since you first became a fan?
Constantly, and always for the better. As a teacher, using Star Wars is invaluable, because I get so many different perspectives on concepts and motifs that I never would have thought about before, but my amazing students look at this galaxy in fascinating ways. We very much learn from each other. It's also cool to see how students react to Star Wars. It adds even more energy.
Star Wars is reinvented every generation, and the genius of that is present in my household every day. In many ways, they reinvent my fandom through their fresh perspectives. One of the best things about Star Wars, however,  are the many memories it has provided me, and as a father, the memories are even better, because I get to experience it with them. They love it in their own unique ways, and my memories with each of them through these experiences are more valuable than any collectible I could ever own. 
How did it feel to be an X-wing pilot for a day?
Absolutely amazing! Putting on that flight suit is something I will never forget. I felt like I was a part of something I have loved since I was a little boy. Pure magic!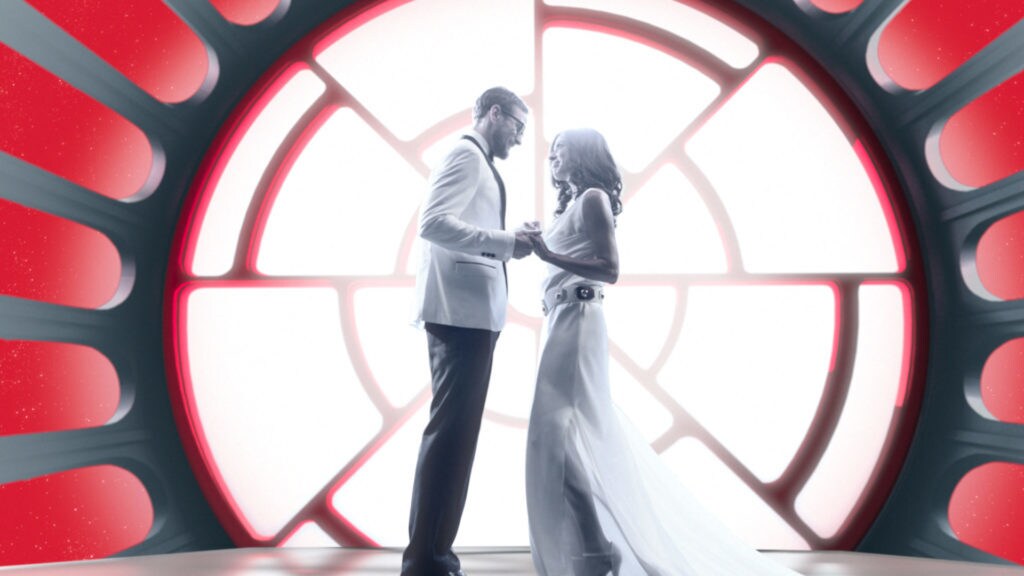 Jennifer Landa Busch
When and why did you decide to incorporate Star Wars into your wedding? And, more importantly, how did your parents react?
A few hours after we got engaged, we began talking about some of the details of the wedding. I suggested having a Star Wars-themed wedding. It only seemed natural because we are both Star Wars fans! Josh liked the idea but reminded me that not everyone attending the wedding might know what a Mon Calamari is. My mother's initial reaction was, "You're not going to have a Star Wars wedding, are you?!" In the end, we decided to incorporate our love for Star Wars in a way that would be fun for both fans and non-fans alike. Whether it was having tiny Ewoks in our terrarium centerpieces or having a glittery Millennium Falcon flying through a cluster of hydrangeas, we sprinkled our Star Wars fandom into as many details as possible.
My dad was immediately on board with the Star Wars theme. In fact, he dressed up as Darth Vader for the father/daughter dance. It was his idea and I was happily surprised when he showed up on the dance floor in an awesome Vader costume. We danced to Glenn Miller's "String of Pearls" and that moment meant so much to me. The fact that my dad (who is kind of a shy man) cosplayed as Darth Vader showed me that he understands how important Star Wars is in my life.
Planning a normal wedding is crazy and stressful enough. How was it planning one with stormtroopers and Star Wars decorations and cake?
Josh and I love DIY and making things ourselves so planning the wedding was a big undertaking. Our venue was a blank canvas so we made most of the decorations and I made some personal details like my stormtrooper belt and our flower girls' Princess Leia belts. It truly was a team effort and we couldn't have done it without the help of our family, friends, and the venue coordinator. For me, having Stormtroopers as my escorts was the one detail I wanted to have for our special day. It was a dream come true and their appearance made for a dramatic entrance down the aisle!
Our first date, Josh and I discussed the anatomy of tauntauns at length so we knew we had to have a tauntaun and wampa cake topper. We really wanted the style to be something elegant and iconically Star Wars. We now have our cake topper in a Hoth diorama that is displayed on our bookshelf.
You've since had a baby -- any plans on how you'll "pass on what you have learned" when it comes to Star Wars?
We introduced our daughter to Star Wars at the tender age of three weeks, when I dressed her up like a wampa! Lucia is now 14 months old and because Star Wars is everywhere in our house she has had fun learning about that galaxy far, far away. Right now, her favorite character is Yoda, who she calls, "ah-da." We have a Yoda refrigerator magnet and a few times a day she asks to hold him. I then recite the Jedi Master's wisdom in my best Yoda voice. "Truly wonderful, the mind of a child is."
Why does Star Wars still mean something to you after all this time?
For me, Star Wars has always represented hope. As a child, it meant so much to me to see characters of all colors and species coming together for the greater good of the galaxy. Now with the new addition of powerful characters like Rey, Finn, and Jyn Erso, I can't wait to share their stories with my daughter. Of course, Yoda will always be favorite character because his wisdom can be helpful in day-to-day life. "Size matters not," and "Do. Or do not. There is no try," are empowering statements for both children and adults. In addition to the adventure and fun, there are so many wonderful life lessons found in the galaxy of Star Wars. I will always carry these stories close to my heart and it's why I think it's important that we share them for generations to come.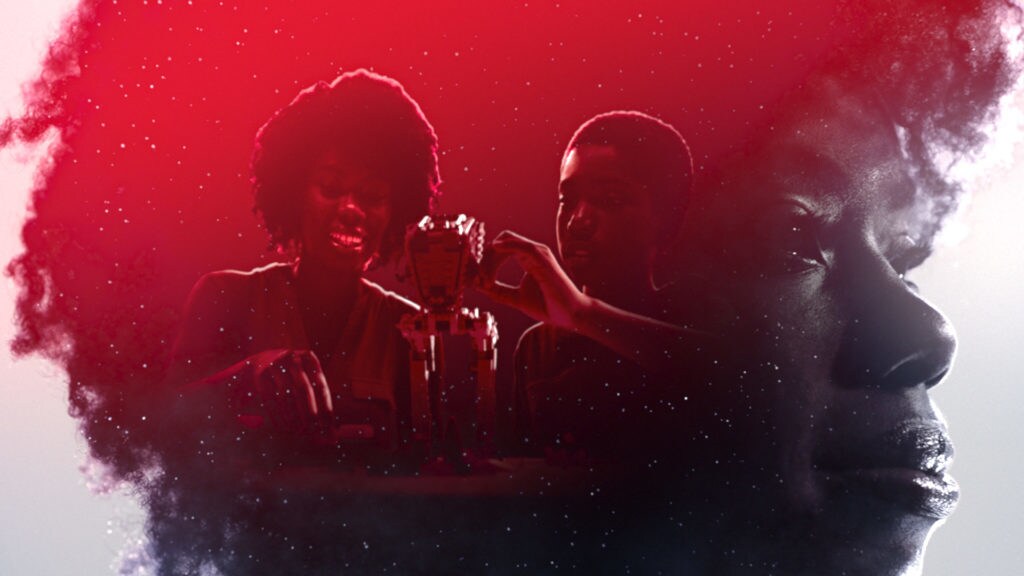 Amiyrah Martin
In the Target commercial, you talk about how Star Wars has influenced and helped you as a parent. Why do you think it resonates with you that way?
Star Wars resonates with me in many ways, but once I became a parent, it had a totally different meaning. There was always that family center within the saga, and once I became a mom, I understood the importance behind doing what's right, standing up for family, seeing friends as family, and of course, risking your own life to save your child (props to Darth Vader). 
What impact do you see Star Wars having on your son?
My son is already impacted by Star Wars, and all of the fantastic fanatical living that we do because of it. He knows that it doesn't matter where he comes from, how he was raised, or what he grows up to be, he always has the option of being the hero. He always has the right to be the good in the world. And, he can be the one to save the day, even if it seems like he's the underdog. Plus, no matter how old he gets, he'll always think lightsabers are cool. Always.
Has being a parent, in turn, changed the way you view the saga from when you were younger?
Oh yes, being a parent has definitely changed how I view the Star Wars saga. For one, I'm now a big fan of Darth Vader. I finally understand his actions, his passion, and why he did what he did at the end of Episode VI. When I was younger, Darth was the bad guy...period. Now, I see him as the eventual hero.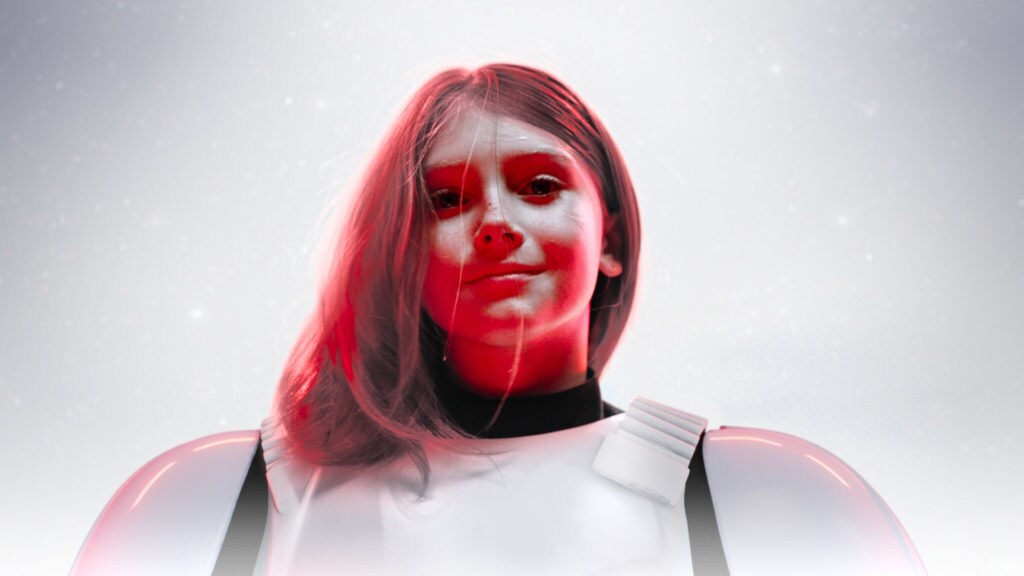 Charley Burns

How were you introduced to Star Wars and what did you like most about it?
When I was younger, I heard my dad talking about Star Wars a lot, so I'd ask him to tell me the plot of the movies. So he would tell me the story when we would eat dinner and then he started giving me his old Star Wars toys.
I love all the sci-fi fantasy space coolness of Star Wars. And I also like all the hardcore girls like Princess Leia.
In the Target commercial, you say, "I like the characters that do their own thing, like me." Who are your favorite characters and how do they inspire you?
My favorite characters are Han Solo and Chewbacca. They inspire me because Han Solo -- he's a good guy, but he doesn't like to be told what to do (like me), but he still does the right thing anyway. And Chewbacca is just so loyal and tough and awesome. I bet they'd be great best friends.
Tom Burns (Charley's dad)
I'm guessing you're a Star Wars fan. How did you approach introducing it to Charley? Were you determined to get her into it, or did you let her find it on her own?
I definitely wanted Charley to love Star Wars -- it was a huge part of my childhood, but I didn't want to push it on her too hard because I didn't want to turn it into something to rebel against. So I was just prepared. I bought the original trilogy on laserdisc when my wife was pregnant, so my daughter could see the films in the same way I saw them as a kid. (I really wanted her to hear the "Yub Nub" song.) I would leave my old Star Wars toys out for her to play with. But I didn't show her the movies until she really seemed interested to watch them, which I think was the right decision.
What's been most rewarding for you as a parent about Charley's discovery and love of Star Wars?
The most rewarding thing about Charley's embrace of Star Wars is that it's opened up this whole new world for us to share. We talk about Star Wars and debate it all the time. She asks me questions and I turn into the elder statesman, telling her, "Well, you know, the funny thing about Bib Fortuna is…" So, it's this wonderful bonding thing for us, full of imagination and minutiae, which is so much fun.
How has 
Star Wars
 inspired you to rebel? Let us know in the comments below!
Dan Brooks is Lucasfilm's senior content writer and editor of the StarWars.com blog. He loves Star Wars, ELO, and the New York Rangers, Jets, and Yankees. Follow him on Twitter @dan_brooks where he rants about all these things.