StarWars.com catches up with the Star Wars card game creators about dream matchups, their new quiz game, and rebelling with Rogue One.
There's no shortage of great Star Wars duels. Luke versus Darth Vader. Rey versus Kylo Ren. Wicket versus Count Dooku.
Okay, that last one never happened. But bringing Star Wars battles to life -- however strange and uneven they might be -- is exactly what Top Trumps specializes in.
In 1999, Winning Moves International, an independent games company based in London, acquired the rights to the game known as Top Trumps -- which was conceived over 25 years prior -- and has since created a robust line of head-to-head card games. In that time, the company has sold well over 50 million card decks across multiple genres and licenses, including Star Wars.
"Star Wars is a massive global brand, and what makes it so perfect for the Top Trumps line is the richness of characters that allow for the fun possibility that someone like Mon Mothma can battle Darth Vader," says Mark Hauser, senior vice president of TTUSA, the American arm of Winning Moves International.
The gameplay is simple: two to six players divide a 30-card deck at random. Each card features a character from the Star Wars universe, and each character has rated attributes, from honor to greed to Jedi abilities. Players use these attributes against one another, using a character's greatest strengths to defeat their opponent(s). Victory yields your opponent's card, and the player who acquires all the cards wins.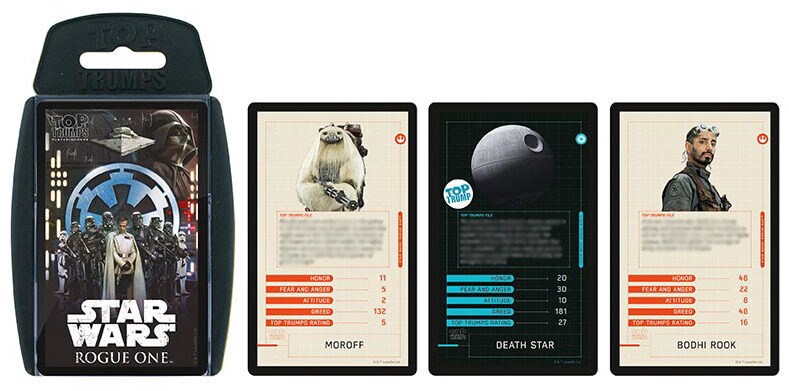 Card-based strategy games are, of course, nothing new. What makes the Top Trumps line so unique, and so fun, is the ease in which the game can be learned. Not only that, but the rapid-fire, interactive gameplay makes for a truly accessible experience. Think of it as a cross between War and Dungeons and Dragons. Furthermore, with the way the Top Trumps decks are carefully designed, regardless of which card you have been dealt, there is always a chance your card has a characteristic in which it can beat your opponent(s). Meaning Mon Mothma may indeed have a chance to defeat Darth Vader after all.
"It's a quick game, simple to understand, and genuinely fun for all ages," Hauser says. "The more you know about Star Wars, the more likely you are to make the right choices. However, the more you play the game, the more you end up knowing about the characters, and so the games become ever more competitive."
What becomes challenging for Hauser and Top Trumps, though, is which characters to select for its decks and, more importantly, how to rank each character's stats.
"We're fortunate to have hardcore Star Wars fans in our office, so it's never too hard to have an opinion on which characteristics or traits each character should have," Hauser says. "Getting everyone to agree, that's something else. But we work with Disney and Lucasfilm to give everyone suitable characteristics."
In November, Top Trumps will release its Rogue One deck, and Hauser promises it's their best one yet. From what he's seen of the movie in the trailers, Hauser says it reflects the film "brilliantly."
In addition to their head-to-head battle games, Top Trumps also just launched Star Wars Quiz, which Hauser calls a quiz game with a twist. What is this "twist?" Instead of discarding quiz cards during the course of a game, players hold onto those cards and are challenged to remember their answers from that round. After going through loads of questions and encountering a lot of new information, according to Hauser, players tend to remember less than they'd think.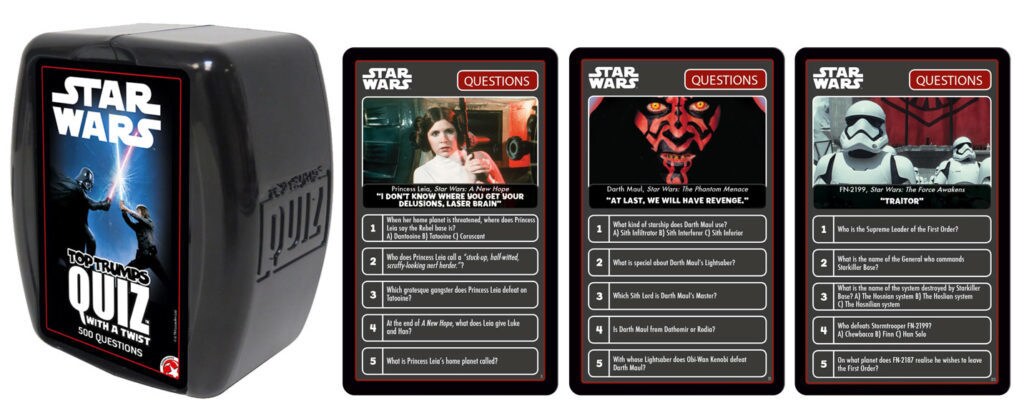 "Trivia games can be a little boring, and they can either skew really old or really young," Hauser says. "We've worked closely with Disney to create a unique product that can appeal to a fan of any age."
If you're looking to expand your Star Wars knowledge or finally settle that debate of who would win in a duel, Boba Fett or Han Solo (or Kanan/Cad Bane, IG-88/Rex, etc.), the Top Trumps line guarantees to be an entertaining way to do so.
If you're in the US, head to toptrumps.us/starwars for more information on Top Trumps Star Wars; fans in the UK should visit shop.winningmoves.co.uk/starwars.
Michael Moreci is a comics writer and novelist best known for his sci-fi trilogy Roche Limit. He's also a Star Wars obsessive, who is lucky to spend his time playing Star Wars action figures with his two sons by day and writing Star Wars-inspired stories by night. Follow him on Twitter @MichaelMoreci.