Hear from the talented minds behind the clever new animated short!
Go Rogue: Chapter 1, the first installment of a video series made by fans and creative network Tongal, features the debut of many new Rogue One toys. It also announces an upcoming global UGC contest where Lucasfilm will ask fans to share their "Rogue Stories" by making their own videos in contest called "Go Rogue." Exciting enough -- but more than that, it's also completely hilarious and features sharp editing and impressive stop-motion animation. It's a testament to the creativity of Star Wars fans, and StarWars.com is excited to present a Q&A with its talented creators and a special look behind the scenes.
James DeJulio, co-founder and chief creative at Tongal, Inc.
What is Tongal's role in this campaign?
Tongal led the conceptualization of the "Missing Death Star Building Instructions" story and then used our platform and community of independent writers, directors, and animators to attach the talent -- in this case, the writer, Kevin Ulrich, and the directors/animators Dan MacKenzie and Tucker Barrie, all of whom were already contributors to Tongal. We were looking for the intersection of the Venn diagram of pure talent and a love for Star Wars. Fun fact: the original LEGO Star Wars Death Star set sitting in my office served as inspiration for the story!
What makes this project so unique and different from other stories that have been told?
It's really by the fans, for the fans and driven by a community that stands by a "by the people, for the people" approach to content development. What's also unique is that there's always so much speculation happening by the fans leading up to any Star Wars release, and we were ACTUALLY invited to speculate, which allowed us to really have fun.
What are you most excited about for these videos?
My career has been built on inspiring people to tell their own stories and bringing them the opportunity to do so. I can't wait to see if our stories inspire others to create and share their own.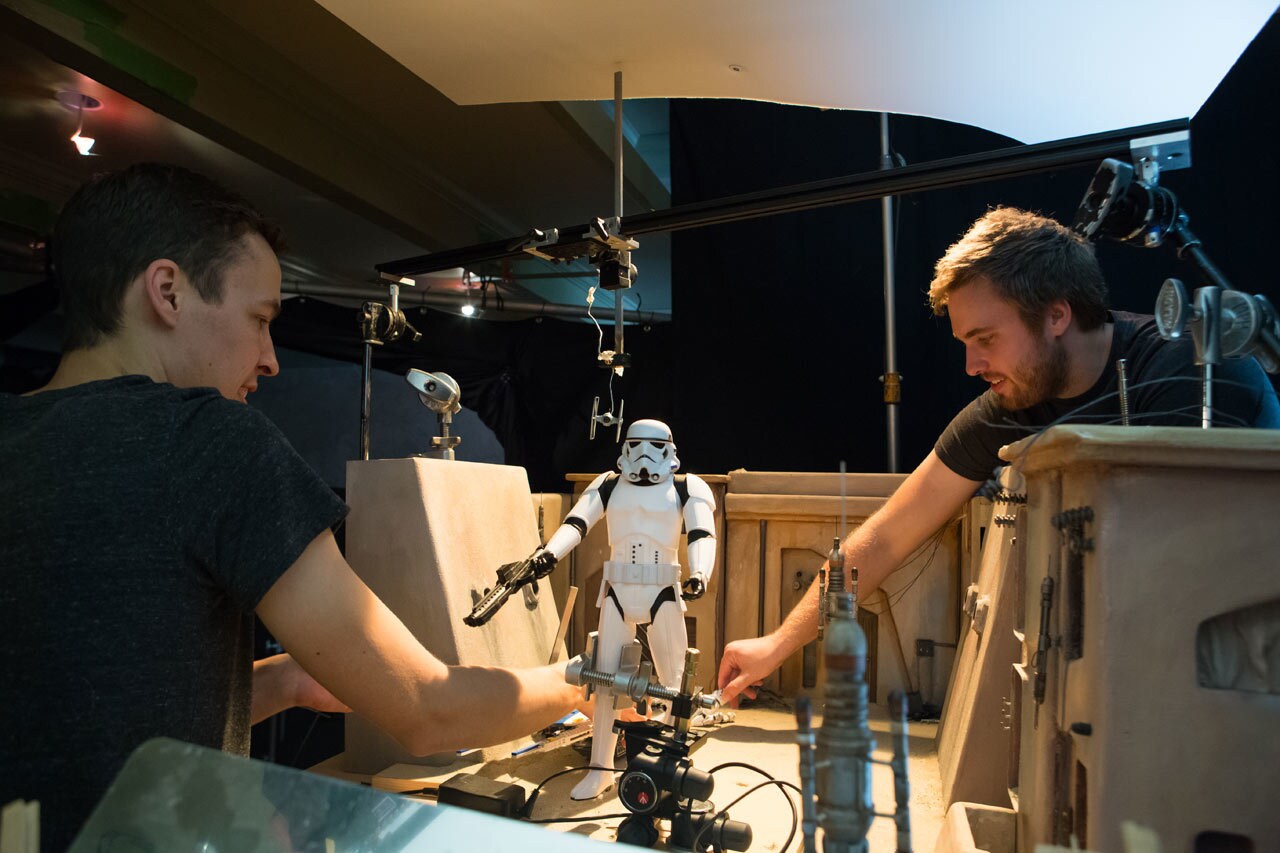 Dan MacKenzie & Tucker Barrie, animators and series directors

Why did you want to be involved?
Tucker: Being a life-long Star Wars fan, it's always been a dream of mine to work on a Star Wars project, so I was thrilled to jump at the first opportunity.
Dan: The opportunity to combine my childhood passion for Star Wars with my adult passion of stop-motion animation was too perfect to pass up.
Take us through the process of creating this series.
Tucker: The first thing we needed to establish was the style of the art direction and animation. We knew we wanted it to be cinematic, so we created a more realistic world for our characters to live in. We aimed to recreate what our imaginations depicted when we were playing with Star Wars toys when we were kids -- as if we dropped our action figures into the real Star Wars universe to embark on their own adventures. From there, everything started to come together and we were able to concentrate on bringing the characters to life through stop-motion animation.
What was your favorite element of this project? Or what was your favorite scene to bring to life?
Tucker: My favorite scene to bring to life was the Jedha marketplace sequence. A lot of work went into creating a bustling world filled with merchandise and market-goers. It's also where we were able to fill out the scene with a lot of our childhood Star Wars merchandise!
Dan: I loved bringing the Funko POP figure of Director Krennic to life. Transforming that big head and cartoony design into an angry and serious character was a joy.
What is one piece of advice you have for the Star Wars fans hoping to tell their Rogue Story through the process of stop-motion?
Tucker: One simple and easy trick to add some life to a character is to make them blink; a little bit of clay that's the color of their skin will do the trick. Other than that, study some basic animation principles, and you'll be surprised at what you're able to make a toy accomplish!
Dan: Have fun with it! You should still feel like you are playing with your toys as you always have, just frame by frame. Don't lose that spark of creativity and excitement that drove you to play with the toys in the first place. 
Kevin Ulrich, writer 
Tell us about the inspiration for your script.
The script began as a story prompt from James at Tongal: The Empire has misplaced the building instructions to the LEGO Death Star set, and now the Alliance and the Empire are both racing to find them. Using this simple idea as my road map, I locked myself away in my office, turned on Star Wars music, and let my imagination run wild. I really wanted these stories to feel like what a child would come up with while playing with his or her Star Wars toys, so I would bring my own Star Wars toys into the room and try out different scenarios. At one point I actually made custom LEGO versions of all of the Rogue One characters to help kick my creativity into gear and unlock my inner child.
What have you enjoyed the most working on this project?
My favorite part of this project is seeing it come to life. Nothing looks how I imagined it in my head -- it looks so much better!
What is one piece of advice you have for the Star Wars fans hoping to tell their Rogue Story?
This is my advice for any person creating a video: make something YOU want to watch. Have you always wanted to see Darth Vader pilot an AT-AT? Make that happen! Wouldn't it be cool to watch Boba Fett face off against the Emperor? Make it happen! Tap into your inner child. Think of all those crazy adventures you would love to see happen on screen, and bring them to life.
From all four episodes, what was your favorite scene to write and see brought to life?
My favorite scene to write was the final showdown in the last video (I promise not reveal any spoilers!). This was definitely a "pull out the stops" moment, where every character, good and bad, was duking it out on screen. And Krennic gets frustrated a lot. I like frustrating the villains.
What is your favorite Star Wars memory? 
There are so many great memories it's really hard to pick one. I remember watching the film for the first time at age three, and feeling like I had just discovered my new favorite thing in the galaxy. I still have vivid memories of feeling overwhelmed by size of the Star Destroyer in the first shot of the film. I remember thinking that they were going to eat C-3PO when they put him into the oil bath (why else would you fry someone in oil?). Star Wars captivated me from the very beginning, and 24 years later, that captivation continues.
Behind-the-Scenes Gallery: