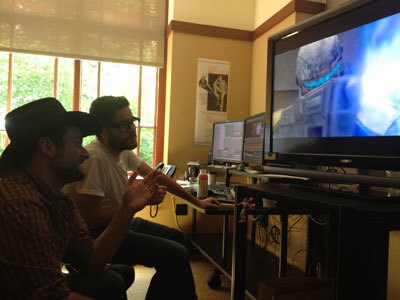 Good news! I've selected the Clone Wars season 5 clips that will be shown at Celebration VI – and I think you will be very pleased. To give you a small preview, take a look at this photo of me and Mattias (one of our editors) finalizing a scene. I had fourteen different clips pulled for consideration, but we narrowed it down to a final list. It may surprise you to know that getting these clips together is no simple task. Many come from episodes that are not yet finished, and still require sound design and final lighting shots before they are presentable. Never fear! Matthew Wood and David Accord will be working on the sound design to make sure you have the best possible experience watching these clips at Celebration.
Our composer Kevin Kiner is so busy getting the music done for upcoming episodes that I will substitute music from the Star Wars movies as a temporary place holder on the CVI clips. These temporary music selections will occasionally influence Kevin's final composition. We will definitely be adding more classic themes as we move forward in the series.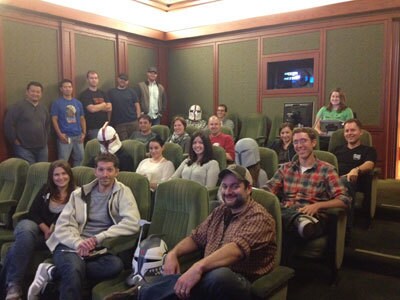 Looking ahead, I'm about to start a locked reel review of a new Clone Wars episode. Here's a photo of the group attending this particular review. This is where many members of my crew and I get together and watch a finished story reel. While the reel plays, I share my expectations for each shot, specifically in regards to the animation and lighting. I'll also talk with the team about the level of set dressing and any special details that should be added. Things like leaves, garbage or material being blown around by the wind, for example. If it's a city scene, we would look at the amount of traffic, adding more pedestrians, etc. These meetings also give the department leads a chance to get together and discuss the complexity of the episode and make sure the final product is up to our standards.
We're really fortunate to have such an outstanding group of people working on The Clone Wars.  Making the series isn't easy and it requires a great deal of hard work and dedication from our staff. The crew of The Clone Wars works hard because we care. This is Star Wars and we want it to live up to your expectations. That's something we always keep top of mind.
That's all for today. I have some scripts to read, but first, I think I need some coffee.