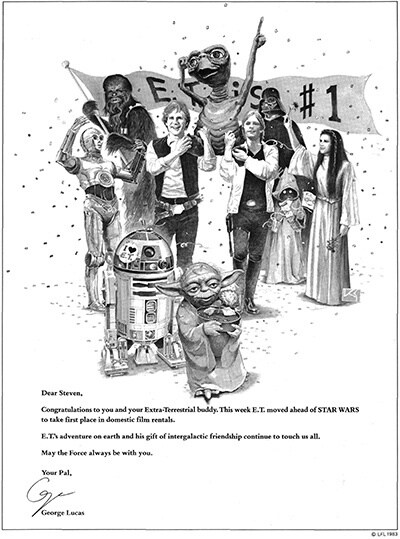 Thirty years ago today, Variety magazine posted a full-page advertisement from George Lucas congratulating Steven Spielberg for surpassing Star Wars at the box office with E.T. the Extraterrestrial. The ad, featuring an illustration by artist Kazo Sano, is a fitting tribute from one friend to another -- playful, honest, celebratory. Everything that makes E.T. and Star Wars special.
Many years later, after both films had been re-released theatrically, Star Wars would once again surpass E.T.. Today, Star Wars holds the number two all-time domestic box office gross record (adjusted for inflation) and E.T. ranks fourth. Whatever their ranks, both films continue to endure as classics.
Please join all of us here at Lucasfilm in saluting E.T. the Extraterrestrial, a true masterpiece.