See concept art, find out the inspiration behind Major Vonreg's design, and more!
Star Wars Resistance is here! The animated series follows Kazuda "Kaz" Xiono, a young pilot recruited by the Resistance and tasked with a top-secret mission to spy on the growing threat of the First Order. Visit StarWars.com following each episode for "Bucket's List Extra," an expansion of our weekly fun-facts video series Bucket's List. In this installment, we look at "The High Tower."
Bucket's List Extra - "The High Tower"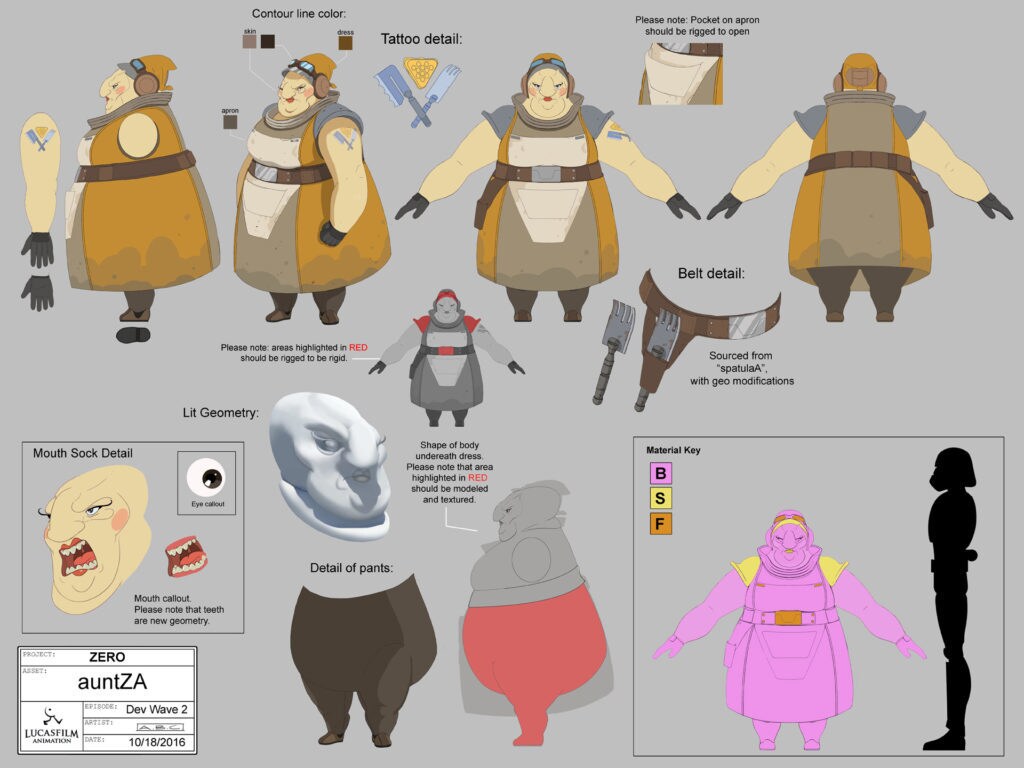 1. Aunt Z's ink.
Aunt Z's upper left arm bears a tattoo of crossed cooking implements (a spatula and a knife) underneath a "space waffle."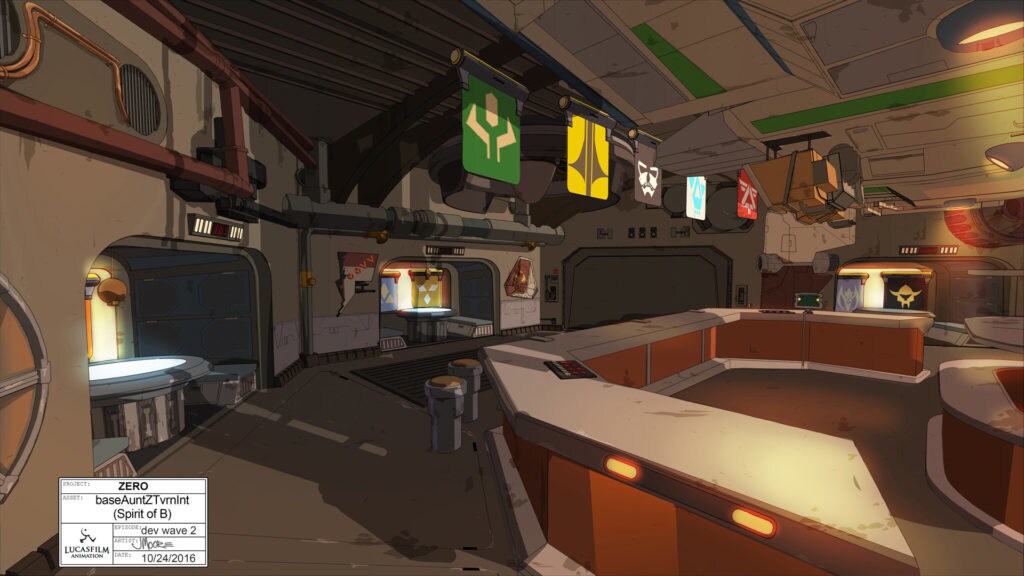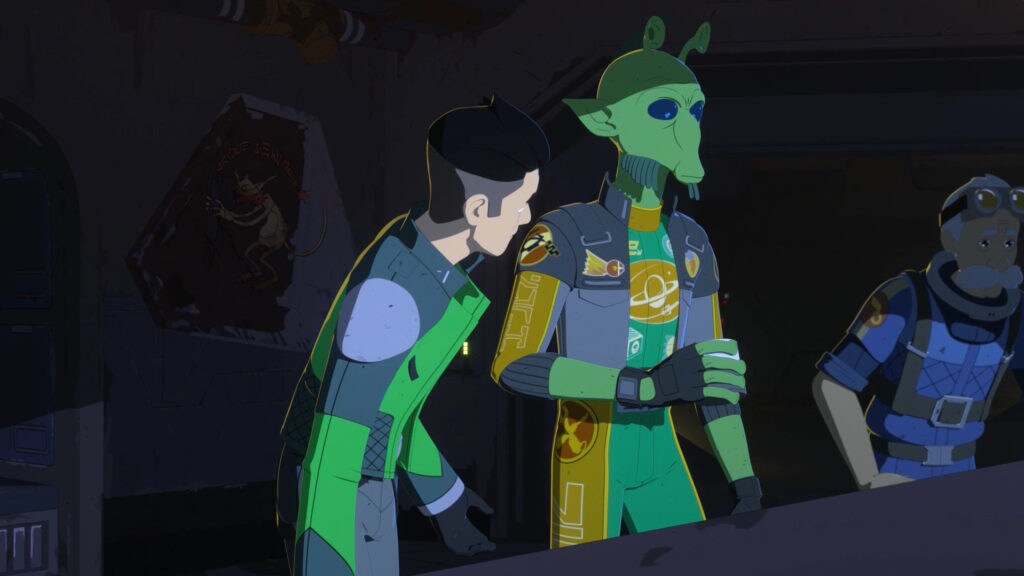 2. Traveling monkey-lizard exhibition.
Among the artifacts and oddities hanging from the wall of Aunt Z's tavern is a wing panel with Clone Wars-era art of the "Crumb Bomber," a gunship seen in Obi-Wan Kenobi's forces in Star Wars: The Clone Wars, and in Old Jho's Pit Stop on Lothal in Star Wars Rebels.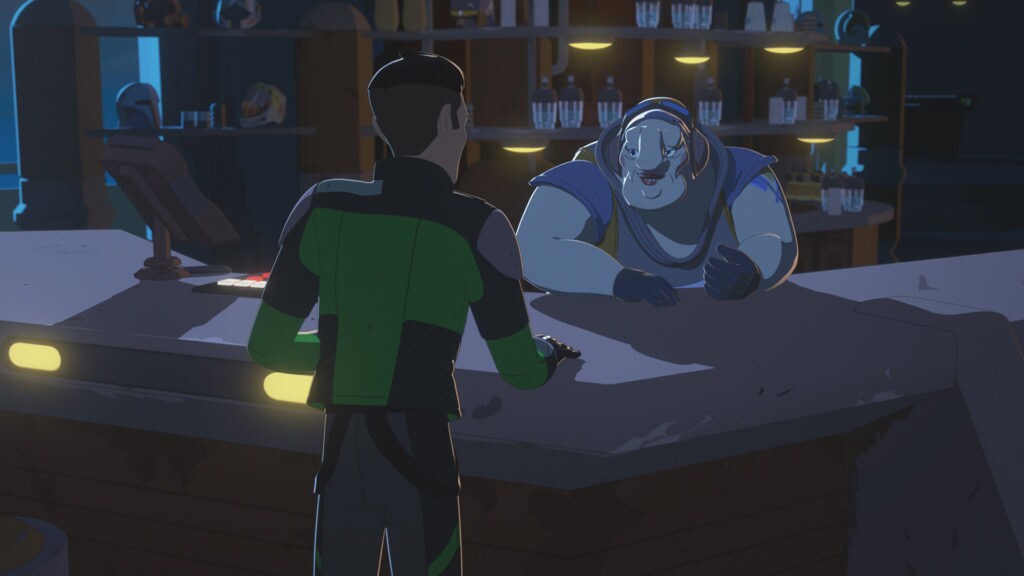 3. Helmets galore.
Aunt Z has a shelf of pilot helmets from across the decades, including Mandalorian, Imperial, clone, and rebel pilot.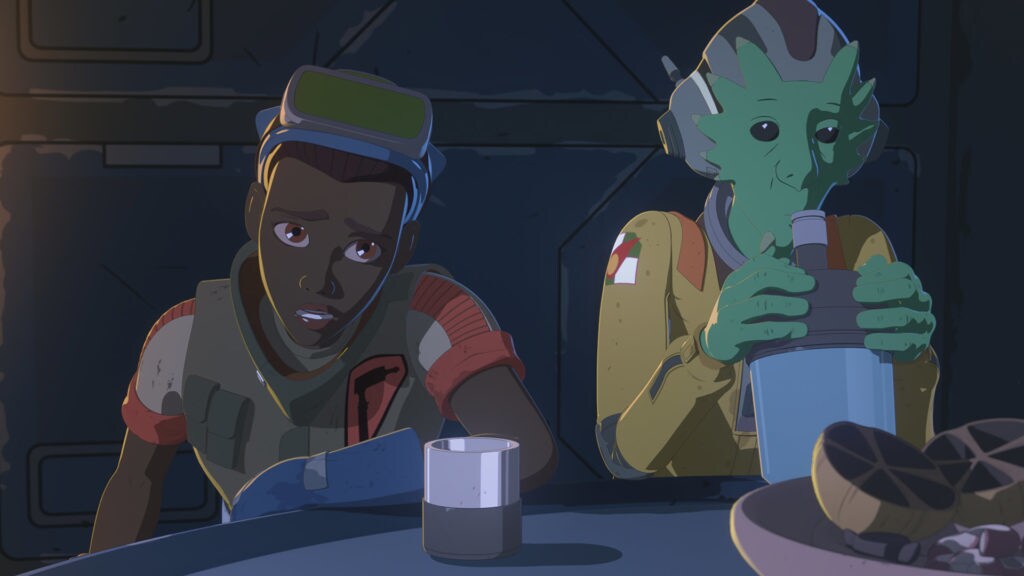 4. I'll have one of those.
Kaz orders a Cirilian Sour Paste, a drink new to Star Wars storytelling.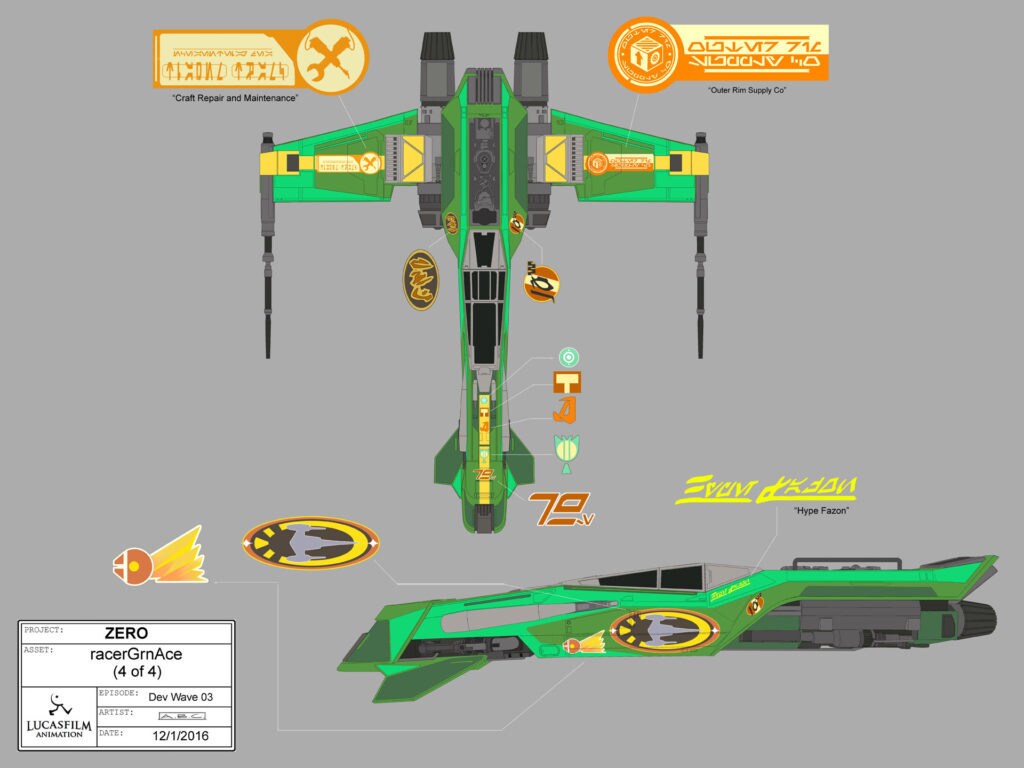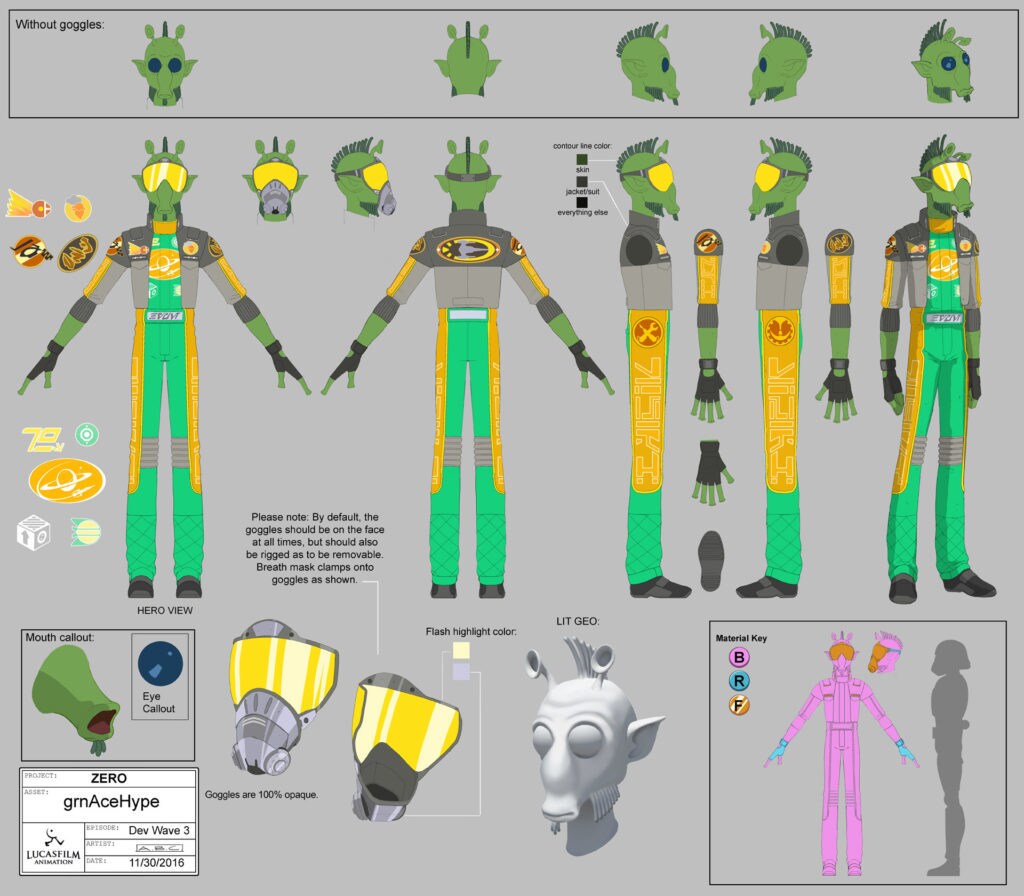 5. Logo saga.
Nearly all of the logos on Hype's ship, racing outfit, and droid can be found in episodes of Star Wars: The Clone Wars and Star Wars Rebels. The "79's" cantina logo comes from The Clone Wars episode "Orders"; the "Power Sliders" and "Admiral Snackbar" logos were first seen on the planet Abafar in The Clone Wars droid arc; and several of the others can be found in background advertisements throughout the two series.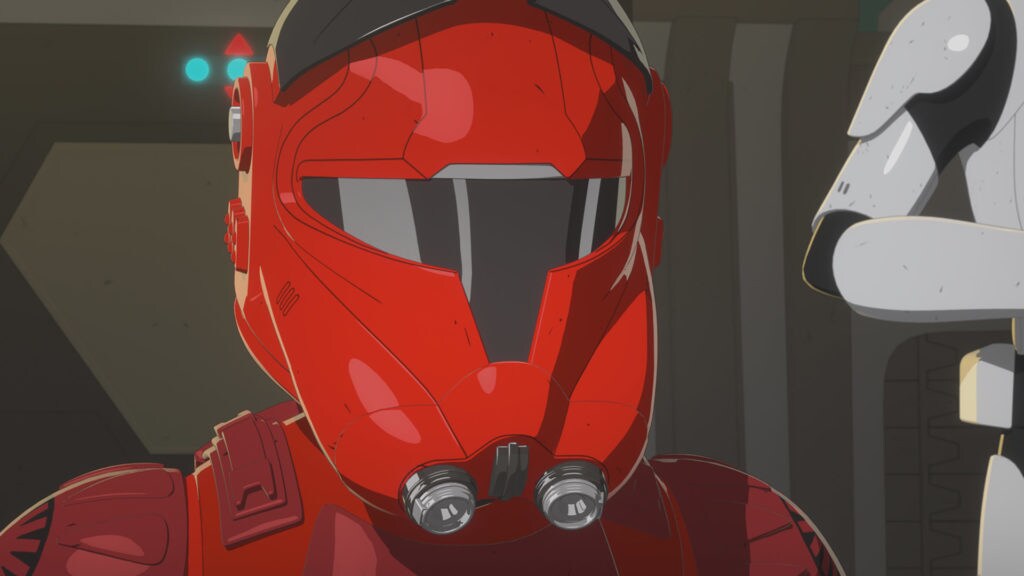 6. Dress for the job you earned.
Vonreg's helmet design is based on the First Order TIE fighter pilot helmets, with a nod to both clone trooper pilot helmets and Imperial Royal Guards. His character was originally described as being the "Red Baron" of the First Order, hence his final color choice, which was inspired by the famed Red Baron of WWI. His armor's unique designs and colors reinforce the idea that his ability as a pilot has earned him a rank higher than any seen before.
7. Space is limited.
According to Art Director Amy Beth Christenson, the entire central section of the Colossus sports lighter colors and cleaner textures than the rest of the base, since this is where the Aces and Doza live. The hallways are polished and bright throughout this area, in marked contrast to the dark and dirty corridors that have been seen previously. The control tower is the brightest and cleanest of all, since this is Doza's own personal office and center of operations. Other parts of the Colossus get progressively dirtier, grungier, and darker, the farther they are from the control tower.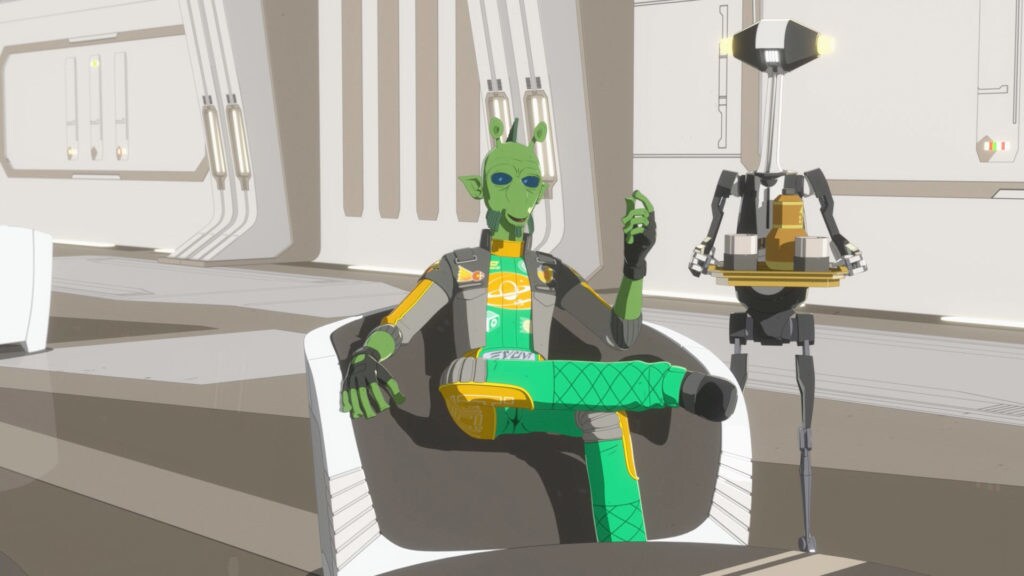 8. Fancy droids.
The server droids that operate in the Tower have a paint scheme that suggest they are wearing tuxedos.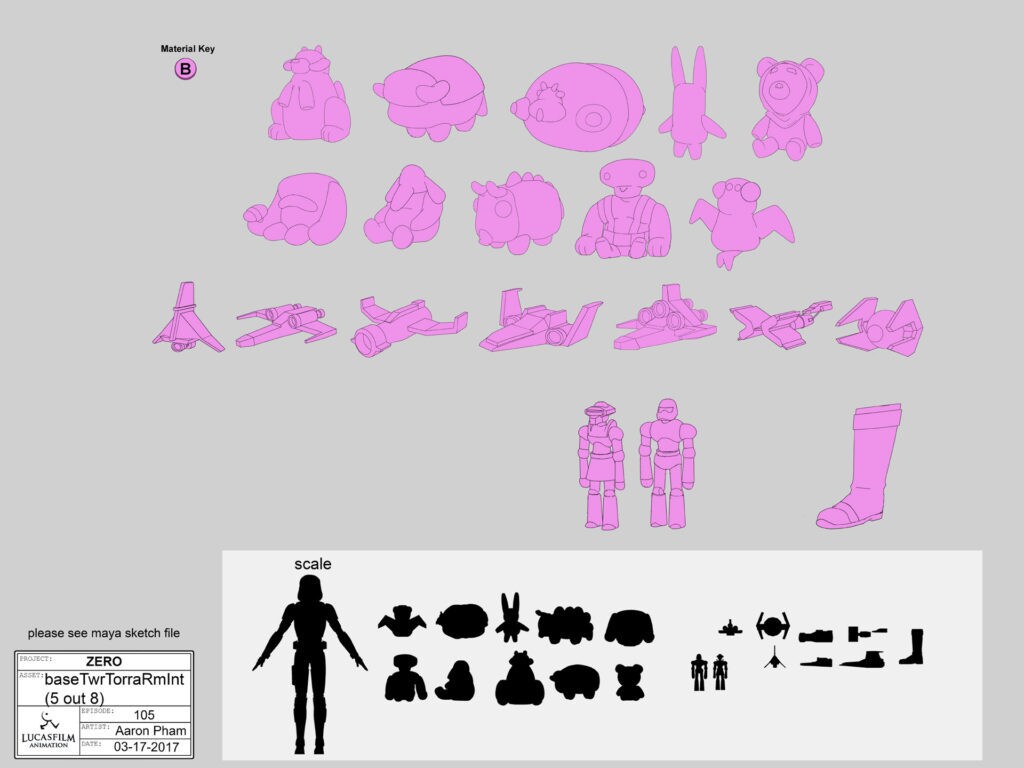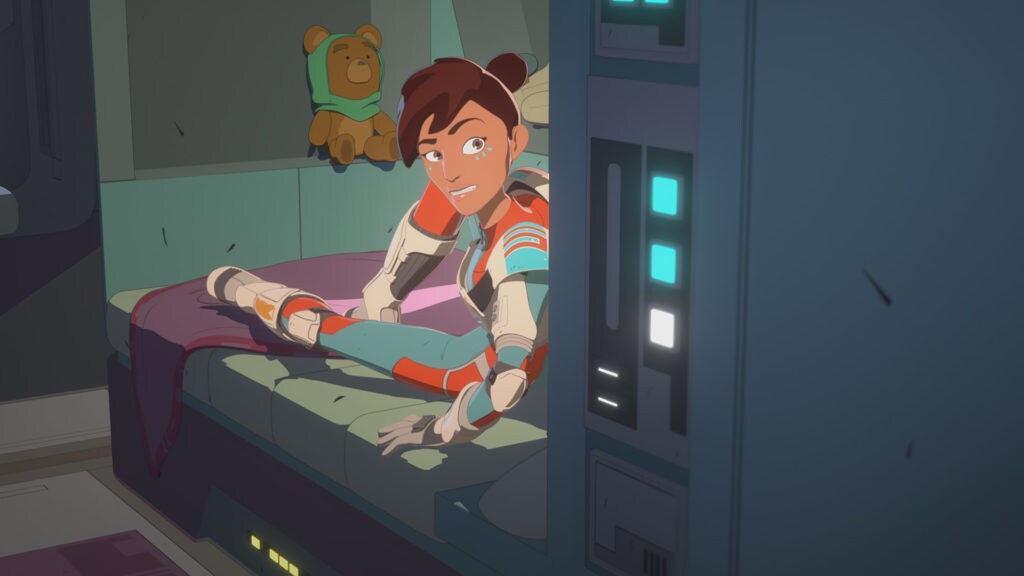 9. Torra's Easter egg extravaganza!
Things to spot in Torra's room include an Ewok doll, an Ortolan doll (with extra limbs), a Kintan strider doll (Kintan striders are seen in dejarik holochess), a bantha doll, a tooka doll, a poster of Sabine Wren art, a Boonta Eve Podrace poster, stormtrooper and Boushh action figures, and a T-16 model. There's more still to come on the side of the room not seen on camera...
In case you missed this week's Bucket's List video, check it out below!
Bucket's List
https://www.starwars.com/video/buckets-list-the-high-tower-star-wars-resistance
Star Wars Resistance airs Sundays at 10 p.m. ET/PT on Disney Channel.
StarWars.com. All Star Wars, all the time.