Ewoks learn an important lesson about not eating stormtroopers, and Hera meets Han!
In a scene clipped right from the end of Return of the Jedi, the Forces of Destiny micro-series transports us back to our favorite forest moon for a star-powered finale to unite beloved characters and iconic ships that have never before shared the screen. A rather displeased Leia sends Han and Chewie off on a mercy mission to obtain spare rations from General (!) Hera to feed the famished Ewok troops. But the price this time isn't as simple as mere credits or a free carbonite vacation -- Han will have to swallow his pride if he wants to make the deal. Will he do it? Or will the stormtroopers become yet another (delicious) sacrifice to the Ewoks' golden god?
Here are five highlights from the short, "An Imperial Feast" -- which you can watch below!
1. Troopers roasting on an open fire.
Imperial helmets make fine drum kits, but the Rebellion has to draw the line somewhere. Han and Chewie watch the Ewoks engage in a time-honored cartoon tradition -- preparing to dine on their enemies, a half-dozen stormtroopers who have been lassoed together with a vine and treated with the usual garnishments. We're one salt-and-pepper dash away from submerging them in a boiling pot of water on an open campfire.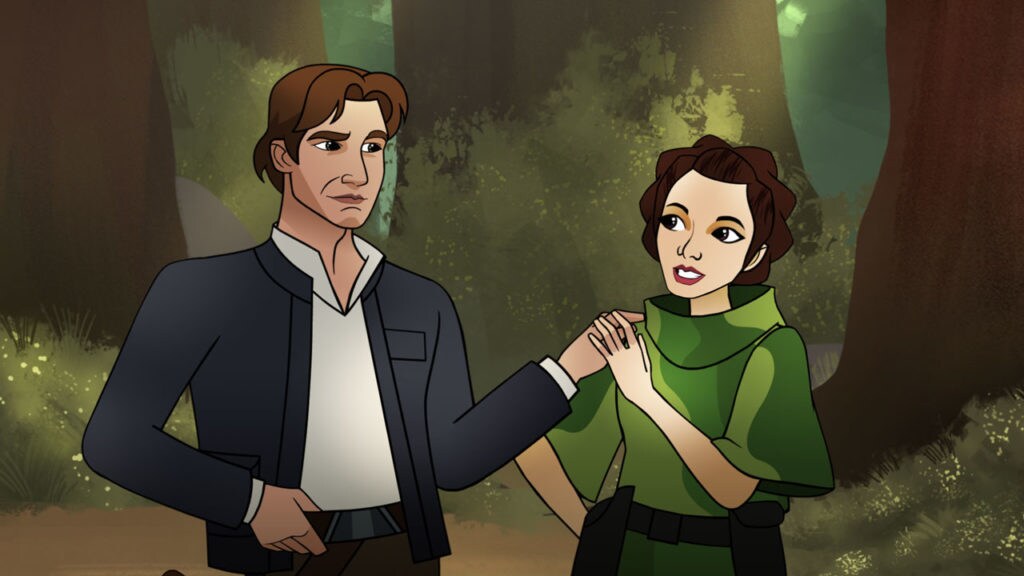 2. He loves her. She knows.
Han and Leia? HERE?! The princess and the smuggler are reunited at last. Props to voice actors Shelby Young and A.J. LoCascio for bringing the bickering pair back in an exchange so perfectly executed that our hearts might just explode.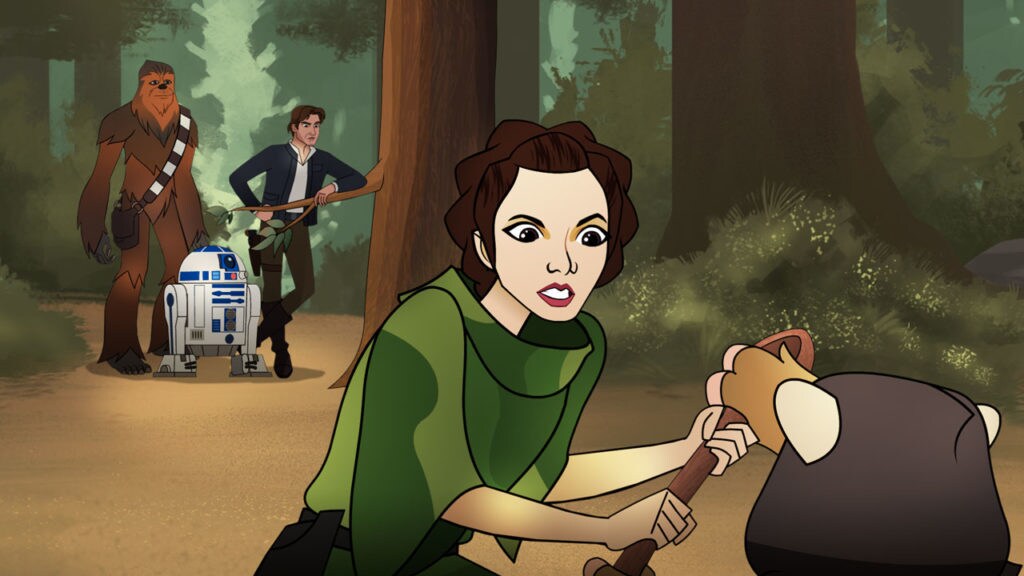 3. Leia's in charge now.
Luckily for Vader's finest, Leia's conscience doesn't allow for anyone, including the enemy, to be treated unkindly. Or served up for dinner. With a jab of her finger and a knowing scowl, General Organa does what she does best -- takes control of the situation by marching into the fray to make things right. The branch snapping back into Han's face as she leaves is just a bonus (and another classic cartoon touch).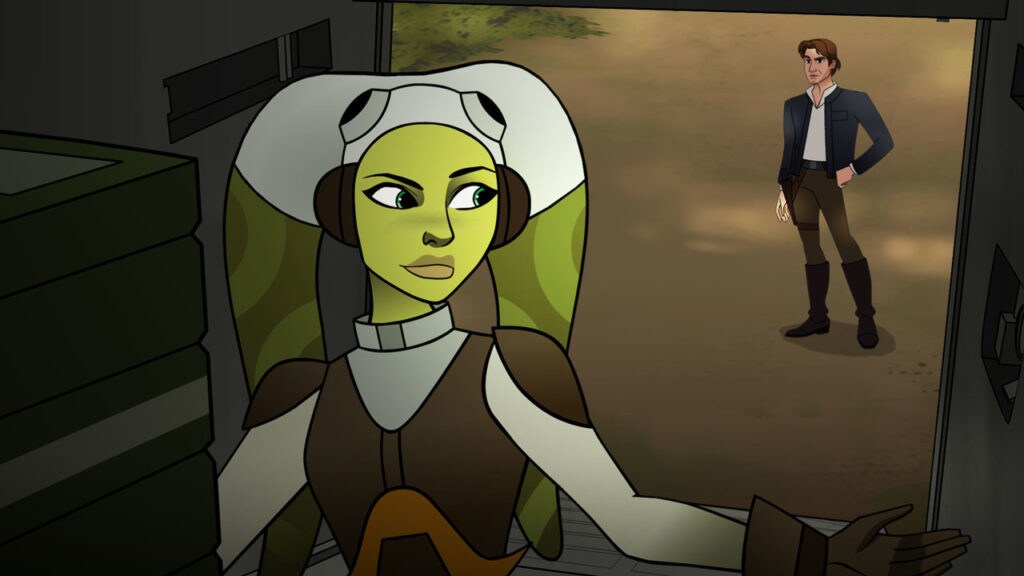 4. Pilots in combat.
Speaking of our favorite generals who always swoop in to save our skins, this may be the first time we're seeing Hera and Han together, but it's clear from their exchange that the two greatest pilots in the Rebel Alliance also have a long-standing off-screen (and we can only assume friendly) rivalry about whose bucket of bolts is the best.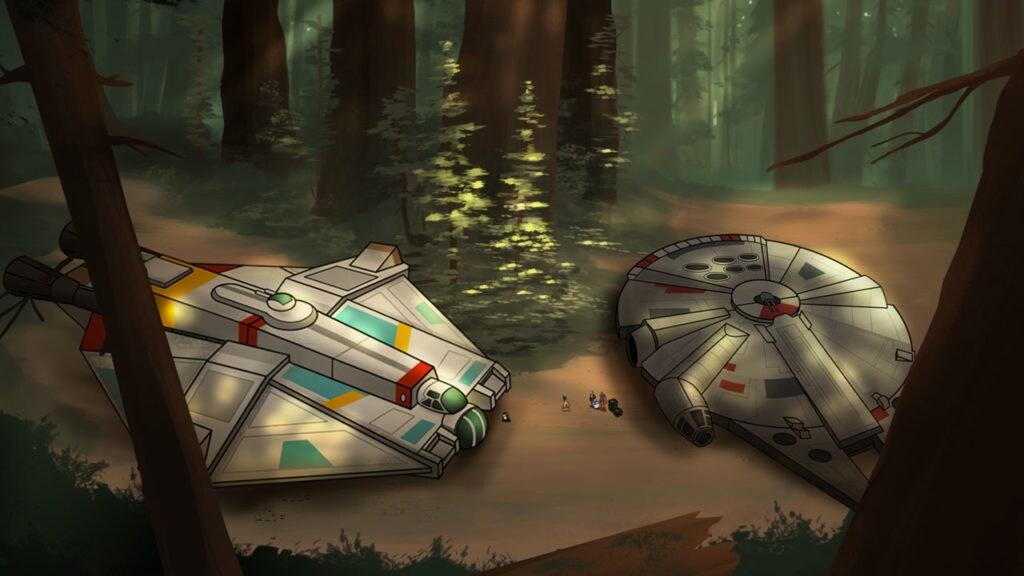 5. Is she a fast ship?
Seeing the two ships docked side by side is a magical moment all its own. Maybe the Ghost is superior...from a certain point of view. But even if she doesn't look like much, the Millennium Falcon has got it where it counts, kid! We could never choose, but we appreciate Leia's vote of appreciation for Han's longtime love nonetheless.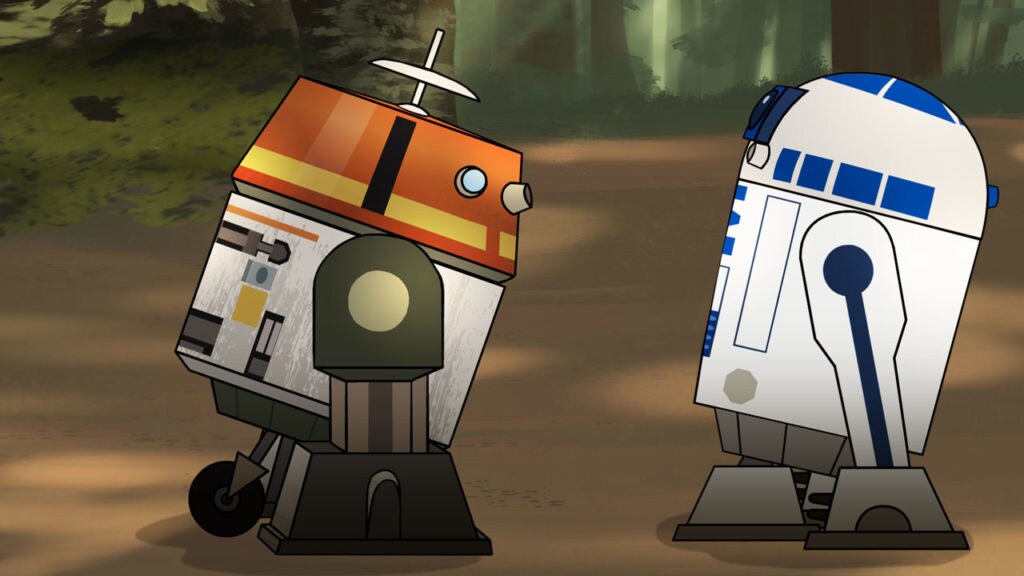 Honorable Mention: In an episode filled with landmark reunions and first-time meetings, we would be remiss if we didn't give a shout out to the moment when Artoo met Chopper once again.
What were your highlights from "An Imperial Feast"? Let us know in the comments below!
Kristin Baver is a writer and all-around sci-fi nerd who always has just one more question in an inexhaustible list of curiosities. Sometimes she blurts out "It's a trap!" even when it's not. Do you know a fan who's most impressive? Hop on Twitter and tell @KristinBaver all about them!