Legendary designer Doug Chiang discusses creating a real-world mission patch fit for a galaxy far, far away. Punch it.
Houston, we have a Star Wars mission patch.
Lucasfilm and the Center for the Advancement of Science in Space (CASIS) unveiled today a new Star Wars-themed mission patch. Designed by Lucasfilm, the patch is filled with an improbable amount of Star Wars iconography, from droids BB-8, K-2SO, and Chopper to a subtle Millennium Falcon frame. Forget space suits -- I want this on every jacket I own.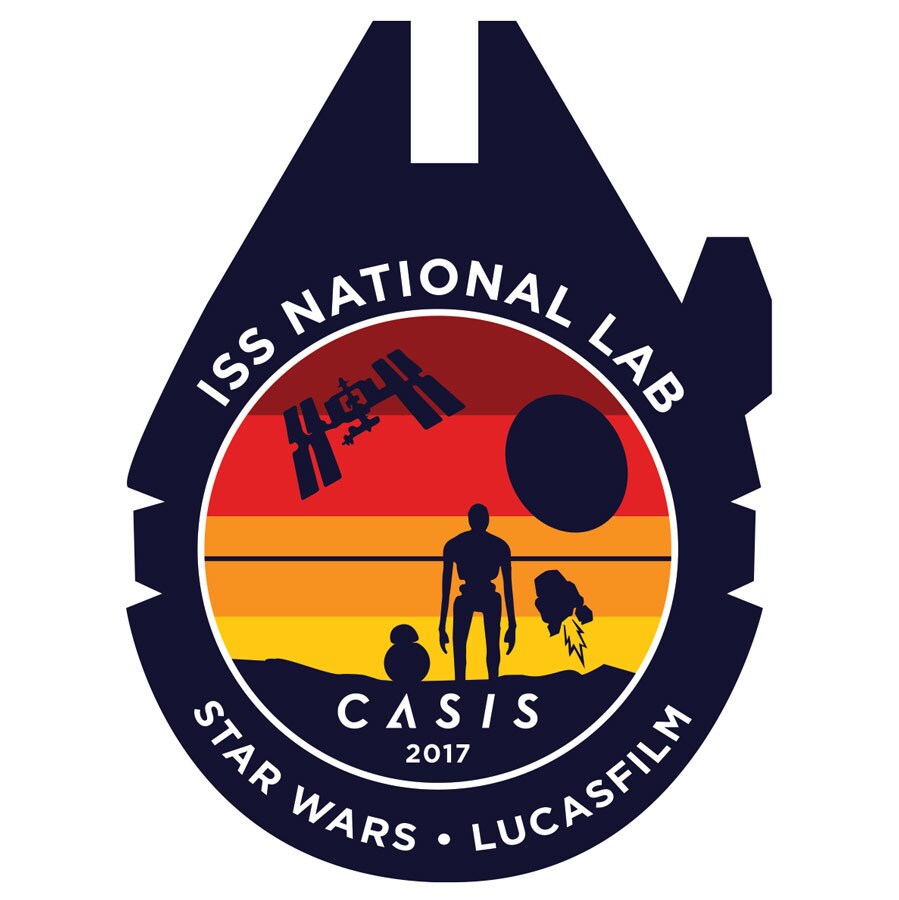 CASIS oversees research on the International Space Station (ISS) US National Laboratory, and this patch will represent all payloads intended for the ISS in 2017. Mission patches are a longstanding and respected tradition, and legendary Star Wars designer Doug Chiang jumped at the chance to help create this Star Wars edition. StarWars.com caught up with Chiang, who served as art director on the project, to get some insight into its deceptively simple design and came away with five behind-the-scenes details. As it turns out, both space travel and space-patch design ain't like dustin' crops.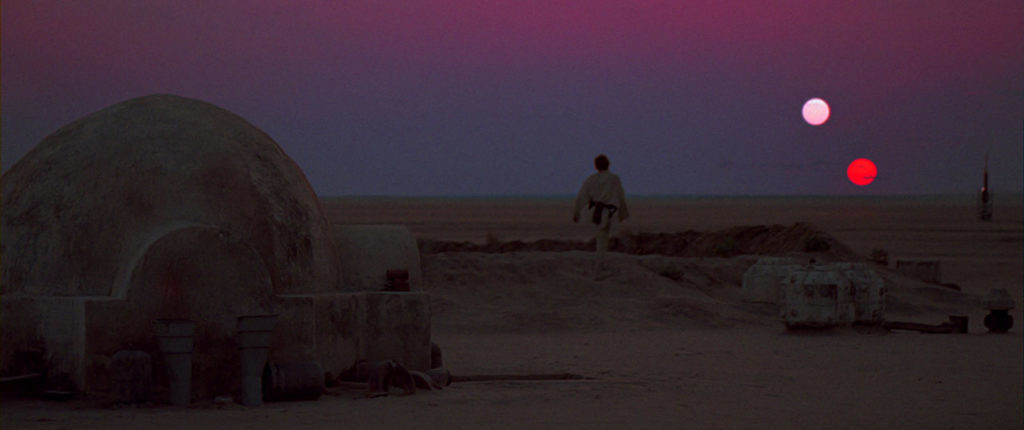 1. There was one moment from Star Wars that kicked the design into hyperdrive. "The challenge for us was to try to find something that can be easily identifiable and had iconic symbols that can relate to the film, and yet still be very meaningful." Chiang says. "Meaning that it captured the essence of what Star Wars is. For me, it was really the Luke Skywalker moment when he was looking out at the twin suns. That was very emotional and spoke to everything that was aspirational about what Star Wars is. It also spoke to my impression of what George [Lucas] wanted to imbue in Star Wars -- that sense of adventure for the next generation."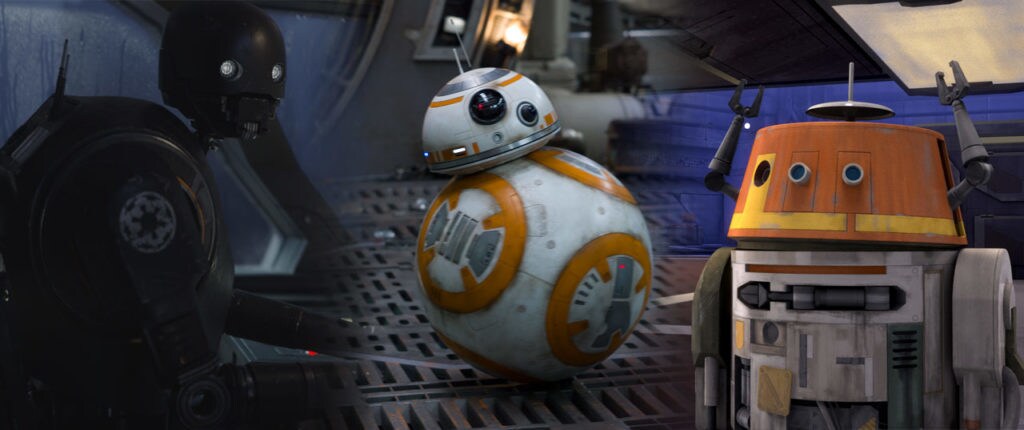 2. The patch is meant to celebrate both Star Wars and scientific themes. Following the visual grounding of the Tatooine sunset, the designers faced a new question: what else? Working with Kelly Smith and Stacey Vogel of Everly Design, Chiang drilled down to images that could represent Star Wars and its links to technology. "Because this is tied to the International Space Station, I thought it was important to keep it more on the technological side. So we thought, 'Okay, characters that are technology -- robots, of course.' We wanted to create the next generation, or infuse it with new characters, like Kaytoo, BB-8, and Chopper, because they are very fresh. They're essentially, the next generation of droids for the Star Wars films. So we thought, 'Okay, maybe we should have those guys be looking off into the sunset, aspiring for adventure.' So that became the motif, and from there we just started to play around with all the visual imagery that was needed." After placing the ISS itself into the sunset, the design was almost fully operational.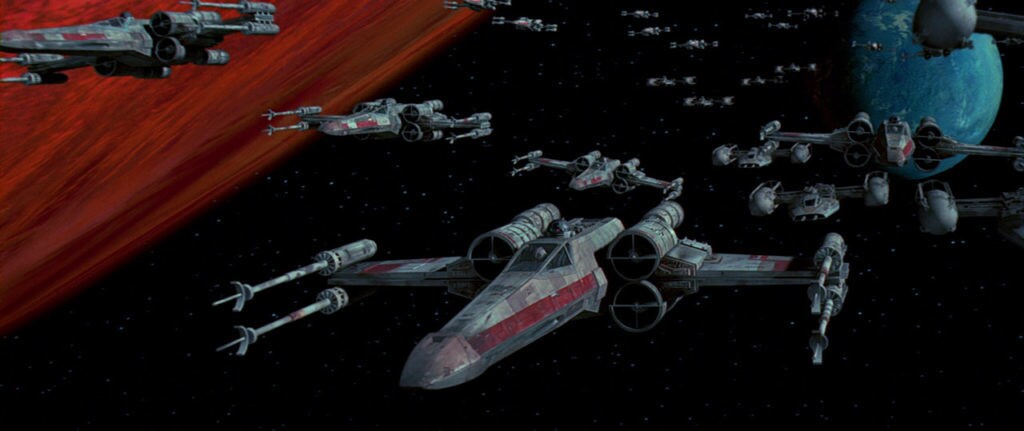 3. It was actually CASIS who suggested one of the patch's greatest elements. While Chiang and co. were showing their ideas to CASIS, the non-profit had the idea of incorporating the fastest hunk of junk in the galaxy. "When we showed it to the CASIS team, they actually came up with the idea of, 'How about we frame it all within the silhouette of the Falcon?'" Chiang says. "I thought that was brilliant, because that was the missing piece. In trying all these different things, we played around with the idea of putting in X-wings, TIE fighters. You know, the iconic ships of Star Wars, and it just got too busy. We ended up removing them, but then we thought, 'Okay, that was a really wonderful suggestion. How about if we made the patch just in the outline of the Falcon?' It would be a very subliminal thing, but it actually unifies everything, so it brings in your classic films, with the new characters, along with science and technology."
4. There's a Madison Avenue sense to this patch, and it's a style Chiang loves. Mission patches need to be relatively simple but convey a lot information. While Chiang can illustrate and paint in a photorealistic style, he especially enjoys graphic design and the mission patch was a chance to flex that creative muscle. "That's why one of the pleasures of working on this was teaming up with Kelly and Stacey, because they are really strong graphic designers," Chiang says. "But in a funny way, when I design for film, I think very graphically as well in the beginning. Because it's always good to distill a design down to its core essence. Its logo. Let's say, when designing a robot, you always try to come up with a silhouette. You try to come up with a logo version of it first, and then the details augment it. It is something that is completely true and, in this case here, it's pure logo, it's pure silhouette, it's pure symbolism."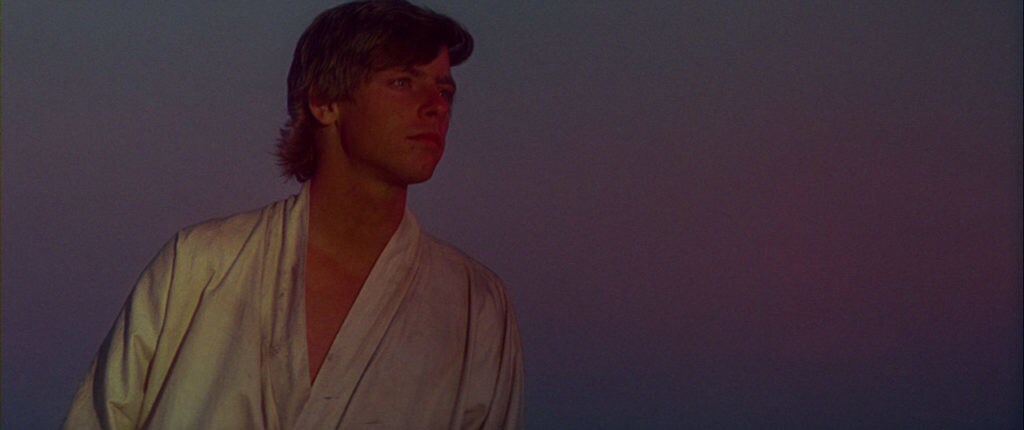 5. Mission success. Incorporating so many elements -- characters, a ship, a planet-destroying battle station, a sunset, terrain, and the ISS itself -- into such a small canvas was a definite challenge. But Chiang is pleased with the result. "Our checklist of what we wanted to put in there is very long. I think it speaks to the success of the design that all those elements got in there, or as much as we could, and yet it still reads really well. In some ways, in designing the logo, we're trying to do it in a narrative way, telling a little bit of a story. So your first read is the outline -- you see the Falcon. Then, as you look closer, you see characters looking out on the sunset. Then you realize, 'Oh, they're being framed inside of the Death Star.' Then, 'Oh, they are actually looking into a sunset.' There's the color gradation of that. And so it kind of layers in that whole bit of storytelling where you are revealing and discovering the imagery as you go. The final bonus for me is, then you connect that to the film, saying, 'Oh, I've seen that moment before. It's A New Hope.'"
To top it all off, this project represented a chance to collaborate with agencies and a field he loves. "That's the thrill," Chiang says. "I'm a huge fan of NASA. I'm a space nut. When Mickey [Capoferri of Lucasfilm] first told me about this opportunity, I said, 'Yes, of course. I want to help out in any way that I can!"
Find out more about the CASIS Star Wars mission patch in this week's episode of The Star Wars Show:

Dan Brooks is Lucasfilm's senior content writer and editor of the StarWars.com blog. He loves 
Star Wars
, ELO, and the New York Rangers, Jets, and Yankees. Follow him on Twitter @dan_brooks where he rants about all these things.