StarWars.com goes inside the new show with executive producer Mickey Capoferri and host Anthony Carboni.
Lightsabers, blasters, hover vehicles, robotic limbs, and more. And let's not forget R2-D2 and C-3PO. Star Wars is sometimes labeled a space fantasy when it comes to genre, but make no mistake: it's equal parts science fiction, filled with never-before-seen technology and innovations that we'd love in our own galaxy.
A new show from Disney Digital Network and Lucasfilm, Science and Star Wars (paid for IBM) will explore just how close we've come to realizing that technology, and take a look at the relationship between real-world science and Star Wars technology.
"Over the last 40 years, many scientists, by their own admission, have been influenced by Star Wars," says Mickey Capoferri, Lucasfilm's senior director of programming and executive producer of Science and Star Wars. "It has made them want to get into these fields and advance technology out of pure curiosity, and probably a feeling that, 'Hey, this can be real. We aren't far off.' That's what we want to investigate in Science and Star Wars. How close are we to Star Wars or Star Wars-esque technology in the real world? What progress has been made and is being made?"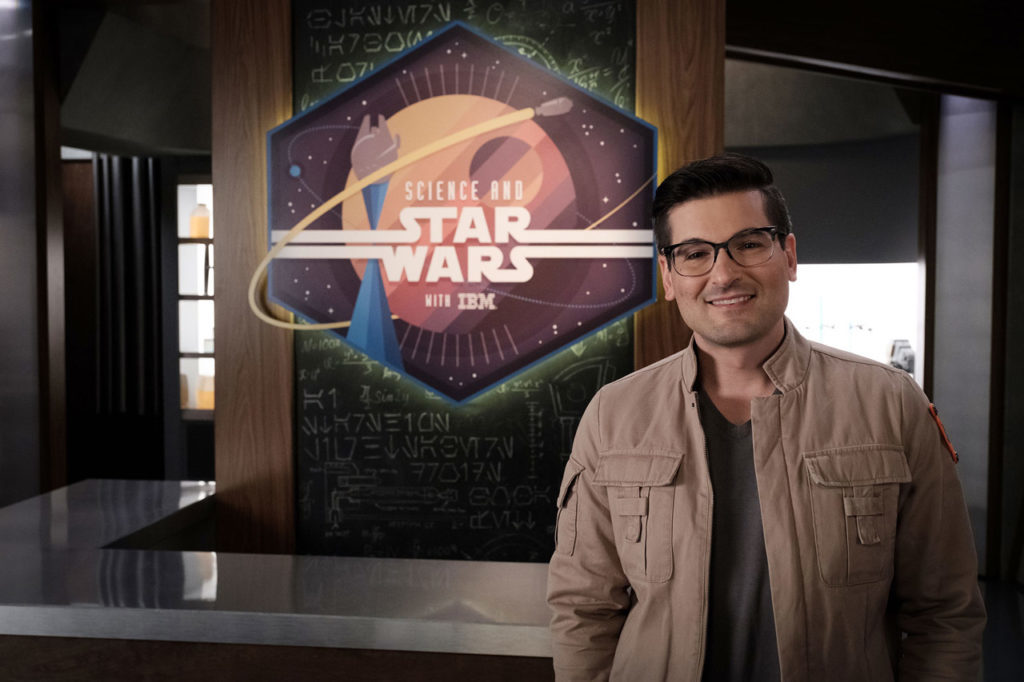 The show was created in partnership with IBM, and kicks off a 10-episode run today on Facebook at Facebook.com/StarWars. A typical episode, if there is one, goes something like this: host Anthony Carboni (who can also be seen weekly on The Star Wars Show) will investigate a specific topic -- say, helper droids like Artoo -- by discussing the technology with IBM researchers and scientists. Now this is where those experiments come in. Carboni will collaborate in the lab with special guests, from former astronauts to Star Wars celebrities; so far, the Star Wars saga's Anthony Daniels (C-3PO), Star Wars Battlefront II's Janina Gavankar (Iden Versio), Star Wars Rebels' Taylor Gray (Ezra Bridger), and prequel-era Boba Fett Daniel Logan have been revealed. Together they'll try to bring that Star Wars tech to life, or at least a close approximation. As viewers will find out, sometimes everything works out as planned, like Luke destroying the Death Star with an impossible shot, and sometimes things go a little more Ewok-on-a-runaway-speeder-bike. Both are equally fun, which is something of a guiding principle for the series.
"There are things that you know we need to do, right?" says Carboni. "Like, we couldn't do Science and Star Wars without doing lightsabers. We couldn't do it without doing speeders. We couldn't do it without doing blasters. So there are certain things that we knew we wanted to do and then there are certain things that we know will make great experiments and great visuals if we can figure out how to do them. It's kind of a mix of those things. What do people want to see, that also is kind of grounded in enough real science where we can go talk to experts who can talk about the amazing things that are going on in that field, and what will also make a good, awesome, fun, and explode-y video for people to watch."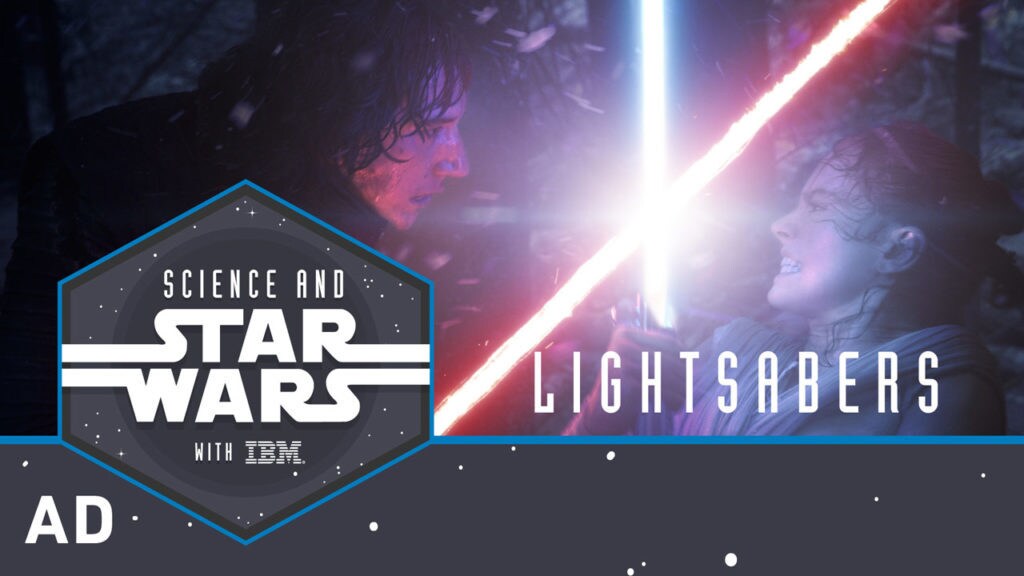 The first episode, debuting today, centers around what is probably Star Wars' most iconic invention: lightsabers. Spoiler alert, we're not quite there yet in terms of building a real one. But Carboni and Taylor Gray make a thermic lance, explaining the science along the way, and their very-Star Wars test is, for lack of better term, pretty awesome.
"We're kicking it off with lightsabers," says Carboni, "because you have to. It was wonderful just to watch Taylor Gray cutting through a steel door with a lightsaber and just freaking out that he can actually do it."
"I think everybody was very excited," Capoferri says of the guests. "It brings out the kid you. We hope this informs and inspires kids to do more STEM and learn something. But it's fun first, while based in education and in genuine information. We want to share the childlike wonderment that connects science and Star Wars. You see that in our guests when they come into the lab and they're like, 'Ooh, that's cool.'"
"That was some of my favorite stuff," Carboni says. "Actually getting these amazing guests on and handing them whatever their character is known for. Being able to hand Taylor a lightsaber and being able to hand Janina Gavankar a blaster -- and watch her have perfect aim and marksmanship, by the way. That was crazy. Being able to introduce Anthony Daniels to an actual A.I. and have Anthony Daniels ask an A.I. questions right in front of you. Those moments like that were really amazing."

Without spoiling anything, Capoferri acknowledges there will be experiments with flamethrowers, exploding balloons, and a faux carbonite freeze -- some of which can be seen in the sneak peek first seen on 
The Star Wars Show
.
The show has been a learning experience for all involved, from the actual science to production. Capoferri has never made a show like this, he admits, and the unpredictable nature of its experiments has, at times, been a hurdle. "We still encounter new challenges on every shoot, constantly pivoting and changing how we are doing things," he says. "But that's like science, too. We are exploring and figuring it out as we go. It's frustrating at times, but I think it's also exciting, because we all have to dig down a little bit and get creative and figure out how we are going to do it." Still, he bears one scientific grudge.
"I can tell you, I hate magnets. I really hate magnets right now. ALMOST every experiment we did with magnets was a disaster."
And for Carboni's part, one experiment didn't go as planned, but still made for a memorable moment. "I wouldn't call it a failure," he says. "I would call it a fun happenstance."
In the end, the show is about fun and encouraging creative, scientific thought. Trying new things and new ways of thinking. Much like in Star Wars itself.
"There is a fascination and a wonder that obviously comes from Star Wars," says Carboni. "Being a direct link between that fantasy that kids have and the idea that they can make their fantasy a reality through science, and make science interesting, I think is really what we wanted to do. I think that's the most important thing we can do."
"I just hope that it inspires people to want to tinker and not let anything be a limit to imagination," Capoferri says. "Inspire imagination, I think is the core of this. I'm not saying a cardboard speeder is going to help our world, but if that inspires somebody to figure out something that does, that's what we are here for. That's the power that we're fortunate to have and we have a responsibility to use in a positive way with Star Wars. I hope people enjoy the show and are inspired to make cool things. What else could you ask for?"
Science and Star Wars releases new episodes every Tuesday at 12 p.m. PT on Facebook.com/StarWars.
Dan Brooks is Lucasfilm's senior content writer and editor of the StarWars.com blog. He loves Star Wars, ELO, and the New York Rangers, Jets, and Yankees. Follow him on Twitter @dan_brooks where he rants about all these things.