The talented illustrator and painter discusses his instant-classic poster with StarWars.com.
The illustrated movie poster is an art form unto itself. Through illustration, texture, and color, it tells us about the film's characters, what they're going through, and what might be in store for moviegoers. Most importantly, an illustrated movie poster is made by an artist. One person expressing his or her love for movies and storytelling, bringing a style or touch to the film's imagery that no one else could. Paul Shipper, the supremely talented artist and painter behind Star Wars Celebration Orlando's key art and many movie posters, is something of a modern master of the form. Last month saw the release of his Star Wars: The Last Jedi Dolby Cinema theatrical poster -- an unimpeachably stunning work, featuring the film's heroes, villains, and vehicles -- and it was met with great enthusiasm by fans. StarWars.com called Shipper to discuss how he did it.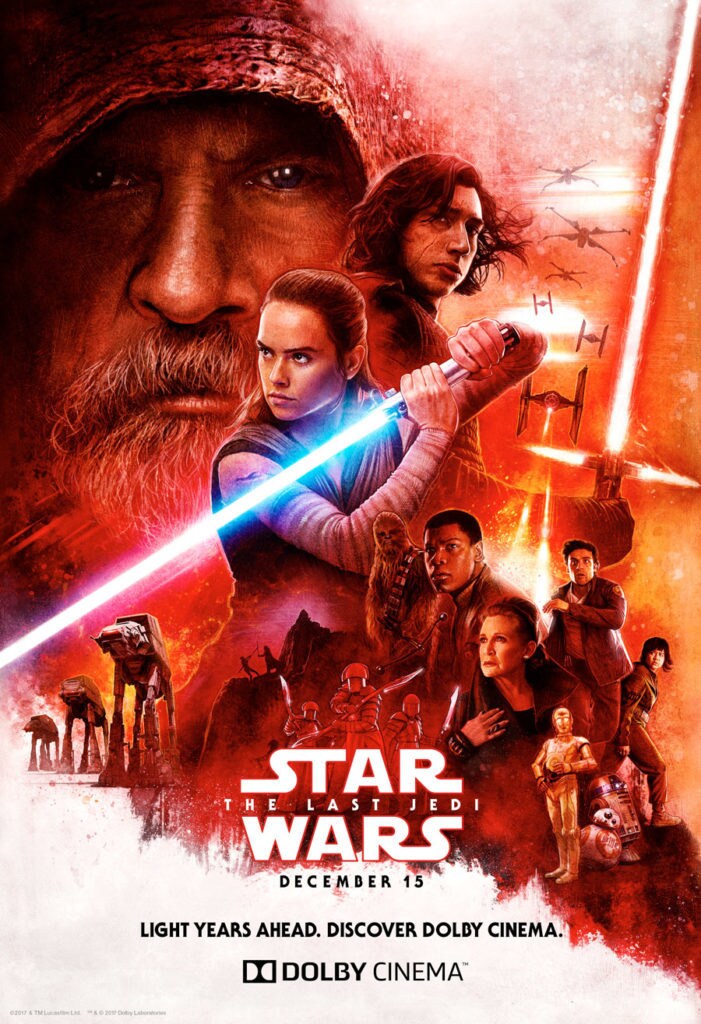 StarWars.com: So, I love the poster.
Paul Shipper: Thank you.
StarWars.com: It's beautiful. One thing that strikes me about it is it's much more like a classic movie poster compared to other Last Jedi posters that we've seen. What was your approach for the image?
Paul Shipper: Well, being committed to what I do, which is illustrated film posters, I try and keep the tradition alive in some way. Disney actually asked me in the beginning of the year to work on a teaser concept for The Last Jedi, which was going to be released at Celebration. I approached that in a similar fashion, which was in the traditional style. And then they didn't go with that design at the time. Then towards the end of this year, as things kept getting closer and closer, they contacted me and asked if I would like to do a theatrical one sheet for The Last Jedi.
StarWars.com: That is cool.
Paul Shipper: It's very cool. It's like a dream come true. I'll be honest. When this happened, I was overjoyed because I feel like I've been given a chance to represent all the illustrators out there, in a way, that love the illustrated film posters. So to be able to do that, and to breathe some heart and life into the film poster for the beloved franchise which we all know and love, is an incredible honor and something that, you know, I'll be forever grateful for the opportunity.
StarWars.com: In terms of what was going to be on the image and how you were going to position everything, were you given any kind of direction on that, or was it up to you to see where all the pieces would fall?
Paul Shipper: I mean, working on a movie of this size, it had been talked about and discussed a lot without me. So there were a lot of things in place already, including a rough concept for this particular poster that they wanted to use, which was an exclusive for a theater. So there was. They had a certain expectation as to what the content was going to be, I'll say. So, for example, all the characters that are in the poster are all the characters that were in the composition, the rough that they sent me. And Disney basically said to me, "Just, you know, do your thing." They wanted an illustrated poster. So, you know, I changed things around a bit and made it my own, and that's what it ended up being. But like, with the size of these and the production of this and the magnitude of a Star Wars film, there's a lot of pre-prepping into these. I came along fairly late in the day. Even though it was a few months ago, it's still quite late for these kind of things to be happening, and [I] just did my best.
StarWars.com: How long did it take you, start to finish?
Paul Shipper: We probably had about a month and a half of [development]. I went through working out the layout and making sure that was all right. And then, you know, you're constantly back and forth with getting approvals until it's finally settled on. "Yeah, this is looking great, go ahead and paint the thing." So, yeah, it was a bit to and fro, and then I probably had about a week to actually paint it. And then there were a few little minor adjustments along the way. It was really a straightforward process, to be honest. They seemed really happy with everything I did. It was good.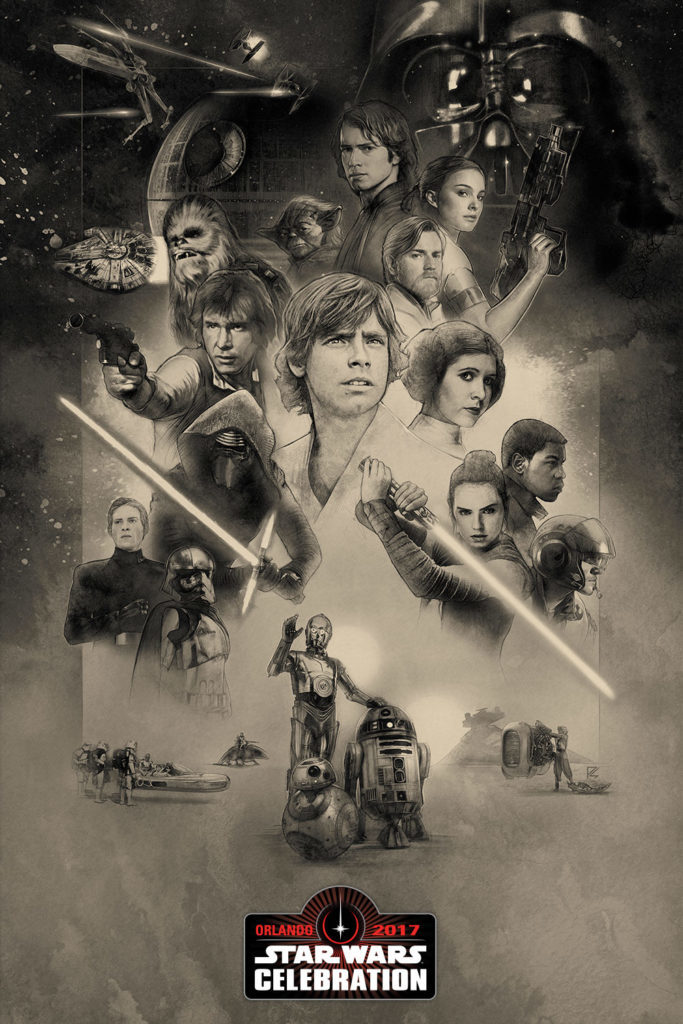 StarWars.com: I know you've worked digitally in the past. Was this a digital painting?
Paul Shipper: Yeah, this is digital, as well. But it's got a hand-painted gesso, so you see brush strokes on it. It's very much in the traditional style in a way that I used to work in, which is reminiscent of the way Drew Struzan worked, which is essentially to start with a piece of art board. And you paint the surface with gesso, which is like a white kind of primer base that then you work on top of that. Now, when Drew works, he likes to put a lot of texture into that base, so even though it's digital, there is that element which is real, which is in there. And then I have like a 27-inch Cintiq. It's a touch-sensitive display. It's an incredible piece of kit. It's the closest thing to drawing on paper as you'll get, really, for a digital artist. The brushes that I use are ones that Kyle Webster designed, which, actually, Adobe now owns. They bought them from him. So they're available to everybody, in fact. The pencils that he designed are my favorite pencils to use, and the airbrushes and all that kind of stuff.
So there's all the tools at your disposal in the digital realm, and the nice thing is that you're able to undo, occasionally, when you do make a little mistake. But, yeah, it's got the traditional aspects. Everything in there is drawn with the Wacom tablet, so it's had the touch of a hand through the whole thing, and the heart of an artist. Looking at the comments online, which has been wonderful, I think it's been touching people. It's really heartwarming for me to see those responses from it, kind of knowing that we all wanted to see something like this. To be the one to actually bring it to fruition is a dream, and I'm very proud to have been asked to do it. So it's really nice.
StarWars.com: That's great. I mean, I think that when you see it, you can see that it was made by someone who knows the history of movie poster art and Star Wars poster art, and also is just a fan. You can see the emotion in the faces and the layout. It's a powerful piece.
Paul Shipper: Thank you, Dan. Thank you very much.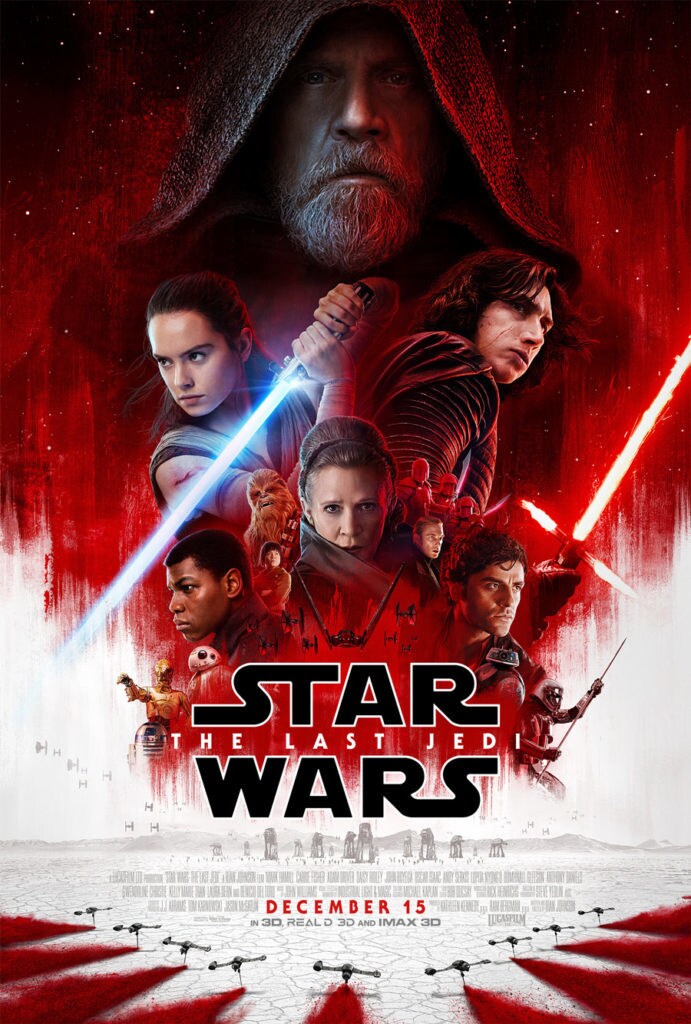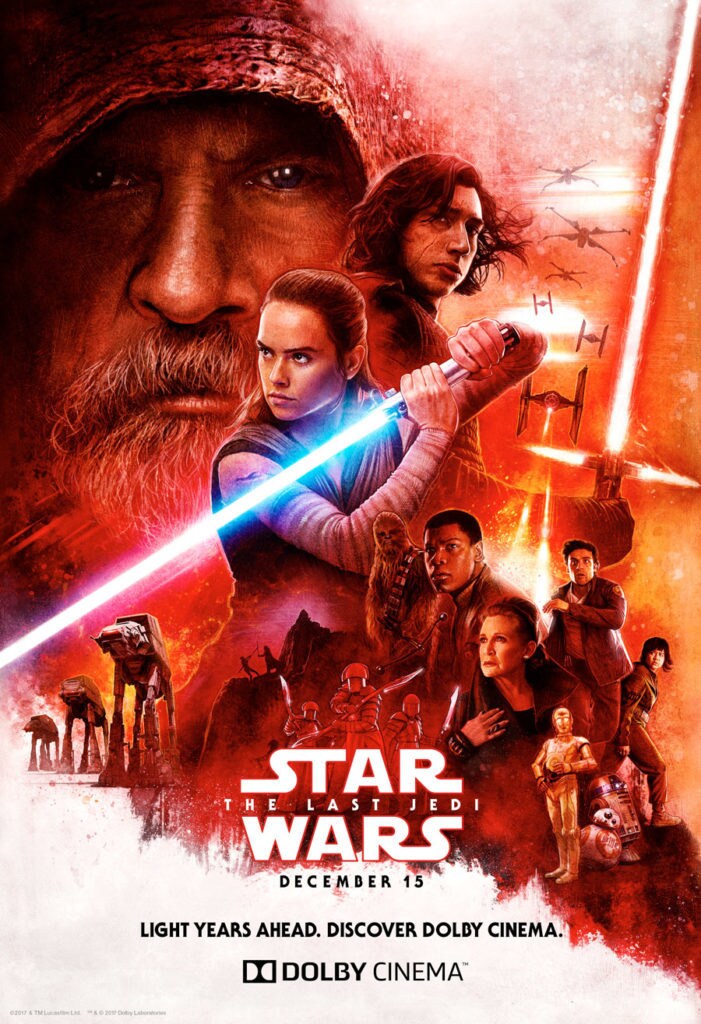 StarWars.com: I wanted to talk about the actual painting itself and the colors, because it kind of does continue the white-and-red motif of the Last Jedi posters we've seen. But also, there are more earthy tones here, and it gets a little darker in places. In terms of the coloring, what were you going for?
Paul Shipper: Well, the original concept was very much white, black, and red, really, and I wanted to give it more warmth. And when you do that, you kind of give it a lot more feeling. It's not as cold, it's not as calculated, and there's a multitude of colors in there, splattered around, which kind of give a sense of feeling that may not be initially seen by people, but it's there. The red theme was something I needed to keep.
The images that went online, initially, one of them is very saturated and one of them is not so saturated. I don't know if anyone picked up on that or not. I don't know why that happened, but the one that's not so saturated is really truer to the actual finished piece. But, yeah, I wanted it to have a warmth to it. Because a lot of the old posters that Drew did had that warmth, and they had this certain magic appeal about them. They gave me much free rein to play with it and to infuse it with what they nicely [call] "my magic."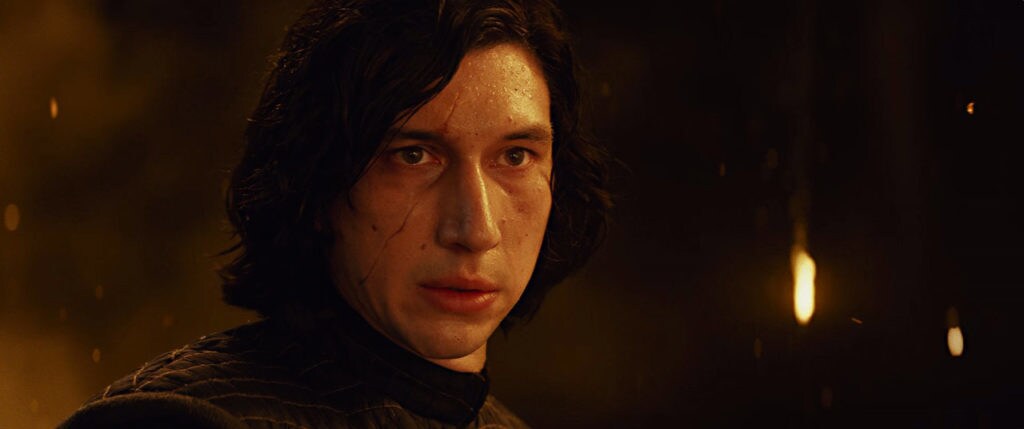 StarWars.com: When you look at the characters, I feel like you can see things that you haven't seen in some of the promo images that have been released. Kylo Ren's expression looks almost troubled. I don't think we've seen him like that. So there are these touches that I like that add new dimensions.
Paul Shipper: Oh, dear, I'm glad you picked up on that, because the facial expressions and [other] stuff, I tweaked very so slightly by drawing them. And so when you are drawing them, you kind of infuse it with maybe, sometimes, [an emotion] -- knowing just from experience and from a love of the whole saga, and just knowing the characters from the last film, and almost feeling where they are, and hopefully where they're going to be going in this next movie. And maybe that's part of it. Like in Kylo Ren's eye. In one of his eyes you can sort of see it's almost like a light reflecting in the back of his retina, in a way, which wasn't on the original reference material. But it's something I kind of just put in because it made it look cooler, and made it feel a bit different. Little things like that. It's really nice that you say those things.
StarWars.com: Any final thoughts on making a Star Wars theatrical movie poster?
Paul Shipper: I first decided I wanted to be an illustrator from collecting Drew's posters back when I was a young 13-year-old in my bedroom. All I can really say is, don't give up on your dreams because they can come true.
Star Wars: The Last Jedi arrives December 15, 2017.
Dan Brooks is Lucasfilm's senior content strategist of online, the editor of StarWars.com, and a writer. He loves Star Wars, ELO, and the New York Rangers, Jets, and Yankees. Follow him on Twitter @dan_brooks where he rants about all these things.