Hondo Ohnaka

A tough, pragmatic Weequay, Hondo Ohnaka leads a notorious Outer Rim pirate gang from his headquarters on Florrum. A former colleague of Jango Fett and a former lover of Aurra Sing, Ohnaka won fame during the Clone Wars when he kidnapped Count Dooku, Obi-Wan Kenobi, and Anakin Skywalker and tried to ransom all three for a big payout. Since that incident, he maintained a peculiar relationship with the Republic -- respecting the Jedi Knights, but not being above robbing them blind or betraying them. He was, after all, a pirate through-and-through.
VIDEOS //
After crash landing his ship on Florrum, Count Dooku becomes Hondo's prisoner. While Dooku assures the Weequay pirate that the Separatists will pay any ransom he demands, Hondo surmises the Republic would be willing to pay more.
Obi-Wan and Anakin arrive on Florrum to confirm that Count Dooku is indeed the prisoner of Hondo Ohnaka.

When Hondo finds himself hanging from a precipice at the mercy of Anakin Skywalker, he correctly calculates the Jedi will do the honorable thing and save him -- which of course gives Hondo the edge on his adversary.

Aurra Sing and Boba Fett arrive at Hondo's pirate outpost on Florrum hoping to fortify their defense against pursuing Jedi.
During the Clone Wars, the Weequay pirate Hondo Ohnaka led a gang of brigands on the Outer Rim world Florrum, making a dishonest living raiding starships and holding travelers for ransom. Hondo dreamed of the big score that would make him an underworld kingpin, and thought he'd achieved it when he captured the Sith Lord Count Dooku.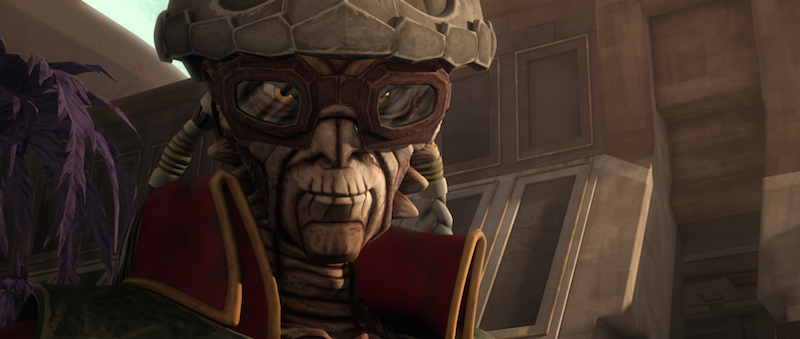 Dooku escaped Hondo's clutches, as did Anakin Skywalker and Obi-Wan Kenobi. The Jedi would deal with Hondo several more times – and they learned that while the pirate boss did possess a sense of honor, he never took sides in his relentless pursuit of profit. Sometimes Hondo was a valuable ally; other times he was a determined adversary.
Hondo's ambitions made him powerful enemies. General Grievous sought to avenge Dooku's capture by storming the Ohnaka gang's base, and Darth Maul began his rise to power by trying to wrest control of Hondo's brigands.