Imagineer Ann Morrow Johnson pulls back the curtain on making a dream Star Wars vacation come to life.
For Ann Morrow Johnson, an architect and artist currently making the impossible real at Disney Parks, there's a lot to love about Star Wars. "As an Imagineer, I'm definitely the type of person who enjoys walking around the Parks, and I love that the trash cans are themed to the same environment that you see at the castles or any of the lands. Star Wars is that on steroids," she tells StarWars.com. "I think if you look at any of the scenes of the movies -- everything from an ice-cream maker to the species in the background -- I just think there's such depth and grit of specificity in worldbuilding. It's an incredible universe to explore."

Johnson is exploring that universe, or galaxy far, far away, in a manner never previously attempted as executive producer and creative director of Star Wars: Galactic Starcruiser, the immersive vacation experience opening 2022 at Walt Disney World Resort in Florida. Star Wars: Galactic Starcruiser will offer fans a two-night itinerary, in which guests find themselves traveling aboard the Halycon starship and living out their own Star Wars story. If that sounds like something only Star Wars fans could dream up, that's because it was.
"This project is a really fun one because it really did generate out of classic, blue-sky, Imagineers sitting around talking about what would be fun. What are the types of experiences that we just think our guests, or frankly, we, want to experience in the world? And so this absolutely came out of a conversation about, 'Don't you just want to sleep on a starcruiser? Like, how cool would it be if you got to live out a Star Wars story over multiple days?'"
A journey on the Halcyon will go something like this. You'll arrive at the Galactic Starcruiser Terminal at Walt Disney World and check in for a two-night experience before entering a Launch Pod for transport to the stars. (You'll even get to watch from windows as the world beneath gets smaller and smaller.) Following the jump to hyperspace, you'll soon dock with the Halcyon, board, and the story starts. But to paraphrase a famous Star Wars quote, that's only where the fun begins.
"Over your two-day, two-night vacation, you will get to not just wield a lightsaber and learn how to operate the controls at the front of the ship. It's possible, because it's Star Wars, that things might go awry and over the course of those two days, two nights, you'll be called into action to actually get wrapped up in that overall galactic conflict. And depending on which path you choose -- how you choose to play, which characters you choose to interact with, where you choose to be at any given time -- will determine the story that you live out and get to see unfold." To wit, Johnson says that guests can align with the Resistance (the story is set between Star Wars: The Last Jedi and Star Wars: The Rise of Skywalker, same as Star Wars: Galaxy's Edge) or betray them. As for how that impacts one's vacation, we'll have to wait to find out.
One driving element for Johnson and the entire team bringing Star Wars: Galactic Starcruiser to life is immersion. It's their goal to make fans feel like they're really on a starship in Star Wars. "You are truly on board a ship," she says. "When you look out the window, you will see a galaxy far, far away. When you're at the front of the ship, you'll see us moving forward. If you're on the starboard side, you'll see it moving to the side. On the port side, same deal. And just like any other cruise, we have an itinerary. So we have a set list of planets that we will visit. It's possible that we might take a detour or two if we find ourselves in unexpected circumstances. But you will be able to see those planets, other ships, maybe the occasional asteroid field, out the window as we cruise from place to place. On board we have a whole host of characters who are joining us on our adventure, and that's everything from the crew of the ship to a few folks that you might recognize from the movies, and they'll need our help over the course of our adventure." Who might those movie characters be? "I can tell you that it's possible we might run into Rey, Chewbacca, and if we play our cards wrong, Kylo Ren."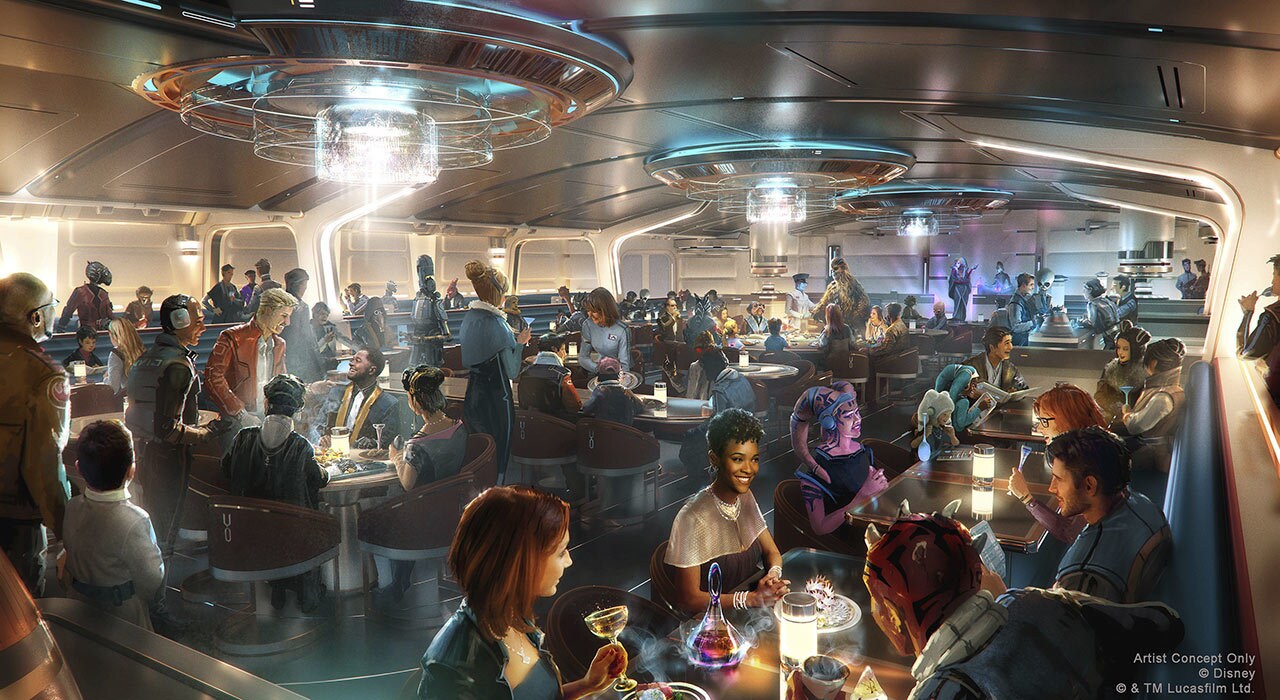 The immersion factor does not stop there. The makers of Star Wars: Galactic Starcruiser want fans to be active participants. "We are encouraging our guests to be in full cosplay," she says. "So if you want to have Twi'lek lekku and a full robe, we are all for it aboard the Halcyon. And then we will treat you like the well-heeled galactic traveler that you are." And you will be traveling in style.
If you're wondering just what kind of ship the Halcyon is, think more Lando's elegant Millennium Falcon, and less Han's beat-up hand-me-down. "This is the Coruscant, Canto Bight, Dryden's yacht, Orient Express of space," Johnson says. "The food, the dining, the overall experience is an upscale, refined version of Star Wars that guests haven't gotten a chance to step into yet." While it all sounds like a dream vacation for Star Wars aficionados, Johnson also points out that Star Wars: Galactic Starcruiser will be just as enjoyable for those who can't tell their Wookiees from their Ewoks.
"I deeply believe that this has to be fun for people who love Star Wars and the people who love them," she says. "So if you have never heard of Chewbacca before, or you've never heard of a lightsaber before, our goal is that you still have a great time. If you want to sit back, drink a space cocktail, and watch it all happen, that's awesome. Have a fantastic space cruise."
The opening of Star Wars: Galactic Starcruiser will be exciting for the Star Wars faithful and Disney Parks enthusiasts, but also the result of years of work for Johnson. As someone who fell in love with the worldbuilding of Star Wars, she's most looking forward to seeing fans experience the details and hidden surprises that await. "There are so many things to love, from the characters that we're creating to the music we're working on to the tastings with the chefs," she says. "But I gotta say, there's this one design detail in the Crown of Corellia dining room where our guests will get to see a repulsor column. The Halcyon was built long ago, right when repulsors were first en vogue, and in a sort of starcruiser-modernism way, the Halcyon celebrates the technology by placing its repulsor columns in the center of the Crown of Corellia dining room for everyone to see. As a design fan and Star Wars nerd, those two things coming together has been extremely fun to see coming to life aboard the ship."
Star Wars: Galactic Starcruiser, the immersive vacation experience, opens in 2022 at Walt Disney World Resort in Florida.