Take a closer look at how the idea for the innovative new immersive experience was brought to life in our world and the galaxy far, far away.
The instant you step off the launchpod and into the grand Atrium of the Halcyon starcruiser, you know your reality has shifted. The grandeur of the space, an opulently appointed double-decker room with circular chandeliers and rounded red-velvet benches, hints at the in-world history of the ship. And while the room is central to the story that unfolds for passengers in the 45-hour immersive entertainment experience, the Atrium itself is but the conduit to all that awaits. Behind sliding doors and in the corners of winding hallways, passengers soon find themselves in the presence of familiar aliens, armored stormtroopers, and other key elements that make it clear that you're no longer just watching Star Wars happen on screen -- you've stepped inside the story.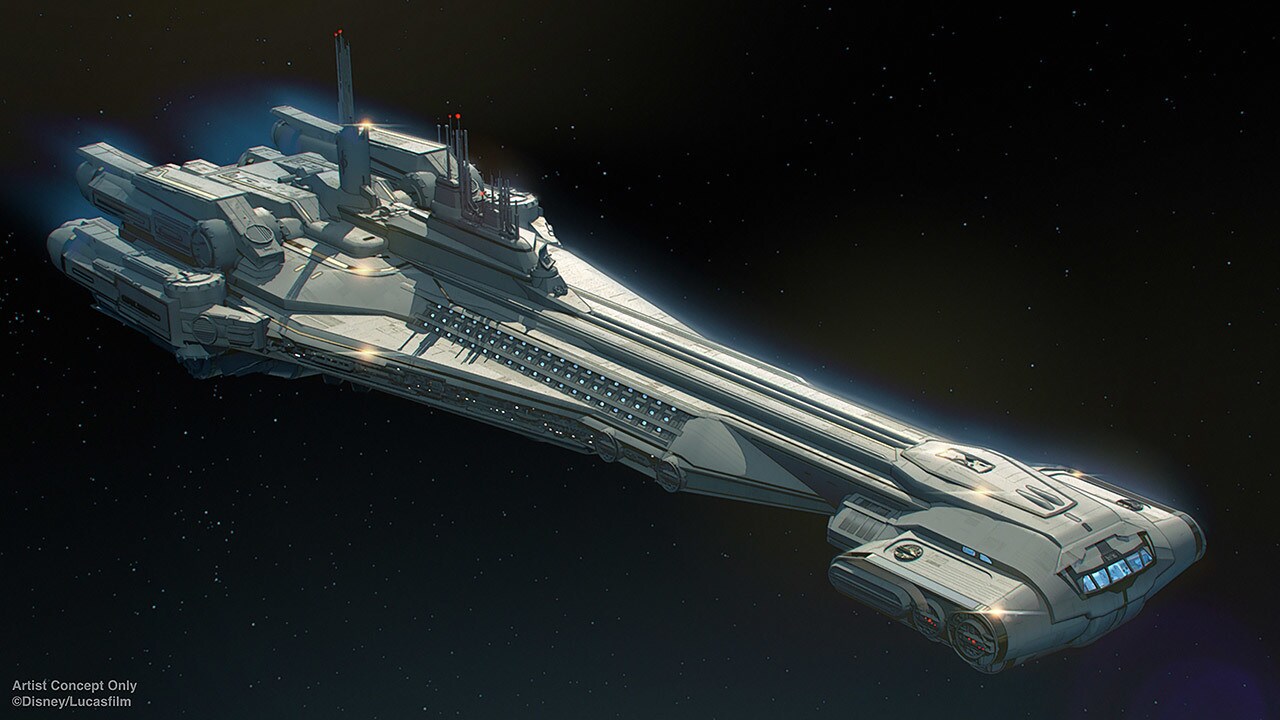 First conceived by Walt Disney Imagineering in our galaxy as Star Wars: Galaxy's Edge was being created for Walt Disney World and Disneyland resorts, Star Wars: Galactic Starcruiser's  innovative nature dates back about a decade to the seed of an idea that would merge elements of existing entertainment and recreational experiences into one all-new innovation. It's a formula for creative storytelling as old as Star Wars itself. Just as George Lucas first remixed and reimagined his favorite elements from sci-fi serials and Hollywood westerns, Star Wars: Galactic Starcruiser, now open at Walt Disney World Resort, borrows elements of live-action roleplaying games, live theater, and a real-life cruise to create something wholly unique and new.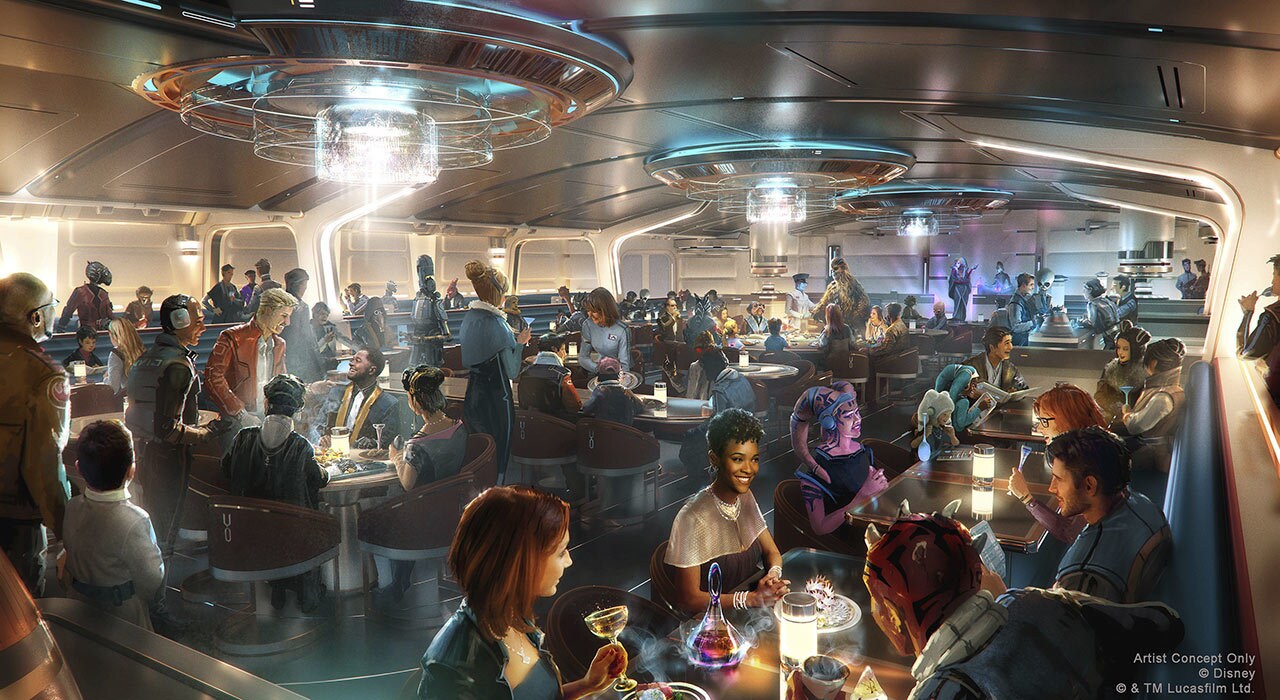 Walt Disney Imagineering executive producer and creative director Ann Morrow Johnson remembers the eureka moment when the idea first snapped into focus. Several Imagineers had been passionately brainstorming about a highly-immersive hotel experience with story elements playing out before patrons, when someone said, "Well, aren't you really talking about a cruise-style model?" Johnson recalls. The construct allows passengers to board and disembark as a group, creating a community onboard during their two-night stay and controlling some of the chaos with clear starting and ending points. "This is not just a Star Wars story," she adds. "It's about the mode of operation facilitating the structure of a story that can play out in a way that passengers can really participate and understand. I know how to go on vacation on a cruise. I know what that model feels like. And to use that as the sort of structure to hang the rest of the pieces on was the moment where it felt like we could really put this together."
Scott Trowbridge, portfolio creative executive from Walt Disney Imagineering, says his team had been considering something of this caliber since before Lucasfilm was acquired by The Walt Disney Company. "This is an idea that we started thinking about many, many, many years ago," Trowbridge notes, tracing its roots back to a strategic think tank he was leading at the time. "We were thinking about new ways to do immersive experiences and pretty quickly we settled on this idea of 'wouldn't it be cool if we could create some kind of a long-duration Star Wars experience?' When Lucasfilm joined the Disney company, it became 'Oh, well, now we should kind of get serious about this and really think about how we could bring Star Wars to life in a deeper, more immersive way."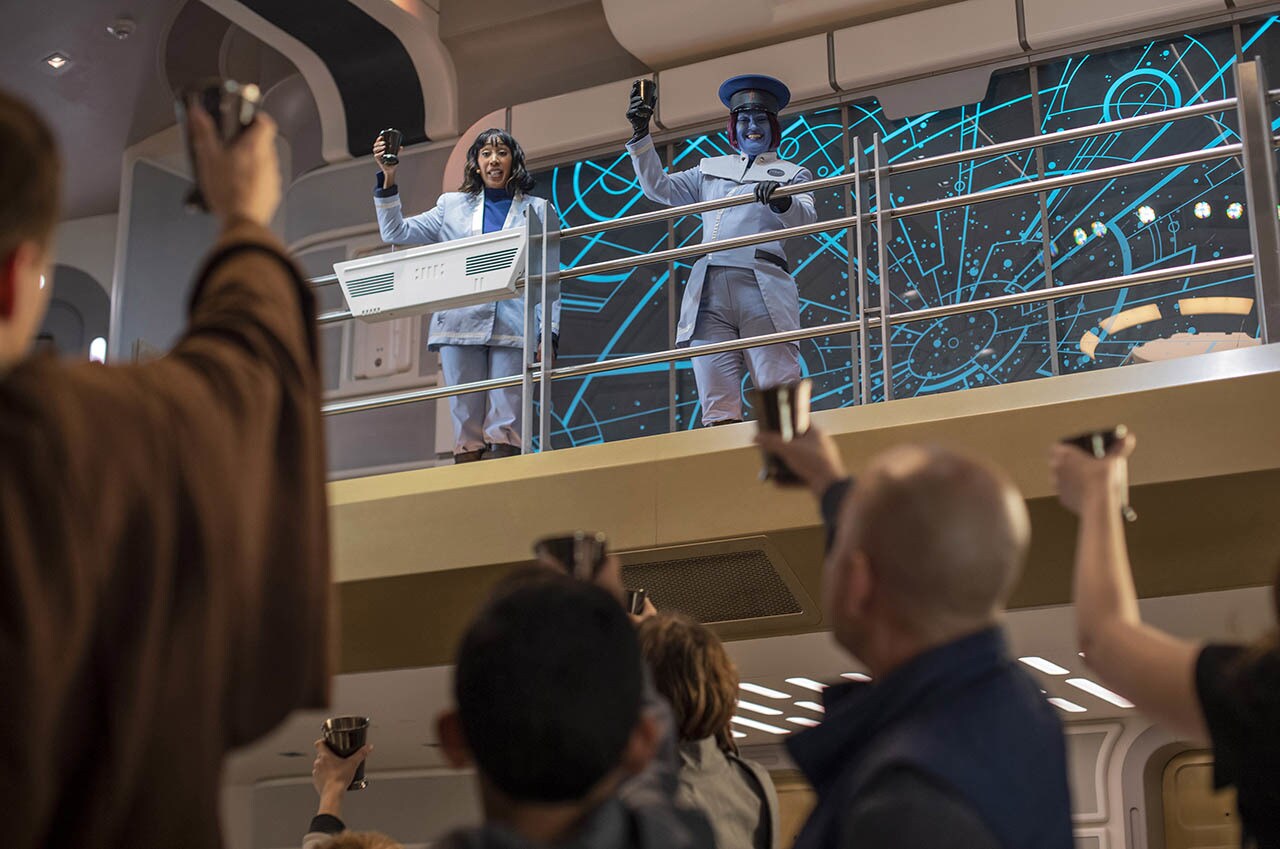 Playful storytelling
The playful nature of the experience comes alive through a multitude of interactive experiences. With guidance from the crew and a handy datapad, passengers meet Captain Riyola Keevan and her crew, purveyors of a humble Chandrilan vacation cruise ship. But before Keevan can close out her welcome message at muster, the First Order arrives. As it turns out, everywhere the Halcyon has docked, a pocket of Resistance has bloomed. Suddenly, passengers are thrust into the center of the action, an integral part of the story unfolding all around the storied vessel. "Choices matter," Trowbridge notes. You alone must decide if you are loyal to the First Order, a kindred spirit of the Resistance operatives, or something in between -- from a member of the underworld to the esteemed Force-wielding Jedi.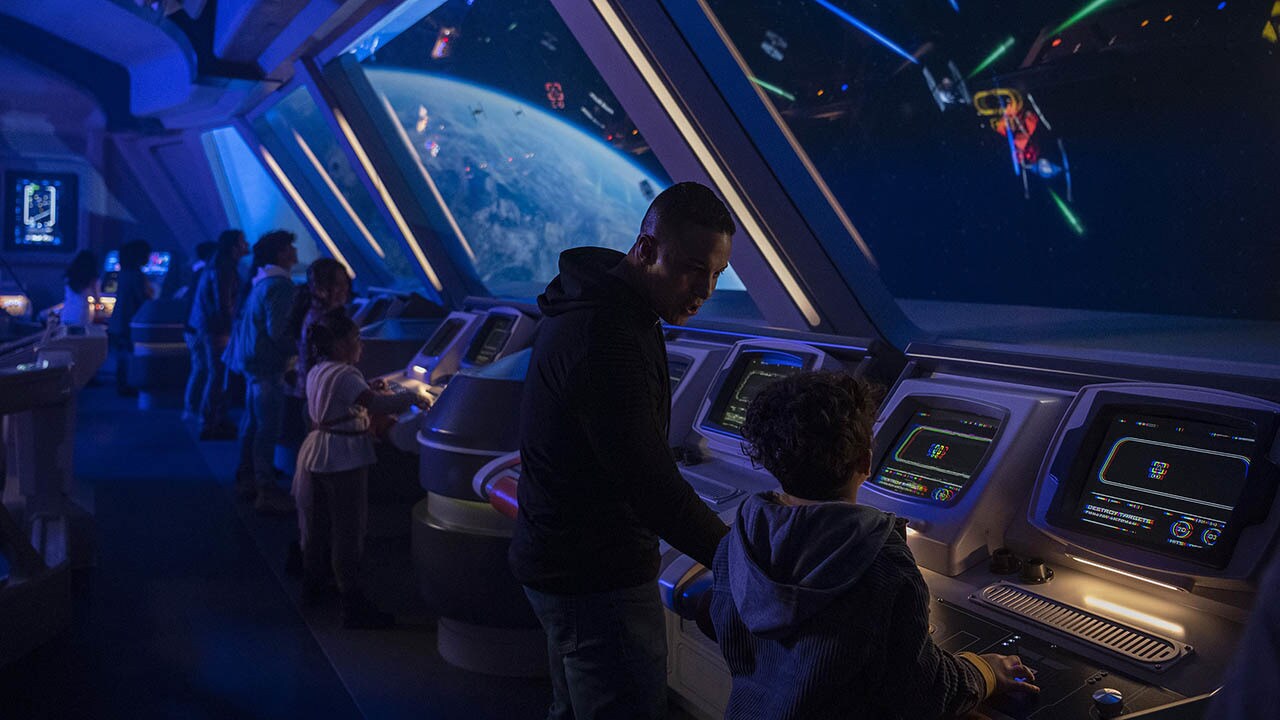 "The biggest challenge of getting this experience from the very beginning to opening day is that there's nothing really like it in the world," says Johnson. "Everyone was coming from a different starting point of what they thought it was. It's not really a cruise. It's not really a hotel. It's not really a theme park attraction. It's not really a theme park. It's not really a 45-hour piece of immersive theater. It's not really a live-action role playing game. It's not really a crazy app to play with. It is the intersection of all of those things."
To bring it to life, Imagineers put together a crew including theme park veterans and world class chefs. "That was wildly challenging, but also incredibly exciting to see. It became so much more than what was originally intended," Johnson notes. For instance, designers layered in texture and smell to tease all the senses with the out-of-this-world menu, including blue shrimp from Felucia and a gummy type of dipping sauce. "We have gone to texture as a way of owning the story and developing it," Johnson says, a touchpoint also seen in décor and cabin furnishings.
"It really is a brand-new type of experience," adds Walt Disney Imagineering creative producer Anisha Deshmane, who helped guide development of the datapad.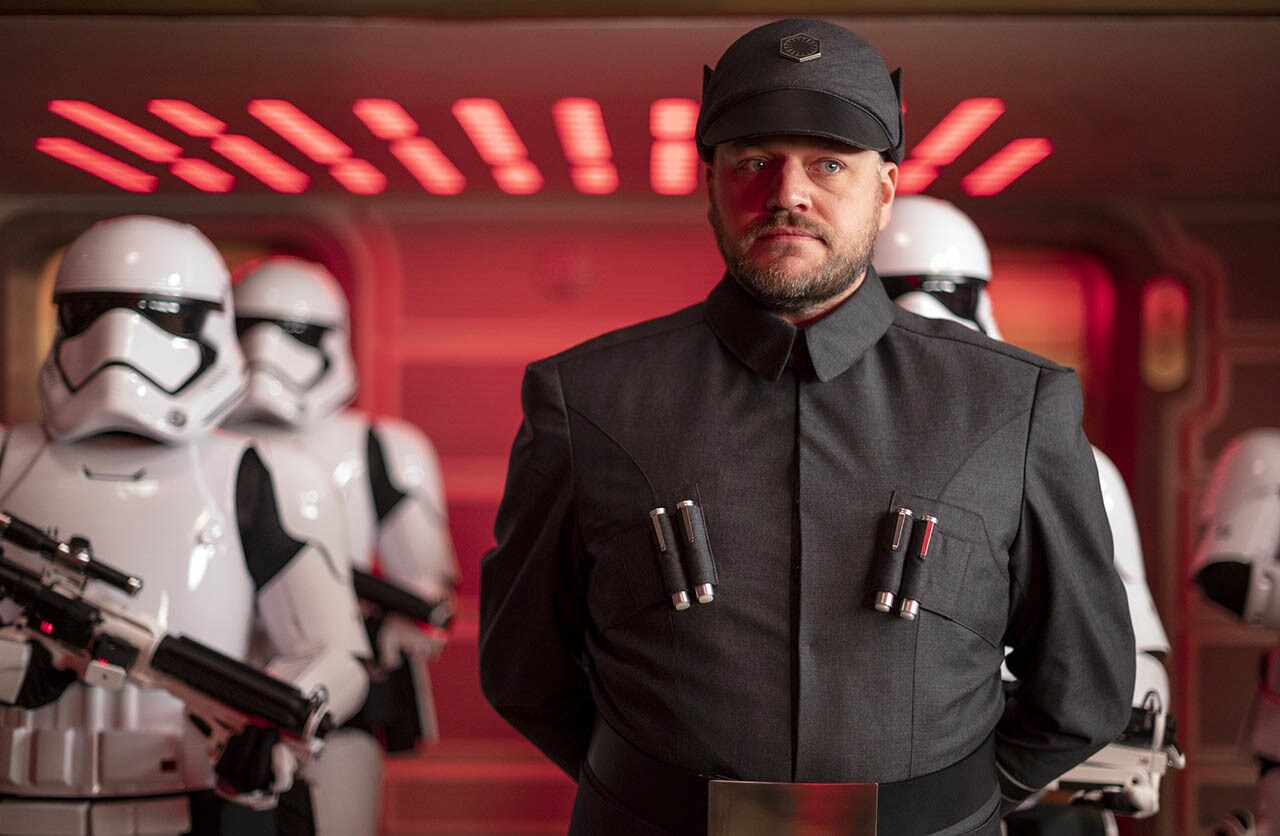 History of the Halcyon
To further cement the story that unfurls -- a moment in time taking place between the events of Star Wars: The Last Jedi and Star Wars: The Rise of Skywalker -- Star Wars storytellers have begun to integrate the Halcyon into the larger landscape of continuity with books and comics adding to the ship's storied 275 year history.
In-galaxy, the starcruiser was built in the shipyards of Corellia by the Anzellan founder of Chandrila Star Line, Shug Drabor, who originally used the massive ship for chartered voyages. During the era of the High Republic, the Halcyon was called upon to move the Starlight Beacon before its destruction.
Later, in the years leading up to the Clone Wars conflict, the cruiser was purchased by the Hutt clan and retrofitted to become a high-end casino in a bid to compete with other luxury recreational ships that were popular at the time. A holo-sabacc table still holds court in the Sublight Lounge, a nod to those bygone days of gaming and gambling.
But with the fall of the Republic, the Galactic Empire seized control of the ship to be used as an officer's retreat. Although the regime stripped the interior of much of its opulence, it was restored to its original design in the age of the New Republic. And currently, those who book passage will enjoy an excursion to Batuu, the location of the starcruiser's first exotic voyage many years ago, as part of an anniversary celebration that happens to bring you in contact with Black Spire Outpost.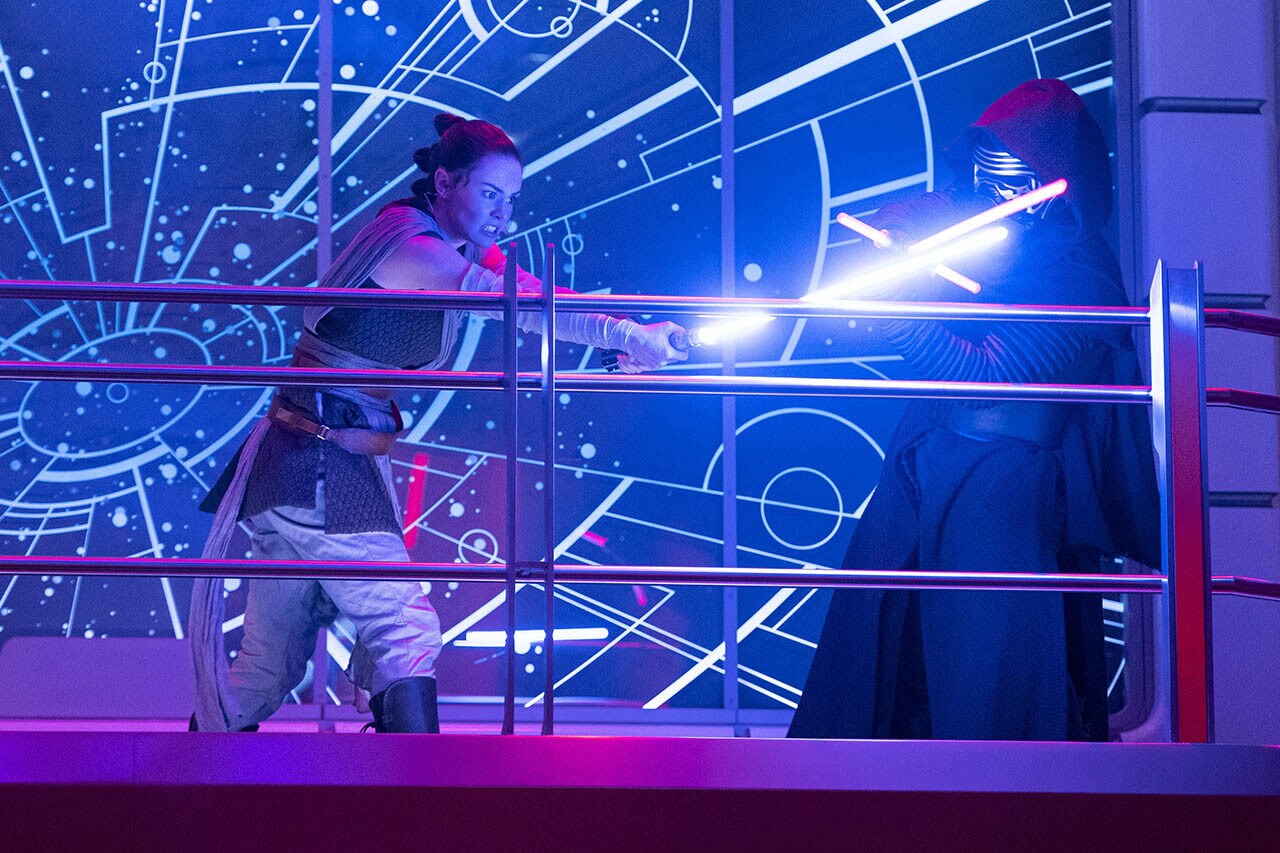 Through it all, it was important to the creative team to stay true to the mythology that has come before. "There is so much about Star Wars that feels distinct to Star Wars," Johnson says. "Because Star Wars is all about these moments of epic action and adventure, but also these very quiet moments of true human interaction." Good and evil clash in a grand finale that plays out pitting Rey against Kylo Ren, the final piece of the story that draws on the side quests and decisions made by all those onboard. In that way, no two voyages will ever be quite the same. But at the heart of the entire experience is the DNA of Star Wars mythology, including a loyal astromech droid and his closest friend trying to do what's right, a Wookiee, and a new recruit to the Resistance cause. "There are those relationships that find both the humor and the joy, the pain and the adventure and all of it," Johnson says. That goes for droid and Rodian, Twi'lek and Togruta as well. "It's all of the beings [onboard] that make up a core Star Wars story."
Learn more about the story of Star Wars: Galactic Starcruiser in the first installment of Dispatches from the Halcyon.

Book your voyage on 
Star Wars: Galactic Starcruiser
 at
Walt Disney World Resort now.