Stories unfold in real life, behind secret doors, and through an interactive app in the innovative new immersive experience based in a galaxy far, far away.
Sara Thacher's nephew was excited to help the First Order.
During a test voyage of Star Wars: Galactic Starcruiser earlier this year, the 11 year old Star Wars fan set out to side with the antagonists, due in part to their cool costume appeal. Then he met some of the heroes of the Resistance. "And [suddenly] he's having a real moral conflict," says Thacher, experience designer for Walt Disney Imagineering Research and Development. The two sat in their well-appointed cabin aboard the Halcyon starcruiser to talk it out -- a surprise for Thacher, to be sure, but a welcome one. "We had this wonderful moment of talking about morality and 'how do you want to play?'" she says, a discovery that left Thacher in awe. Another colleague witnessed two young passengers so engaged in the story that they were truly worried for Sammie, a mechanic and secret Resistance spy onboard. These small moments of empathy surprised the creators behind the experience, and cemented the success of the immersive storytelling in creating an environment where travelers truly felt their choices made an impact -- good or bad – for the characters around them.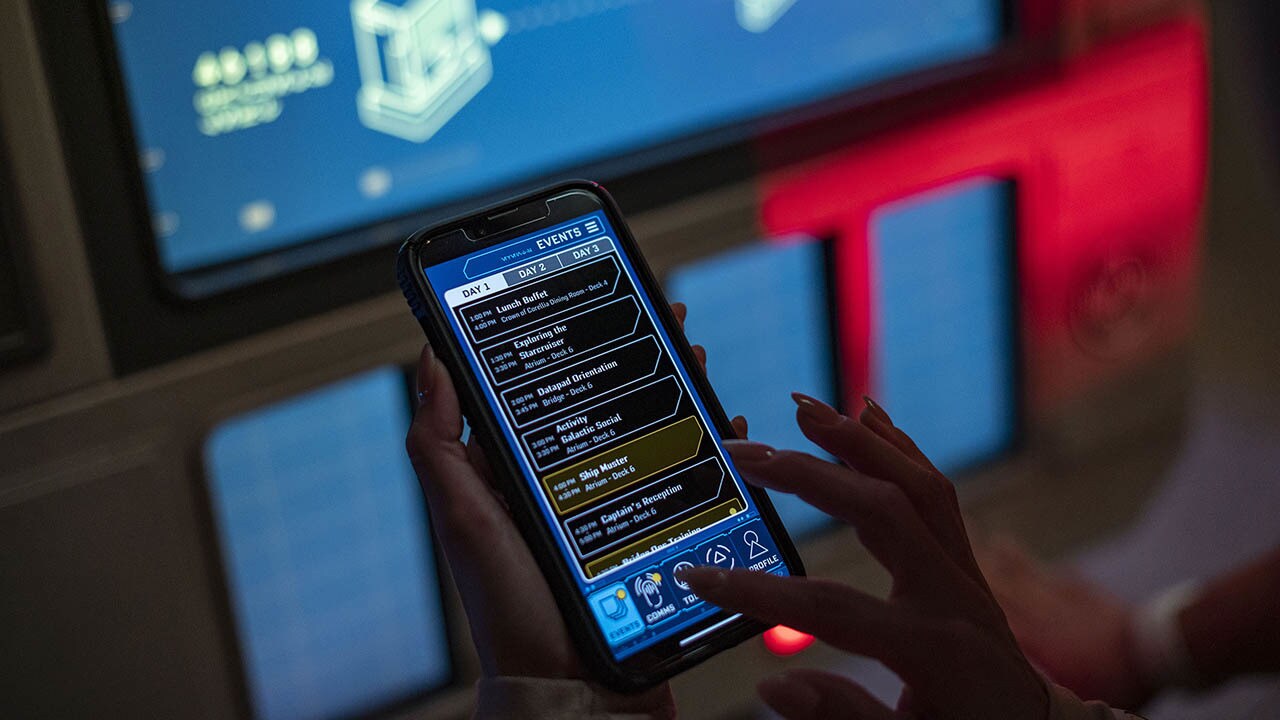 Passengers now voyaging with Star Wars: Galactic Starcruiser live their own Star Wars story through the immersive, interactive experience, where activities and plot points diverge as the choices you make shape the journey ahead. Beyond core activities like bridge training, lightsaber education, and galaxy-hopping dinners, the experience allows fans to choose their own destiny -- to play as a rebel and rogue, a Sabacc card shark, or even a First Order sympathizer. But interactions in person and on a special app strengthen those connections and propel the story along as the voyage progresses.
The datapad in the Play Disney Parks app, which first uncovered new ways to interact with the planet of Batuu inside Star Wars: Galaxy's Edge, has expanded to encompass an itinerary for the two-night adventure and communications between key characters along the way. "You have this constantly updated list of events," Thacher says. "They're all invitations, not obligations, but hints that cool things might happen. Communications coming in from characters, [are] like your text messages."
Those messages deepen the relationships between passengers and the new characters aboard the ship. "The app enables you to continue to communicate with those characters even when they're not right in front of you," says Thacher. "So that that feeling of connection [with] the character continues and your relationship with them continues to grow."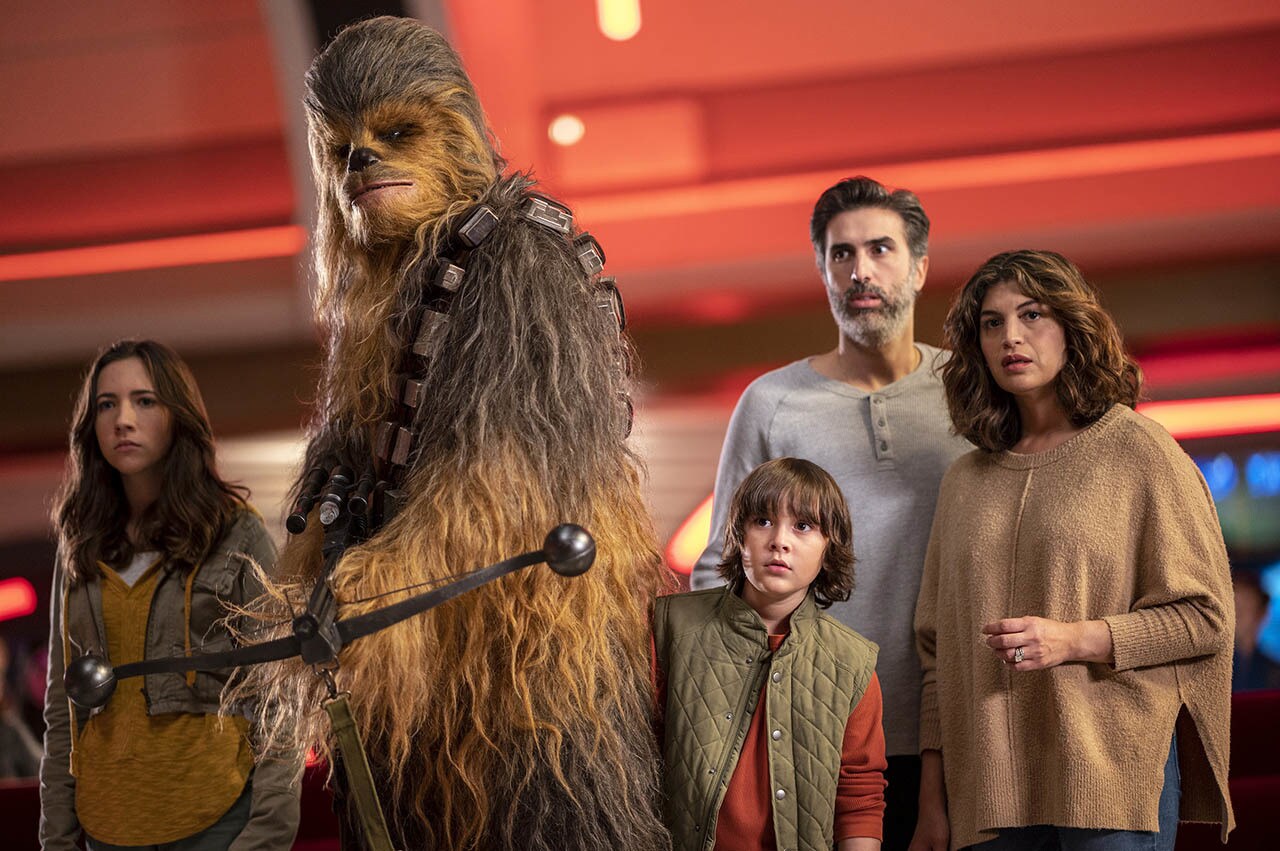 "Maybe you helped bring Chewbacca on board as part of your bridge training, but then you get a message from Lieutenant Croy asking about reports of a Wookiee on board," adds Anisha Deshmane, creative producer for Walk Disney Imagineering. "You have to make that moral decision of 'Am I going to sell out Chewbacca? Or am I going to help keep him a secret?' And those choices that you make along the way are really what shape your version of this story. The datapad is both utilitarian and also a way for you to become a part of the story, become a part of the goings on around the ship and the outcomes that happen."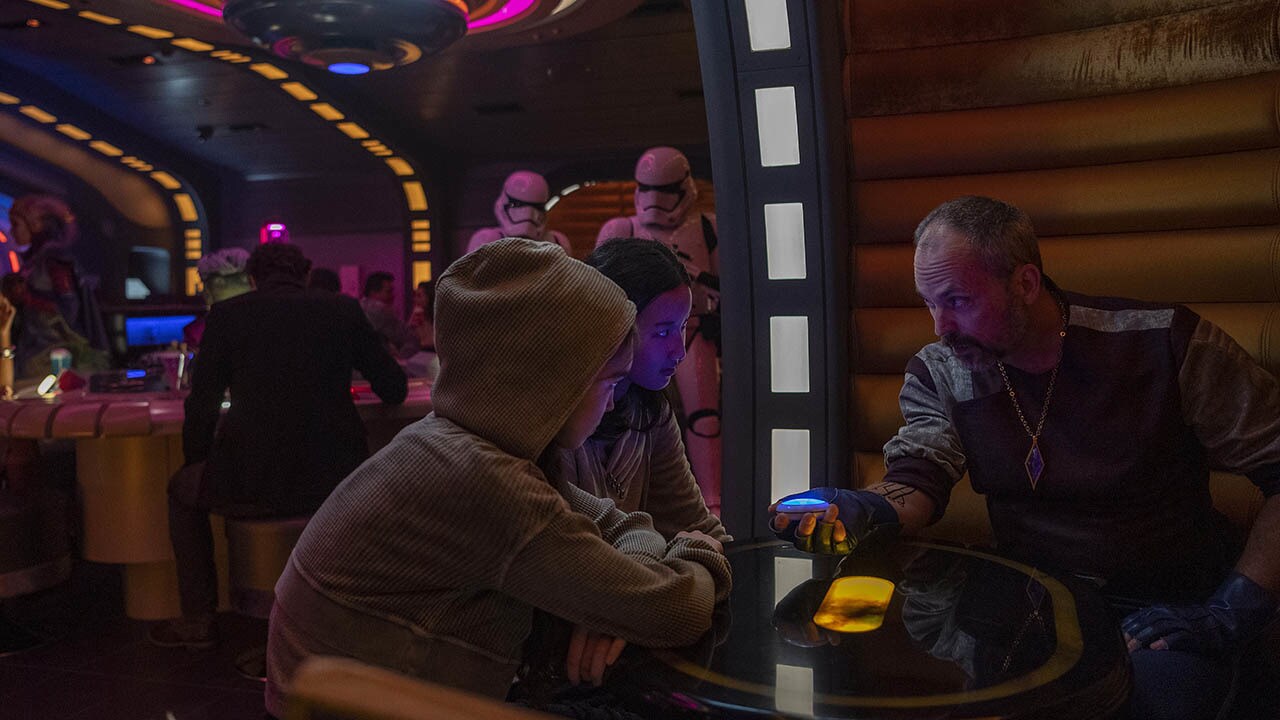 Adventures on Batuu
During a recent voyage, my own excursion to Batuu turned into an errand for Raithe Kole, the songstress Gaya's manager and a scoundrel in his own right. Upon returning to the ship and stopping by the Sublight Lounge, I encountered other passengers who had been sent on a special mission to recover a holocron for one of the Force-friendly Sajas aboard. In a room with just about 15 people gathered to watch, the holocron was opened to reveal a surprise message from one of my favorite Star Wars characters. "Some of the storylines onboard the ship have some of these very secret moments that get revealed over time," says Deshmane. "And they're really based on you establishing a relationship with a character and sort of getting deeper with that particular person over the course of the two days."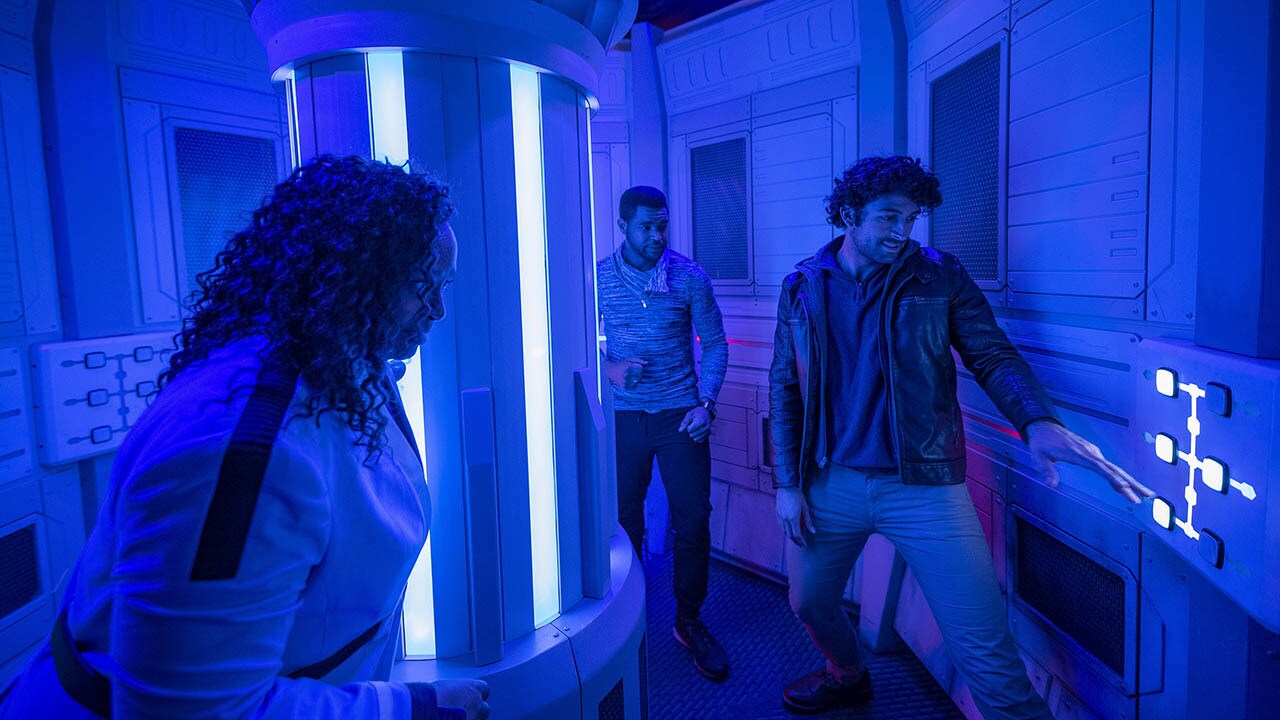 During a visit with friends, Deshmane says her party abandoned her to align with the First Order while she walked the path of the Resistance. "We're all taking different paths through this voyage together, and we're seeing different perspectives on things, which is true to real life, too. No one person has the exact same experience as anyone else." Those differing points of view enrich the experience as passengers swap stories. "One of my favorite parts of my personal experience was meeting back up in the Sublight Lounge and we all sort of got little glimpses of what was going on and could share," Deshmane says. "It really is a wonderful thing to be able to have multiple paths through this story, being able to see different parts of it evolve and then also come back together and share what you've seen."
Boarding the ship also changes the way you may see Batuu, with the datapad connecting the new characters you meet to crates and corners around Black Spire Outpost. "The datapad was originally developed for Star Wars: Galaxy's Edge as a way to explore this new outpost. With Star Wars: Galactic Starcruiser, we just took it a lot further," says Deshmane. "We've heard a lot of guests saying, 'I've been to Galaxy's Edge before, I thought it would just be like a normal day in the park, but it turned into a whole different experience.' Because you're there for a reason. You're there helping Sammie. You're there investigating the Resistance for Lt. Croy. And then when you come back to the ship, it really is this interwoven, connected thing."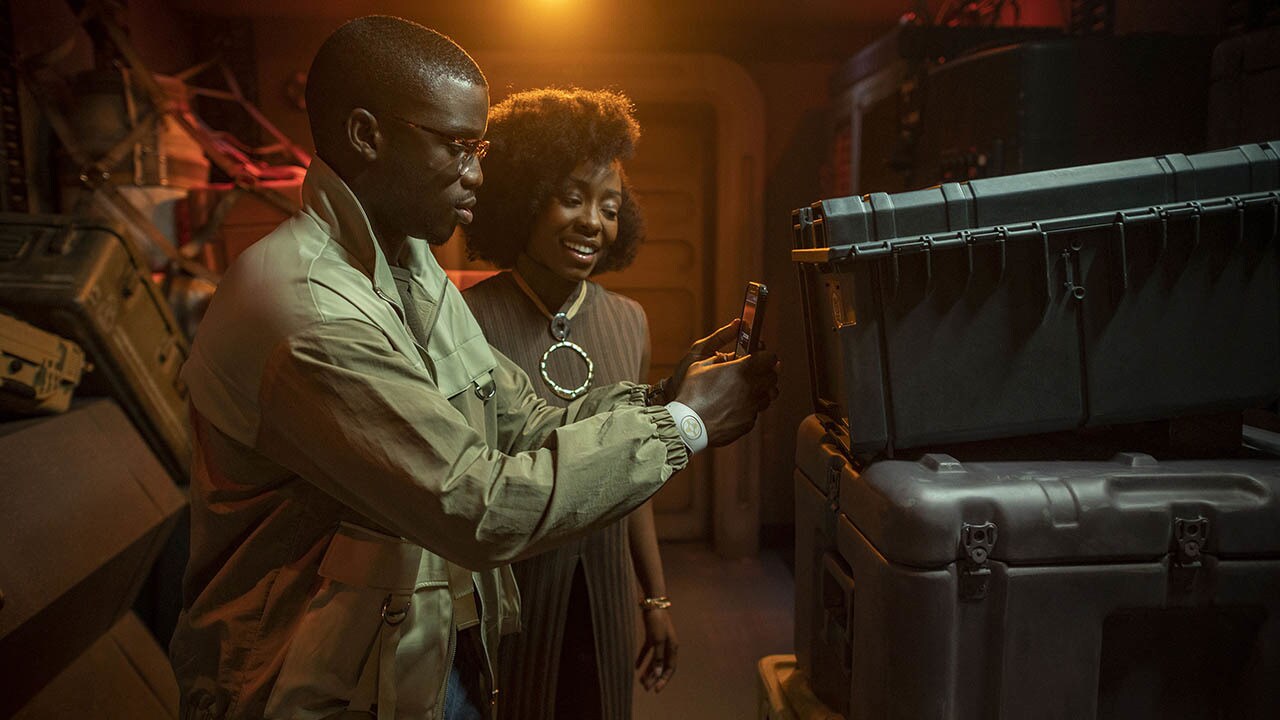 Maps and more
The datapad also includes maps to navigate the physical ship, leading you to real hidden rooms and secret data to glean more intel. For example, getting in with the Resistance might give you access to the Brig to free an operative or require you to slice into a communications hub off the Atrium in search of intel. If you gain access to the Cargo Hold, you'll be able to explore some artifacts that have been left behind by previous passengers, including the lost ID of one Baron Papanoida, played by George Lucas himself on film.
It's a piece of the experience that borrows from classic gameplay rules to help guide passengers along the journey. "This is an experience that is way more than the sum of its parts," Thacher says. "And so making sure that all of those pieces coordinate together, makes sense together, and give our guests all of these multiple levels of ways to play. All of those things have to work together to make this experience happen."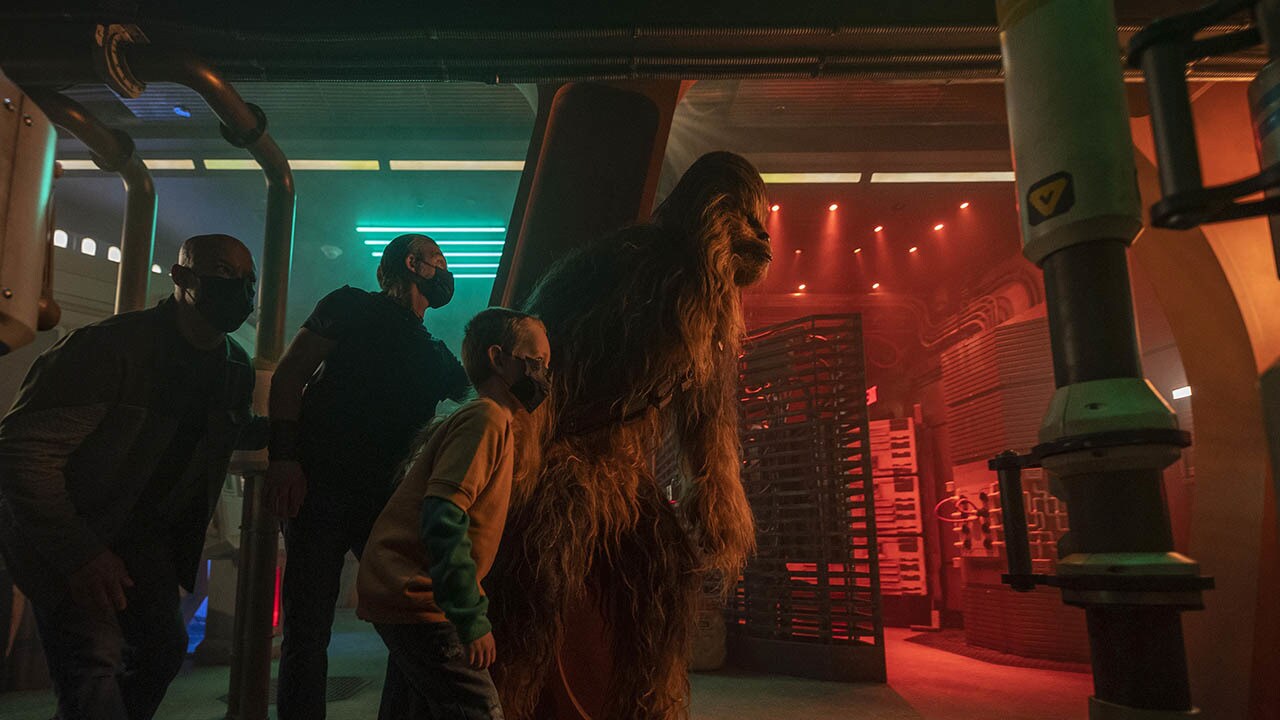 Initially closed off to guests, the Engineering Room can also be open for players who make friends with crew members in need of extra hands to stave off, or perhaps support, a First Order take-over. The room also happens to be Thacher's favorite place on the ship because the look and feel of it melds with the classic Star Wars aesthetic while so much of the rest of the ship is clean, brightly lit, and glamorous. "This is outside of all of the clean, kind of gleaming parts of the rest of the ship," Thacher says. "And it's a place where Chewbacca can yell at you in Shyriiwook to grab the hydro spanner. It's just really delightful." To perfect the idea, Imagineers built the first prototype out of cardboard to begin figuring out how to incorporate a series of puzzles, levers, lights, and buttons in the space. "Just a box fort," Thacher says with a laugh.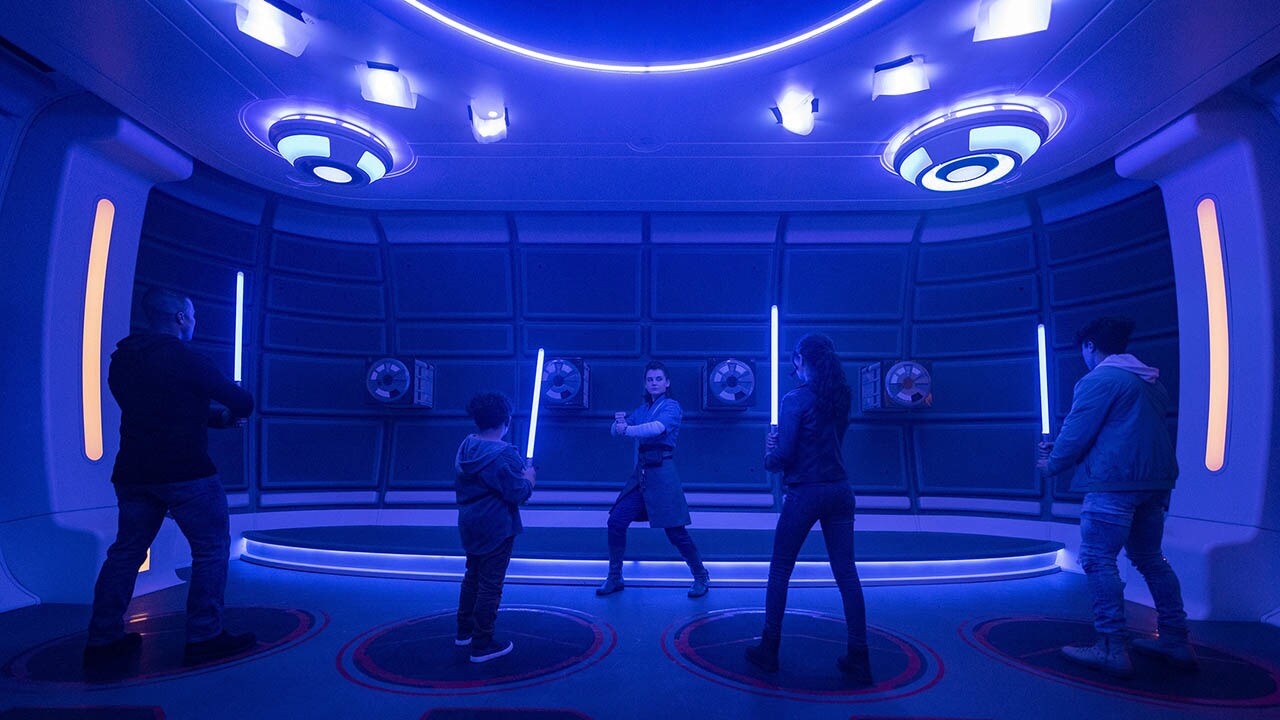 From fort to fabulous
In the months and years of collaboration and fabrication since, Imagineers created a space that looks and feels like a real Star Wars ship in its prime, allowing those who venture to live out their long-held fantasies from wielding a lightsaber to leaping into the fray of a dire space battle. The final experience is a true innovation.
"This experience is vastly different from anything else that we've done," says Lucasfilm Story Group executive Matt Martin. "Mostly because of the length [of the play.] We've never had something where people stay overnight and stay within the same story for two days, two nights. How do you make a big overarching story that's clear to everyone while also having so many individual paths that the passengers can take? And stories that the passengers themselves influence? It was such a fun challenge to deal with that."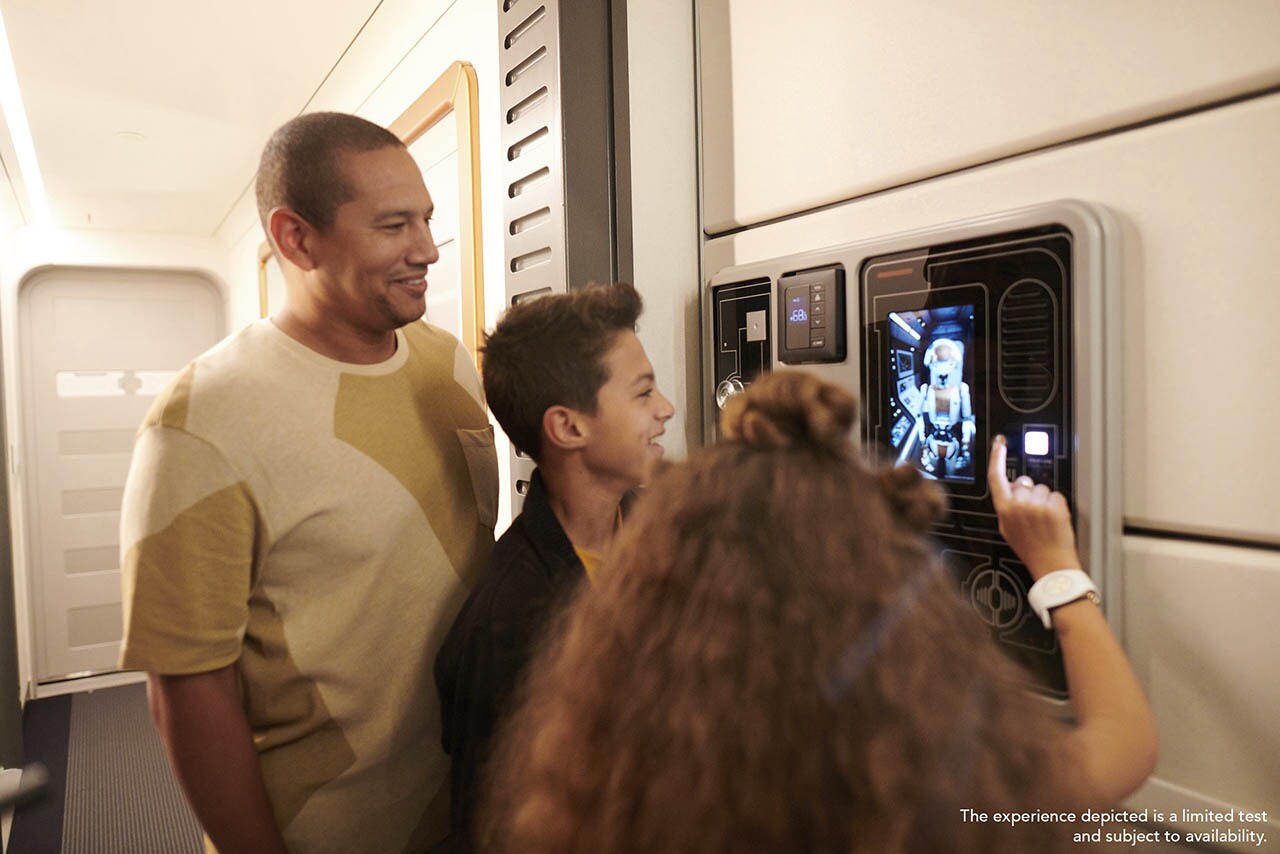 The initial idea for the experience was actually deceptively simple, adds Cory Rouse, creative director for story development with Walt Disney Imagineering. "It began from a very simple place, which is how do we bring people into a world that is fully believable and authentic?" Rouse says. "From that point, we began to add all of our Disney technology, all of our Disney knowhow as far as bringing worlds to life, and we've really created a one-of-a-kind, two-night immersive adventure. But the crazy thing about this -- what I love so much -- is that it actually helps to reveal your Star Wars story. If you think about it, a movie asks you to kind of sit and ingest; this is asking you to invest. And the more that you invest, the more that you reveal yourself, the more it changes the personal lens for you. And from that standpoint, we're going to go to places that have never been seen before."
The construct leaves room for players to align with the heroes of the Resistance, the staunch First Order, or another group on the periphery of the central conflict, experiencing high-end glamour and the gritty, used-future allure of the films, with story elements interweaving and driving toward a clash between good and evil. "You get to experience both sides of Star Wars," says Martin. "You have the glitzy, glamorous side on the Halcyon [starcruiser] itself. But then you also get to take your shore excursion down to the more gritty world of Batuu. Maybe you're down there to join the Resistance. Or maybe you help Hondo bring in some coaxium and that plays an important role on your story [on the ship]."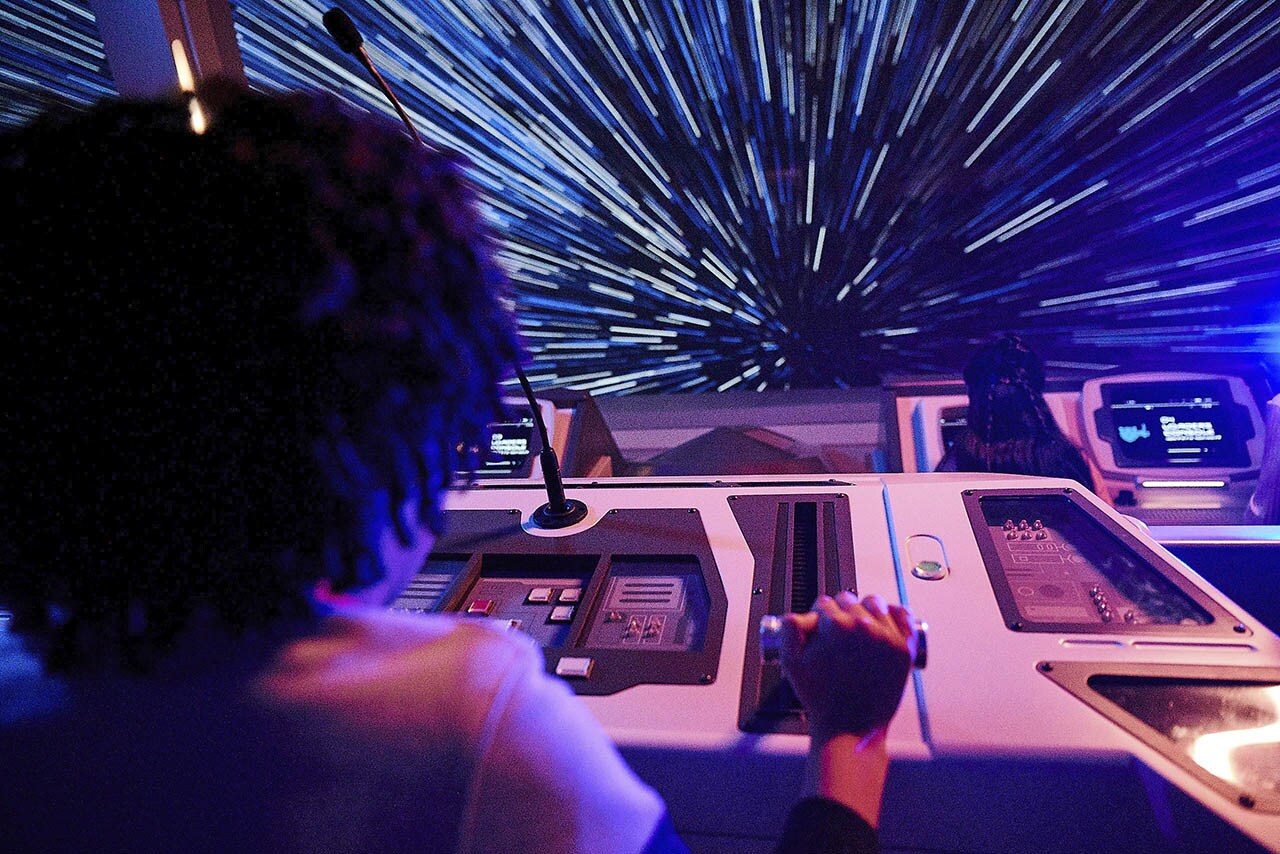 In many ways, the interactive elements of Star Wars: Galactic Starcruiser fulfill a promise for fans who have been creating their own Star Wars stories through play for over 40 years. "When Star Wars: A New Hope came out in 1977, George Lucas unleashed planets we had never seen, characters we could only imagine," says Rouse. "The next step was to go buy the action figure or to play with that stick that became a lightsaber. [As kids,] we were able to create things that were not on the screen -- our own version of Star Wars." Now Star Wars: Galactic Starcruiser invites you take that playfulness to the next level. "We are not asking you to just sit back and watch. We're asking you to reveal yourself, to bring that love of Star Wars onboard our ship. And from that, you have the agency, you have the freedom to reveal yourself, find others like you. Maybe find a new way to see Star Wars. And from that agency, every single experience will be completely unique and it'll be completely yours."
Learn more about the datapad and activities available at Star Wars: Galactic Starcruiser in the latest installment of Dispatches from the Halcyon.

Book your voyage on 
Star Wars: Galactic Starcruiser
 at
Walt Disney World Resort now.