Passengers engage with new characters and cross paths with familiar faces in the innovative new immersive experience based in a galaxy far, far away.
It's easy to see why Ouannii, the Rodian Lumosynth player performing live music aboard the Halcyon starcruiser, and star Twi'lek songstress Gaya have already generated a following. Although the experience just launched this month, voyagers have already been seen wearing Ouannii bounds -- ensembles inspired by the color palette and style of the character. And on one test cruise, a passenger donned a Gaya T-shirt, complete with dates from a fictional planet-hopping tour, to show their love for the musician, says Wendy Anderson, executive creative director for Disney Live Entertainment.
The duo bring to mind elements that are quintessentially Star Wars, evoking a more polished and posh version of Mos Eisley's cantina, teeming with galactic tunes and brimming with otherworldly aliens. And for the first time, they don't just pass us by on a screen. On a recent voyage, I immediately rushed over to compliment Ouannii's purple locks and killer style. But when she not only stopped, but responded in Huttese, her Rodian mouth enunciating the foreign words with gestures that seemed to say she also liked my galactic garb, I was floored. Other than the occasional passing growl from Chewbacca inside Star Wars: Galaxy's Edge, it's the closest you can come to becoming your own character in the Star Wars galaxy.
The creative minds behind Star Wars: Galactic Starcruiser, now open at Walt Disney World Resort, knew characters would play an essential role in the experience, inviting passengers to play a vital role in the story unfolding around them. New faces had to flawlessly fit alongside key legacy characters like Rey and Chewbacca. "We knew that while we were creating new characters for this experience that could really be engaging for guests, we also wanted to bring the Star Wars that people know and love to life," says Anderson. "Those new characters had to be able to stand up to these iconic Star Wars characters that already exist. We wanted them to feel real."
Heroes and villains
At the outset of the two-night journey, passengers meet the core crew aboard the Halcyon starcruiser as well as some less-than-welcome First Order guests who have elbowed their way onto the ship.
The starcruiser is led by Captain Riyola Keevan, a Pantoran with striking blue skin, kind eyes and an iron will. Having started out as a quartermaster on the ship she now commands, Keevan's affinity for her vessel is reminiscent of Han Solo's love for the Millennium Falcon and she has the moral compass of Leia Organa to boot. "[Keevan] really is one of those impeccable, trustworthy stalwart leaders," Anderson says. "And she also has a deep, deep history with not just the Halcyon starcruiser, but with Chandrila Star Line and also with a certain General Organa."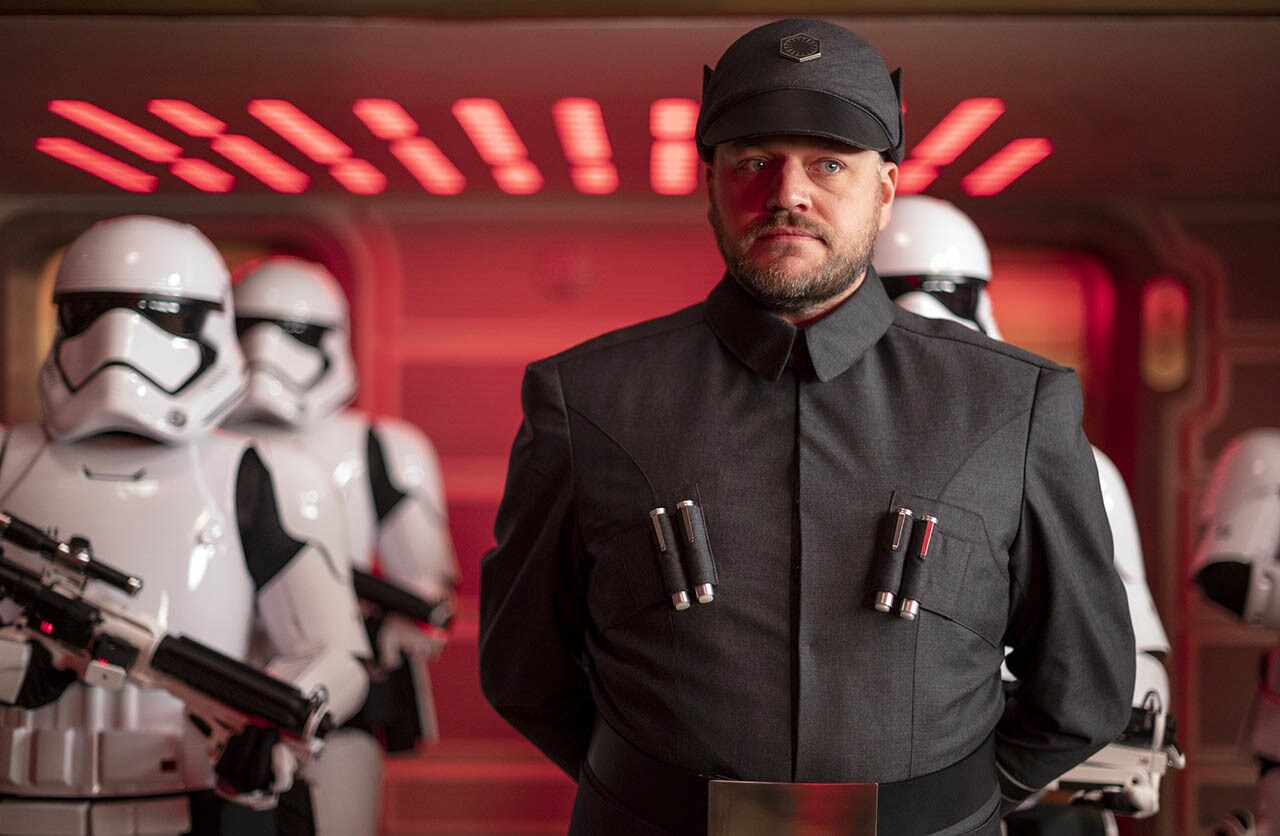 Keevan's affiliation with the Resistance is part of what has led the First Order's Lt. Harman Croy to board. "Because this is a galactic starcruiser in the Star Wars galaxy, sometimes things just don't go as planned. Everywhere the ship has been, a little pocket of the Resistance has bloomed," Anderson notes. "And Lt. Croy is the person who noticed. He's basically an analyst. And now Chandrila Star Line is under investigation, like everyone, because the First Order is trying to take over the galaxy. He's been a lieutenant for a while, so he has ambitions beyond that for himself and he's going to interrogate every droid, every passenger, every crew member on that ship until he gets to the bottom of what he believes is going on."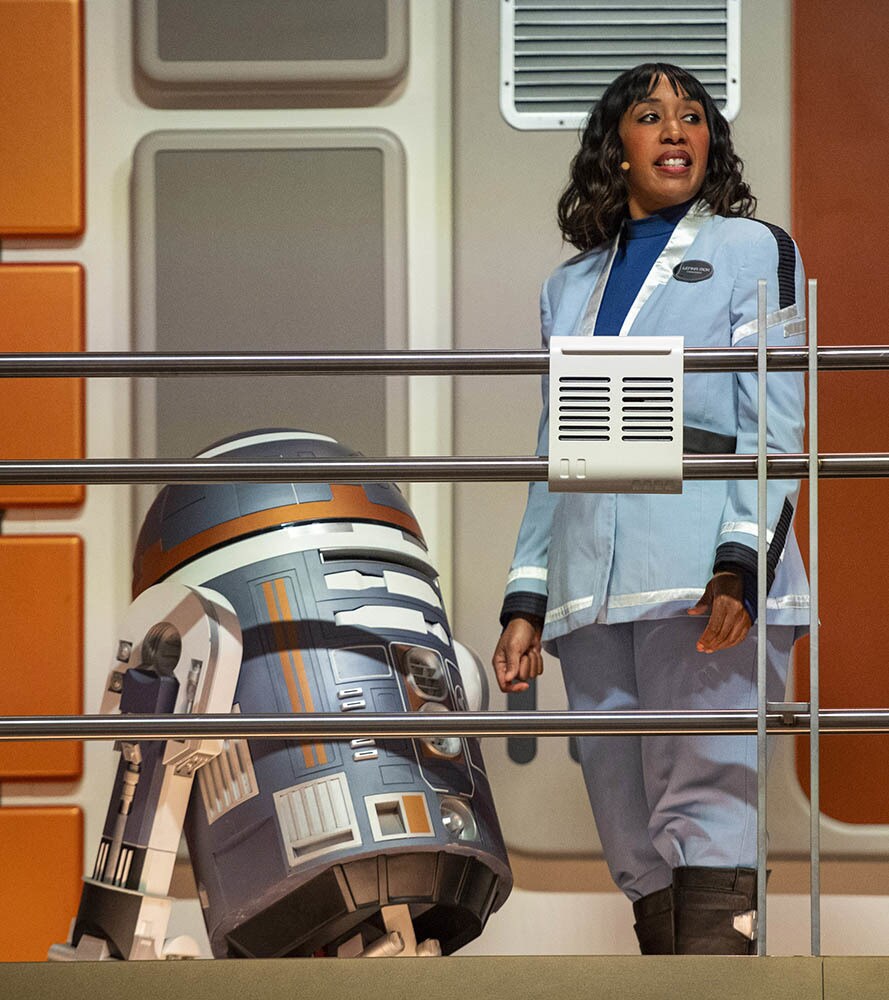 Luckily, Keevan isn't alone in her fight for good. On paper, her right-hand Cruise Director Lenka Mok is in charge of onboard entertainment, ensuring each voyage is an adventure in fun. Their work partnership is fairly new, but was cemented during a pirate attack on Mok's first cruise, which plays out in Marvel's Halcyon Legacy comic run. "They haven't been working together for very long, but Lenka and the captain are simpatico," Anderson says. "They just have this really strong bond." Lenka's trusted counterpart, SK-62O, is the latest in a line of beloved astromech droids, keeping Mok on schedule and storing vital intel for the Resistance in his databanks.
But while the droid's affiliation may put him at risk of getting a First Order-issue restraining bolt, he's far from the only crew member with direct ties to the larger cause. Sammie may seem like a regular mechanic, but he's really more of a stowaway. "Sammie is so much fun. One of the things he's done to win over the crew is just that he's this kind of earnest, youthful presence, but also he has aspirations to be a Resistance hero," Anderson says. "He was a wrench turner on Corellia who saw which way the world was heading because the First Order started to take over the shipyards. He essentially escaped." Thanks to some carefully revised ship's records, Sammie gets cleared as a member of the crew when he's really just hopping a ride to the next port of call: Batuu, so he can formally join the cause.
Passengers can call upon the ship's logistical droid, D3-O9, from their in-cabin terminals for details on their itinerary, and much more. "As you talk to her throughout your voyage, she actually asks you more questions and maybe tells you a little bit more about what's going on inside the ship," Anderson says. "She knows everything, and she's also really charming and really just wants the best for our passengers. She will even sing you a lullaby if you ask."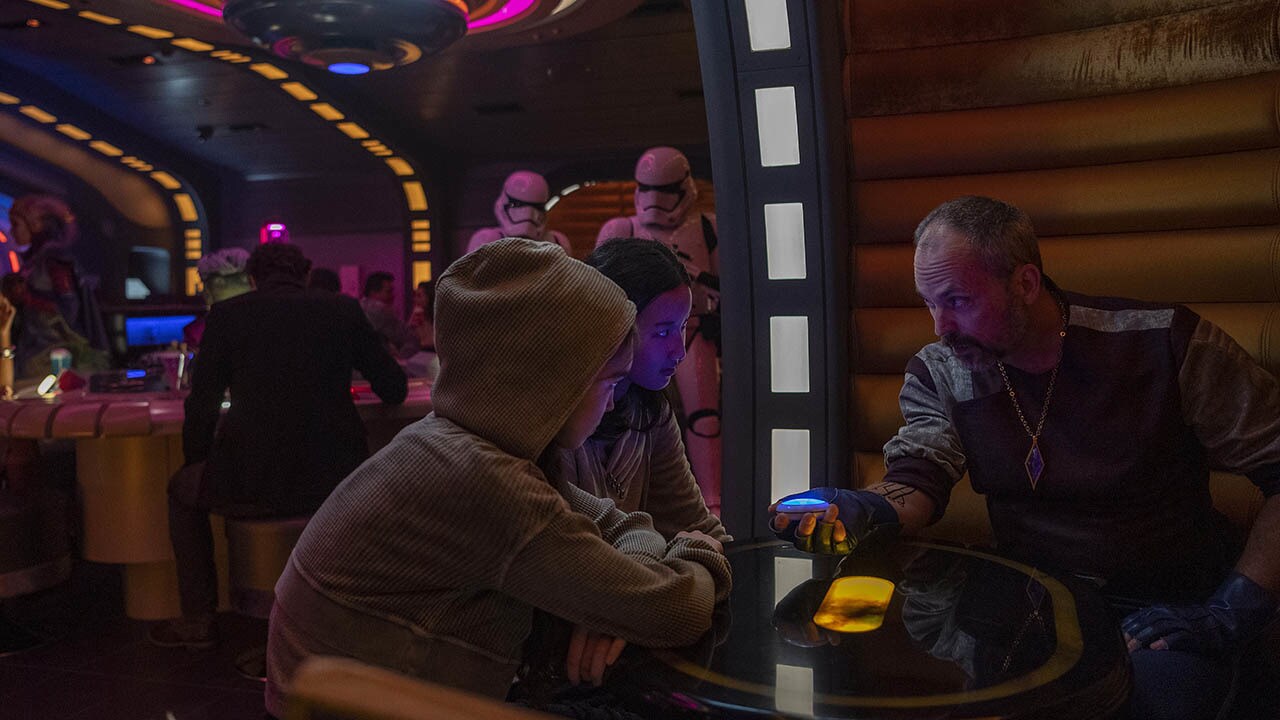 Scoundrels and singers
On the first night, passengers come to know galactic superstar Gaya, her bandmate Ouannii, and their manager Raithe Kole.
"If you don't know [Gaya's] name before the voyage, you'll certainly know it after she performs for you at supper on night one. She is incredible," Anderson says. As a key alien character brought into the immersive experience, Gaya's backstory is steeped in galactic lore fans of Star Wars animation will quickly recognize. "She has given herself her own power. She has created her own name, and now she's here to really make sure that everything that she stands for, all of the power that she can wield stands for something. And that something is the freedom of her home planet of Ryloth."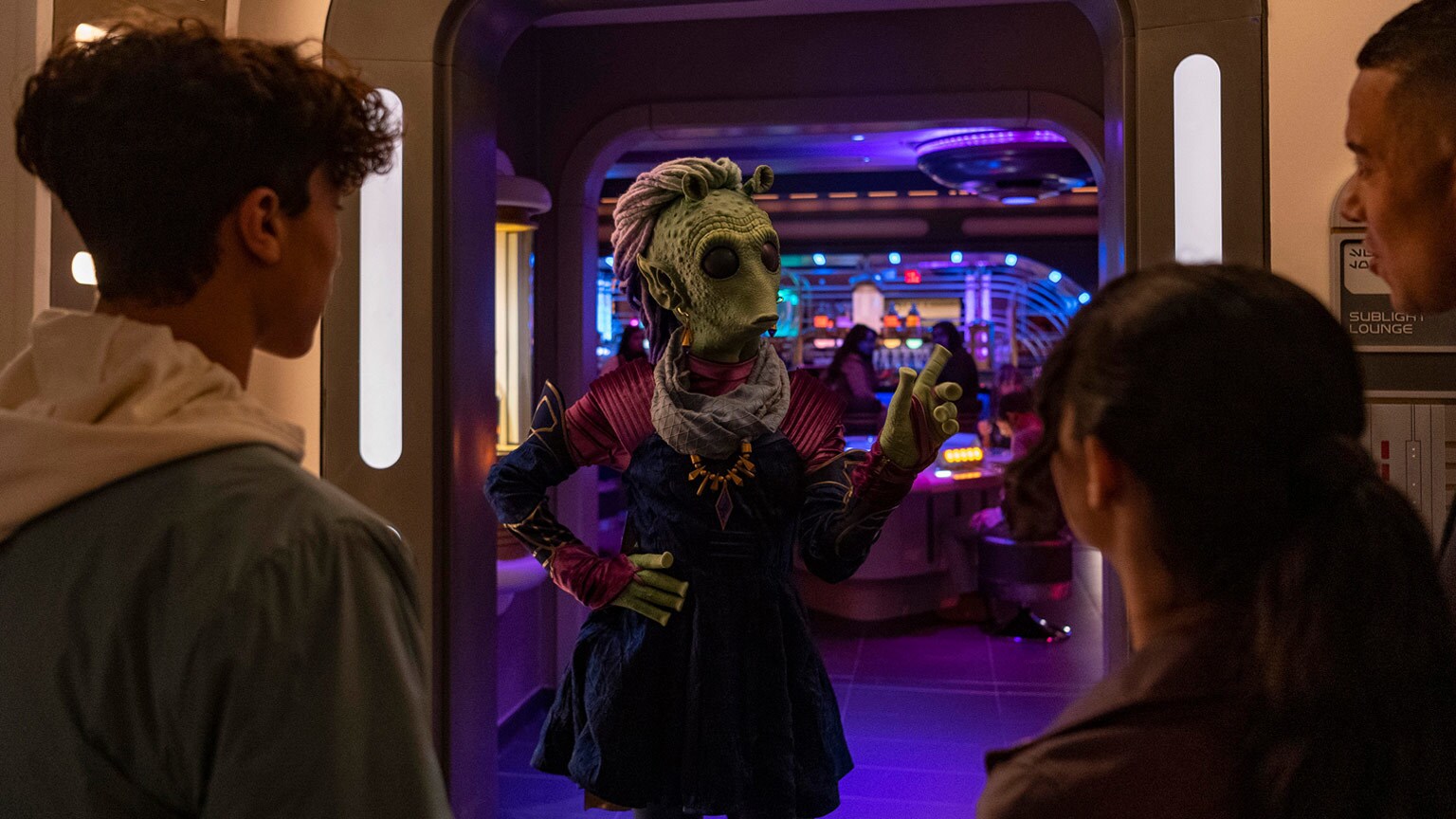 Not to be outshone, Ouannii goes on her own character journey during the trip, a voyage of self-discovery, "finding her own voice and her own sound," and maybe -- just maybe -- love among the stars. And in addition to her language acumen and brilliance on the Lumosynth, she shows off her skill with a Paktosynth and a Ketasiik during the journey.
Meanwhile, Kole is likewise much more than he seems. "You might think of him as sort of a scoundrel. You might think of him as a really great guy. All I know is he's always looking for friends and allies in new places, and he is really there to make sure that all of Gaya's contract riders are adhered to," Anderson says.
And the ship is also safe harbor for the Saja, a group of nomadic lightsaber trainers who are descendants from the believers of the Force on Jedha. "They have scattered around the galaxy, but they are very, very interested in finding new Jedi relics and keeping the teachings of the Force alive," Anderson says, "sparking hope throughout the galaxy. They're not necessarily Force sensitive themselves, but they can sense it in other people and they help to bring it out."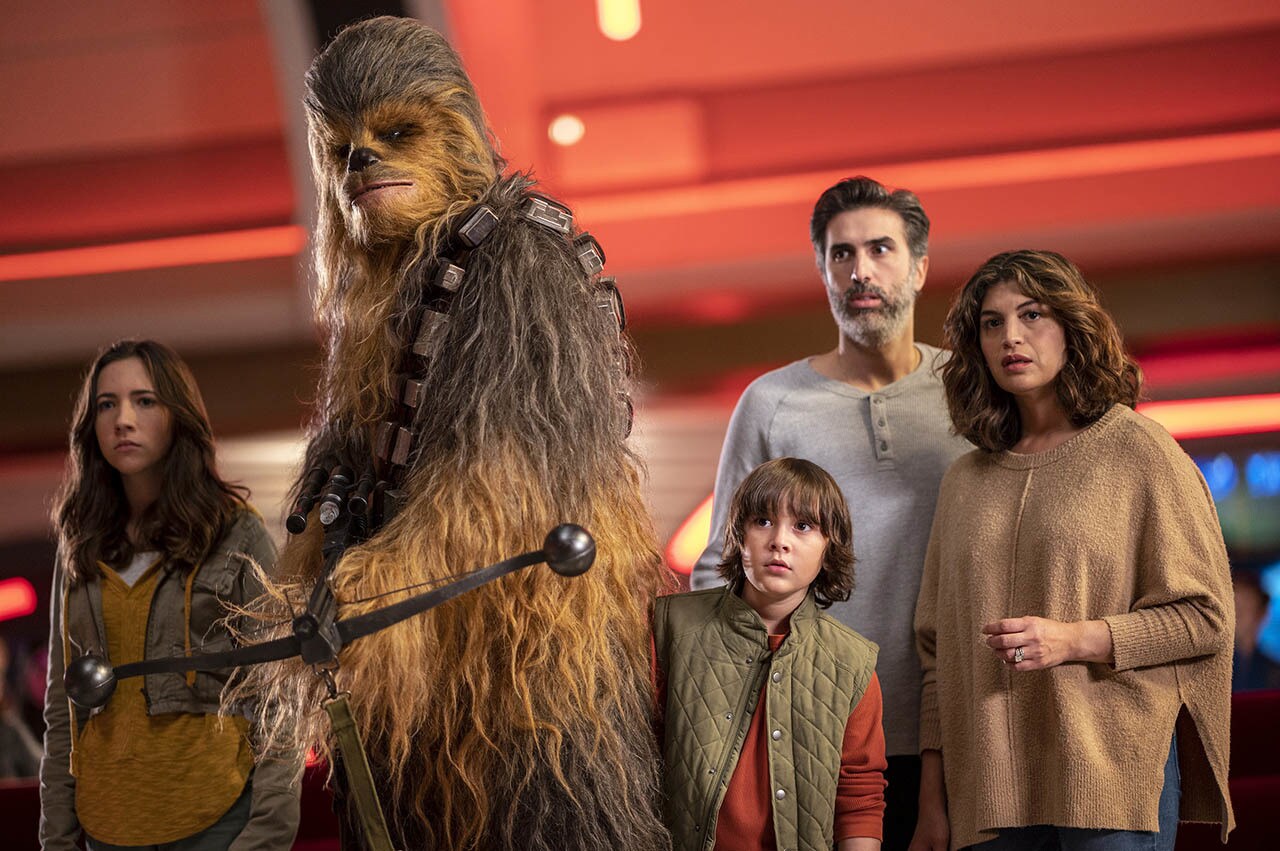 Behind the scenes
Alongside Rey, Kylo Ren, C-3PO, R2-D2, and Chewbacca, the ensemble of characters compliments every facet of Star Wars storytelling, helping to guide new passengers on their own path whether they are rogue rebel, First Order allegiant, or simply curious about the Force or the lucrative profession of smuggling.
Hitting on those themes and affiliations was necessary, but ensuring the experience had droids and aliens that guests could interact with was also key, Anderson says. "It felt so important for us to bring aliens and droids into this experience from the get go because if you walk through our Atrium and the first character you see is a Rodian, then the second character you see is a droid, you're going to know exactly what galaxy you're in," she adds. "We also wanted the aliens to be iconic Star Wars aliens. What's more iconic than a Twi'lek or a Rodian, right?"
Behind the scenes, Imagineers tackled the challenge of making Gaya and Ouannii, look and feel like real aliens, while ensuring the human performers who embody the roles were comfortable. "Developing [Gaya's] lekku was quite a process so that the performers could feel that they could move and actually turn their heads and enjoy being in this getup. That took some time to dial in." But Anderson and the rest of the creative team knew having aliens inhabiting the experience was essential. "I felt very passionately that we wanted to have characters that didn't look human. They were humanoid, they still had the limbs that we have, but we didn't have any aspect of a human face. We had a full transformation."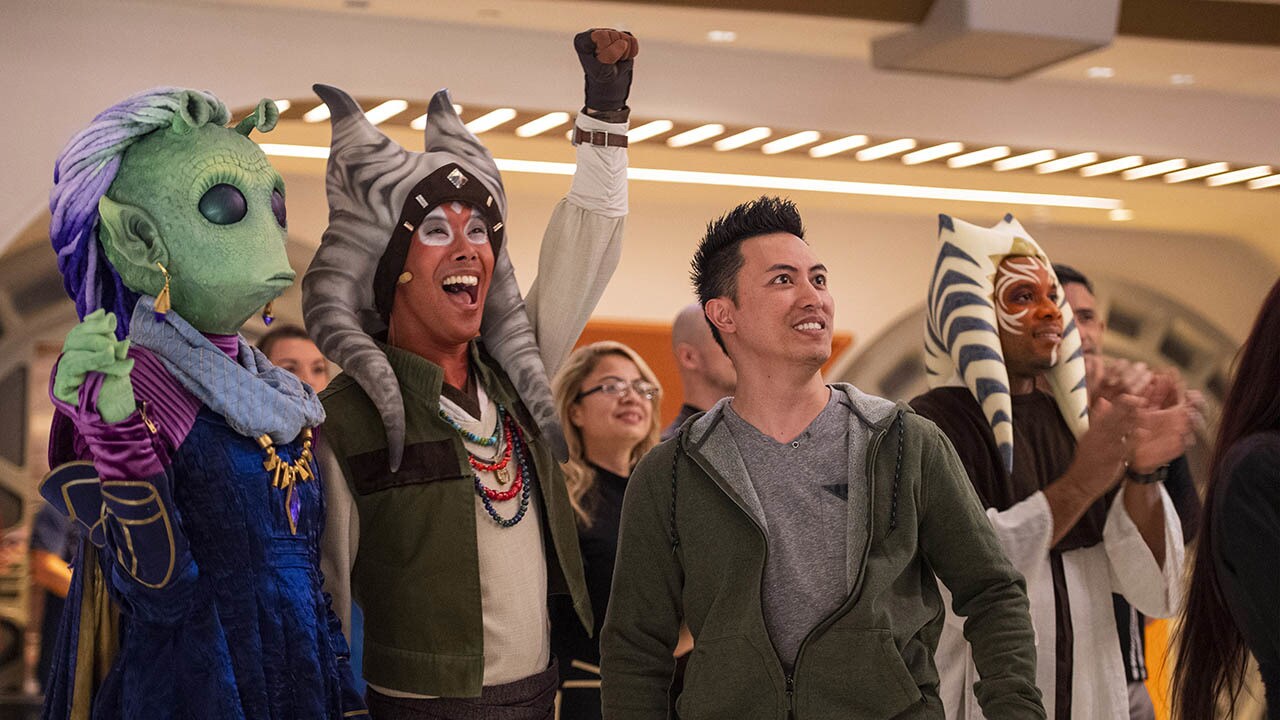 Now the first several hundred voyagers are meeting Ouannii, Gaya, and the rest of the fascinating and colorful characters aboard the Halcyon.
"I think one of the things that is so special and unique about this entire experience is how you get to engage with characters. Every character that comes on board that ship is an opportunity and an invitation for you to play and go deeper in your experience if you want to," Anderson says. And while they shepherd key story points that shape the overall experience, leading up to the grand finale, there are also quieter moments where passengers can take in these new characters and sit down one-on-one. "I think so much of what makes this special is the subtle moments of these characters just living their lives alongside you. The captain might sit down with you at dinner. You might meet Raithe in the lounge and he's just playing Sabacc like everybody else in there. That is where these relationships start to develop. And I'm already seeing our passengers developing real loyalties and affinities for those characters.
"Sammie the mechanic, he's constantly surrounded by people because he always needs help," Anderson adds. "A certain Wookiee comes on board and Sammie speaks a little Shyriiwook, so they wind up together. And it's very hard to hide a seven-foot-four Wookiee aboard a well-appointed but small starcruiser. So, you know, [Sammie] needs a lot of help with that. And the passengers really get engaged in their different storylines and their different needs and wants and helping them get from where they started to the end. It becomes a really, really important journey [for] the passenger as well."
Learn more about the characters you'll meet at Star Wars: Galactic Starcruiser in the latest installment of Dispatches from the Halcyon.

Book your voyage on 
Star Wars: Galactic Starcruiser
 at
Walt Disney World Resort now.