New food, characters, and merchandise help bring this immersive experience to life.
When you board Star Wars: Galactic Starcruiser, the transformative two-day immersive experience will be unlike anything you've experienced before. A spread of galactic cuisine will take you on a culinary tour of the stars, with dishes inspired by Star Wars planets. A boutique provides opportunities to dress the part, including some garments inspired by the Star Wars films and modeled after actual costumes plucked from the Skywalker Ranch archive. And whether your journey takes you to the underworld, turns you into a recruit for the Resistance, or has you sympathizing with the First Order, you can be sure it will be a wholly unique experience complete with the chance to train with a lightsaber.
StarWars.com recently visited Walt Disney World Resort for an early look at all things Star Wars: Galactic Starcuiser. Here are 31 fun facts and tidbits we learned during our stay.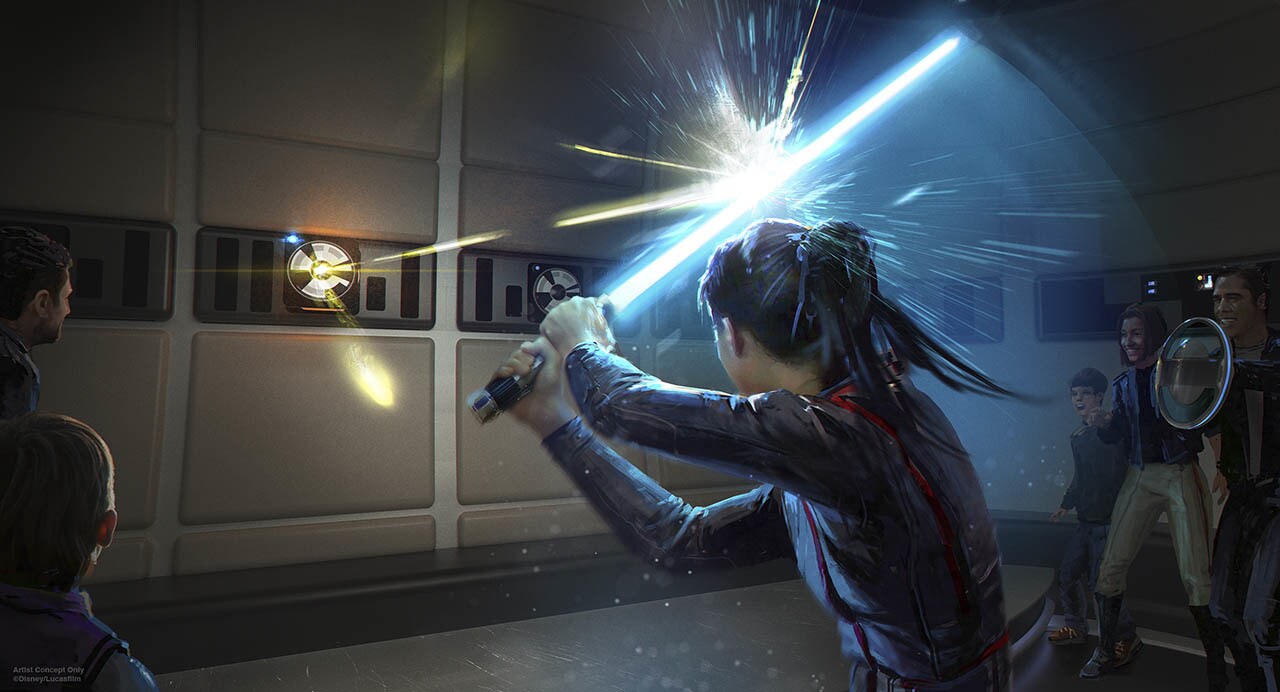 1. You'll get to live out your dreams of lightsaber training.
There have been other opportunities to wield the weapon of the Jedi, building a unique blade inside Savi's Workshop or procuring replicas of those carried by some of the most famous Jedi and Sith. But it's a different beast when you're tasked with not only igniting the blade but learning to use it for defense.
 2. It's definitely not a hotel.
During an exclusive press panel, both Scott Trowbridge, portfolio creative executive, Walt Disney Imagineering, and Elizabeth Mullins, vice president of Hotels and Resorts for Walt Disney Parks and Resorts, noted that even though you'll presumably sleep in the appointed cabin during your two-day immersive experience inside Star Wars: Galactic Starcruiser, they're not calling it a hotel and for good reason. "It's easy for me to say it's not a hotel, but it takes a little bit more conversation to describe really what it is and what our guests are going to be able to experience," Trowbridge says. In 50 years of Disney Parks and Resorts in Florida, the Starcruiser is truly the first of its kind. "It is unlike anything that anyone has ever done before," he adds. "And I think it is very exciting because it's actually very much in keeping with Imagineering and Lucasfilm to invent new ways of delivering experiences, new ways of telling stories. This is absolutely a next step in innovation of how immersive we can be."
In the words of Ann Morrow Johnson, executive producer and creative director for Star Wars: Galactic Starcruiser, it's a piece of immersive theater, coupled with a signature dining experience, and select elements of a standard cruise. "We're developing a thing that hasn't been done before, at least not at this kind of scale and not this kind of level," adds Trowbridge. "I think that's consistent with the kind of innovation we're always striving to do to find ways to create these experiences and bring our guests closer to the stories and characters we care about."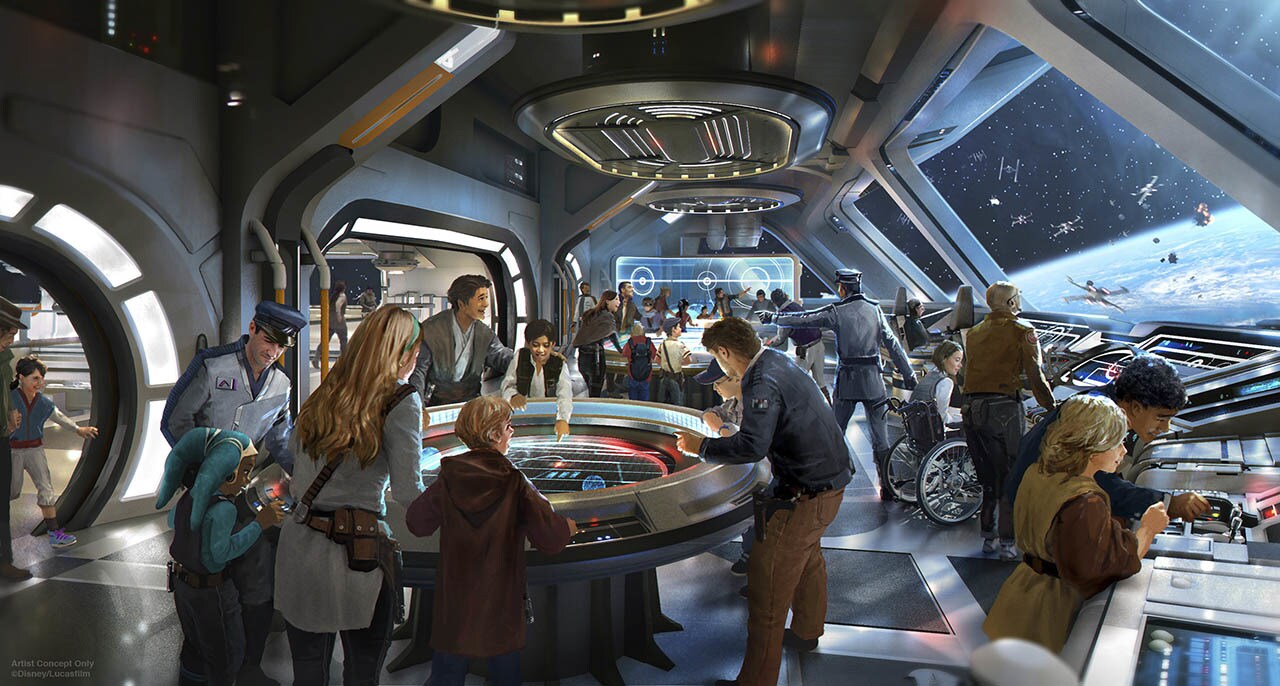 3. The inside of the ship is most impressive, but so is what's happening outside.
For the tailored experience, designers created the Halcyon starcruiser from the ground up, including the massive starfield and passing ships viewable outside any viewport onboard.
"We've built a galaxy," says Sara Thacher, the senior R&D Imagineer with Walt Disney Imagineering Research & Development.
 4. Chewbacca and other familiar faces will join you onboard.
The towering Wookiee and other legacy characters make an appearance during the two-day immersive excursion, including Rey. And Trowbridge says there are other known characters that have yet to be revealed.
5. If things go wrong, you'll come face-to-mask with the fearsome Kylo Ren.
Taking place between the events of Star Wars: The Last Jedi and Star Wars: The Rise of Skywalker, the cruise inhabits a pocket of time when the Resistance is still rebuilding itself to defend the galaxy against the First Order threat.
6. The story onboard the experience connects directly to events unfolding inside Star Wars: Galaxy's Edge.
Trowbridge notes that participants will get a deeper understanding of the backstory of the coaxium heist at the heart of Millennium Falcon: Smugglers Run and the heart-pounding evacuation of Batuu's Resistance base in Star Wars: Rise of the Resistance.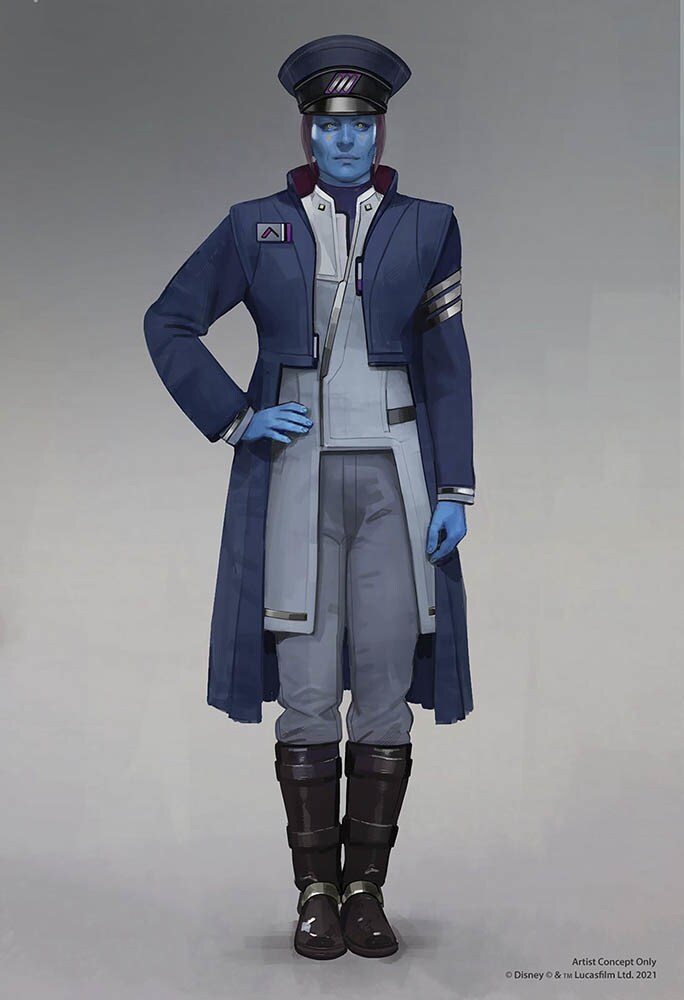 7. The Halcyon starcruiser will be helmed by Captain Riyola Keevan.
The experience introduces a bevy of new faces and droids, including the Resistance sympathizer who commands your cruise vessel, Captain Riyola Keevan. But you alone will get to choose your allegiance. "Because we're spending two days, two nights with this story, living our Star Wars adventure on this voyage, it means that the story unfolds and we're actually able to develop relationships, explore all of that depth [in] these characters," says Thacher.
8. It's a playful experience, so it's okay to explore your dark side.
"I have to respectfully reject the framework of good and evil here," says Trowbridge. "At the end of the day, though, this is an epic Star Wars-level story where major things, including lives, are at stake. We're going to play that. We're going to present that as part of this story." That means even if you usually inhabit a pretty average, mild-mannered story in your daily life, here you can dabble in smuggling, or even join the First Order. No judgement.
9. Invitations to help Resistance, crew, and the First Order abound.
Among the areas that passengers can play along will be stories of Resistance, the underworld, the Force, the First Order, and the locals. "It's a series of invitations to engage," Trowbridge notes, "never an obligation. It's like building the most epic Star Wars playset."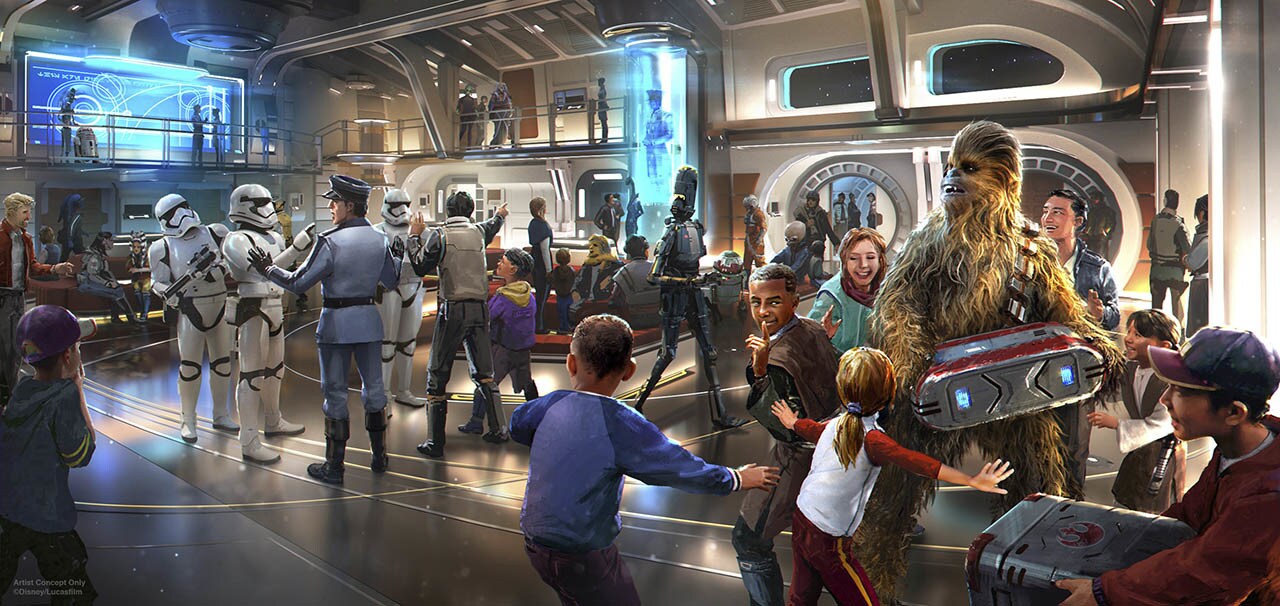 10. The datapad available to add depth to Star Wars: Galaxy's Edge will continue to play a role in the Starcruiser experience.
"Are you going to help the First Order?" asks Anisha Deshmane, assistant producer, Walt Disney Imagineering. "Are you going to sell out Chewbacca?" The choice is yours.
11. Couching the experience in a starship cruise was the eureka moment.
Disney Imagineers began thinking about an immersive Star Wars experience as they were planning Star Wars: Galaxy's Edge six years ago, but it wasn't immediately clear how they would meld the luxury of a themed Disney hotel with the playability of the Parks. When someone suggested they model the experience after the Disney Cruise Line, with a planned itinerary, experiences, excursions, and luxurious fine dining, Star Wars: Galactic Starcruiser snapped into focus.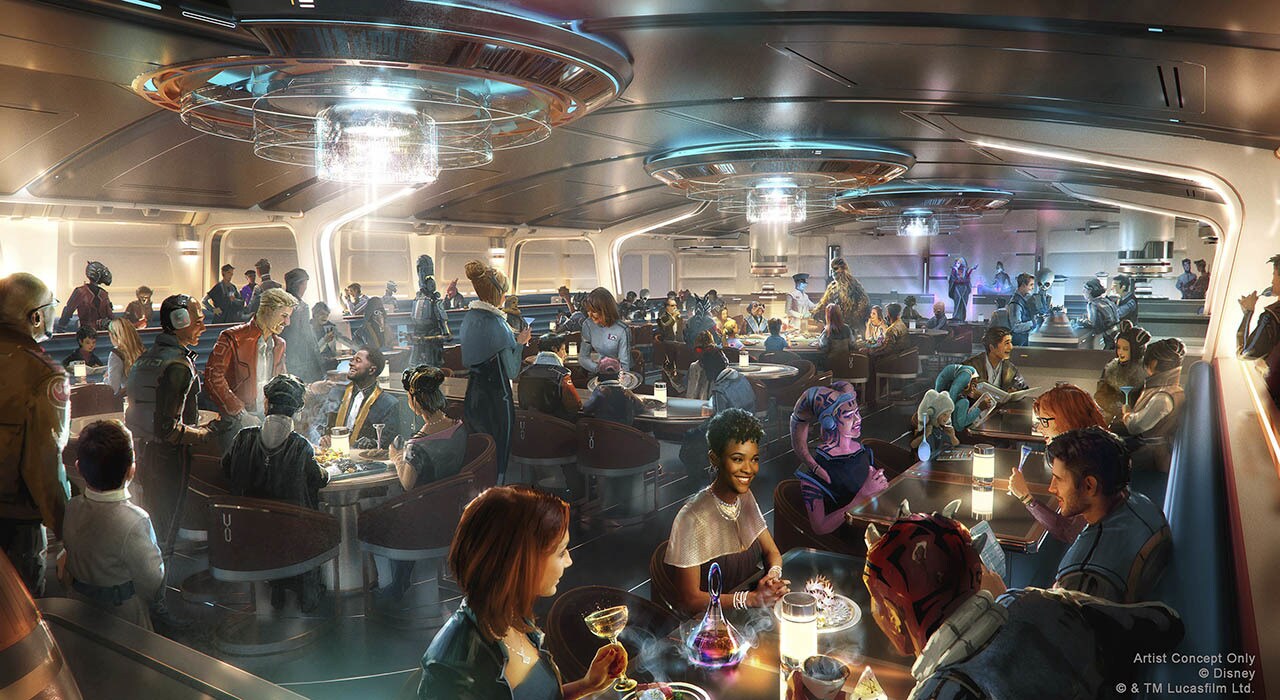 12. The choices you make will impact your adventure.
With between 100-500 passengers onboard, the immersion calls for contained chaos and a sense of community as individuals live out their own stories making decisions that impact the experience as a whole. "It is this giant living ecosystem," Johnson says. Only you can choose your destiny.
"And so there's no world in which one person will see everything that happens on the ship at any one time," she adds. "They'll all eventually converge, but I think it's a very satisfying conclusion."
"Your choices matter. Your choices change what comes next for your story," adds Thacher.
13. It's Star Wars, so you can bet your credits that not everything is going to go according to plan.
The playability factor also means no two voyages will be alike. "You're going to go on missions and depending on who you choose to meet or who you choose to help, you will actually see different stories in your scenes that will unfold differently," Johnson says.
14. The journey is geared toward people of all ages and interest levels.
You don't have to be a Star Wars expert to enjoy your stay, or plan ahead with a full cosplay ensemble. "There are levels and layers here. You can come in without knowing and without ever having heard of Star Wars and still have a great experience because everything you need is going to be inside this experience," says Trowbridge. "And we really do mean all ages. We're designing it for groups of friends, adults, kids, and multi-generational families who want to come and experience it together. Really, it's all those different folks: people who are fans of Star Wars, people who are fans of Disney, people who want to try something new."
"All you have to know is I'm going on vacation," says Wendy Anderson, executive creative director for Disney Live Entertainment. That extends to the itinerary, with opportunities to be more of an observer to the story that unfolds or a participant who slices into a datapad or terminal and convinces a crew member to give them a special mission. But if you miss a story point while taking a nap in your cabin, there's no replay. "Time passes on the Halcyon," Johnson notes.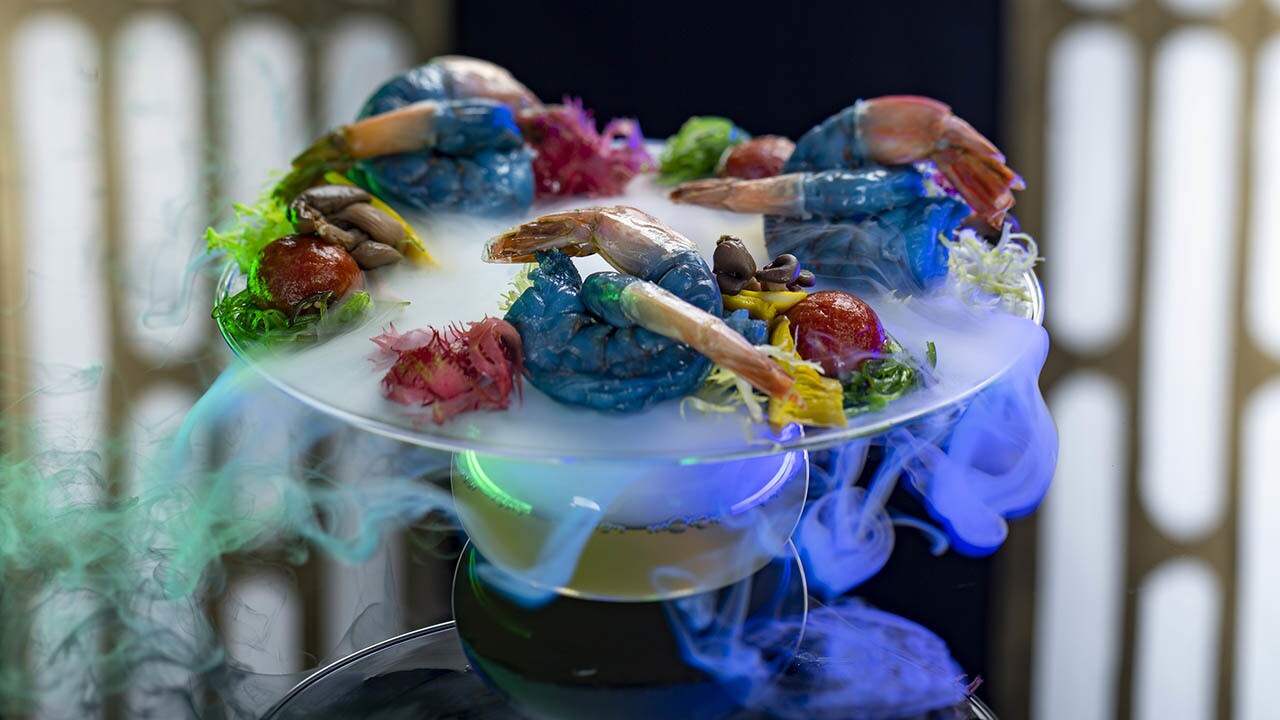 15. The chefs have scoured the Star Wars galaxy for the all-inclusive menu.
For a "taste around the galaxy," a Mustafar-inspired bread service with nitrogen accents is among the culinary delicacies that have taken cues from Star Wars storytelling. There's also a delightful blue bantha butter and more adventurous options like blue shrimp from the planet of Felucia that will arrive smoking, a complexity that's a feast for the senses; diners smell the dish before tasting it.
Dishes appear vaguely familiar yet are nothing like you've experienced before -- even inside Star Wars: Galaxy's Edge. "This is the high end. This is the ultimate in Star Wars luxury," says Trowbridge. "One of the things I love about how this team has approached this is the level of storytelling. [They] thought about what ingredients would be on board a space cruise ship. What is the fictional supply chain that leads to these dishes? I think that level of storytelling is just fantastic, that depth of immersion that we're doing everywhere."
16. One of the dishes comes alive.
You read that right. During a preview tasting, the garnish on a fish dish waved serenely from the plate. Chef John Prieto says the garnish is really a bonito flake, a dried fish delicacy he first encountered at a five-star restaurant on a visit to San Francisco, California. Another dish contained what appeared to be a baby octopus. Take a lesson from the Mandalorian -- don't play with your food.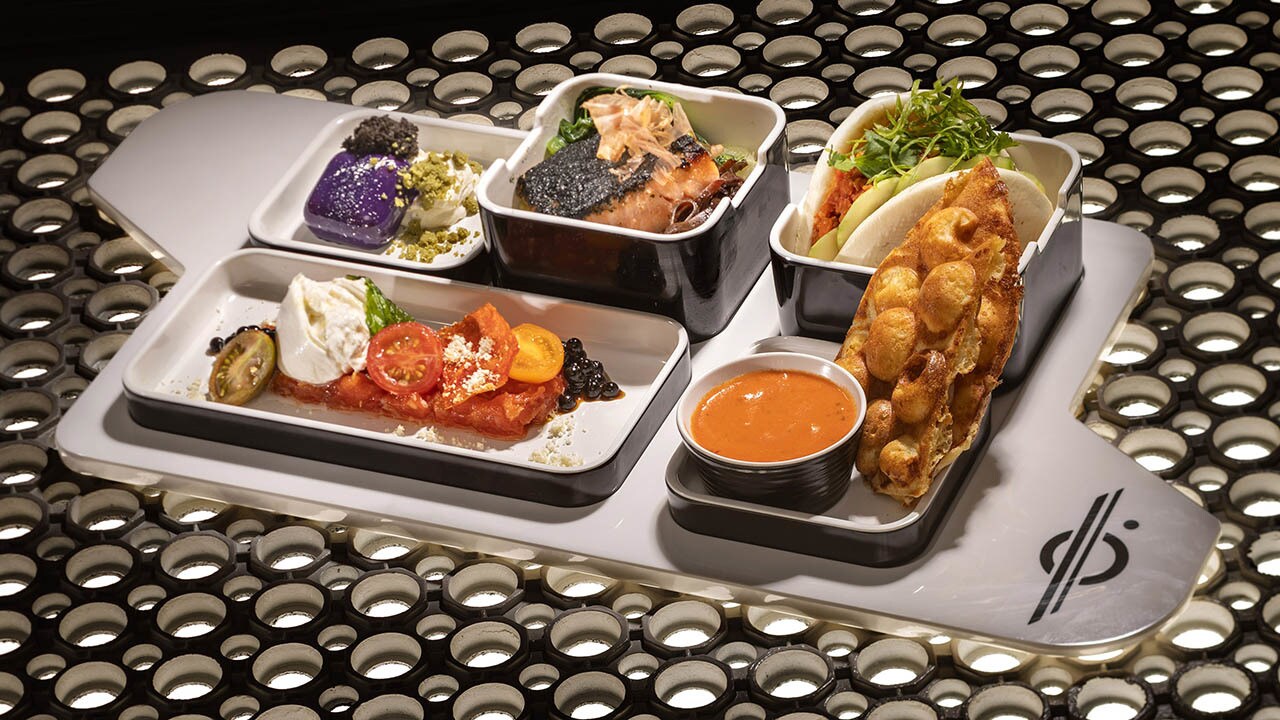 17. There's something on the menu for everyone.
For those with less adventurous palettes and dietary restrictions, there are vegetarian substitutions and the standard chicken fingers, or tip yip, and fries.
18. The Crown of Corellia Dining Room is named for the world of Corellia.
In-universe, the planet is known for its industrial shipyards and the birthplaces of the Halcyon starcruiser, as well as the famed Millennium Falcon.
19. The sleeping pods are bigger than they look.
Some rooms come equipped with built-in bunk beds that are actually large enough to comfortably sleep a six-foot-tall adult. And Mullins says the team invented an all-new mattress just for those capsules.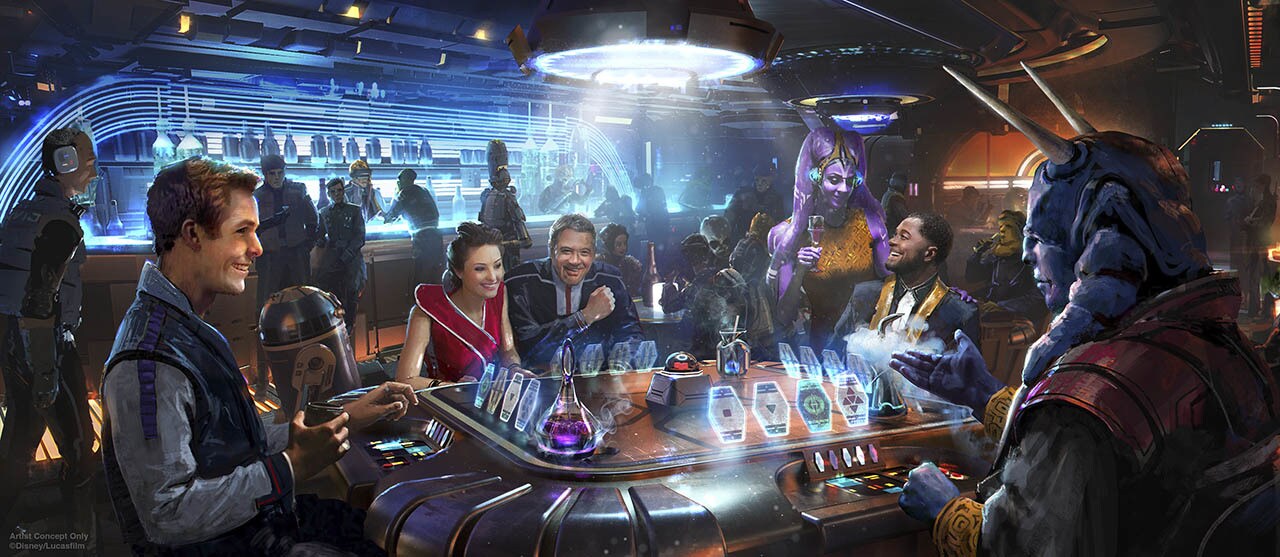 20. When you relax at the Sublight Lounge, you can grab a drink and play a game of sabacc.
More well-lit Crimson Dawn finery than dank Mos Eisley hive of scum and villainy, the lounge will include a brand-new menu of beverages including the Hoth Frost, the Mooja Twist, and other tasty delights. There's also a working holotable for fans of sabacc. Just remember…no cheating.
21. If you need some air, the climate simulator has you covered.
If traveling through space has you feeling the need for fresh air, Johnson has just the thing. "This is the space that we have not talked a lot about. It's really amazing technology from the Star Wars world," she says with a wink. "We were able to exactly simulate the climate of the planet we're visiting on your shore excursion. So in our case, that's the planet of Batuu." That means a courtyard with all the sunshine and humidity you can expect on the world, alongside plants collected from other planets where the Halcyon starcruiser has docked. "We've got a little garden out there and a simulated roof overhead that is even able to simulate the sky."
22. A passenger excursion will be transported to an all-new entry point on Black Spire Outpost.
To maintain the illusion, visitors on the Galactic Starcruiser excursion won't enter Star Wars: Galaxy's Edge through the main gates of the theme park. "There are locals at the planet," Johnson says, "and we just ask that you respect their customs as we're sure they will respect yours." And creators say to expect some special surprises after touching down on Batuu.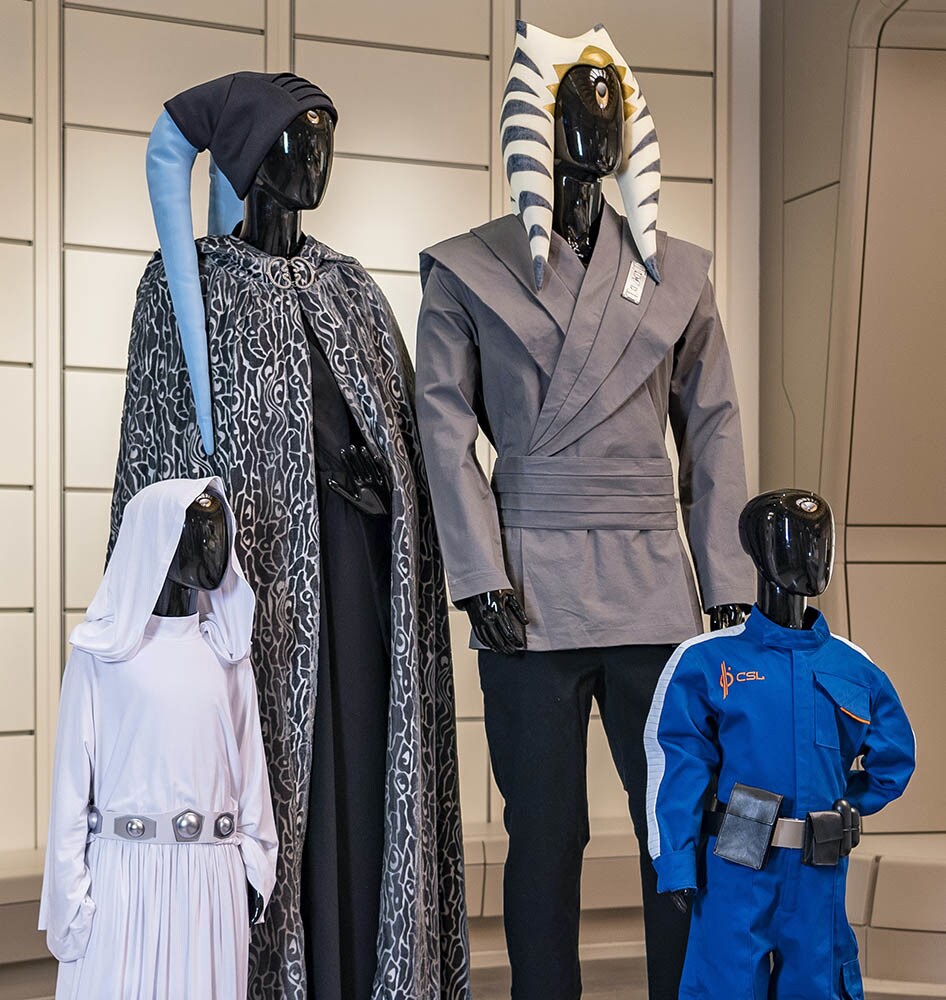 23. An onboard boutique will help you dress for the occasion, from headtails to toes.
Although passengers are welcome to come decked out in full cosplay from the moment they step foot into the Launch Pod, a ship's boutique, The Chandrila Collection, will feature a variety of pieces that can be augmented with professional makeup artists. "We're really focused on transformation and role play," says Brad Schoeneberg, vice president, Brand Merchandising. "You get to live out a story here. Who do you want to be? Where are you from? We come up with your backstory. Let's have some fun together." That includes Disney Parks' first-ever official head pieces, including Twi'lek headtails and a Togruta's montrals, a piece that made Ahsoka Tano voice actor Ashley Eckstein squeal with delight when she first saw them. The pair are among the most unique products the company has produced for consumers, Schoeneberg notes.
24. Designers went into the Skywalker Ranch archive to get inspiration from the queen of Star Wars fashion: Padmé Amidala.
One particular cloak, seen above, is the result of careful collaboration and research, examining the screen-used garment worn by Padmé on Tatooine in Star Wars: Attack of the Clones and designed by Trisha Biggar. "We really took the color inspiration from the original, the pattern from the original," says Tracie Alt, senior merchandiser.
25. There's also a deep-cut nod to Bail Organa's loyal aide, Sateen Vestswe.
While they were perusing the archive, designers also pulled in Sateen Vestswe's ensemble from Star Wars: Revenge of the Sith, including a forest-green jacket and an arm piece that was created by making a 3D digital scan of the original prop, which can be seen below. "Those touches of authenticity are there throughout the entire assortment," Alt adds. And there's also Princess Leia Organa's classic white gown, from Star Wars: A New Hope, for fans of the original trilogy.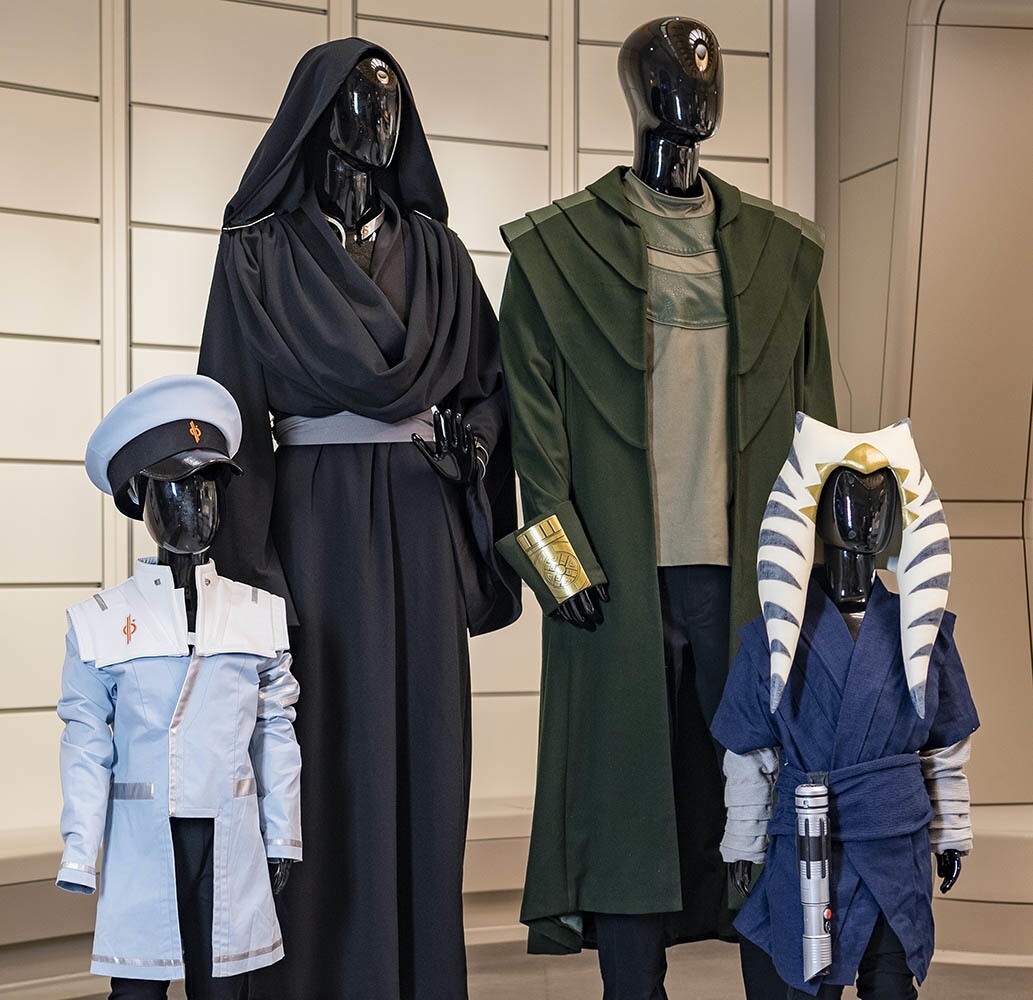 26. You can change your appearance mid-trip.
Just like Finn, you can start out as a First Order stormtrooper and leave as a member of the Resistance. Or maybe peruse your personal cape closet to pay homage to style icon Lando Calrissian?
27. Beyond the screen-influenced pieces, designers took inspiration from the crew for apparel designs.
A pint-sized captain's uniform -- which doesn't come in adult sizes (we asked) -- a blue mechanic's coveralls, and a tunic that resembles the gear worn by the lightsaber training staff will be for sale for younger passengers. For dinner with the captain, more formal attire indicative of galactic black tie can be purchased, including a sleek wrap dress with a cowl capable of special modifications and a crisp gray tunic with a greeblie accent on the lapel. And some more subtle nods and everyday options, in the form of a gray jacket and a black shirt inspired by Qi'ra in Solo: A Star Wars Story, will be available for a relaxed shore leave.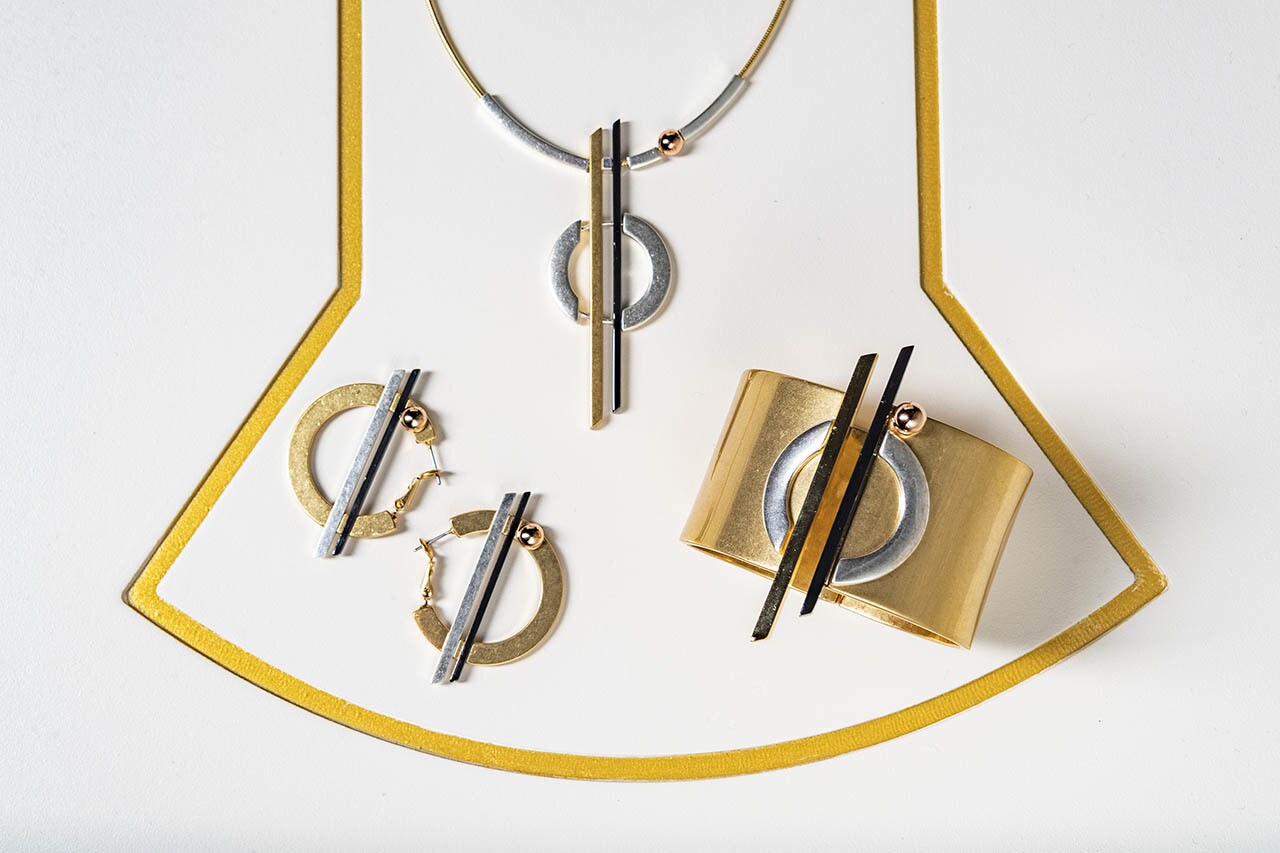 28. Show your allegiance by wearing the ship's logo.
There's also an exclusive line of jewelry bearing the Halcyon logo subtly woven into bracelets, necklaces, and earrings for a high-fashion celebration of the experience. "Just like a cruise line, we have a ship logo [merchandise] line that really celebrates not only our Chandrila Star Line, but also our Halcyon ship," says Schoeneberg.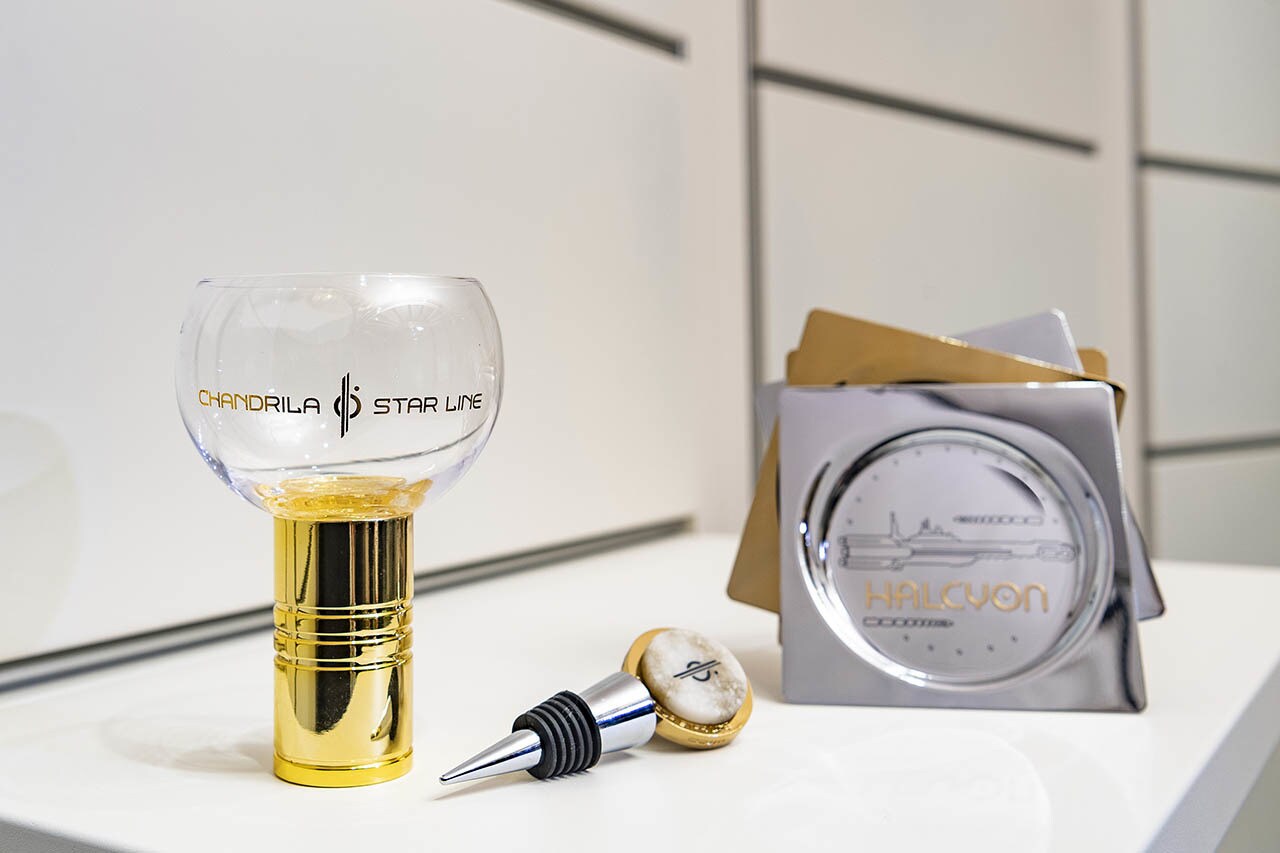 29. You can take a piece of the Halcyon starcruiser home…
The collection extends to home goods with wine glasses, coasters, a bottle stopper and other pieces to bring a touch of the Sublight Lounge's ambience back home. Gold and silver accents give these unique pieces a touch of class, while the shapes are unmistakably Star Wars.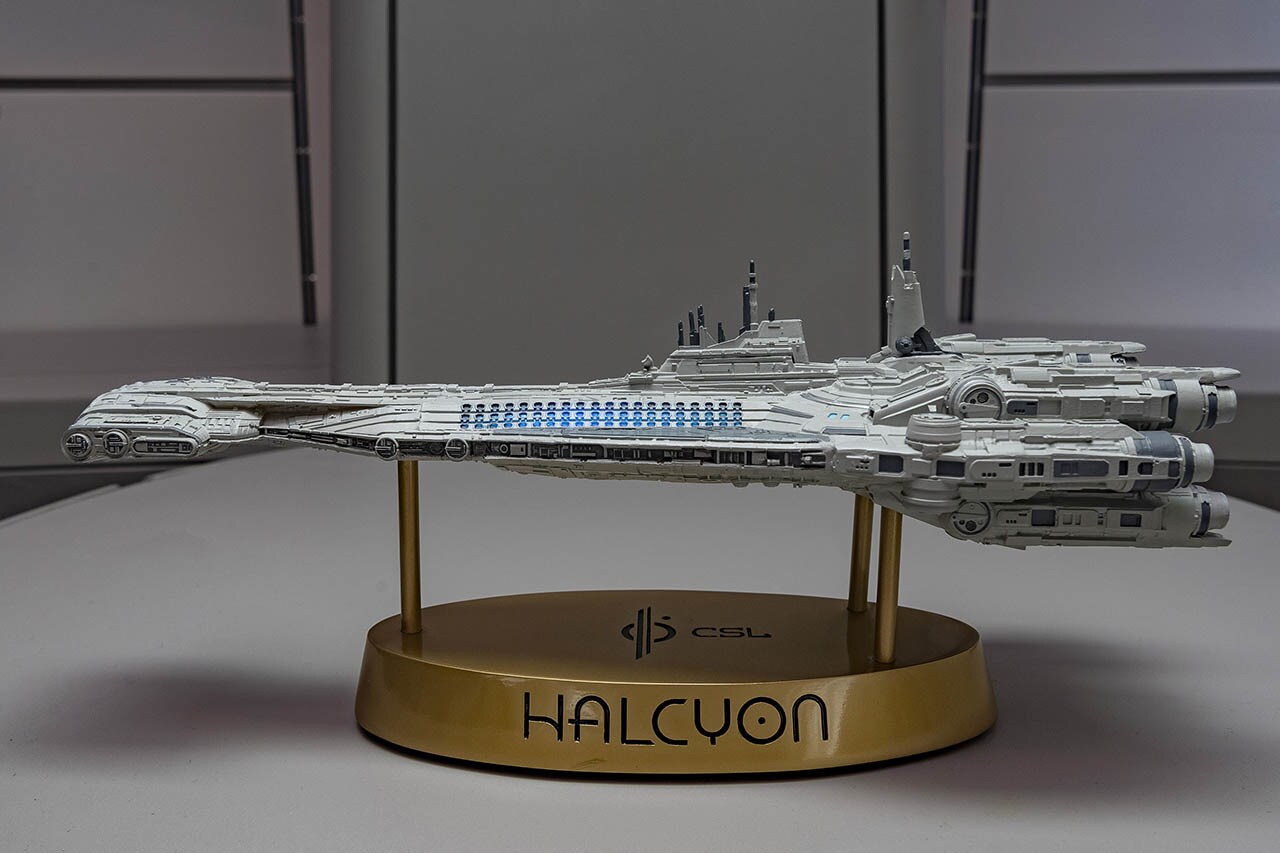 30. …or the ship itself!
For fans who look at the Halcyon starcruiser the way Han gazes at the Millennium Falcon, a scaled replica model of the ship can serve as a reminder of your journey.
31. The experience is undergoing months of test flights before taking off on its maiden voyage.
For the past four months, a select few have been brought aboard Star Wars: Galactic Starcruiser for play tests, abbreviated versions of the final experience that help Imagineers fine-tune how the new technology and recently-onboarded crew will interact with each new arrival of passengers.
"This is my favorite time," says Thacher. "This moment of getting to see it come to life for the first time." Trowbridge describes this as the final step in a composing a concerto.  The piano's been built and tuned, but the people behind the scenes are still figuring out the final piece.
Star Wars: Galactic Starcruiser, the 2-night, immersive experience opens in March 2022 at Walt Disney World® Resort in Florida.